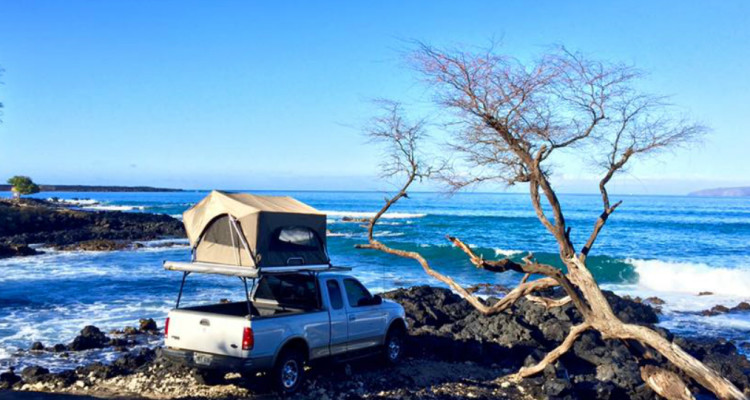 Swap the lavish resorts for lavish views – go camping!
Camping Equipment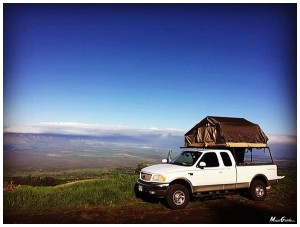 The difficult part about camping on vacation is figuring out how to get everything you need (and want) without bringing it with you, especially when the location is 1,000+ miles away and can only be reached by plane.
Recommended Items:
Tent(s)
Sleeping Bags/Blankets/Pillows
Cooking Stove or Grill
Utensils & Plates
Cooler
Chairs
Head Lamps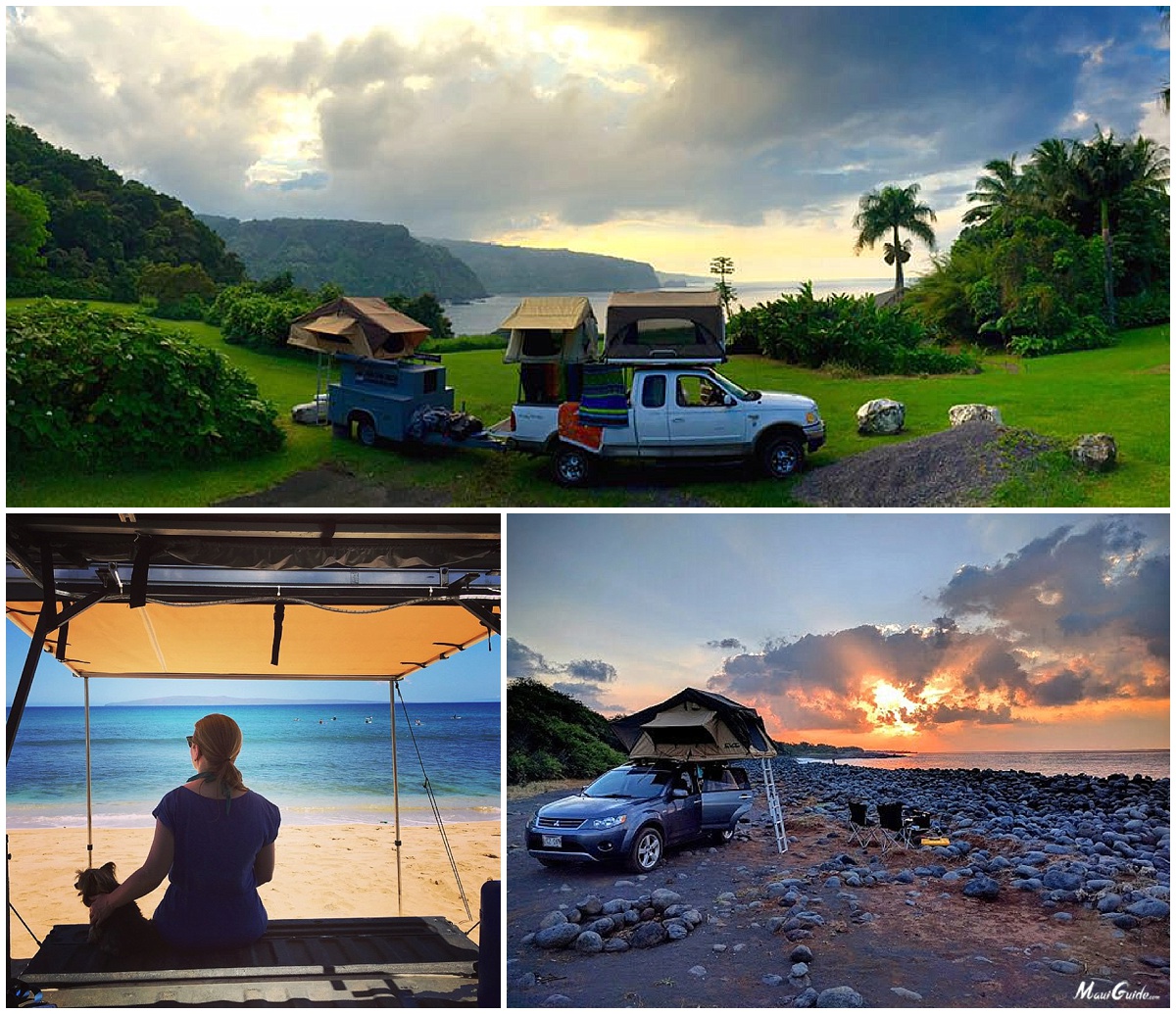 While camping can be a great alternative to paying for expensive accommodations on Maui, it rapidly becomes less so when considering the amount of equipment you'll need to make your experience easy and enjoyable. Plus, the last thing you want is to buy $250+ worth of equipment only to be forced to ditch it or sell it before leaving the island.
Fortunately, Camp Maui-X offers camping equipment rentals specifically for this purpose, which include everything listed above (enough for 2 people), as well as optional backpacking gear for hiking within Haleakala Crater.
Drive-In Camping
SUV or Truck Rooftop Camping Options
While some may prefer to simply rent camping equipment and do it on their own, an even easier option is to combine your car rental with all of your camping equipment, allowing you to skip the somewhat time-consuming campsite setup time and focus on seeing more of Maui, or relaxing and enjoying the view!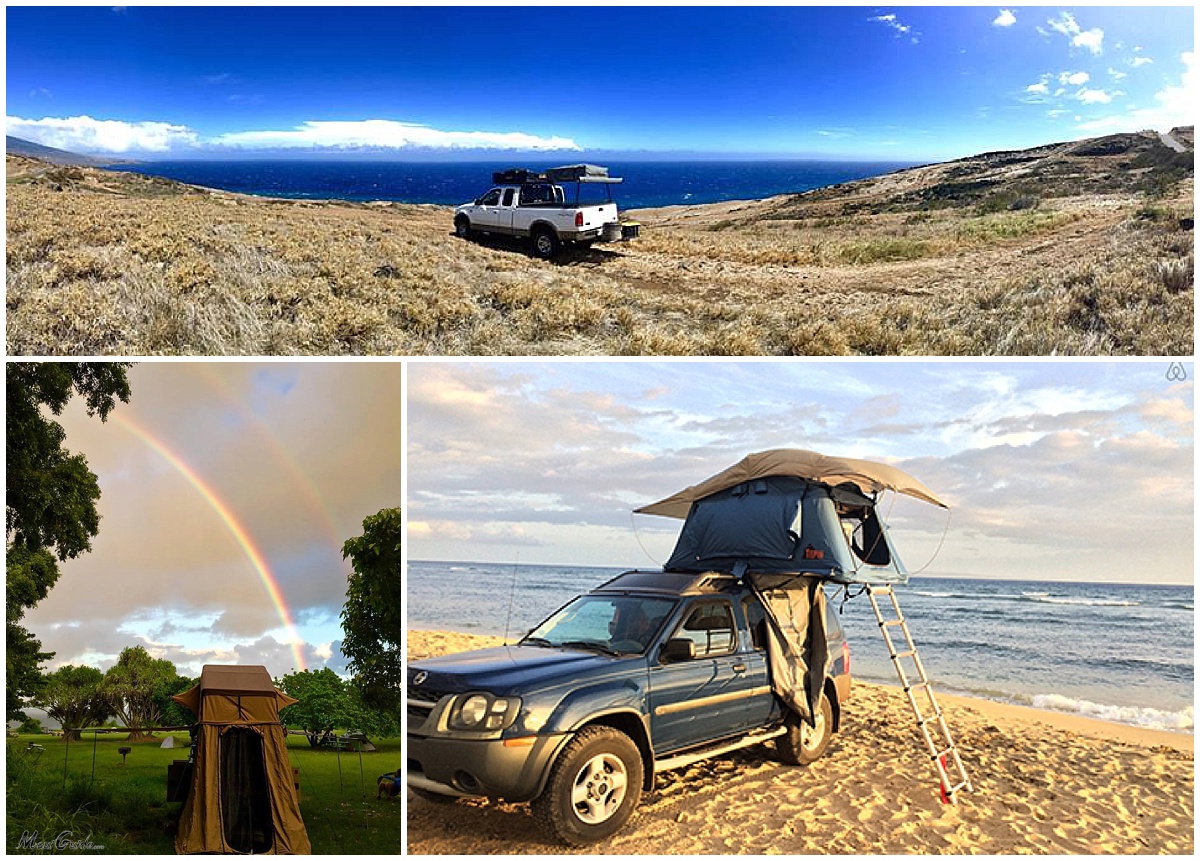 Camp Maui-X offers two options for rooftop camping, including an SUV rental with 1 tent, good for up to 3 people, or a truck rental with 1-2 tents, good for up to 6 people. The tent comes already assembled on the roof of the vehicle, and also includes all necessary rooftop camping essentials, including:
4-Inch Foam Mattress
Cooking Stove
Utensils, Plates & Cutting Board
Backpack
Cooler
Headlamps
Lanterns
Beach Towels
Maps
Blankets
Chairs
Coffee Maker
Prices start at $175/night, which includes airport pick-up and drop-off and 24/7 assistance should you need anything.
Guided Camping Excursions
While camping in Maui is by no means a treacherous task, especially considering our year-round warm weather and variety of amazing campgrounds to choose from, those looking for a more 'luxurious' experience should consider the Super Excursion option, which can be customized to include whatever you wish, including catering for you and your group, private kayaking/hiking/snorkeling tours, and even breakfast delivered via paraglider!
Paradise is your oyster.