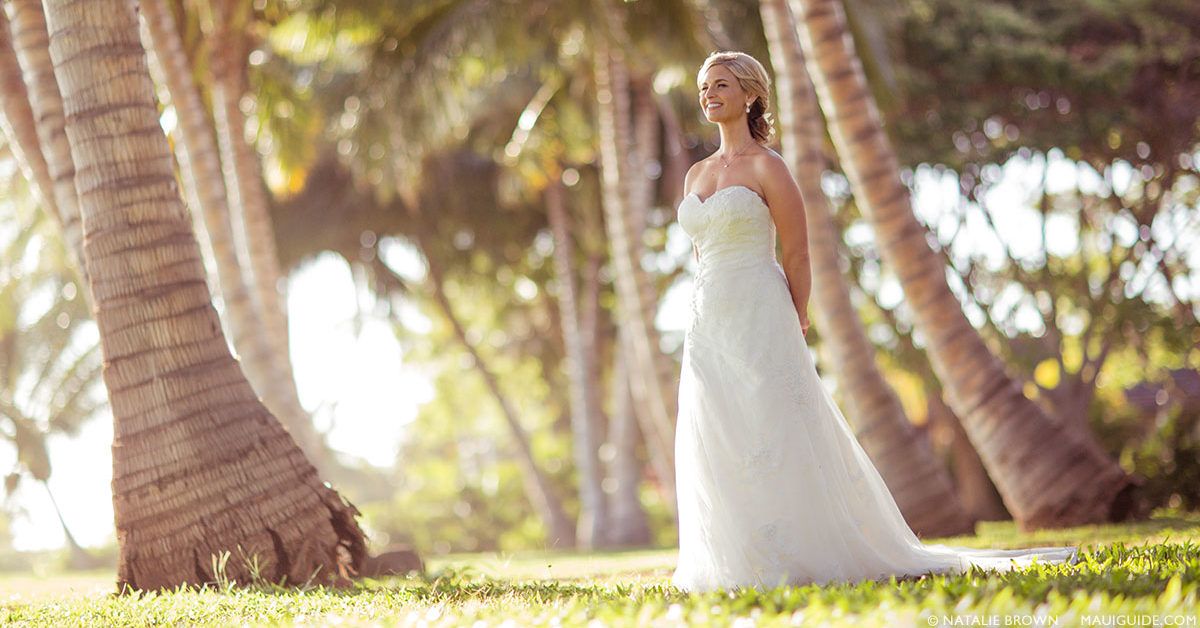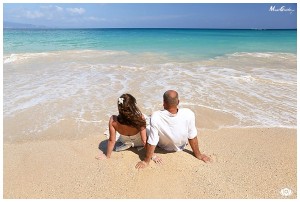 Maui is an extremely popular location to get married for many reasons. Here are a few reasons why Maui, Hawaii is an excellent choice for weddings:
Location
Not only is Maui extremely beautiful, but it's usually far from family and friends. This cuts down your guest list and makes it less expensive and more personal.
Lifestyle
The worst part of a wedding is stress and rush. Here, you experience less of that. Take a cue from many other brides that have gotten married here, and slow down. Have a simpler wedding and enjoy it all.
Laws
Because weddings are such a big part of our economy, the local government has made it pretty easy to get married here. Less hassle = Less stress.
Vacation
Wedding guests are simply happier in Maui than most other places. Of course, your closest friends and family want to come and celebrate your union, but it's also an awfully good excuse to take some time off. Most people arrive at least a few days before the ceremony and stay awhile. You'll see the joy in their faces.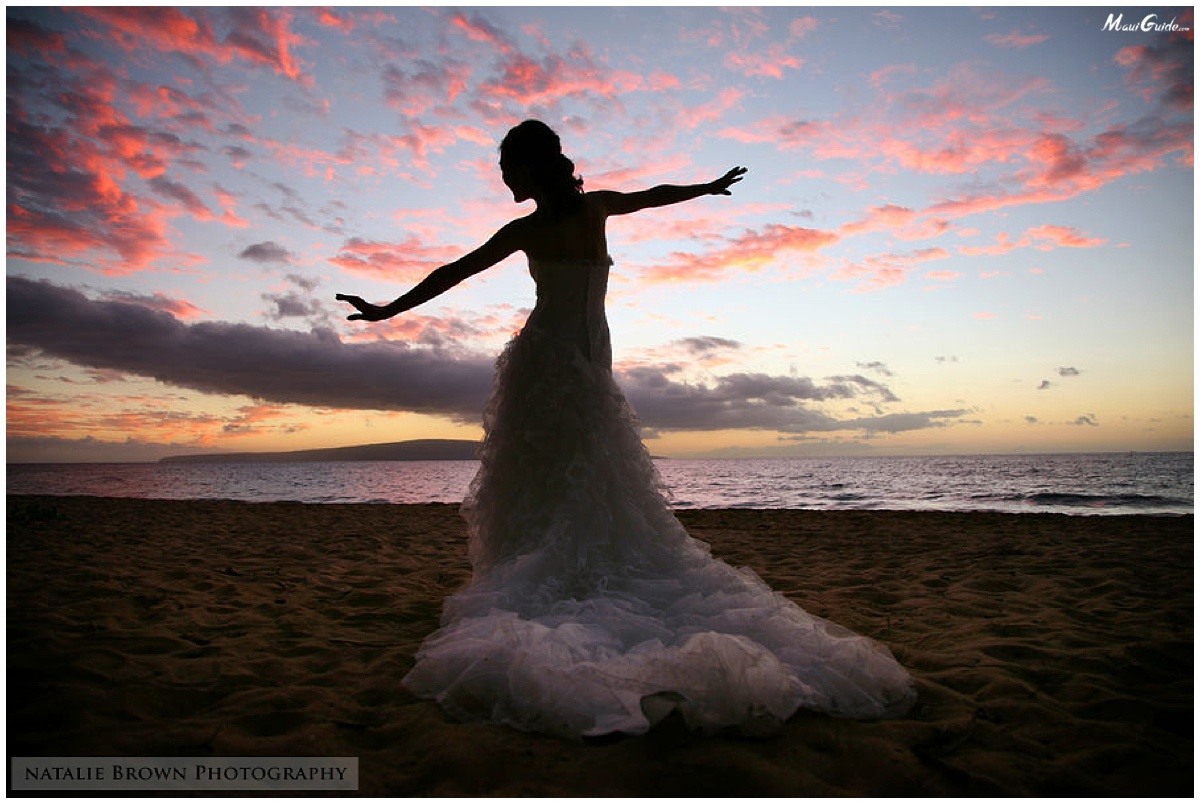 Top 10 Preparations

It's Crucial to be well-prepared before you arrive.
Even if you're having a 2 person wedding on the beach, you still need to plan well ahead of time. Here are a few things you need to have taken care of before arriving in Maui.
1. Guest Count & Budget
These are the first things you need to find out. Your budget will affect your guest count. Your guest count will affect your location. When trying to meet your budget, be warned that you will ALWAYS go over. So shoot low.
2. Time of Year
Though the weather is pretty consistent year-round, time of year WILL affect your guest list and your cost, however. Off-season (mid-September to the end of November, and February to May) can be much less expensive for you and your guests. Also, if you choose a time other than summer or a holiday, it will be harder for guests with children to come.
3. Location
First, you need to choose the side of the island you want all of this to go down. Next, start planning where you'll be getting ready, have the ceremony, and finish with the reception. The south and west sides are the most common due to plentiful Maui accommodations and good weather.
4. Wedding Planners
Hiring a wedding planner can be an easy solution to solving your most basic and time-consuming wedding worries. From valuable license information to finding the right minister and wedding location, choosing a trusted wedding planner may be in your best interest, both for your wallet and sanity.
Simple Maui Wedding provides an ample variety of convenient wedding packages and ceremony options, and have a great track record of more than 25 years of experience in the wedding industry on Maui alone. For more information, contact them at (808) 873-0789 or email them directly at aloha@simplemauiwedding.net
5. Photographer
Without a doubt, choosing the right photographer is crucial. Here are a few characteristics you need to look for in your Maui Wedding Photographer:
• Talent and Style – You have to like their photos. This is #1 on the list. Make sure to see a lot of their example work. Make sure they've shot a bunch of weddings.
• Professionalism – You want them to show up on time and do their job. You can get a good feel for this when you're booking them. If they seem disorganized at all, be wary.
• Personality – The last thing you need is a pushy, rude or weird photographer. If you like them over the phone, it's a good sign. You want a fun and happy person instead of a black cloud.
• Price – Sometimes you get what you pay for. Be careful of the super cheap guys. Photography is one area of your wedding that you don't want to skimp. This is what you'll take away with you for the rest of your lives.
• Local Experience – Make sure they've shot a lot of weddings in Maui. The lighting outside is VERY tricky to work with since it changes constantly due to clouds. If they've only shot a few weddings in Maui, they may screw up some of your best shots.
• Detail Oriented – Look at their example photos and see if they're capturing the details. Some photographers capture the ring exchange, the kiss, and the first dance. Some capture all of these things plus: the bouquet, rings, shoes, flowers, grandma Edna's tears of joy, etc… You want the little things to be caught as much as possible. These are the little things you might have missed or the little things that cost a lot that you don't want to forget.
Contact Natalie Brown Photography. She possesses the finest in all of the above attributes.
6. Officiant
Interview a few officiants over the phone or in person. There are many on the island, and they all have their own style.
7. Flowers
Choose your colors and your flowers beforehand. You may want to meet with your florist when you arrive to make sure they share the same vision.
8. Food
Probably the most expensive thing you deal with will be food. Make sure you're getting your money's worth. Just because a company is in high demand, doesn't make them good. You may fall through the cracks.
This writer personally went with a popular, well-recommended caterer, and paid a fortune. We should have known from the beginning that it was a mistake because we had a hell of a time getting anyone to call us back for a tasting. The food was pretty good, but they skimped on a few things we requested (and paid extra for.)
Check out our comprehensive Maui Catering directory.
9. Wedding Permit
You'll need a wedding permit, which is something that your officiant or planner should be able to help you get.
10. Transportation
There are many options when looking to make your entrance or leave for your honeymoon, from bicycle to limousine. Why not arrive in style with a 1957 Porsche 356 Speedster. This will turn heads, be a ton of fun, and leave plenty of room for unique photo opportunities.
Maui Wedding Boat
Ever dreamt of getting married on a boat in Maui? We recommend Trilogy Excursions for their unique and beautiful wedding services, including rehearsal dinners, ceremonies, receptions, pre & post wedding activities, and even a trip to the neighbor island of Lana'i.
Choose from one of five custom sailing catamarans and enjoy full bar services, live music, photography, videography, a variety of food menus and custom decor, all with the help of your personal wedding coordinator. Leave your special day in good hands and focus on the most important part: celebrating!
Whether you prefer a romantic sunset ceremony around Maui or a wedding day trip to Lana'i, Trilogy has everything you need to make your dream wedding a reality. Call them at (808) 874-5649 for more information.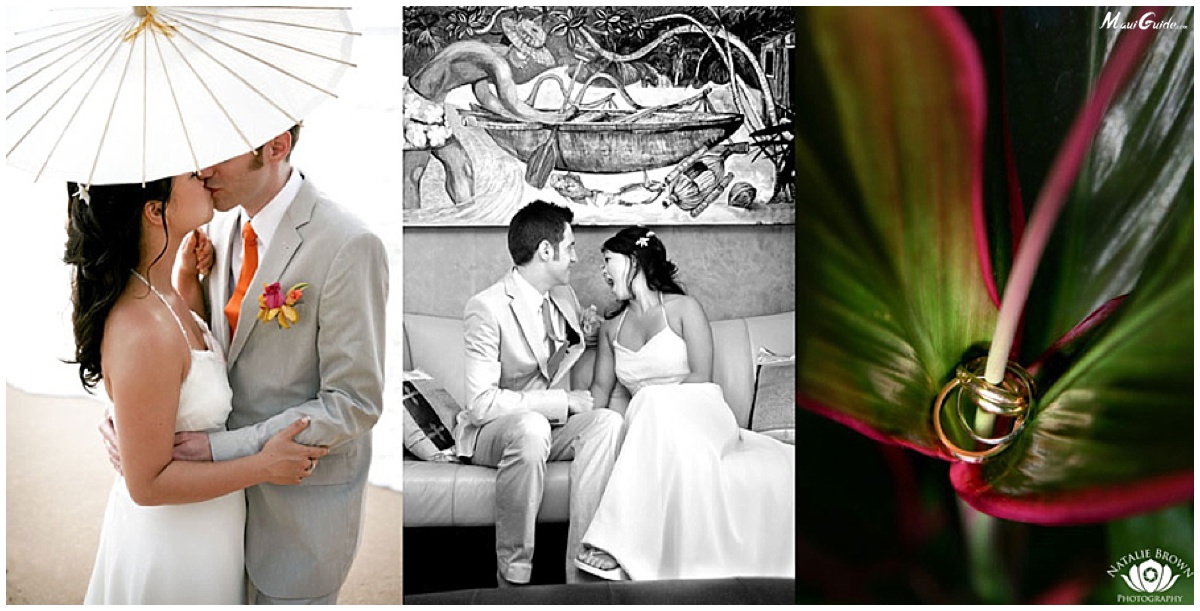 Top 10 Wedding Photo Tips
If you want the best photos possible, be prepared by reading the following tips. Big thanks to Natalie Brown for giving us these suggestions.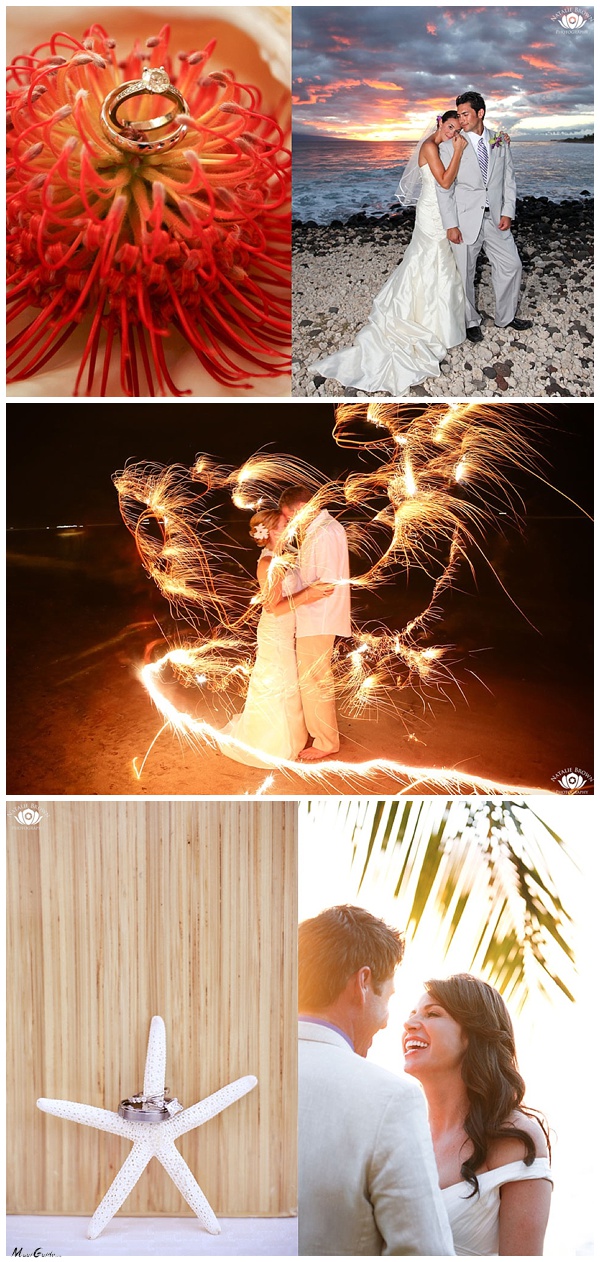 TIP #1 – Tan Lines & Sun Burns
If you have a strapless dress, wear a strapless bikini to the beach while here. Tan lines will either ruin your photos or cost you a fortune in Photoshop work. Sunburns are just as bad. Bring heavy SPF. You'll get tan no matter what. Also, be careful of sunglass tans. No one wants to marry a raccoon.
TIP#2 – Invitation
Bring your wedding invitation so that your photographer can get a photo of it with the rings and or bouquet.
TIP#3 – Consider Time of Day
If you get married in the middle of the day, you'll get some beautiful watercolor, but you'll be squinting, blinking, and sweating. Not good for photos or comfort.
TIP#4 – Ring Exchange

When exchanging rings at the ceremony, slip the ring on from underneath the hand, and open up slightly to the group. This will allow your guests to watch it happen, and your photographer will get a clear shot. You don't have to open up and pose, instead open up just enough so everyone can see.
TIP#5 – Smile

Yes, your face will hurt by the end of the day. But, you should try and keep a smile going as much as possible. Your photographer will be getting candid shots, so at the very least be aware of whether or not you're frowning.
TIP#6 – Work the Angles

Lift your chin a bit to banish any possible doubling. Hold your elbows away from your body slightly to reduce apparent torso size. Shift your weight to your back leg to give you more of a natural curviness. We know this is a lot to remember on the busy day, but keep it in mind when doing your posed shots.
TIP#7 – Have an Aisle

If you don't have chairs (like many weddings on the beach), part your guests somehow in order for the photographer to capture the ceremony and your guest's reactions.
TIP#8 – The Kiss

The kiss can often be difficult to capture due to an unexpected guest standing in the way, the couple turning to a different angle or a very short kiss… The way to still capture this is to make your kiss slow and lasting. If you take your time and seize that moment, your photographer will capture the shot, plus it makes it seem more classic and romantic. Most bridal couples agree that a clean, classy kiss is the way to go. You can achieve this by slowing and holding. Everyone will appreciate it, including your future descendants.
TIP#9 – Wind

Maui is the Chicago of the Pacific. It will most likely be windy at some point. Make sure your hair can handle it by adding extra hairspray or have your stylist give you an updo with plenty of hairpins.
TIP#10 – Guest List

If you have more than 20 guests, designate someone that knows everyone to organize people for photos. Your photographer doesn't know who Aunt Martha is, so have a bridesmaid or someone help with the groupings. This is also helpful when there are strained relationships in proximity. Your photographer also doesn't know when a couple has recently divorced or some other similarly uncomfortable situation.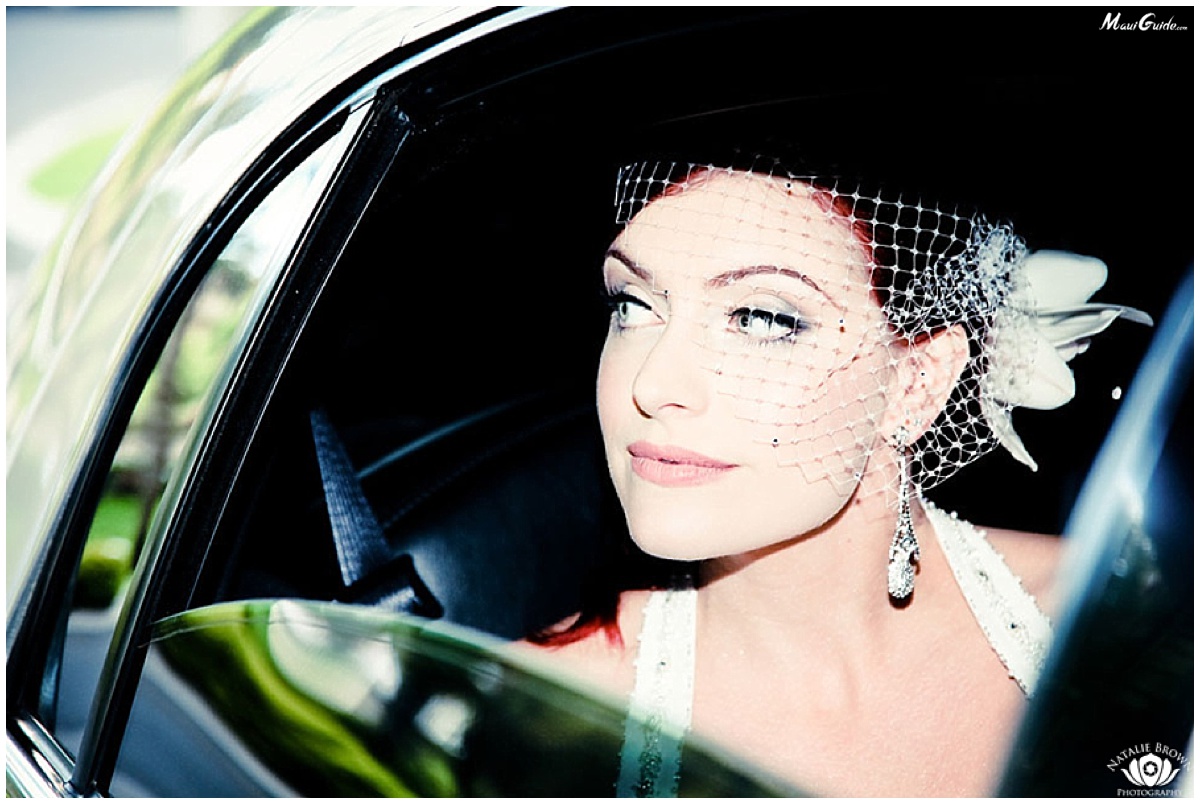 Maui Wedding Locations
Beach Weddings
Public beaches are public. You can't ask and expect people to move. Remember this if you plan on getting married on the beach. Some beaches are VERY popular for weddings, so you may have multiple weddings in the same area. Your best chance of avoiding this is to reserve an estate or other private location for the ceremony. You can always go to a beach for romantic photos after the ceremony.
Rain and Sunsets
Some spots are notorious for rain. Kapalua, Ironwoods, DT Fleming, and Napili beach are great spots to get married when the weather cooperates. The problem is that this area is in the rain belt and can get wet and cloudy.
Similarly, when choosing a location, keep in mind that the sun moves throughout the year, and you might not get a sunset depending on the beach and month. Ask your photographer for suggested spots and time of year.
For more locations, check out our interactive Maui wedding locations map below!