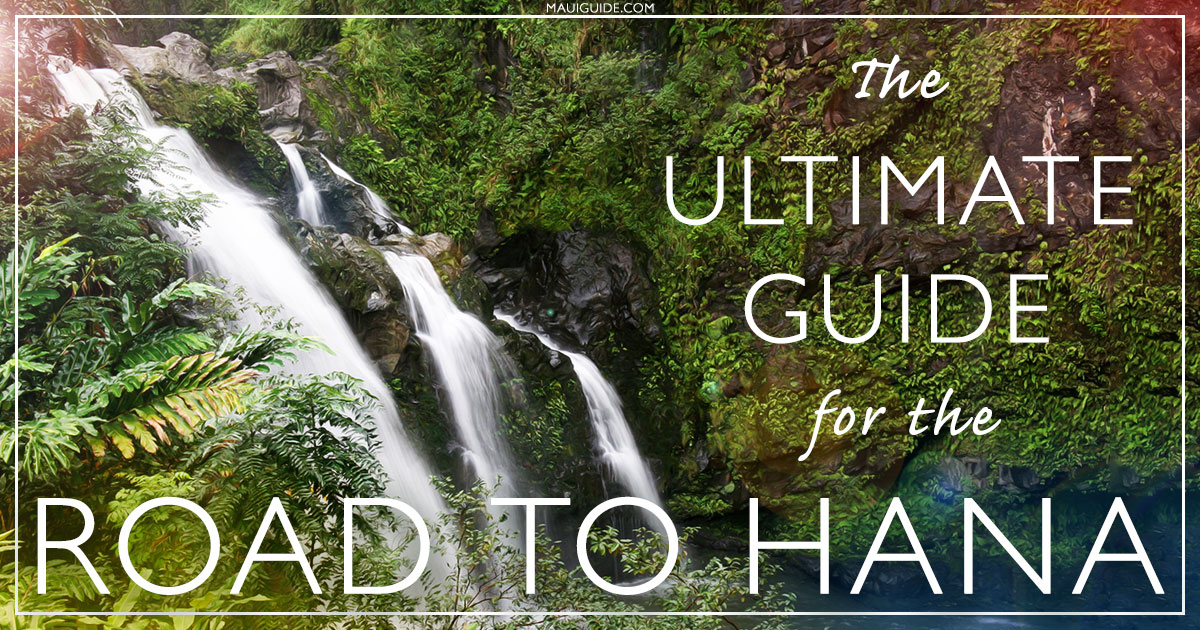 With around 620 turns and 59 narrow bridges, the Road to Hana makes for a legendary drive. Below you'll find detailed information about the road to Hana, local tips, video, photos, & the latest updates. For those that subscribe to the Hana newsletter, get a Free Road to Hana Ebook.

Hana Stops

Highways 36 and 360 make up 68 miles of twisting turns on a narrow road from Kahului to Hana. The road travels through tropical rainforests, along the volcanic coastline, and past many awe-inspiring waterfalls.
Preparations
Preparing for the Adventure
Before you leave, make two phone calls. First, call (808) 986-1200 to check for road closures along the way. It would be a shame to drive from Lahaina past Paia only to get shut down. Secondly, call (808) 877-5111 to check weather updates. If it looks as though it'll be stormy, reschedule your trip for another time. [If you're on Maui and using a local phone, don't include the (808). On all other islands, on the mainland, or from your mainland cell phone, you'll need to include it.]
The Road to Hana is wet enough without a storm. The beauty of the Road to Hana's weather is its erratic behavior. You'll get rain one second, then perfect sun and rainbows the next. If a storm is running, you'll miss out on the sunny portions.
Fill up your tank! Maui gas prices are some of the highest in the nation. Gas in Hana is usually $.40 to .50 cents more than other parts of the island. Fill up before you leave.

Prepare yourself for a long trip. Bring snacks, bug repellent, some cash, a camera, and respect for the local people. If you have anything else planned for the day, you're pushing it. It takes at least 2 1/2 to 3 hours each way to reach Hana without stopping. You'll want to make a lot of stops, too.
Road to Hana Etiquette
Let people pass you. Find a safe spot to pull off the road, and let faster cars pass. You have to remember that this is a road that some locals use to get to work, and your stopping and slowing is very frustrating.
DO NOT TRESPASS! If you don't think you should go there, DON'T! The little blue book that everyone buys says to go places that you probably shouldn't. You don't want to piss off the locals by walking through their backyards.
Leave nothing but aloha. Any trash you have should be recycled, thrown away or taken with you. This land is pristine for a good reason. KOKUA!
Road to Hana Tips