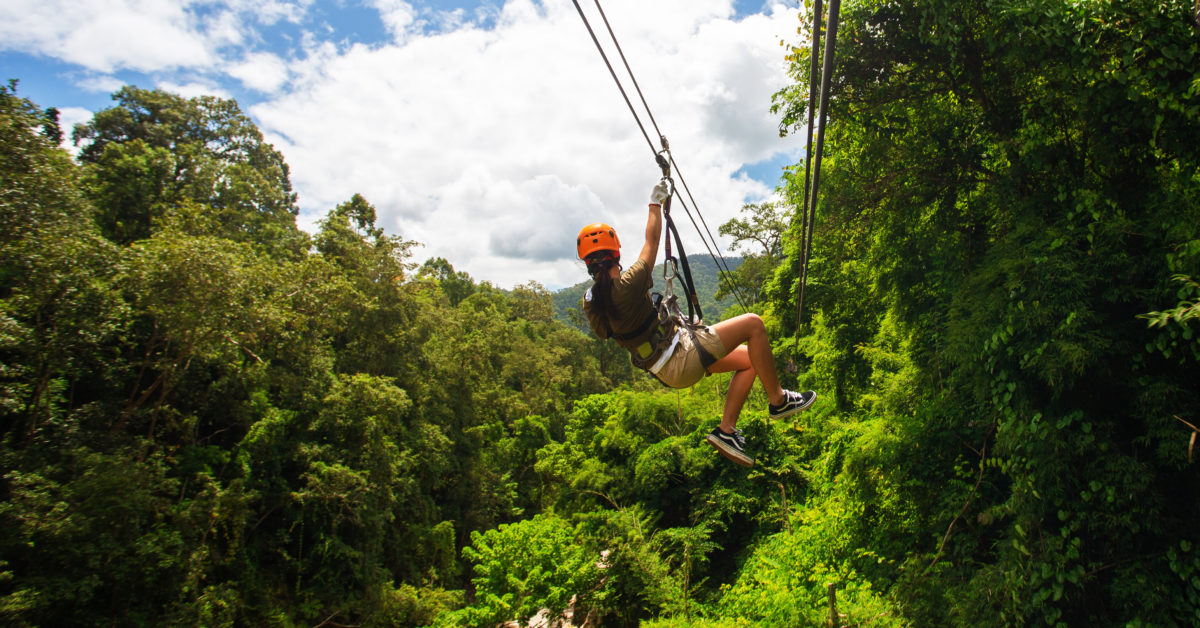 Going ziplining in Maui is one of the more exciting things to do. It's easy, educational, and a real thrill!
Types of Ziplines
Single Trolley
Most zipline companies offer multiple runs of single lines. This means you're zipping one at a time until you get to the next zipline course.
Fixed Trolley
Some zipline companies offer fixed trolleys, which means you're going straight ahead the whole time. You'll be able to look side to side, but you can't spin or go backwards.
Swivel Trolley
Most companies have trolleys that swivel, which means you have to control your direction with your hand, otherwise you'll possibly arrive backwards. This can be a lot of fun, but some people prefer the straight shot. It's not terribly difficult to control, but it takes a few runs to master.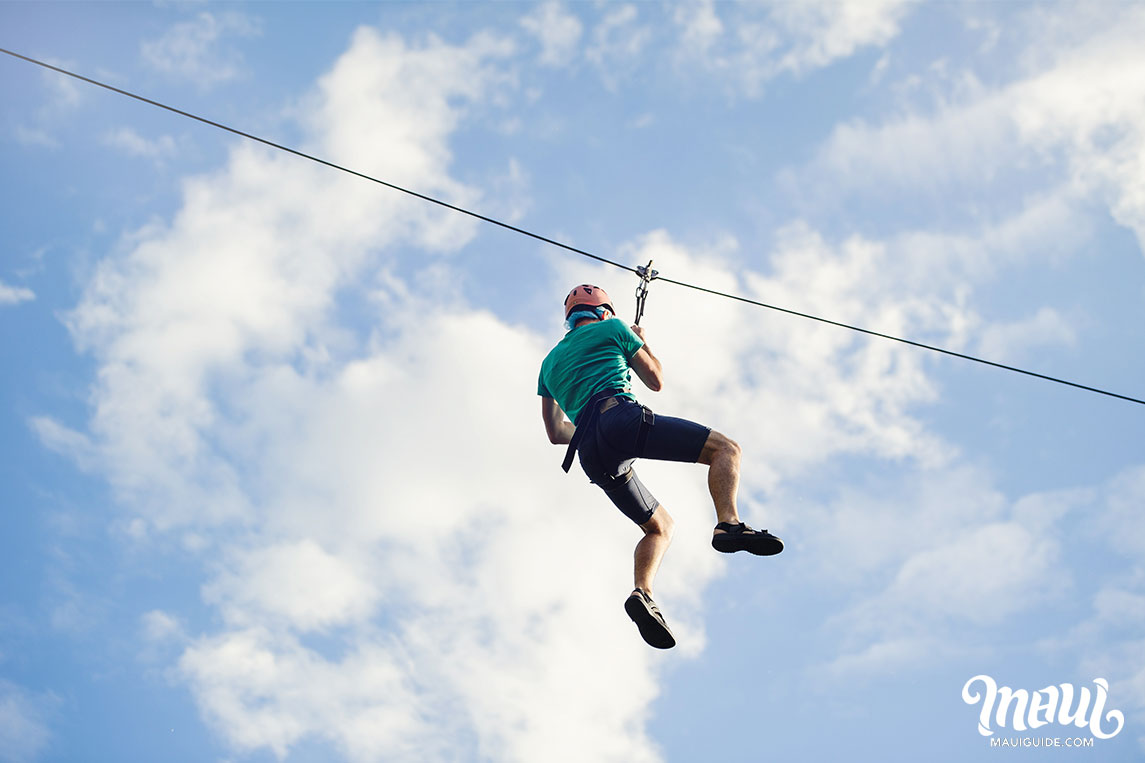 Double
This is when 2 lines are set up next to each other. This is fun because you can race your friend and watch each other cruise down together. This is also nice for those that have some apprehension before doing it. It's always a little more comforting for those with fear to go with a friend.
4 Lines
Piiholo Zipline is the only zipline company we know of in Hawaii that offers 4 lines next to each other. This is a lot of fun because you can zipline with all of your friends. It's also great for photo opportunities. The best part of the 2 and 4 line ziplines is that your whole group waits less and can get going to the next one faster.


Zipline Activities
• 1, 2 or 4 people at once – Of course, the actual ziplining is what people come to remember from the experience. You'll be flying over and through tress with great views all around.
• Hanging Bridges – Both Skyline and Piiholo have hanging bridges to cross. This is fun and makes for great "Indiana Jones" photo opportunities.
• Climbing wall and team exercises – Piiholo also offers a climbing tower with multiple options for team building exercises. This is great for large groups and business conventions.
• Hiking – Most ziplines are spread slightly apart. You won't be doing any serious hiking, but you'll get the blood moving while trekking through some beautiful wildlife.
• Nature Education – Your guides will give you information on the areas as well as the nature that inhabits it. From birds to trees, you'll learn about our fragile, diverse, and unique ecosystem on Maui.
• Kids – Some courses, like Maui Zipline Company at the Maui Tropical Plantation, specialize it taking children as young as 5 years old on the ziplines.  This is a big confidence booster and gives something kids can brag about when they get home.

Recommended Zipline Tours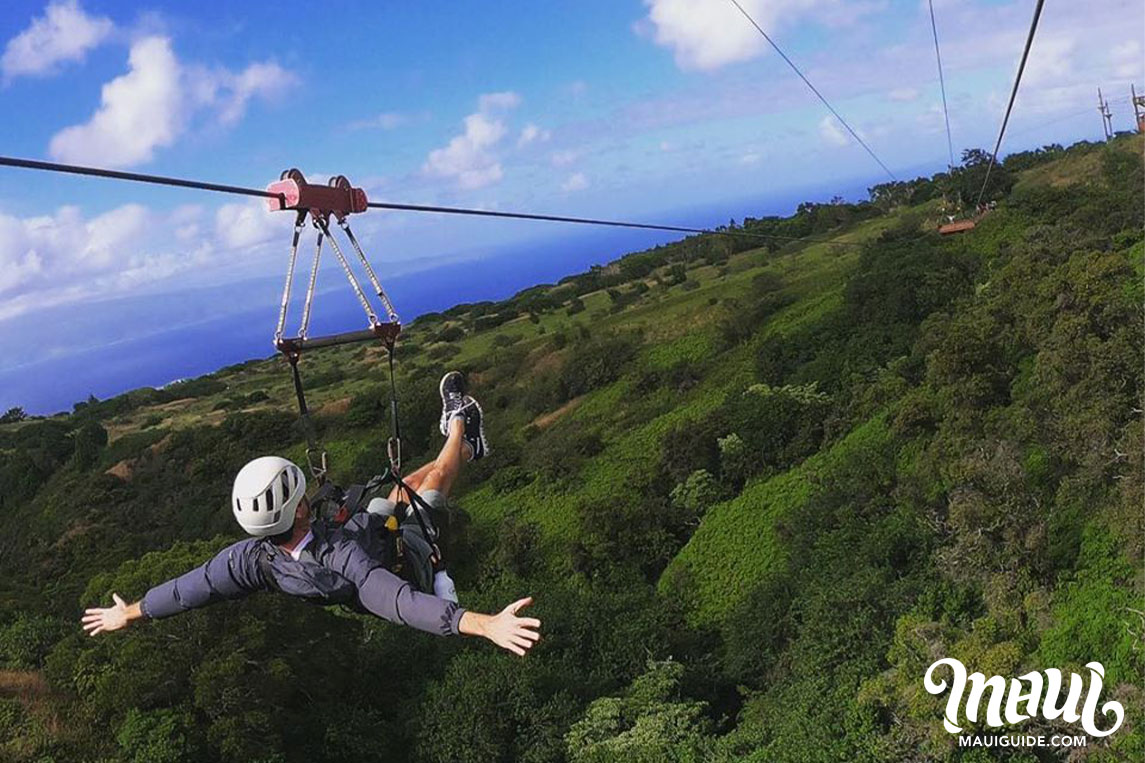 Experience the longest side-by-side zipline in Hawaii along with ATV rides, hiking, and breathtaking views. Let the knowledgeable and safety driven staff show you an incredible adventure while sharing their vast knowledge about the local area and culture.  Zip On!
Call: (808) 756-9147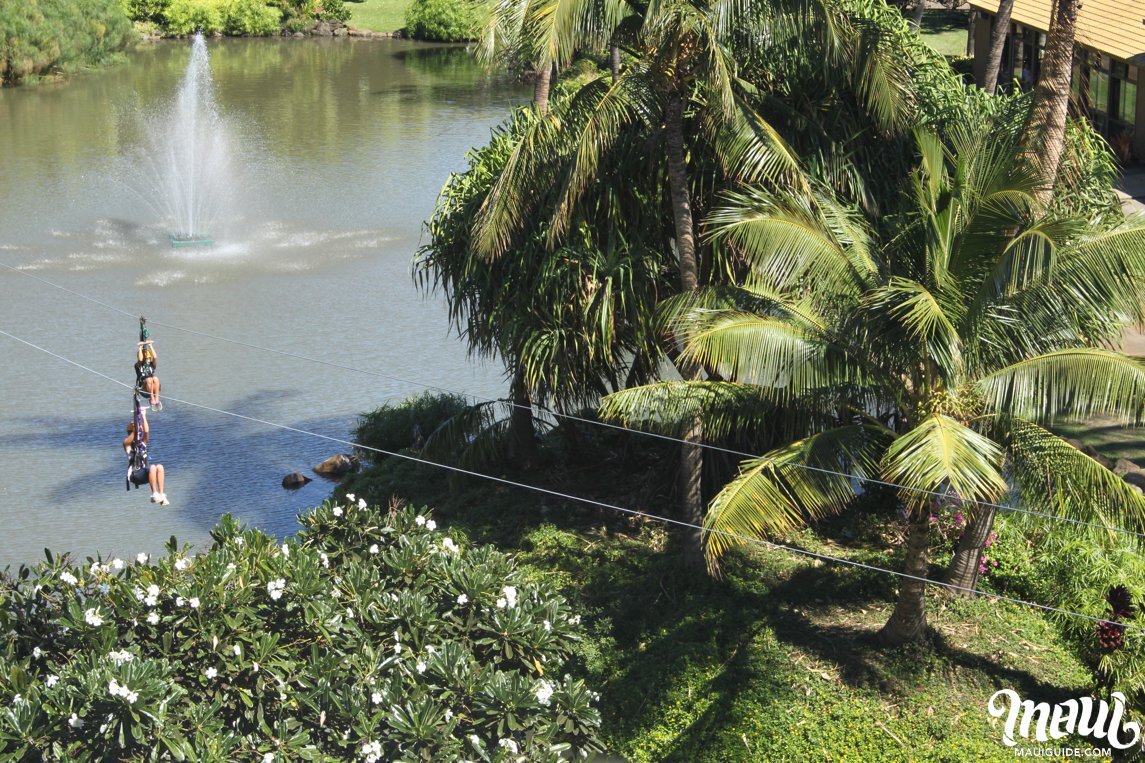 Zipping adventure seekers from 5 years old up to 88 (so far!), Maui Zipline company has a course with unbeatable views, convenient location, and the friendliest staff you'll ever meet.
Call: (808) 633-2464

Skyline Eco-Adventures
With 2 locations on Maui, Skyline offers safe and fun zipline courses on Haleakala and in Kaanapali. Their Haleakala zipline was the first zipline course in the United States. They have the most experience in ziplining and are sure to give you a memorable adventure.
Call: (808) 745-1323

Recommended Bike Tours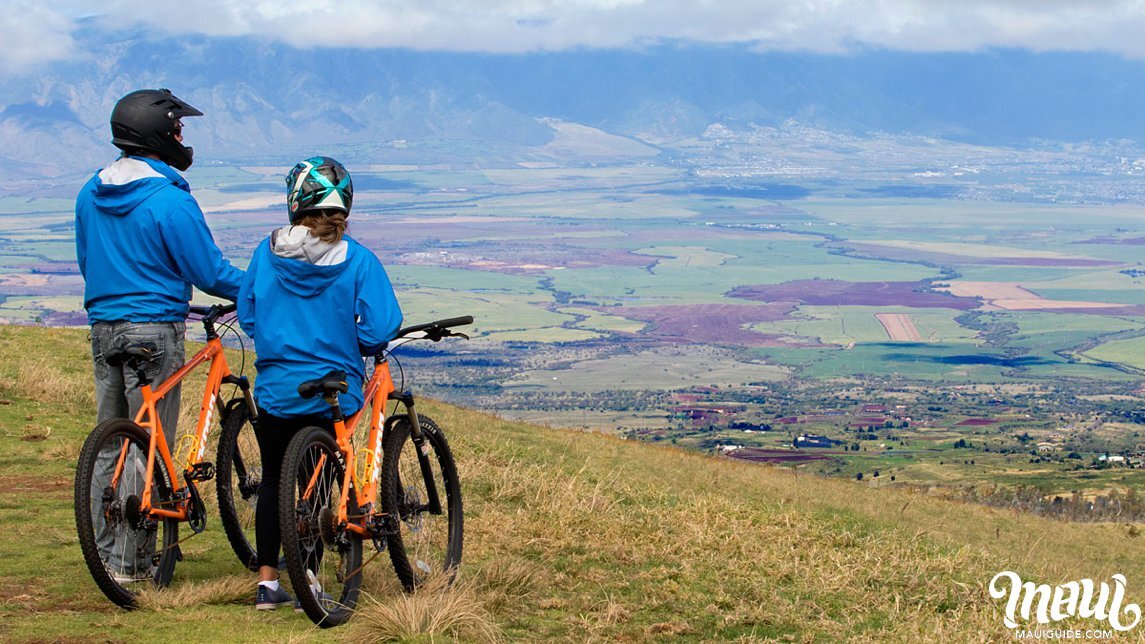 Another fun thing to do while on Haleakala is to bike down from the National Park. You can ride in the morning, then do ziplines in the afternoon. Might as well get the most excitement you can while visiting Maui, Hawaii.
Call: (888) 922-2453