We're hearing from everyone on and off-island, and admittedly we failed in being more specific on when visitors should come back to Maui.
Partly because we didn't/don't know, and partly because taking care of our people is the primary focus of every able person here on Maui.
Are Tourists Welcome to Maui Right Now?
Maui is Open.
Lahaina is Closed.

West Maui Reopened Oct 8th.
Whether you like it or not, tourism is the main engine of our economy here on Maui. During COVID, we had lofty utopian thoughts of diversifying away from tourism, but it hasn't happened and would take far too long for our residents to survive financially. The timeline in which tourists will be welcomed back to West Maui with open arms is yet to be determined, but here are a few things we know:
The first week after Lahaina town burnt to the ground, our community focused on reserving all of our resources to help the 14,000+ people without power, where the majority were displaced and houseless. Our grocery stores were getting depleted, we ran low on gasoline and propane, and there were too many frantic drivers on the road, clogging the routes to get help into West Maui (and causing car accidents.)  Since then, our displaced residents have been temporarily housed in hotels, resorts, and AirBnBs.  They are being housed long-term soon, our shelves are no longer bare, and we have boots on the ground… finally.
FEMA & Disaster Relief are Finally Here
For the first two weeks, our community had been the sole manpower collecting and supplying our West Maui residents. With no experience in how to organize or coordinate distribution sites so the goods were properly stored and fairly distributed to those who needed it most, we've done a decent job but really needed significant disaster relief.
As relief became established, the rest of our island's resources have been replenished and are available again to the rest of the island and those visiting.
Maui County Tells Tourists to Come Back
WARNING: Before chiming in, any thoughtless, hateful messages/comments will be deleted. We want/need your feedback but only if it's constructive. This is your chance to share your important feedback, so be kind. If you live on Maui and personally don't work within the tourism industry, you know people that survive directly or indirectly from the tourism economy. Think of them when sharing your opinions.

What Should You Do About Your Booked Maui Vacation?
We need continued support of small businesses on Maui as they employ the rest of our community. They're the ones with the largest resources right now to help the affected/displaced (and have been the biggest source of help so far.) Maui businesses need tourism to continue. (We'll be sharing local stories of how our Maui businesses have stepped up soon.) 
If You Are Visiting Maui (

unaffected Areas)

:

(Makena, Kihei, Wailea, Central, North Shore, Upcountry, Hana)
October Onwards – We'll need your support.  Please don't cancel.
If You Are Visiting

West Maui

:

(Olowalu, Ka'anapali, Kahana, Napili, Honokowai, Kapalua)
October Onwards – Change to a spot outside of West Maui or postpone till after November 2023.
Please keep in mind that this is a moving target. We don't know when things will open up safely in WEST MAUI without your visiting creating a negative impact.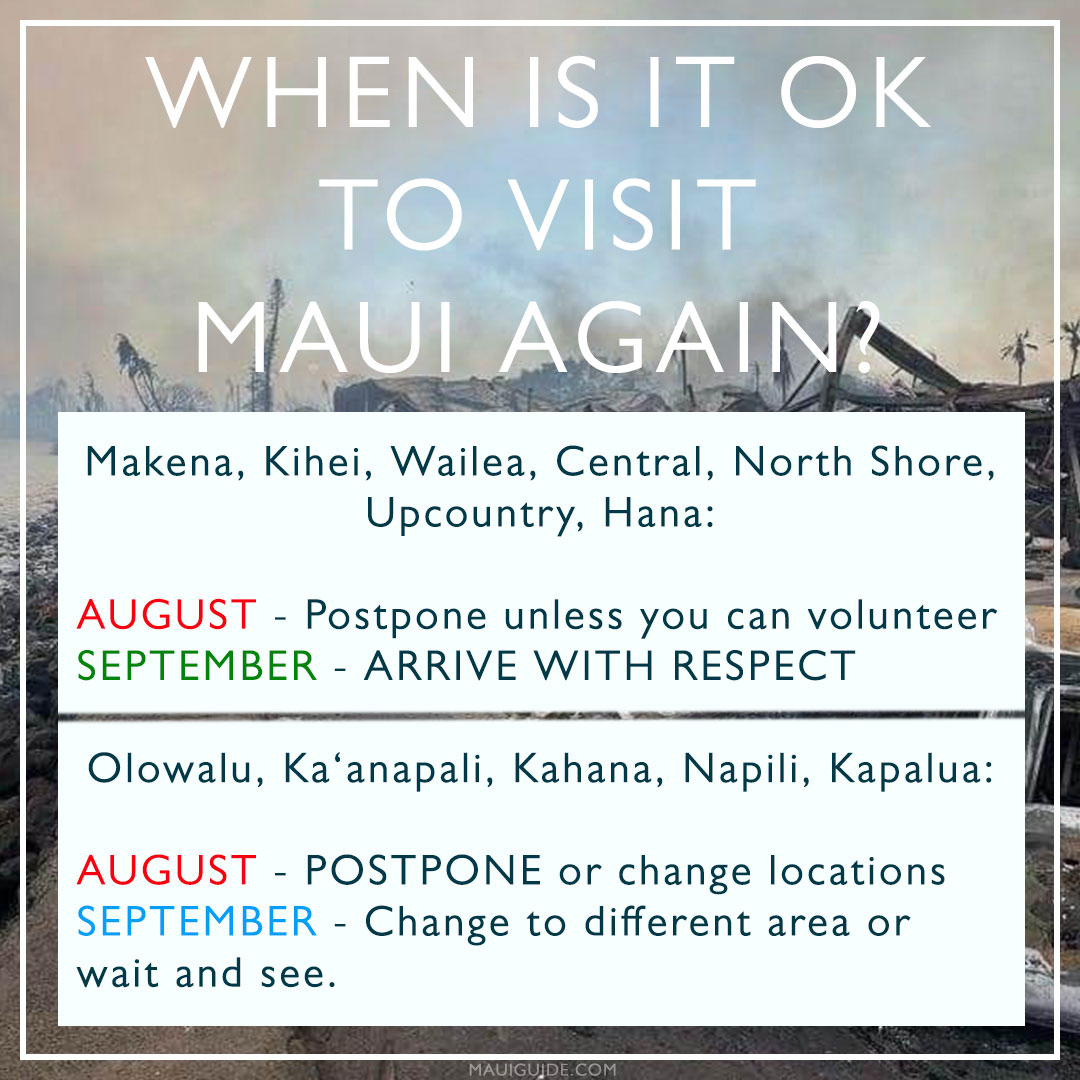 Areas of Maui Unaffected Physically By the Fires:
Everywhere except for West Maui and parts of Kula (in Upcountry). That means you can visit, and enjoy the beauty and aloha that our island and people convey while supporting Maui.
What's Open in Maui:
South Maui (Kihei, Wailea, Makena)
Central Maui (Kahului, Wailuku)
North Shore (Paia, Haiku)
East Maui (Hana, Kipahulu)
Makawao, Lower Kula, Ulupalakua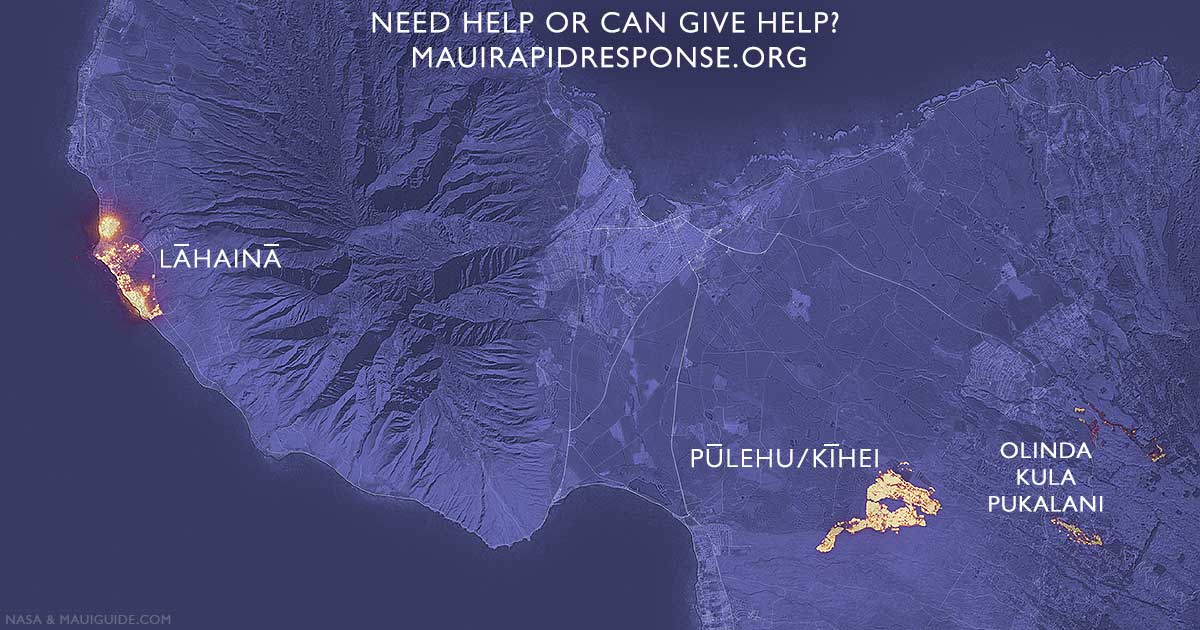 When Can You Vacation in West Maui Again?
First off, when you do come to visit, Lahaina Town, Lahaina Harbor, Front Street, and the devastating grounds where businesses, homes, and people's lives suffered, are OFF LIMITS.
Only time will tell about the rest of West Maui.
The power and cell service is just now being restored to many areas of West Maui. The water system was contaminated in West Maui and Kula and is slowly clearing out with safe water (still not good as of this posting). The infrastructure was demolished in the heart of Lahaina, and many other places in West Maui. Utility facilities are working as hard as they can to rebuild right now. Businesses have put a hold on operations and paused their employment until these systems are in place and West Maui becomes safe to be in again. Our community is monitoring the situation closely as the days pass. See the daily Maui Fires Update.
 

View this post on Instagram

 
When West Maui Does Open, How Do Tourists Visit Respectfully?
Our businesses will need visitors to build back the economy in West Maui so please frequent these Maui restaurants, stores, and shops. But be careful with your curiosity about the locals you meet. They may offer their story, and they may not. Genuine caring questions about how one survived the Lahaina fires could be triggering and not helpful. Just be uplifting, and generous with your aloha and money, and help these people recover without bombarding them with questions. Ask for permission if you have a question, and if it's too painful for them to discuss, leave it be.
Do not step foot in Lahaina Town. Do not take a selfie with someone's burnt house behind you. This tragedy will haunt our lives as a community forever, and there will be a very short fuse for any disrespectful actions by way of visitors. If you're staying in Kahana, Kaanapali, Napili, or Kapalua, use the bypass when traveling and stick to unaffected areas.
We'd also love to see you volunteer for a day on your trip.  There will be plenty of opportunities, and you'll be accepted with open arms.
Again, before commenting, take a deep breath, and share constructive feedback.  We're all exhausted, angry, and heartbroken. Please leave your thoughts below.
We're a small group of full-time Maui residents that LOVE exploring and writing about what we think is the best place on Earth: The Island of Maui, Hawaii! Expect many more articles, reviews, photos and videos of Maui and all of the Hawaiian Islands. ALOHA!