There's no mistaking it: Maui is a multi-sensory experience.
From the warmth of its sun to the richness of its natural colors to the balminess of its rain, the Valley Isle offers far more than first-rate vistas, awesome snorkeling, and sultry, tropical weather.
One of the rarest sensory experiences it offers is the inimitableness of Upcountry, where views so blindingly beautiful compete with cool mist, gorgeous flora, and environments that range from verdant jungle to arid volcanic desert.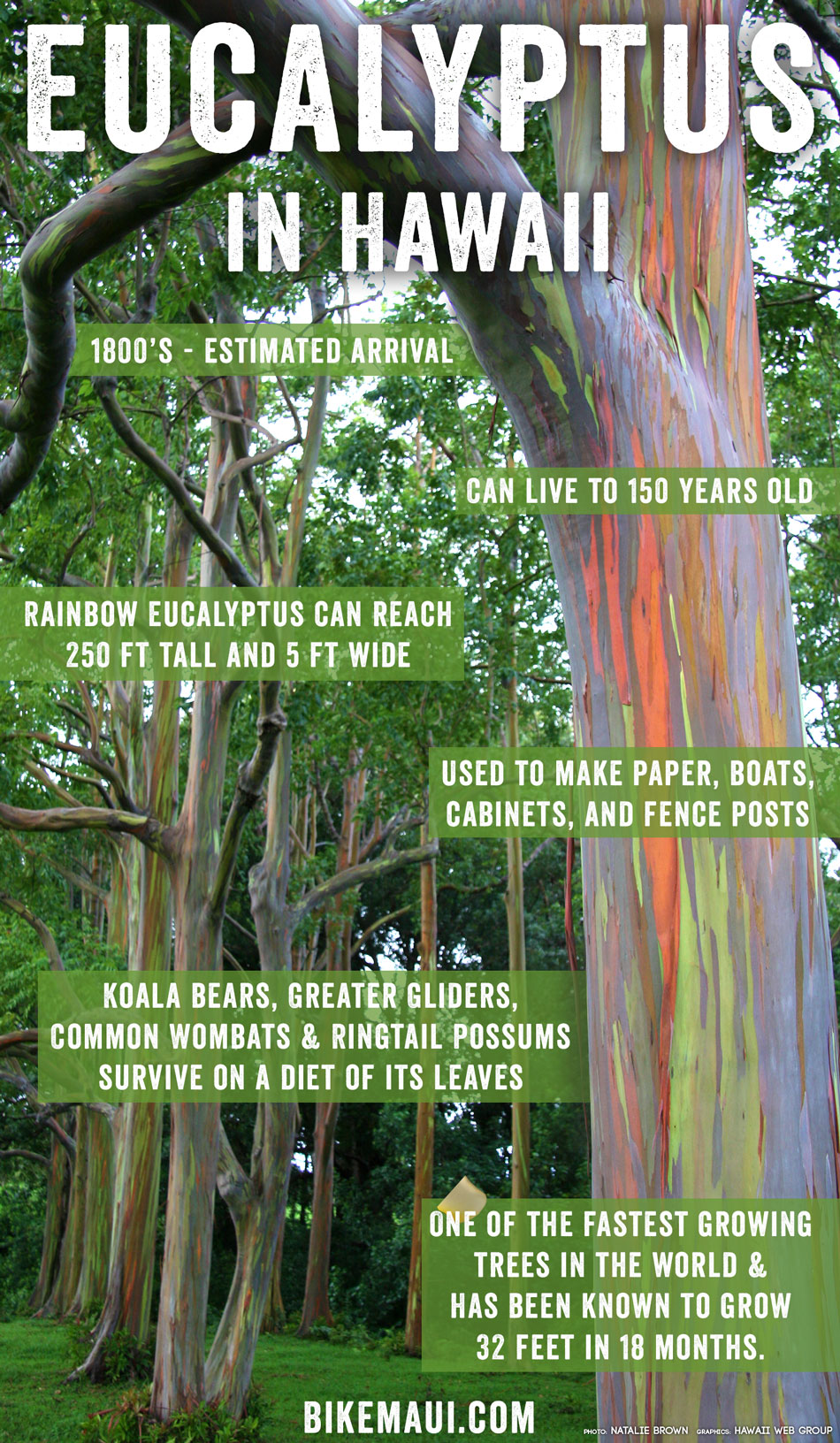 Mahalo to Haleakala Eco Tours for allowing us to publish this fantastic article.
But perhaps one of its most surprising sensualities is the subtly astringent scent of eucalyptus trees.
Whether you're hiking in the Makawao Forest Reserve or visiting the enchanted Painted Forest in Hana, the sharp smell and vibrant sight of these trees is a sensory souvenir that can linger for a lifetime.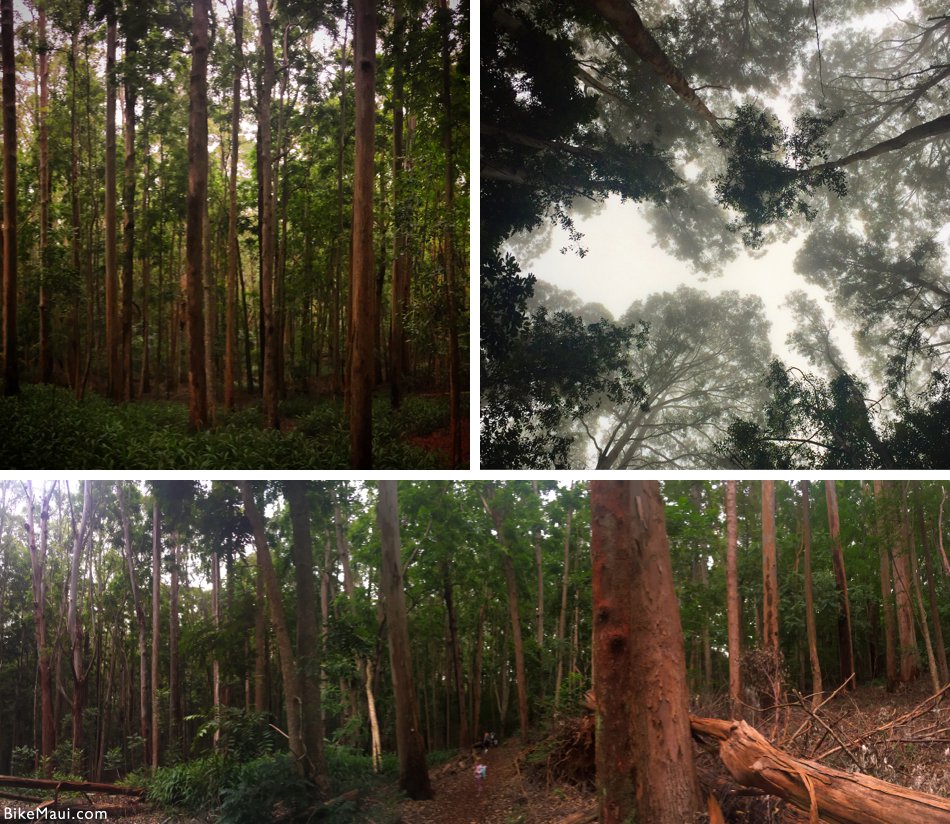 Otherwise known as eucalyptus deglupta and rainbow eucalyptus, this towering tree—which can reach up to 250 feet tall and more than 6 feet wide—originally hails from the Mindanao island in the Philippines, where it's known as the Mindanao Gum.
Stately and vibrant, they're estimated to have arrived in Hawaii in the late 1800s, when plantings were established in the Nuuanu Valley above Honolulu, sharing the wealth of wet space with ironwoods and Tantalus. The establishment of eucalyptus on the other islands is credited to the Civilian Conservation Corps—a program put into place by Franklin D. Roosevelt at the end of the Great Depression to provide employment to young men, primarily in national and state parks around the country. The eucalyptuses planted during this era fulfilled dual roles, offering both ground cover and wages. As for their abundance on Maui: Some speculate that they were planted to limit soil erosion created by over-logging.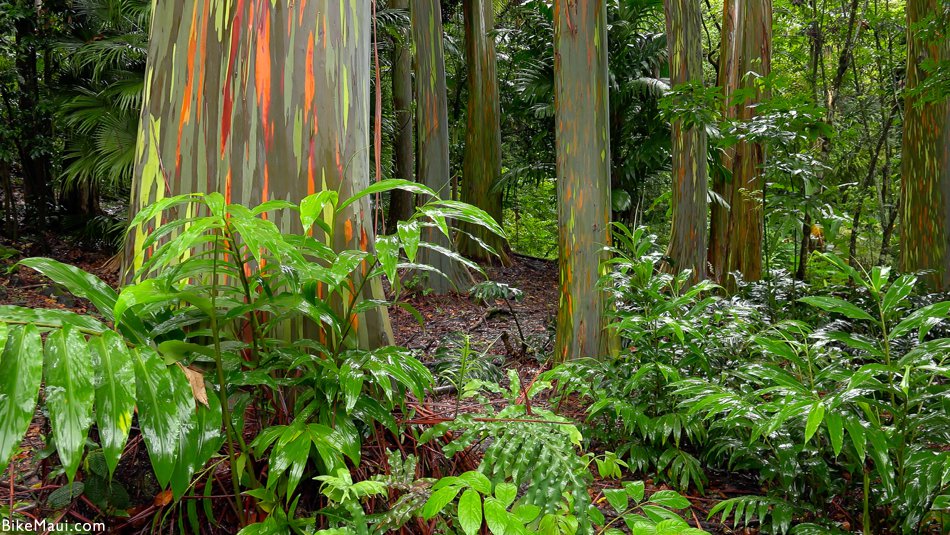 Rainbow eucalyptuses are distinguished chiefly by their colorful beauty, presenting what could be considered seasonal bark: When shed at certain times throughout the year, the outer layer peels away to reveal a vivid green inner bark, which darkens and ages to reveal purple, blue, pink, orange, lime, and burgundy.
The result? Vertical, glossy, multicolored stripes that entice and bewitch. What's more, because different parts of the trunk experience this exfoliation at separate times of the year, the tree appears to be in a constant state of color flux, rendering it a living rainbow.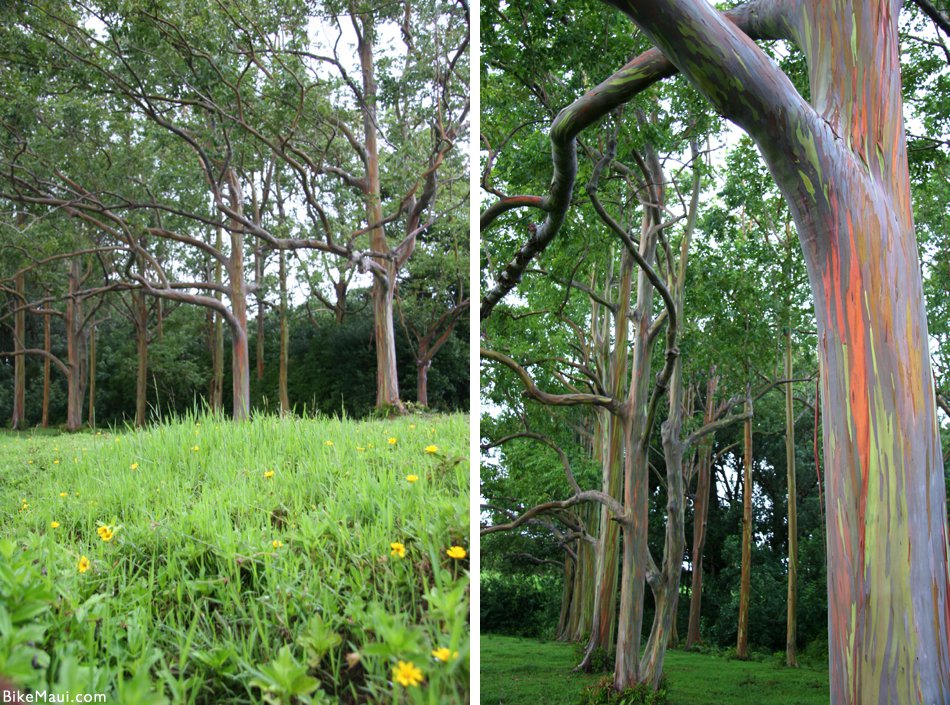 The only eucalyptus tree to grow in the Northern hemisphere—with populations in the sunnier spots of California, Texas, and Florida—the rainbow eucalyptus is perfectly suited to Maui's upcountry climate, preferring its tropical environs to be rich with rain.
Tropical rain is key here—rainbow eucalyptuses require primarily frost-free environments and are unable to tolerate temperatures that drop below 26 degrees (sorry, Wisconsin).  And be careful where you light a match: the rainbow eucalyptus is particularly sensitive to fire, albeit surviving those that hit the Australian wilderness by releasing dormant shoots that allow them to germinate under extreme heat.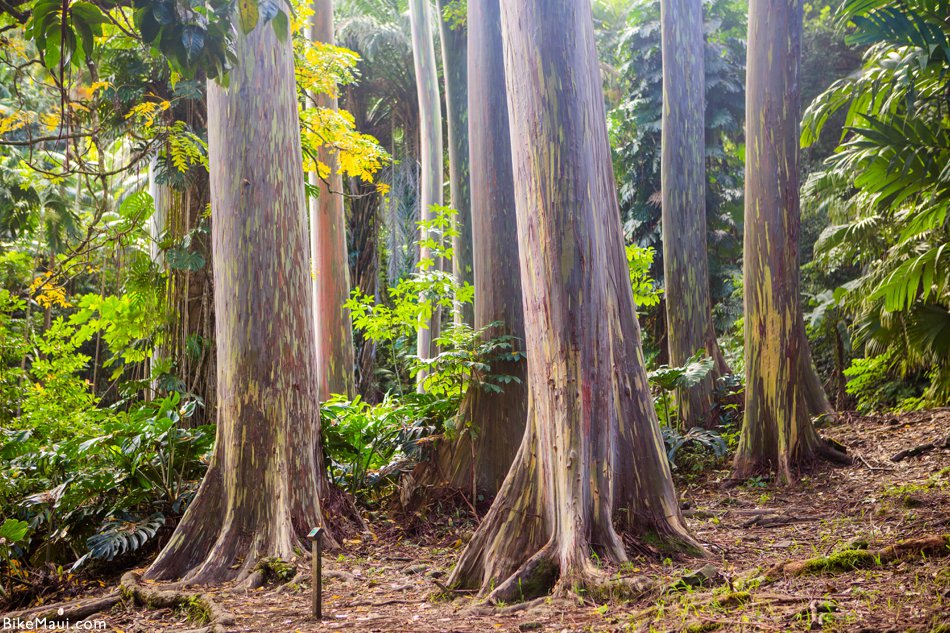 The loveliness of the eucalyptus isn't for the eyes alone.
A common staple in tree plantations, eucalyptuses are often used for pulpwood—cellulose-fiber-rich timber that's utilized for paper production. Eucalyptuses are also often farmed to serve as ornamental trees in tropical and subtropical parks and gardens, with the eucalyptus globulus variety comprising a significant part of San Francisco's iconic Golden Gate Park.
Meanwhile, Costa Rican coffee farmers plant these gaudy wonders to provide shade for their crops, and essential oils are extracted and used in an array of body care products, from perfumes and lotions to insect repellants and medicines. Eucalyptuses were also once used in Africa to help deter the spread of malaria by destroying the wet habitats needed for the proliferation of mosquitos. As for that gum in its name? Don't bother looking for it as an ingredient in your pack of Wrigley's: The fruit eucalyptuses produce is called a gum nut, and the sticky substance it exudes when a trunk is "injured" is gum-like in texture. Here in our home state of Hawaii, the wood from eucalyptus is frequently used for the construction of boats and cabinets, while earlier plantings were used during the sugarcane boom for fence posts and firewood.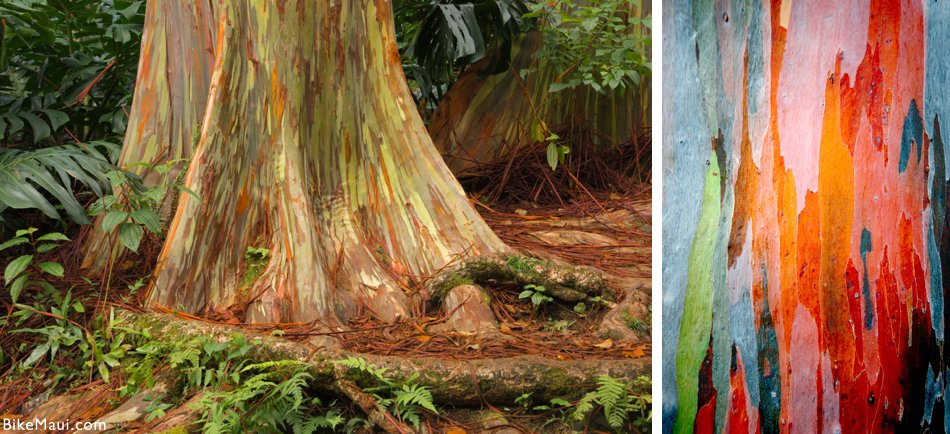 Human necessities aside, eucalyptus trees—which can live up to 150 years old—are a primary source of habitation and food for a variety of animals.
Chief among them? The Koala bear, of course, who, along with the Greater Glider, Common Wombat, and Ringtail Possum, is the only mammal who can survive on a diet of eucalyptus leaves. While toxic to most animals and too fibrous to provide much sustenance for others—think of a human subsisting entirely on romaine and iceberg—eucalyptus leaves give koalas enough energy to forage and mate in the four to six hours they're awake per day. (Their slow metabolic rate forces them to sleep eighteen to twenty-two hours a day to conserve resources.) And while Hawaii doesn't have any koala bears, the elusive Hawaiian Hoary Bat—or 'ope-'ape-'a—is thought to roost in the rainbow eucalyptus's branches.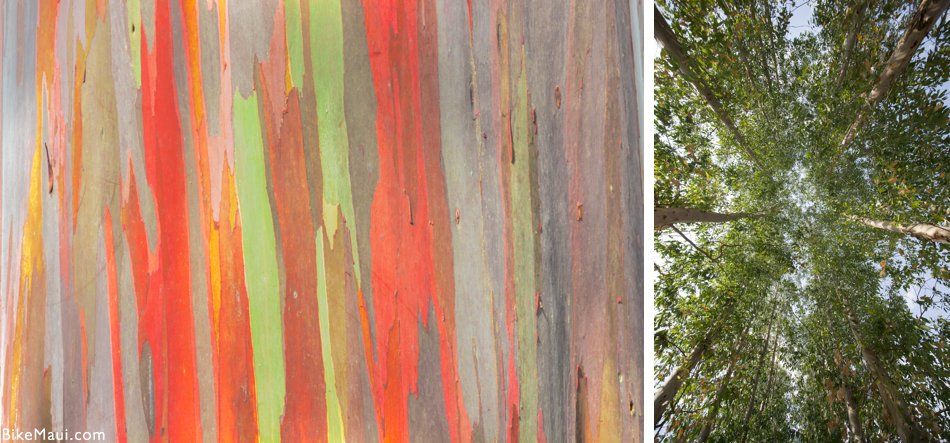 As much as eucalyptuses may be prized in the wilderness, logging of them is slated to begin on the Big Island's Hamakua Coast, where there's over 40,000 acres of potential timberland. Rainbow eucalyptuses are also of considerable interest to bioenergy engineers, who use the wood for the generation of electricity, direct combustion, and the production of fuel. And expect a rise in their harvest: As the world moves away from petroleum consumption and towards biomass fuels, the more attractive eucalyptuses become, primarily because of their durability and the quickness with which the grow, which, at up to ten feet per year, makes them one of the fastest growing trees in the world. (One particular specimen grew a whopping 32 feet in 18 short months.)
While rainbow eucalyptuses grow throughout the lusher parts of Maui—with presences in Kula, Makawao, and Haiku—they are perhaps most stunning in Hana, where a grove near Mile Marker 7 captivates and beguiles. Venture under their canopies when the light is just right and you'll find a splash of colors that might shame Pollock—or at least inspire him.

Thank you, Maui Photographer Organization, for the use of many of your stunning Maui photos.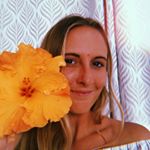 Born and raised on Maui, I have a deep love for language and writing. At present, I work as a content writer at Hawaii Web Group, where I have the opportunity to showcase my passion for storytelling. Being a part of Hawaiian culture, storytelling holds a special place, and I am thrilled to be able to share the tales of the amazing people, beautiful locations, and fascinating customs that make Maui such an incredible place to call home.