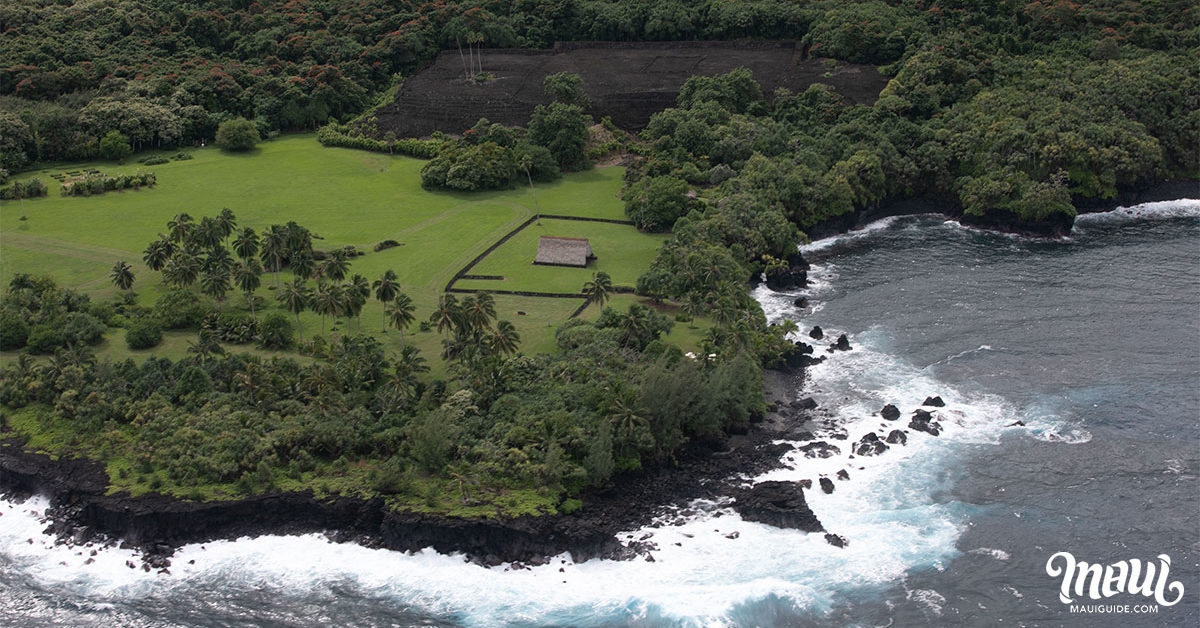 Welcome to Kahanu Garden, situated in the sacred lands of Honomaʻele. This is where the ancients built the largest remaining ancient structure in Hawaii: Piʻilanihale Heiau – a sacred, religious temple that is now registered as a National Historic Landmark.
Kahanu Garden is an ethnobotanical garden – a garden that tells of the relationships between people and the plants they use in their culture. Our Canoe Garden is landscaped with the plants brought to Hawai'i on ancient voyaging canoes, plants that are essential to Hawaiian living. Complimenting the Canoe Garden are Pacific collections of breadfruit and coconut, as well as certain native Hawaiian plant species and a native Pandanus forest.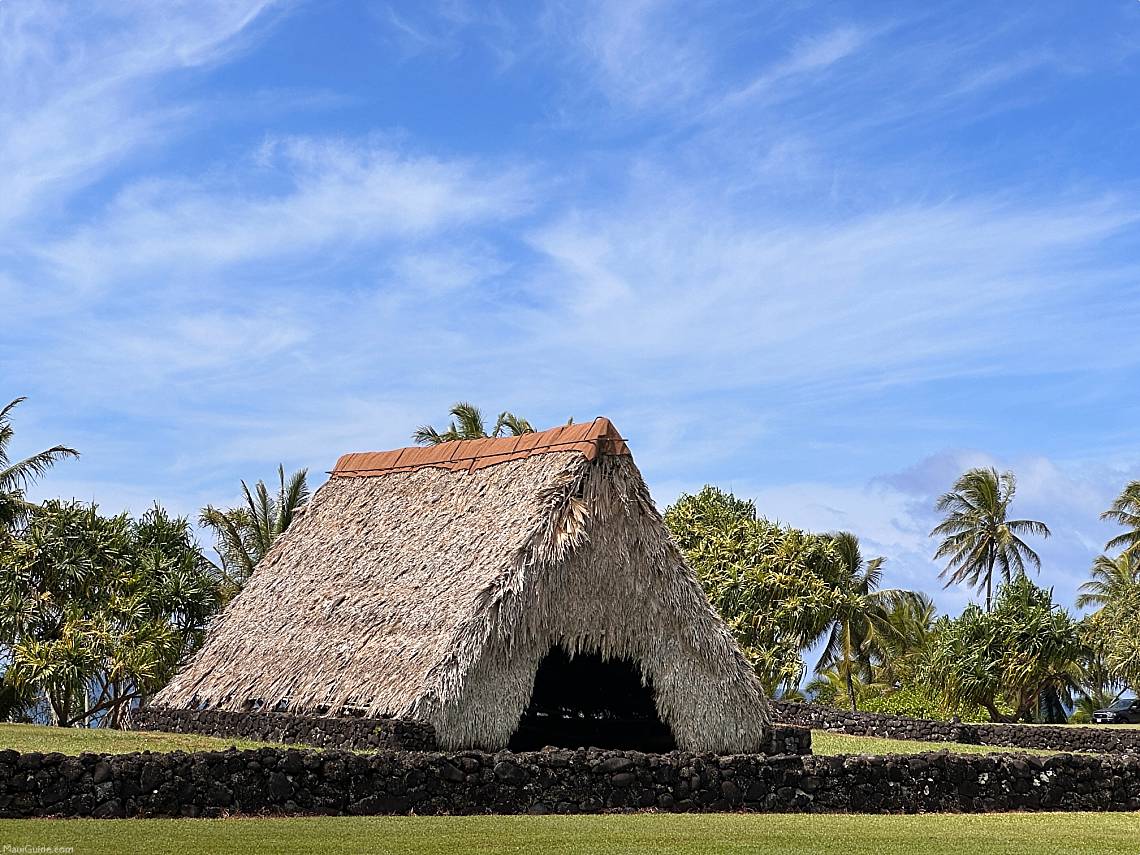 In Brief
In 1856, King Kamehameha III gifted Chief Kahanu with the 464 acres that now make up this cultural site and Hana attraction. Restorations began in 1974 to take the verdant land to its potential; today it features a vast, peaceful lawn and a "canoe" garden teeming with flora brought on board by the Polynesian seafarers who settled in Hawaii with beautiful tropical plants from their native islands.
---
Flora Found At Kahanu Garden
Maiʻa – Banana
Kō – Sugarcane
Ipu – Bottle Gourd
Kalo – Taro
ʻUala – Sweet Potato
Hoi – Bitter Yam
ʻAwa – Kava
Kou Tree
Kī – Ti Leaf
Naupaka Kahakai
ʻŪlei
Wiliwili
---
Kahanu Garden is also home to the world's largest collection of breadfruit (ulu) cultivars.  A site not to miss when enjoying the Road to Hana.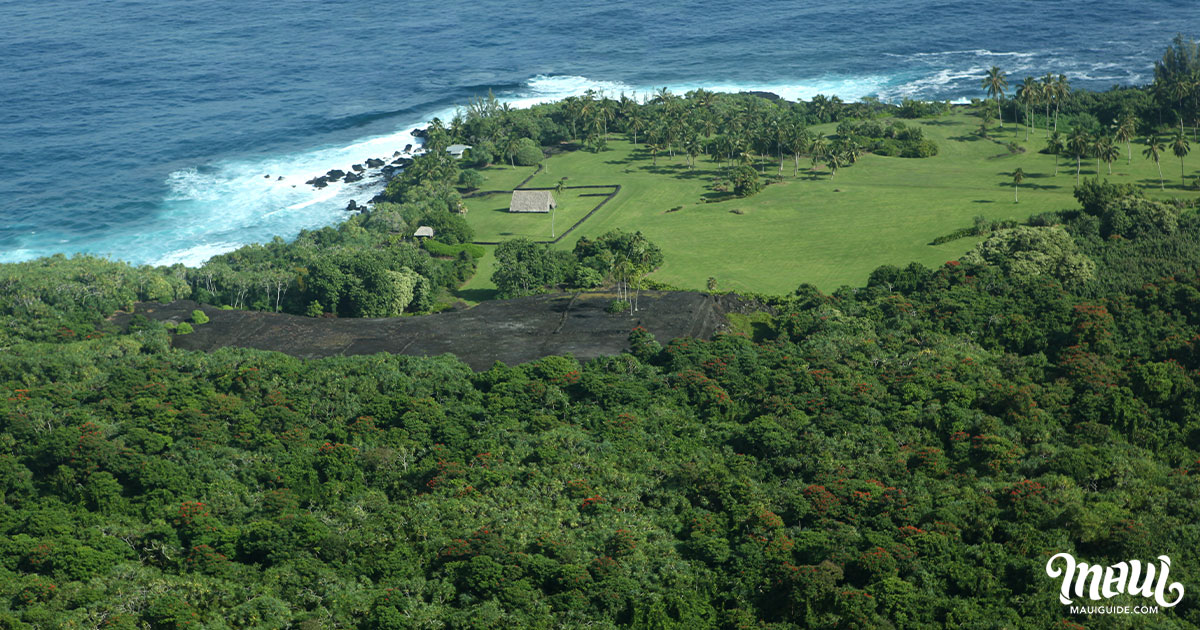 What to Love
Open to the public, Kahanu Garden presents visitors with the chance to step back into old Hawaii—if not for the mere serenity then from a botanical and cultural perspective. The site of Piʻilanihale Heiau—a massive, hand-crafted structure that began in the 13th century and is named after one of Maui's most lauded aliʻi (chief) —the garden, which once housed a sugar plantation and cattle, borders sea cliffs that often see pounding, dramatic surf—and present sweeping views of the outlying ocean. Perhaps most touching are the tangible and intangible signs of the profound relationship between ancient Hawaiians and the 'aina—a fact that's reinforced among this immense, lovingly-maintained orchard.
The Piʻilanihale Heiau
This heiau is believed to be the largest in all of Hawaii. A lava ridge was faced with a retaining wall, filled in with stones, and topped with a 450′ X 320′ platform. Archaeologists believe it was built in several sequences starting around 1200 A.D. and estimate that it took more than 128,000 man-days to complete. Some of the stones came from Hana Bay seven miles away.
Piʻilani was the 16th-century chief of Maui who was beloved by many for his peaceful and productive reign. Piʻilanihale literally means "House of Piʻilani". While Piʻlilanihale was surely used as a religious site, there is also evidence of it being used as a house site. Much of the history of this heiau remains shrouded in mystery.
Due to the cultural importance of this magnificent site and as a way to protect it, Piʻilanihale Heiau was registered as a National Historic Landmark in 1964.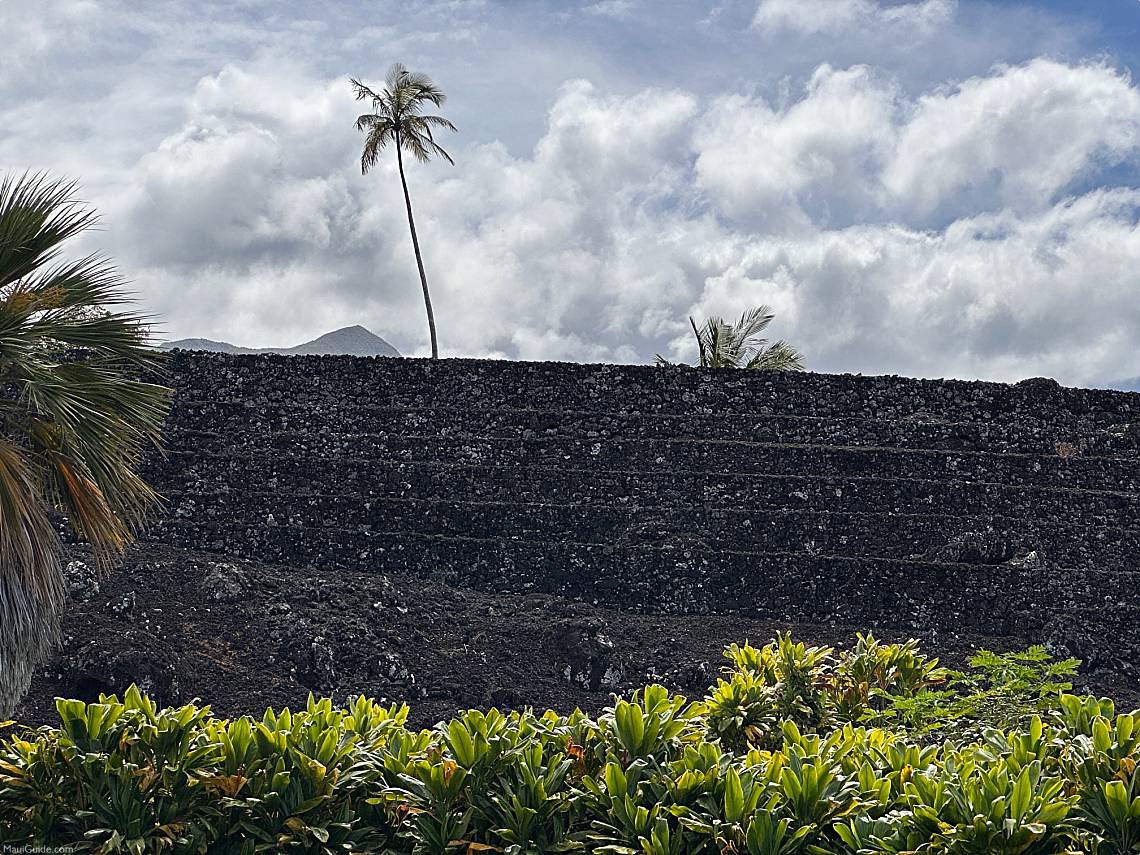 A Message From Kahanu Garden:
As part of perpetually maintaining the cultural and physical integrity of the heiau, we ask that all visitors who come to Kahanu Garden follow a cultural protocol that respects the heiau and other ancient sites on our property as irreplaceable gifts from our kupuna (ancestors) who seek to preserve the mana (divine power) of this heiau. This protocol is very simple.
ABSOLUTELY NO ONE IS ALLOWED UP ON THE HEIAU.
We thank you for helping us preserve important cultural traditions as well as this incredible structure.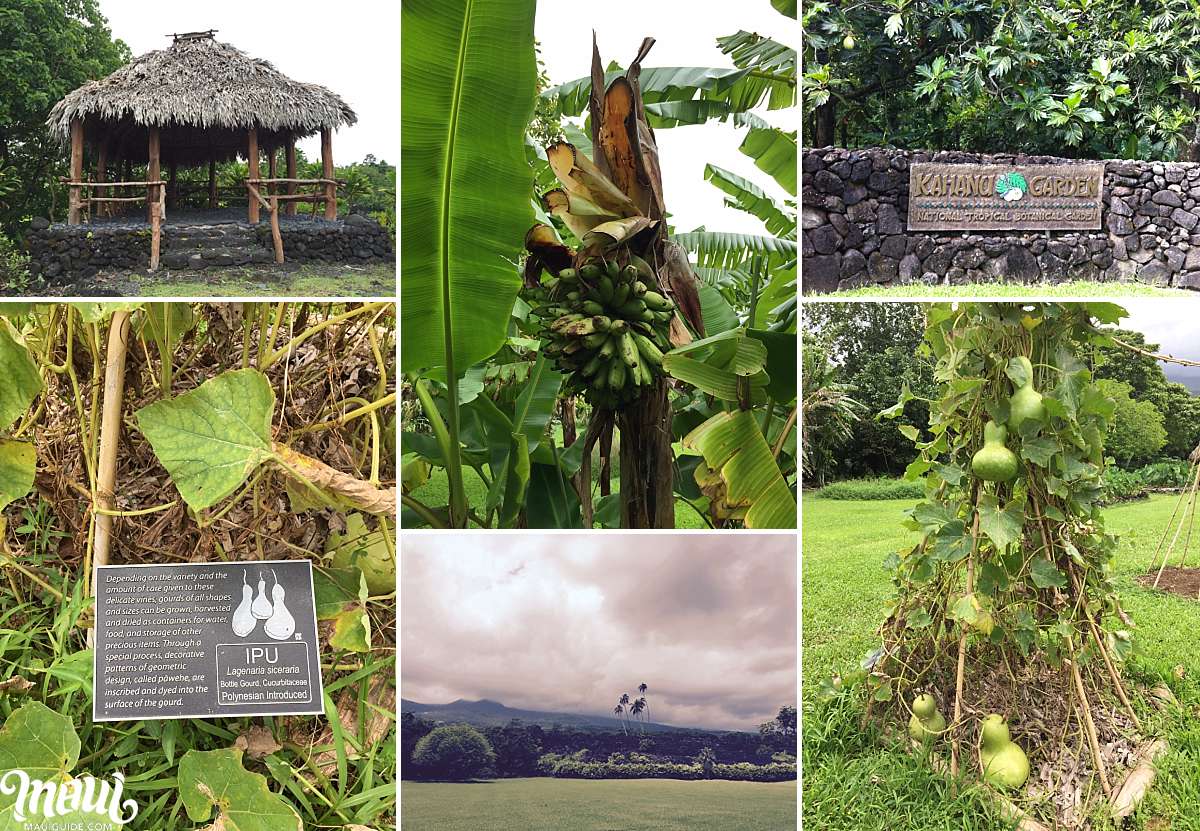 What to Know
Self-guided tours are offered Monday through Saturday from 9 am to 3 pm; schedule an hour and a half to meander its grounds. Guided tours are also available on Fridays from 11 a.m.-1 p.m. You can expect to gain a deeper understanding through moʻolelo (stories) of ancient Hawaii and a chance to see archeological features not covered by the self-guided tour. (Please note that reservations are required.) While the garden edges against the sea, swimming here is treacherous. Located a half mile past Mile Marker 31 on Ulaino Road.
---
Kahanu Garden Tour Options
Kahanu Garden Self-Guided Experience

(Monday – Saturday – 1.5 Hours)

Adults – $16

Kamaʻaina (w/ HI State ID) – $10

Children (12 & Under) – FREE

Hana Residents (w/ HI State ID) – FREE

Kahanu Garden Guided Tour

(Fridays – 2 Hours)

Adults & Children 13 & Older – $30

Children 12 & Under – FREE

Hawaii School Student Discounts Available

 
---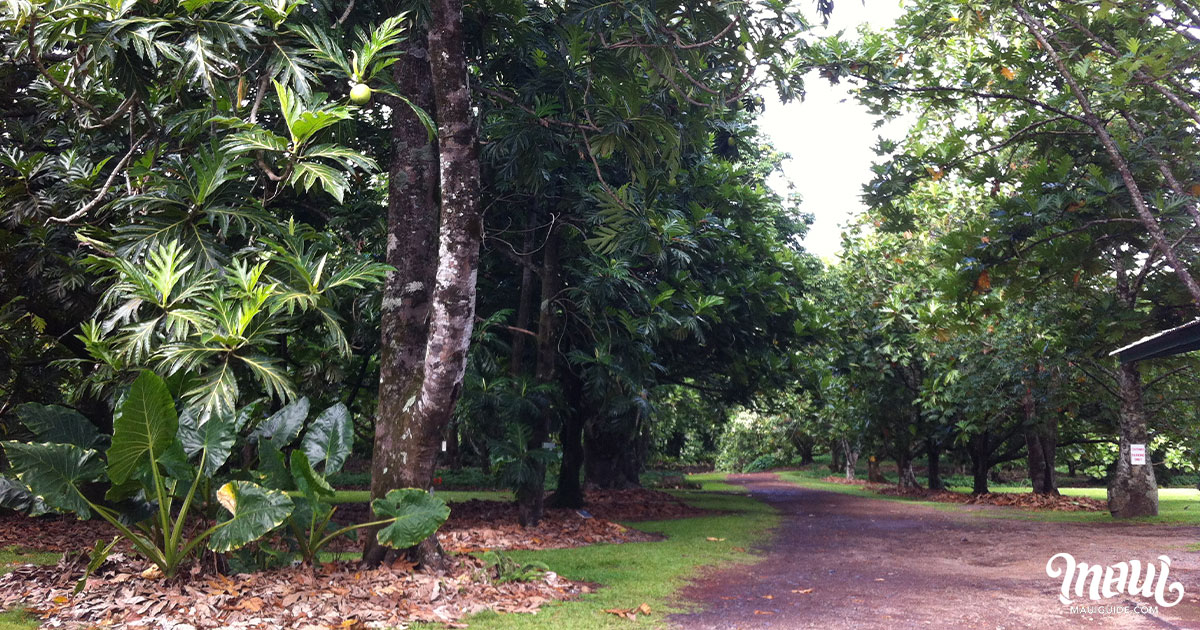 DISTANT VIEW
By now, you have nearly finished your tour of Kahanu Garden. Take a moment to look at Pi'ilanihale from a distance and imagine a thriving ancient Hawaiian community on these lands.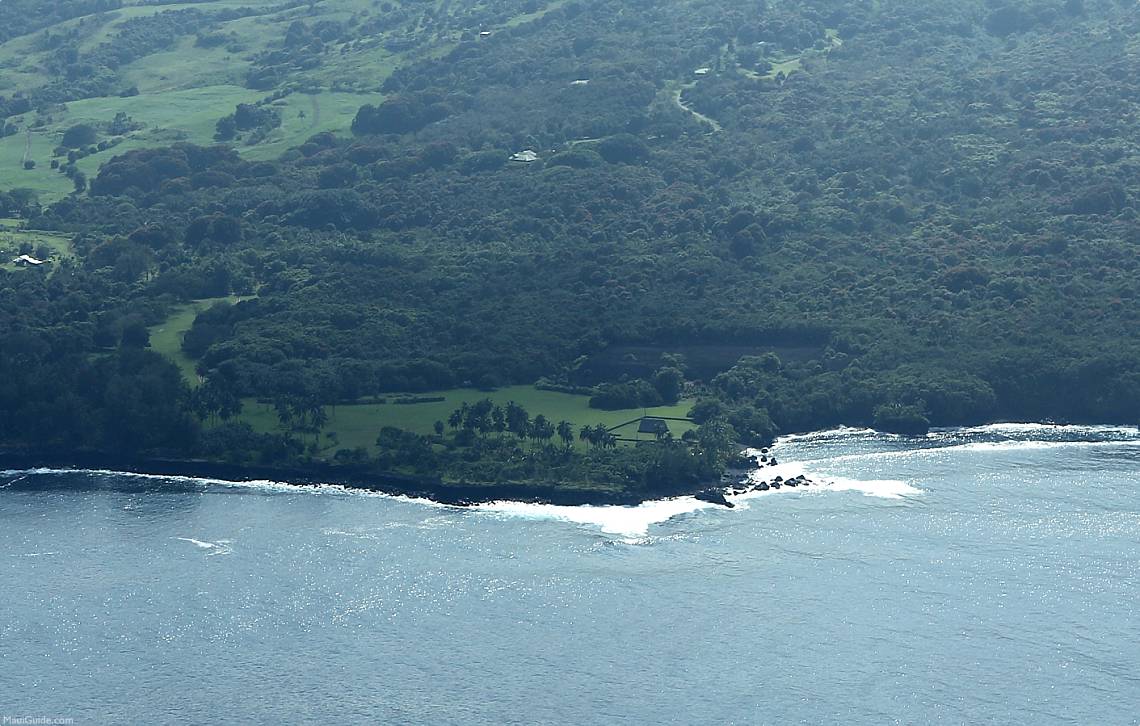 Pi'ilanihale stands out as a beacon to all who lived and worked within the ahupuaʻa (district) of Honomaʻele. We hope that your visit to Kahanu Garden has left you with a new appreciation for the people who journeyed here so long ago in their voyaging canoes and their connection to the plants that are often still used in everyday life. It is because of the native people's love of the land, their chiefs, and their home, that makes Hawaii unlike any other place on earth.
HALE HOʻOKPIA
Hale Hoʻokipa means "the welcoming house." It is a good place to rest before you complete the tour. Look around and enjoy the interpretive materials on display as well as the stone artifacts in front of the hale. They were found nearby and some were used in ancient times to grind and sharpen stone tools.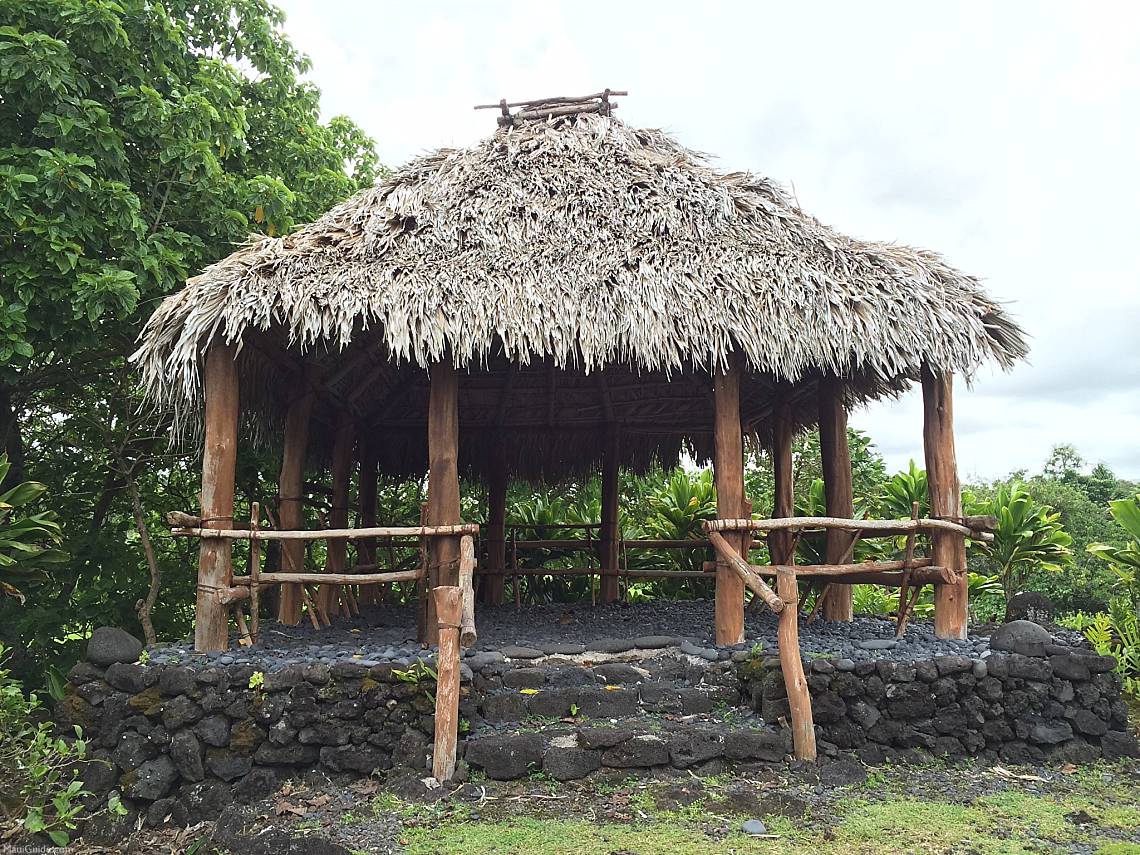 As you leave the hale you will pass unmarked graves. These may look like piles of rocks or small circular walls. Please respect these sites by not walking on or removing the stones.
Please be very careful when descending the steps and continuing along the route toward the lookout over the hala tree preserve. The ledge to your left is undercut by the ocean and is extremely steep and crumbling.
KE KAI
The Hawaiian word kai means "sea" and the spectacular ocean view ahead reminds us of its cultural significance to all Hawaiian people.
The ocean has an abundance of food that our ancestors depended upon for subsistence along with the food from the ʻaina (land). The ocean was also the highway for our ancestors, providing a relatively quick way to get from one village to the next.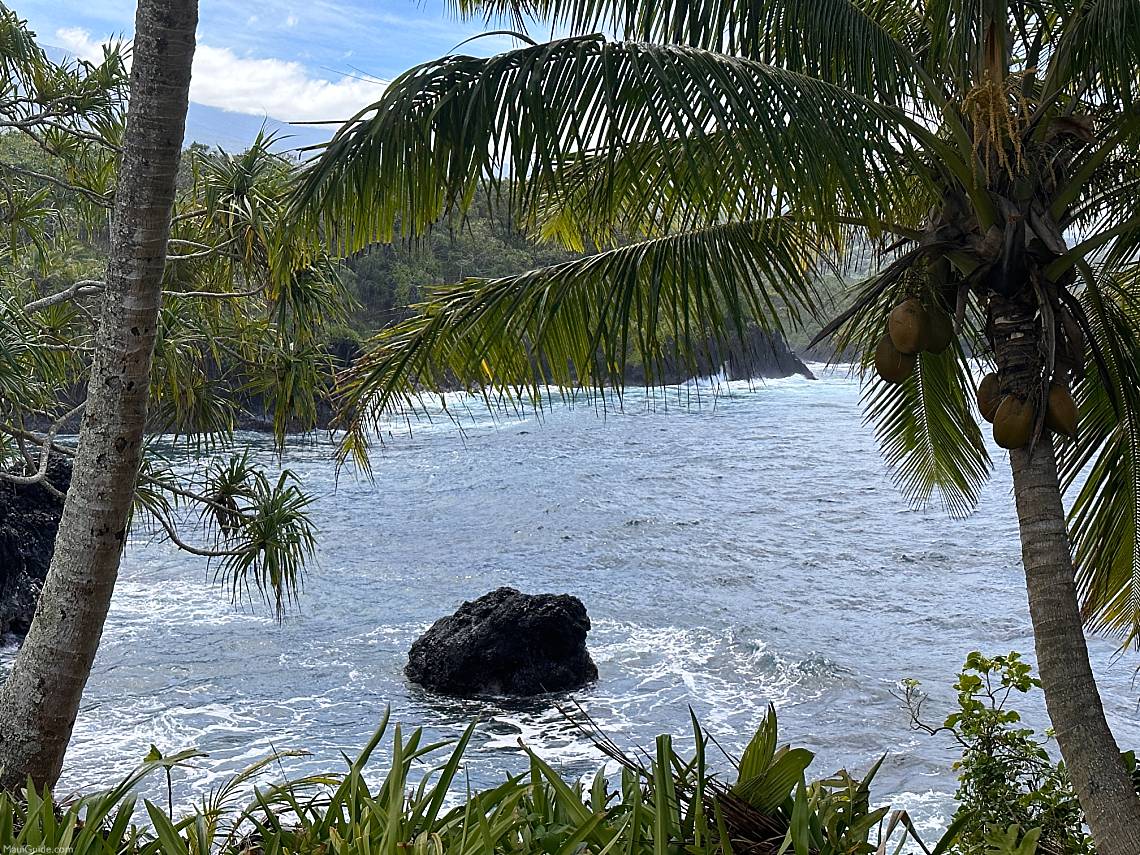 The Hawaiian way is to live in abundance without abusing the resources, but preserving them for future generations. By taking only what you need, resources will always be available for future generations of young Hawaiians.
"E 'ai i kekahi, e kapi i kekahi."
Eat some, salt some.
A Hawaiian philosophy: Eat some now and save some for another time.

Directions
Before you get to Hana Town, look for a lefthand turn onto Ulaino Road. On the right side, past the Hana Lava Tubes, you'll see the turn-off into Kahanu Garden. Stop at the visitor center. Do not drive any further down Ulaino Road as it's private and the locals are vigilantly protective of their privacy.
Your experience through Kahanu Garden begins here at the Visitor Center. The first feature is the 'Ulu (breadfruit) Grove which lines the driveway on both sides. Take this time to stretch out and admire these handsome trees.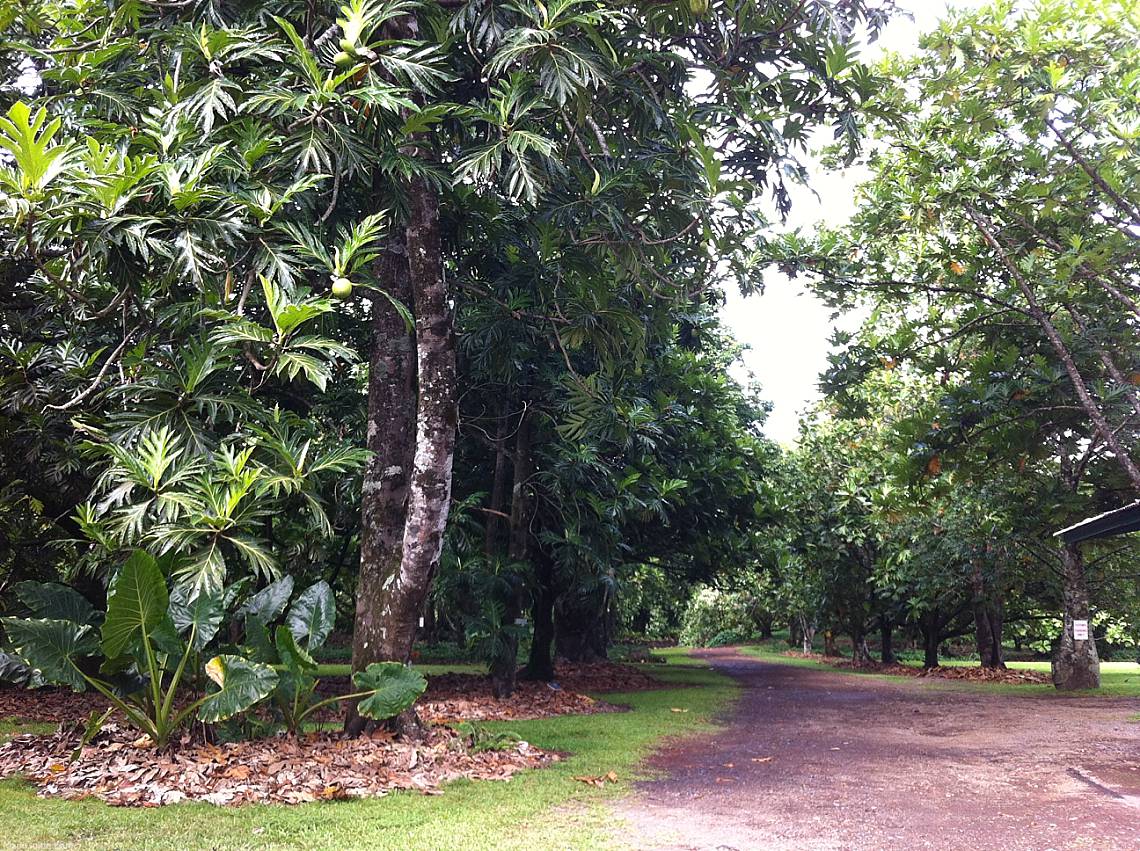 When you are ready to proceed, you can drive or walk about a quarter mile down to the parking area at the end of the cement strips. The restrooms are located just before the parking area.
As you proceed down the cement driveway you will have a chance to see many trees with small identification tags. These trees are part of our conservation collection of plants from around the world. They are classified as "modern introductions" as they were brought to Hawaii after the arrival of Captain Cook in 1778.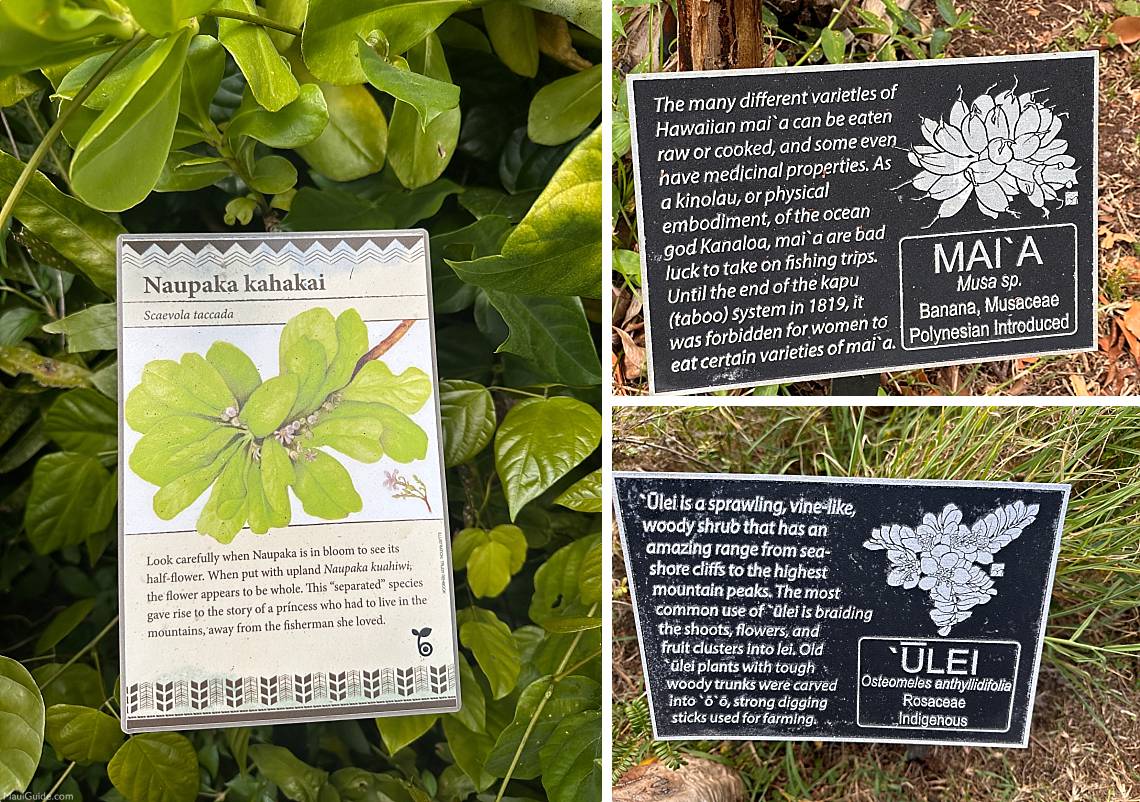 When you reach the end of the cement driveway, please park your car and proceed to The Canoe Garden by foot.
What You'll Find Nearby
Speaking of natural wonders: Also on Ulaino Road, you'll find Hana Lava Tubes, a subterranean system of lava tunnels that are just as apt for exploring, with a third of a mile of stalactites, flowstone, and lava piles.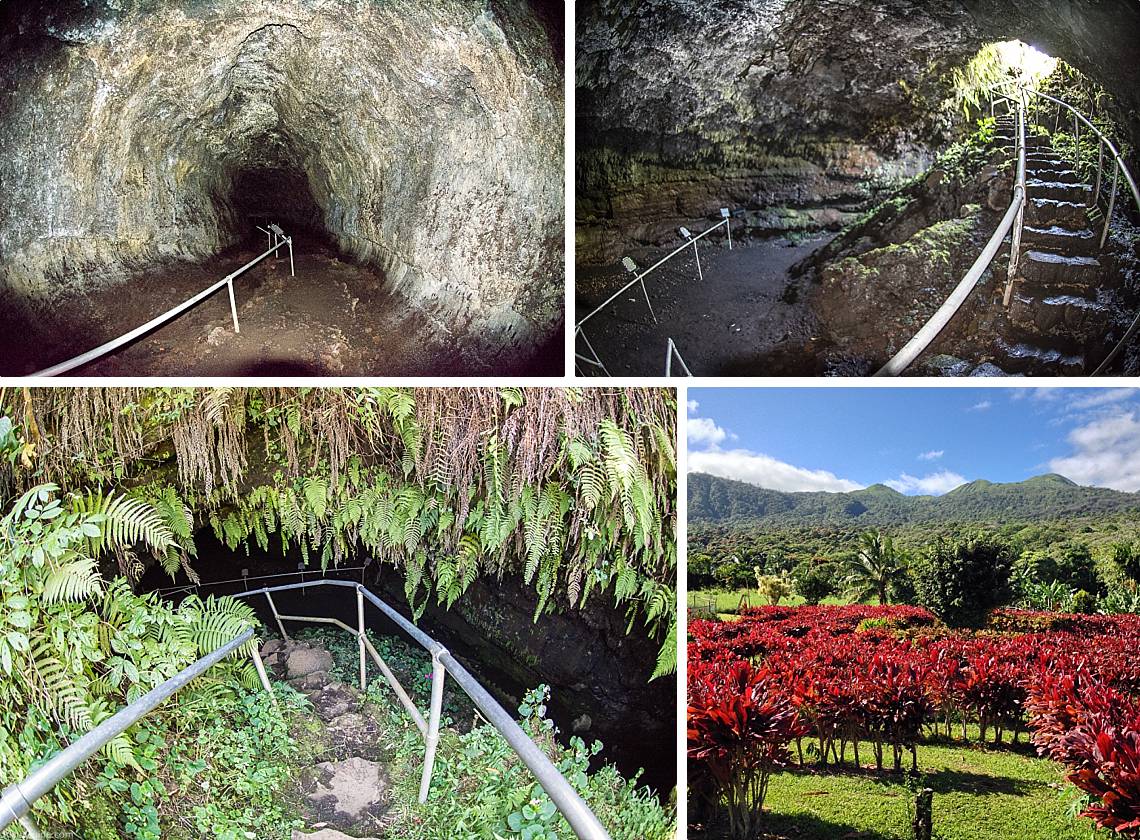 More Kahanu Garden History
In ancient days, the ahupuaʻa (division of land) of Honomaʻele, with its abundant rainfall and rich fertile soil, was an important agricultural area. For many generations, it was a thriving Hawaiian community that prospered under the guidance of their aliʻi (chiefs). One of the famous aliʻi who has been remembered in chants and legends is Plʻilani, the first ruling chief to unite the entire island of Maui under one rule during the 16th century. "Nā hono a Piʻilani" or "the bays of Piʻilani" is a poetic way of making reference to Maui.
In 1848, the Hawaiian Monarchy divided the land in a process known as the "Great Mahele." Directly resulting from this new land ownership system, one-half of the ahupuaʻa of Honomaʻele, roughly 990 acres, was granted to Chief Kahanu by Kauikeaouli (King Kamehameha III).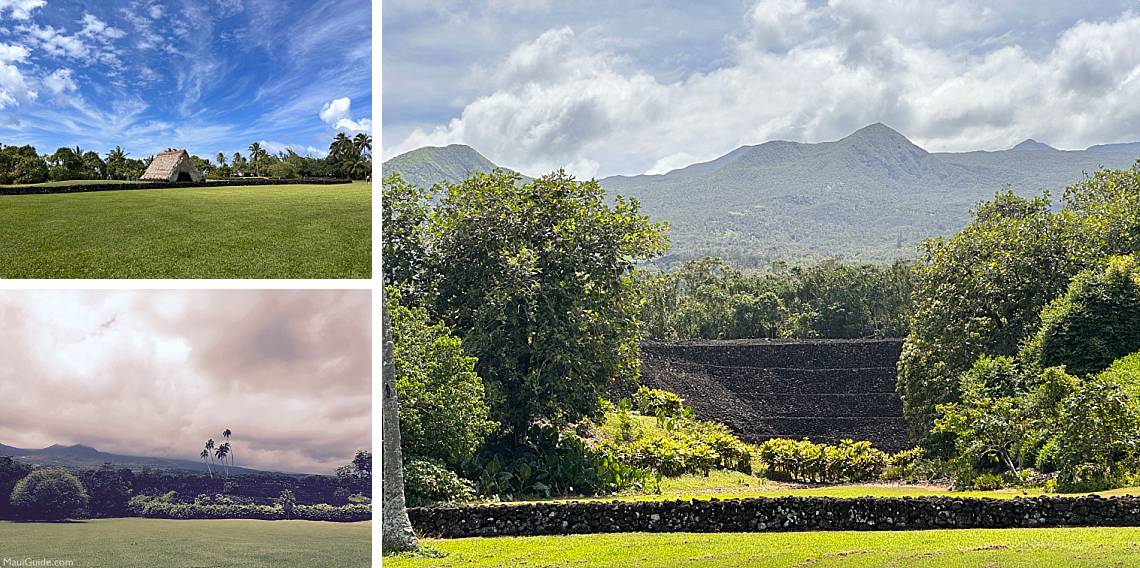 From the time of Chief Kahanu on, Honomaʻele had gone through several major land-use changes In the early 1860's Hāna Plantation was formed and the area became a thriving sugar plantation community. After farming the land for nearly 100 years the plantation closed in 1946 and Hāna Ranch transformed the old sugar fields into pastures for grazing cattle.
In 1974, members of the Kahanu/Uaiwa/Matsuda/Kumaewa Family (descendants of Kahanu) and Hāna Ranch deeded 61 acres of land to the growing National Tropical Botanical Garden (NTBG) to establish Kahanu Garden. In exchange, NTBG promised to restore Piʻilanihale Heiau, share it with the public, and provide perpetual care for this sacred site as well as the family graves that are on this ʻaina (land).
Since the original 1974 deed, Kahanu Garden increased to a total of 293 acres and continues to perpetuate the values of biocultural conservation in the Pacific.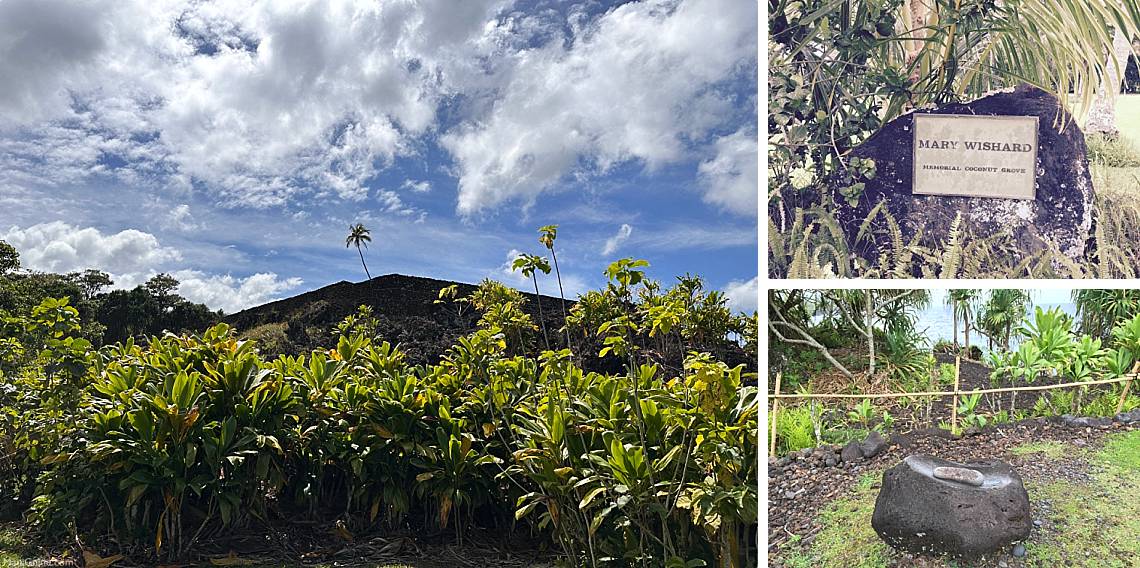 Because of the sacredness and fragility of certain sites at Kahanu Garden, visitors need to follow a cultural protocol that respects the Heiau (Hawaiian temple) and other sites as irreplaceable gifts from our ancestors. The protocol is simple and has been established with the help of Hawaiian cultural practitioners and kupuna (wise elders):
Kahanu Garden is a drug-free garden, consumption of drugs including alcohol and cigarettes is strictly prohibited. Picnicking, camping, and other recreational activities are also prohibited.
VISITORS ARE NOT ALLOWED TO ENTER OR CLIMB ON THE HEIAU OR ANY OTHER STONE STRUCTURE.
DISTURBING/REMOVING ANY STONES OR PLANT MATERIAL IS STRICTLY PROHIBITED.
Thank you for helping us to preserve our cultural resources. Enjoy your experience here at Kahanu Garden as you step back in time…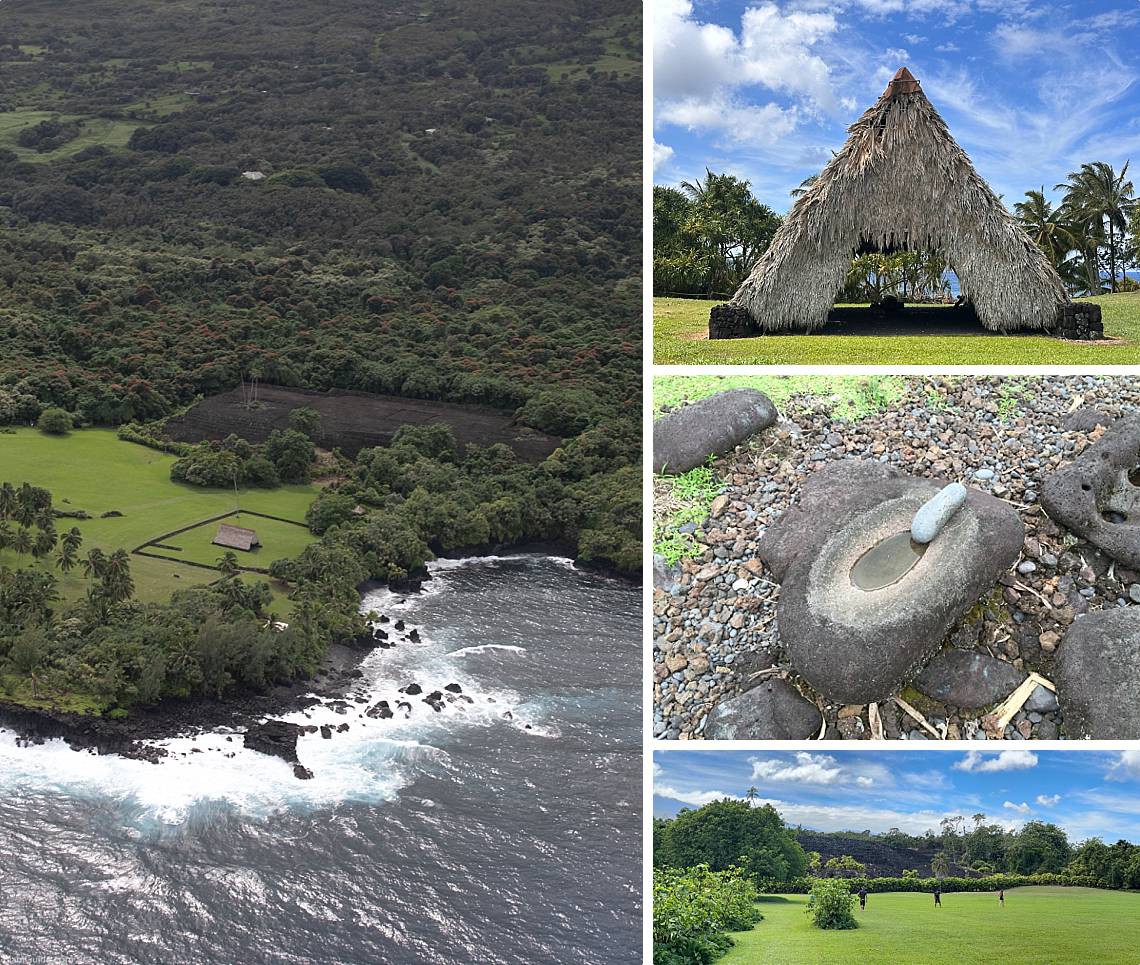 As a non-profit organization under its congressional charter, the mission of the National Tropical Botanical Garden is to enrich life through discovery, scientific research, conservation, and education by perpetuating the survival of plants, ecosystems, and cultural knowledge of tropical regions. NTBG is part of a global network of botanic gardens committed to conserving plant diversity. They are an active member of the American Association of Botanic Gardens and Arboreta and Botanic Gardens Conservation International. Mahalo to NTBG for the wonderful information and incredible efforts! If you'd like to donate, call (808) 248-8912 or email Kahanu@ntbg.org
---
ALSO NEAR KAHANU GARDEN