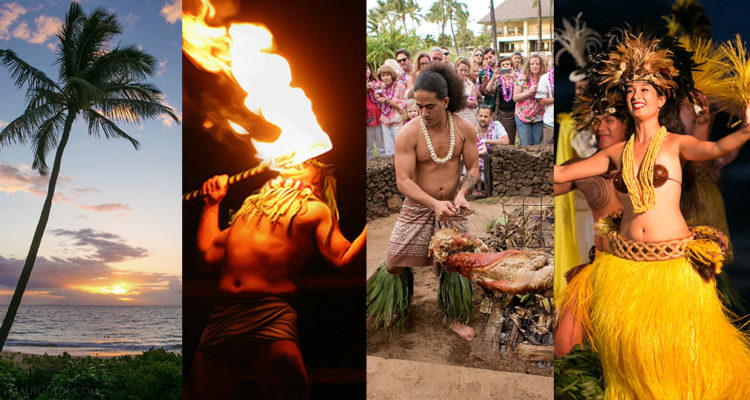 There are many luaus in Maui all with unique differences. Some are best for families others are more romantic for couples.
Popular Maui Luaus
Grand Luau at 'Aha'aina Wailea
Grand Wailea Resort, South Maui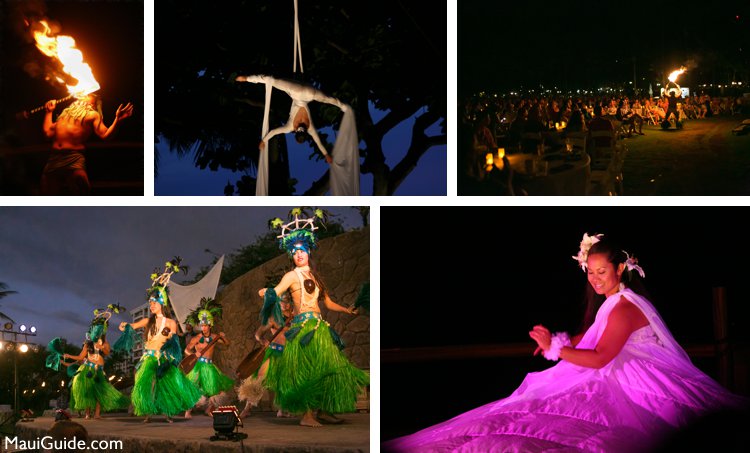 You'll be greeted with a complimentary shell lei then enjoy an authentic hula show along with their luau buffet consisting of a variety of salads, kalua pig, Lau Lau, sauteed mahi mahi, grilled teriyaki steak, chicken long Rice, sweet potatoes, freshly baked taro rolls, Hawaiian fried rice, Stir-fried vegetables, and more. Desserts will include macadamia nut cake, banana cream pie, haupia (coconut dessert), tropical cobbler, Fresh Maui pineapple, papaya slices, and other fruit. They also host an open bar with delicious tropical drinks.
Te Au Moana Luau
Wailea Marriott Luau, South Maui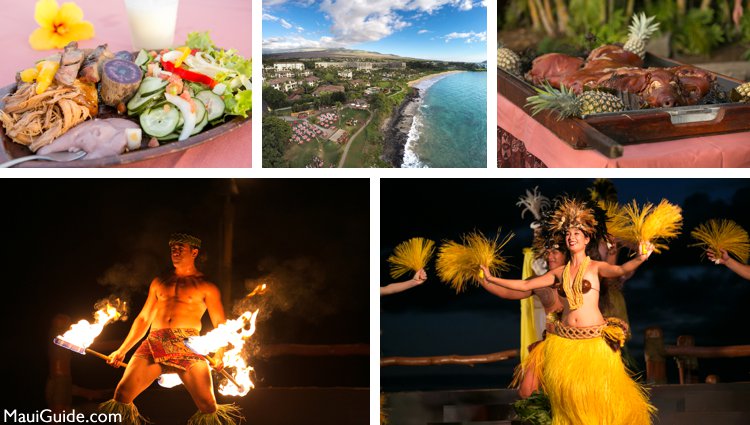 Begin with a fresh flower lei greeting at the Marriott luau grounds, and continue to Hawaiian games, Polynesian Artisans, Hawaiian crafts, an Imu ceremony with freshly cooked pig, and a luau buffet. They have an open bar and a great show you'll be watching with a spectacular oceanfront view.
Enjoy interactive areas including flower crafts, coconut husking, Ulumaika, hula dancing, powerful dancers of the Pacific, and kapa printing. You can also watch taro being made into poi by their poi pounder.
Maui Nui Luau at Black Rock
Sheraton Resort, West Maui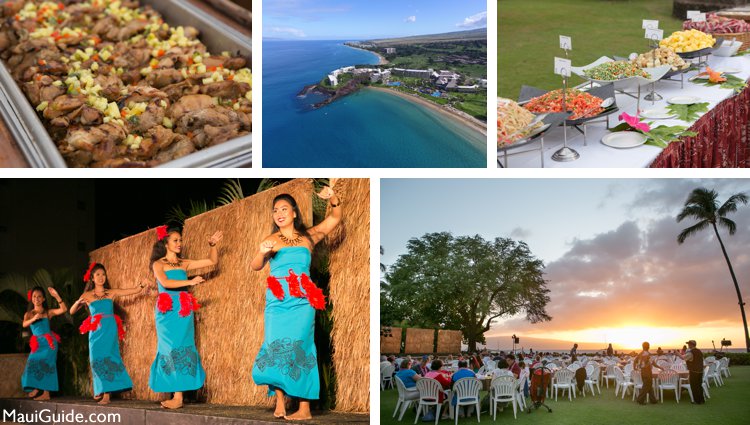 The Sheraton offers a great location where you can watch the torch lighting ceremony followed by cliff diving off of Black Rock at Kaanapali Beach. You'll then enjoy a luau buffet along with one of the better shows in Maui. You'll enjoy song, hula dance, and fire dance in many different forms. Here you'll be witness to authentic entertainment from Polynesians from Hawaii, Tahiti, Fiji, Rarotonga, New Zealand and Samoa.
The Beach Club Luau
The Montage Kapalua Bay, West Maui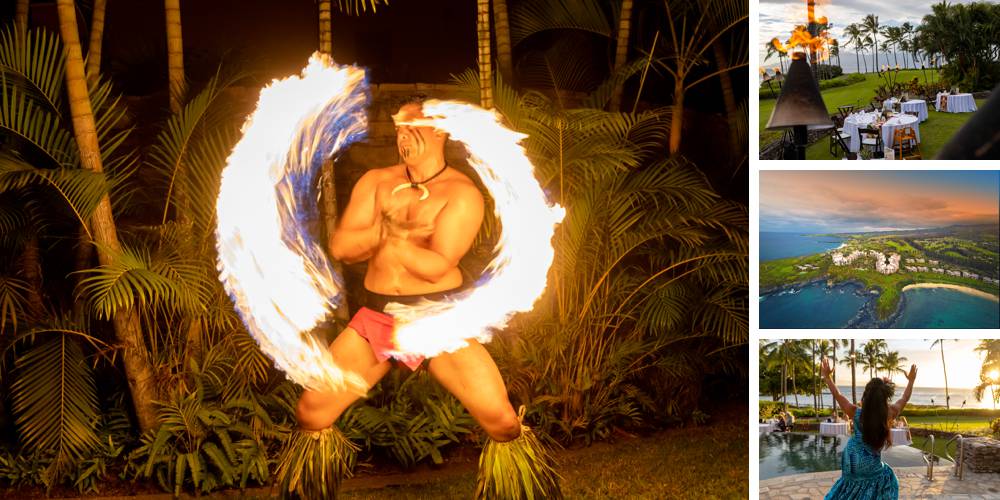 Located on the Montage Kapalua Bay grounds, The Sunset Luau prides itself on its first-rate Hawaiian cuisine and stellar entertainment. However, this luau's most alluring attribute is the small audience size- capping between 30 to 40 guests. Buffets are nixed here, and the three-course meal curated by Chef Eric Faivre is served family-style for a personalized experience. Like Montage Kapalua Bay, The Sunset Luau exudes Hawaiian hospitality from the moment your lei is worn, and you receive your welcome mai tai upon arrival.
Royal Lahaina Luau
Royal Lahaina Resort, West Maui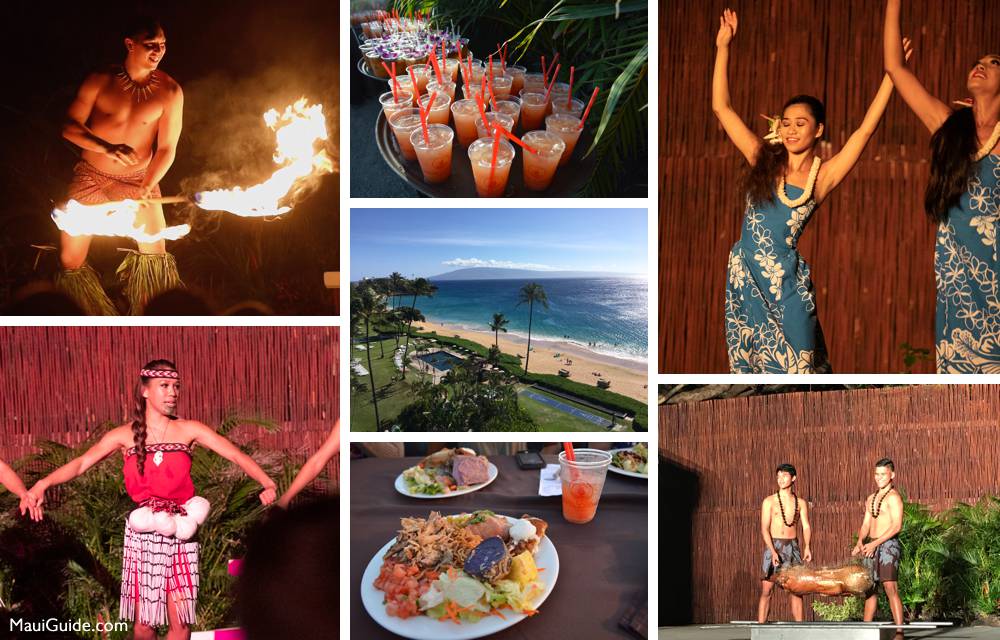 Another great luau for Keiki (children), the Royal Lahaina Luau is one of the most popular luaus in Hawaii. They offer an open bar, shell greeting, traditional Imu ceremony, keiki buffet, and adult buffet. The show culminates with a fire dance finale with all of the performers included. They have some great deals such as one child under the age of 11 to be admitted free with each fully paid adult. This is hard to beat for families. Get the best rate for Royal Lahaina Luau tickets below.
Old Lahaina Luau
1251 Front Street, West Maui
Often considered the most authentic Hawaiian Luau, the Old Lahaina Luau offers a premium open bar, regional cuisine in the luau buffet with kalua pig, Polynesian mahi mahi, Pulehu steak, and much more. Their hula and music almost make up for not having any fire dancing. To book this, please do it ahead of time as they are one of the busiest and most popular luaus on Maui.
Drums of the Pacific Luau
Hyatt Regency Resort, West Maui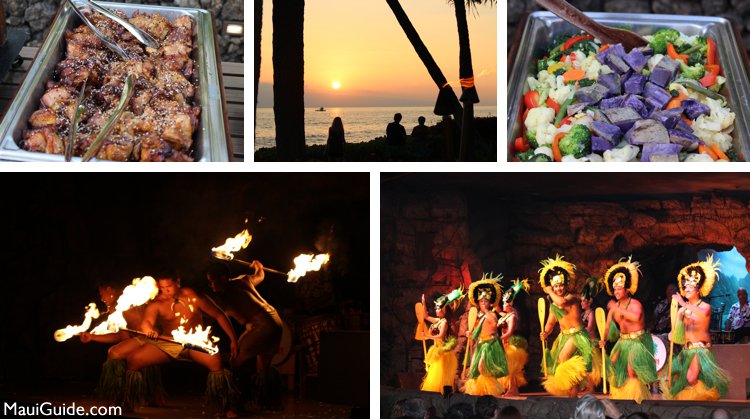 Enjoy a shell lei greeting, traditional Hawaii crafts, and a buffet dinner. The feast will begin with the Imu Ceremony, then continue with tropical dishes such as kalua pork, freshly caught mahi mahi, Huli Huli chicken, Ulapalakua beef, potatoes from Kula, local sweet potatoes, Polynesian rice, Lomi Lomi salmon, salads, fruits, and desserts. Enjoy their open bar while you watch the show tell a story of the islands with authentic song and dance.
Feast at Lele
505 Front Street, Lahaina West Maui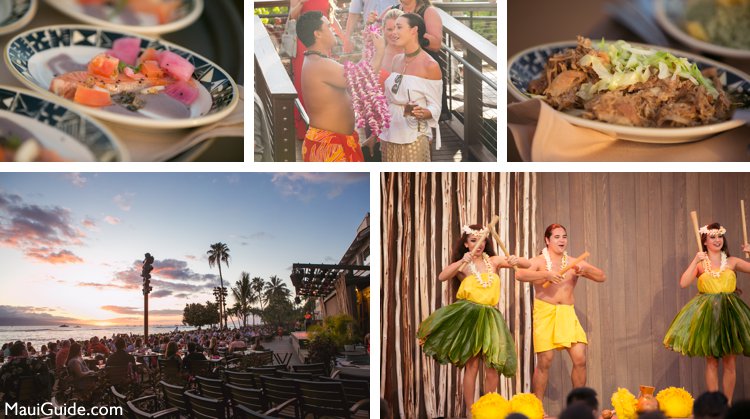 Considered a less traditional luau, the Feast at Lele is a luau with table service and is often regarded as the most romantic luau in Maui. Your feast is of traditional Polynesian food, and the dinner show includes styles from Hawai'i, Tonga, Tahiti, and Samoa.
Wailele Polynesian Luau
Westin Maui Resort, West Maui
At Kaanapali Beach, the Wailele Luau serves a four-course meal family-style. Enjoy an open bar, cultural arts, and interactive stations for guest to participate in. Watch professional fire knife dancers perform Fiji and Maori performances along with dances and songs from Hawaii, Tahiti, New Zealand, and Samoa. You'll also bare witness to the exciting torch lighting ceremony. We haven't been to this luau yet, but we'll check it out soon and update this page with photos and more.
All of the luaus above can change at any time. As far as we know, the above info is accurate as of March 20th, 2022.
Luau Components
• Exotic Feast
Most luaus offer a buffet line of fresh food, and some have table service. Most all luaus also have kalua pork that comes from the Imu ceremony.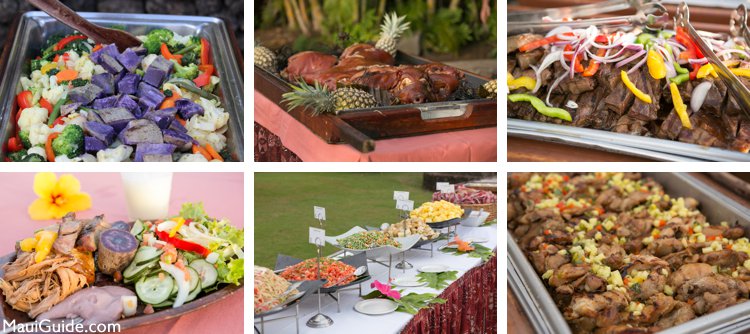 • Fire Dance and Hula Show
Watching graceful experts in hula dancing is something you'll never forget. Many luaus will offer to teach you how to dance some of the more simple moves, which is fun for the ladies, the adventurous men, and all kids. Fire knife dancing is awe-inspiring. How these guys don't walk away with 3rd degree burns, we don't know.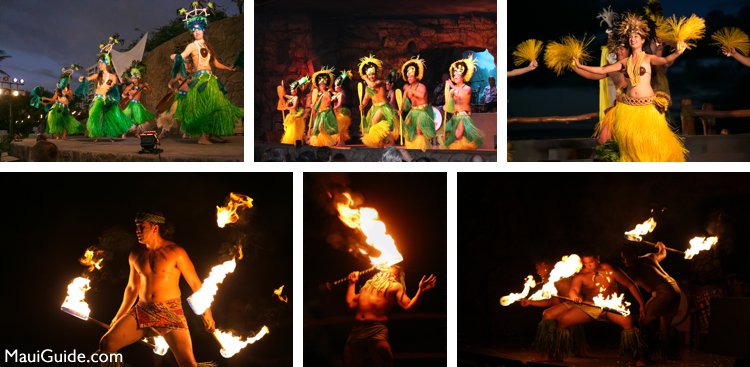 • Traditional Music
Relax to sounds from the Pacific Islands. Drums, song, and traditional chant will take you to another world.

• Sunset Background
Most luaus are positioned so that you can watch the sunset behind the dancers while you eat and drink. This is one of the best ways to watch sunset in Maui.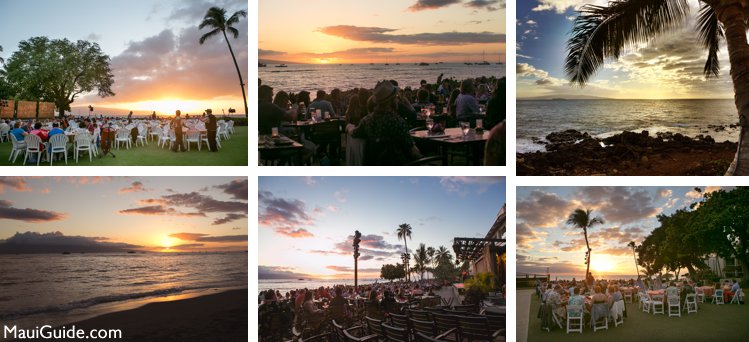 • Tropical Cocktails
Most Luaus offer complimentary cocktails, beer and wine. It's tough to get a better deal. The drinks are tasty and add a nice little buzz to your already intoxicating experience.

• Authentic Crafts
Some luaus also offer craft making where you can watch, learn, and sometimes participate in making ancient crafts with palm, local woods, and other materials used throughout the ages on the islands.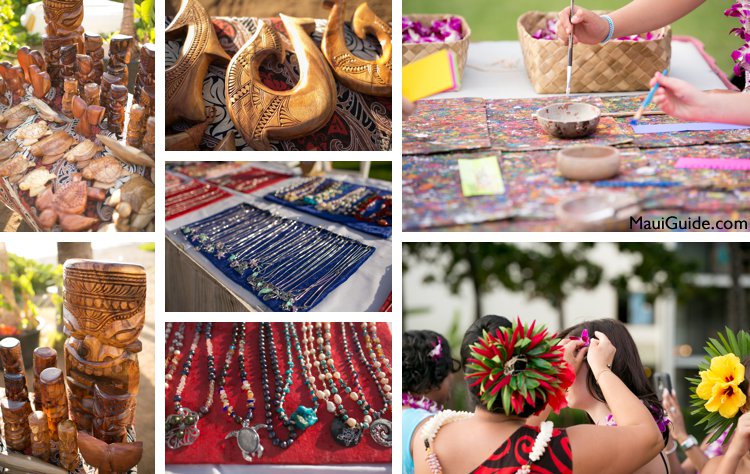 • Polynesian and Hawaiian History
Along with the show, you'll learn some history and folklore that the people of Hawaii and Polynesia have passed on for generations.

Imu Ceremony
Delicious Pig Buried and Cooked Underground
The Imu Ceremony is a tradition that dates back centuries and is usually done for large gatherings or religious ceremonies due to its lengthy preparation.
The Imu is a hole in the ground built to steam food over a long period of time. One of the most popular things to cook is shredded pork from a whole pig, called Kalua Pork or Kalua Pig. because of the slow-cooked process, the pork comes out tender and moist. Other popular Hawaiian items are breadfruit, taro, bananas, sweet potatoes, chicken, and fish.
The process can take up to 8 hours of steaming. They use fresh banana leaves to help steam and wrap the food in. The underground oven is composed of hot rocks. The ceremony of unearthing the pig and other foods is an exciting and celebrated part of many luaus.