Trek through a forest in Hana or drive through Haiku and you'll likely come face to face with one of Maui's most beautiful and tantalizing flowers: the Hawaiian ginger, or 'awapuhi.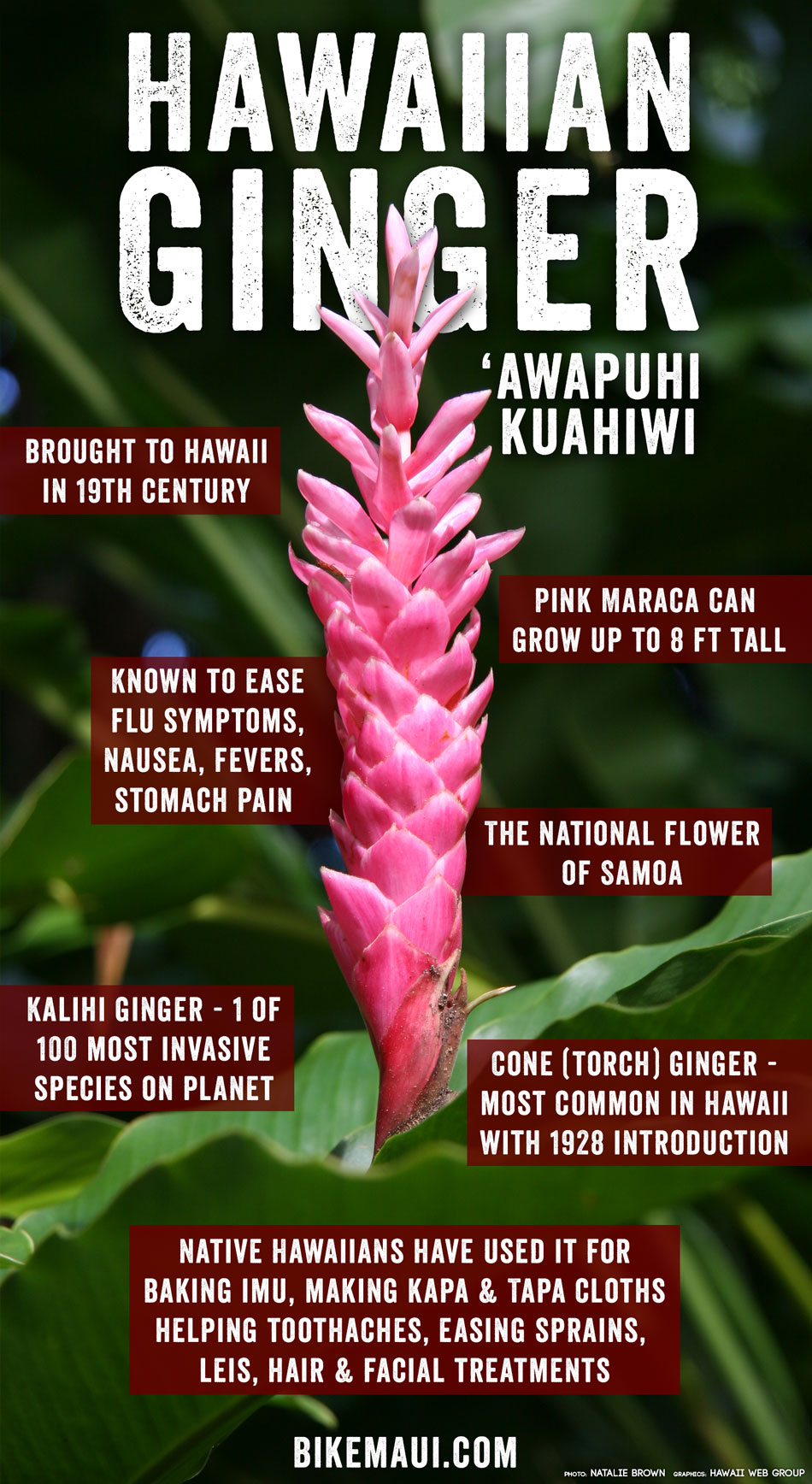 Mahalo to Haleakala EcoTours for the great ginger article!
Hailing from the Zingiberaceae family, ginger is a ubiquitous tropical jewel, popping in foliage landscapes in lipstick reds and deep coral pinks.
Originally grown in Southeast Asia—where India possesses the largest number of varietals—ginger made a circuitous route to Hawaii, first traveling to Europe in 800 AD during the Roman-helmed spice trade. There, it was broadly embraced; at one point, it was known as one of the most popular spices, second only to pepper.

Its earliest usages—which remain in effect to this day—were bound up in its medicinal and culinary merits.
The nubby-fingered, pale brown root from which ginger blooms brims with health benefits and a sharp, pungent flavor, making its way into local fare that ranges from pickled ginger at sushi bars to thin slices in hot bowls of ramen.
While we tend to associate ginger with herbs, it's actually a rhizome—a plant stem that grows in subterranean depths and perpendicular to gravity's force. (Consider it a preemptive strike: its underground habitat keeps it safe from pests, thereby enabling it to propagate.) Happen to stroll through a Chinese market? Ginger tends to be sold in both green and black, with the latter being a form of the root that's scalded and then dried. High in manganese, its many uses in Japanese and Chinese cooking suggests why Asians have considerable longevity.

Candied or steeped in tea, ginger is also notable for its pharmaceutical benefits and ability to diminish the symptoms of colds.
Suffering from a stomach ache? Take a cue from ancient Romans, who used the root to preserve other food and also wrapped it in slices of bread to alleviate troubled tummies, giving birth to what we know today as gingerbread. And that glass of Canada Dry your grandmother gave you when you were ill was for a proven reason: the beverage has long been known to ease symptoms of the flu due to its carminative and analgesic effects. Chemotherapy patients are often prescribed to sip the root's tea, in part because it doesn't react with other medications, and in China, it's primarily used to reduce fevers. And moms-to-be: add it to your grocery list, as ginger is a safe, excellent remedy for morning sickness.

Records indicate that ginger made its way to the shores of Hawaii aboard the canoes of early settlers in the early 19th century, where it flourished in the sultry climate.
Indeed, warmer regions are a gift for this relative of turmeric and cardamom, with the West Indies, Florida, Africa, Jamaica, and China seeing its showy petals in record numbers.
And showy they are:
One of the more compelling varieties is the beehive ginger, which, true to semantics, sounds just like its name. Rich in colors—think: chocolate, lemon, and a pale strawberry known as Pink Maraca—this equatorial beauty grows up to eight feet tall and thrives in high humidity.

Since its arrival in the islands, ginger has played a vital role in the lives of native Hawaiians.
Commonly known in Hawaii as 'awapuhi kuahiwi, its leaves were once used in the traditional baking of the imu, giving pork and fish the dynamite flavor we can still taste today at certain luaus.
The dense, toe-like root was also dried and pounded to a powder that was used in kapa and tapa cloths, while, when mixed with noni, was used to keep sprains from aching. Before the arrival of dentists in Hawaii, natives turned to ginger root to nurse toothaches and cavities—a process in which the root was softened through cooking and then pressed into the hollow of gums. And while Aussie—that oh-so-prevalent and still extant brand of hair products from the 1990s—used 'awapuhi as the main ingredient in their Total Miracle collection, native Hawaiians often turned to wild ginger for the same reasons, first drying the flower on rocks before squeezing out the juices and applying it to the skin and hair. Turns out, their inclination towards its slippery properties and spicy scent are well-founded: ginger oil contains zerumbone, an antioxidant compound that prevents inflammation and strengthens proteins.

Ginger lilies, which bloom in bright yellows and astounding reds that form clusters of plumes, were (and remain) emblematic of ali'i, or Hawaiian royalty.
Used in ceremonial garb, the national flower of Samoa—where it's known as "teulia"—is believed to be the kinolau (or manifestation) of the great Hawaiian deity, Kane. The leaves of the plant, which are often a deep emerald green, generate beiges and yellows that are used as dyes, and to this day, ginger can be found in the ever-present Hawaiian lei.

Despite ginger's thrilling beauty, some varieties present less a feast for the eyes than a burden for the environment.
Kalihi ginger—gaudy and large, with an intense, pungent musk—is deemed one of the 100 most invasive species on the planet. With hardy root stalks that grow in great abundance, it ousts native flora, suffocates understory vegetation, and blooms wildly in impenetrable colonies. Rainforests throughout the world, including the Cook Islands and New Zealand, consider these gorgeous stems a threat to their endemic landscape and take aims to deter their widespread colonization.

While seen throughout the island of Maui—from the arid backyards of sunny Kihei to the pastures of Kula—ginger is perhaps most abundant in the lush rainforests of Hana.
Varieties abound throughout the archipelago, but its most common form is that of the cone (torch) ginger, otherwise known as ostrich plume and Tahitian ginger. Introduced to Hawaii as an ornamental plant in 1928, this species, a Malaysian native, is differentiated by its supposed gender, with reds being Kings of the Jungle and pinks reigning as Queens; today, Hawaii is the only US state to commercially produce it. And should you find yourself without water while hiking, picking one of its waxy stems might just save you: ancient Hawaiians used its sweet juices to rehydrate. Just be sure to first ask Pele.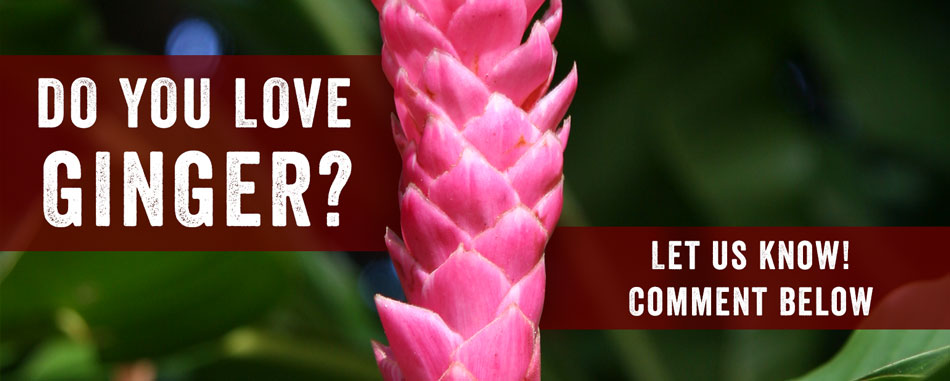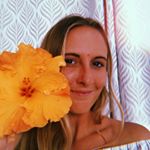 Born and raised on Maui, I have a deep love for language and writing. At present, I work as a content writer at Hawaii Web Group, where I have the opportunity to showcase my passion for storytelling. Being a part of Hawaiian culture, storytelling holds a special place, and I am thrilled to be able to share the tales of the amazing people, beautiful locations, and fascinating customs that make Maui such an incredible place to call home.