Find Your Surfing Legs with Hawaiian Paddle Sports
People are surprised to find out that a girl that moved from Southern California to Maui has only surfed once.  And it was on the Oregon Coast 16 years ago!  I think it's fair to say, I'm at the infancy stage of beginners!  Once I saw the 7-year-old that our instructor had just finished a teaching, I felt like my lack of experience wouldn't get in the way of a great time.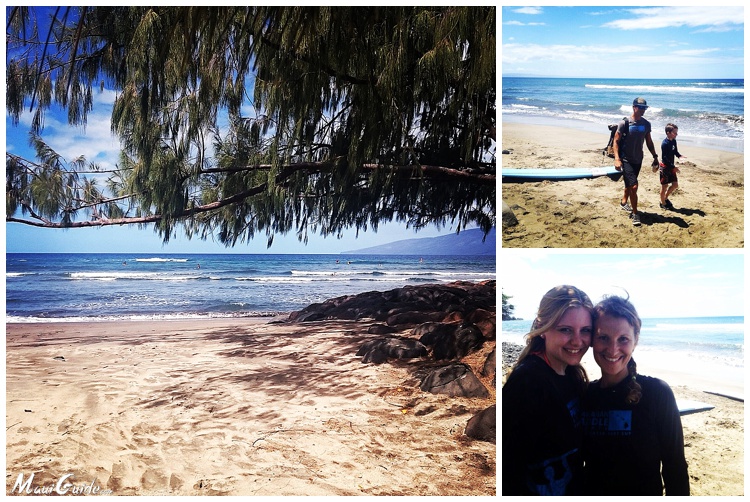 I can't rave about our experience enough!  From the moment we pulled up to the beach to the last wave we rode, it was an incredible experience!  Make an epic Maui memory by signing up for a lesson with Hawaiian Paddle Sports today!
A friend and I pulled up to a spot near Puamana beach, our meeting location with Hawaii Paddle Sports.  Our instructor J'sun was already there, with our prepped boards glistening in the sunshine.  He started us off with a quick tutorial on how their company respects and cares for the ocean and which sunscreens that don't pollute these beautiful waters.  After loaning us a couple of rash guards, we headed over to the sand.
J'sun had us lay on our boards in the sand, practicing our paddling and the smooth yoga-like positions to assume when getting up on our boards.  Once he felt like we had an understanding of the rhythm, we started paddling out.  His simple, confident tutorial made us feel ready for anything!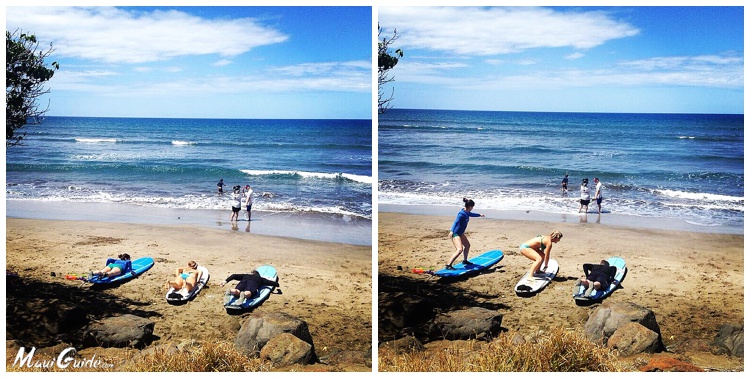 We took our boards to the water and jumped on.  And that's when all those Hollywood movies on surfing slowly broke apart, shattering any dream I might have had that I would be the next surfer babe to hit Jaws.  I consider myself in pretty good shape, but apparently I've never used the specific muscles needed to paddle a long board against the wind.
At this point, J'sun became a bit of a god in my mind.  I would paddle for what seemed days and only get a few feet, then he'd grab my board and paddle us both out far enough to wait for waves.  He called my first wave, told me to start paddling and in that moment I realized what every surfer is searching for.  That first wave is nothing short of breathtaking magic.  I looked out over the mountains in front of me as I rode the aqua waves and knew I would battle any wind or wave for another chance to stand up!  And stand up I did.  Six more times before my arms turned to pulverized jello.
I felt an incredible sense of accomplishment that had quite a bit to do with the instruction and continued cheerleading of J'sun.  I wouldn't look any further than Hawaii Paddle Sports for any ocean activities!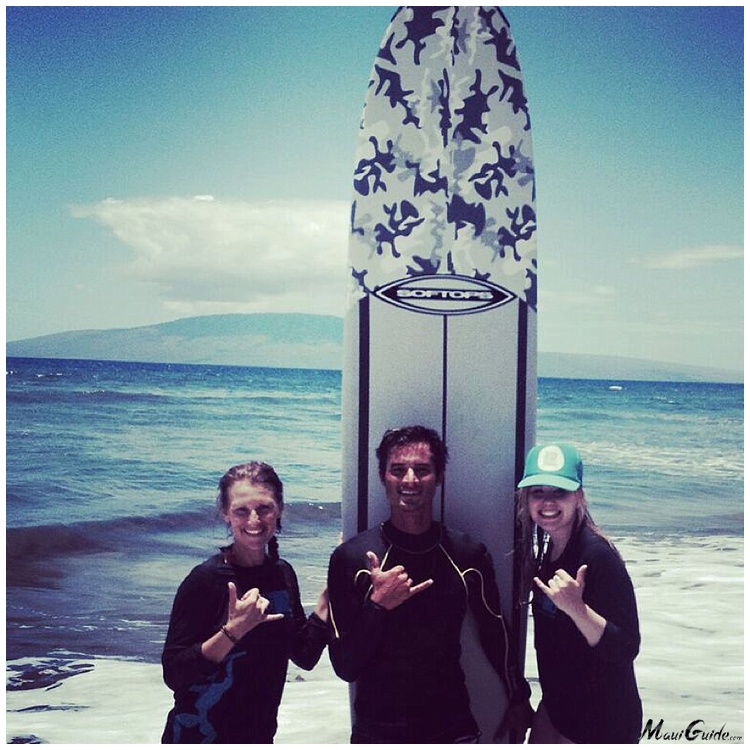 Maybe I will keep "surfer babe" on my bucket list after all.  This definitely won't be the last time you see me!
Few quick hints for a superb surf lesson:
*Absolutely wear sunscreen! I burnt my buns on a rarely tanned swimsuit line.  Hawaii Paddle Sports offers a great eco-friendly sunscreen that won't hurt the marine life.
*Schedule your lesson for early in the day!  We had an 11 am appointment, and the wind had already started showing its muscles and made it a little more difficult to paddle out.
*Hydrate!  Once you're out in the ocean, there's no water breaks until the end of the lesson.  And that salty water can make you terribly thirsty!  Drink plenty before paddling out.
*HAVE FUN!  Don't take any of it too seriously!  You'll fall, you'll feel awkward standing, you'll miss waves.  If you're able to go with the flow, you'll make some epic memories!
To book a lesson, please visit Hawaiian Paddle Sports or call (808)442-6436.
Mahalo Hawaiian Paddle Sports for amazing day!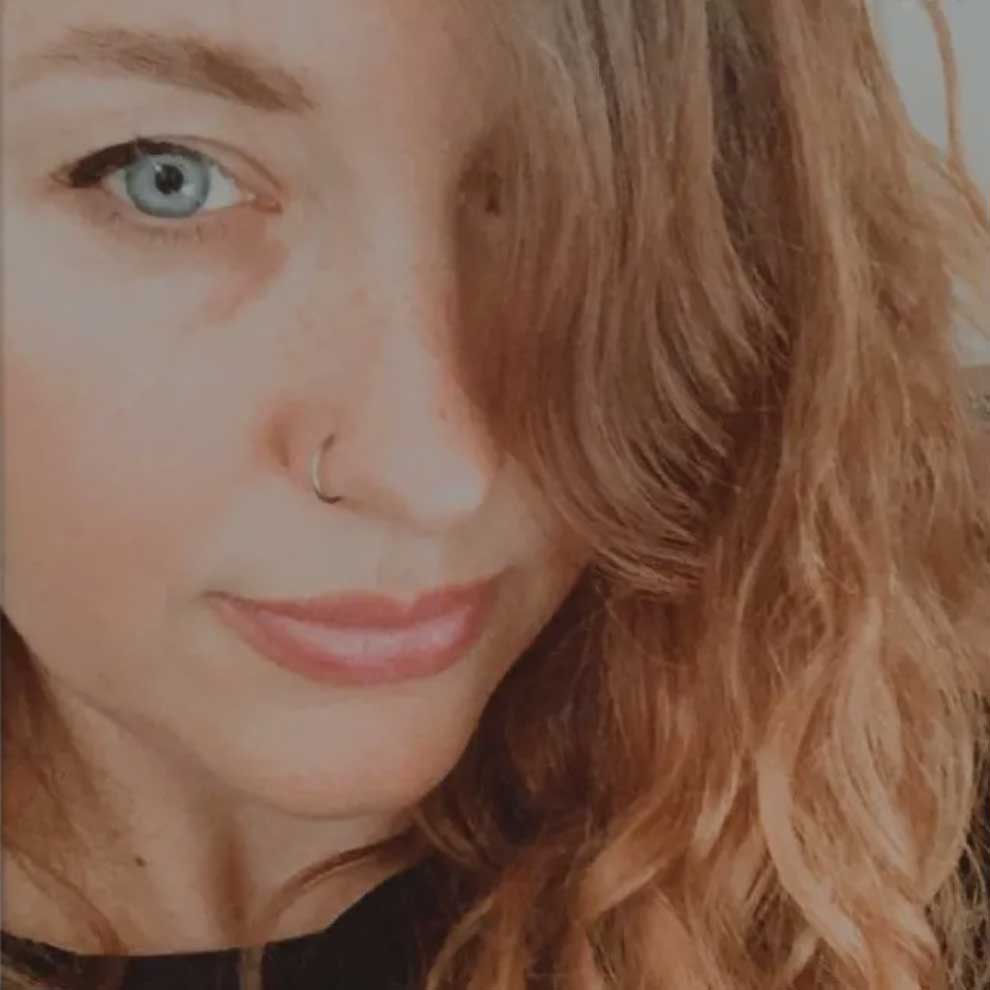 World Traveler, Digital Nomad, Small Business Enthusiast, and Lover of words!  Originally from Austin, Texas, I've lived on Maui for many years.  Currently in Los Angeles.