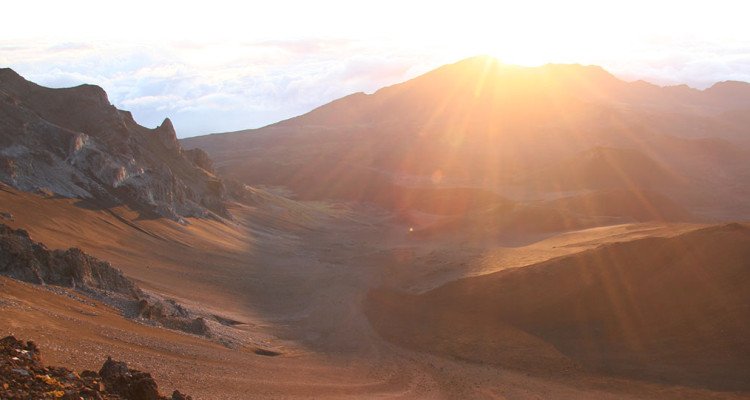 Towering at just over 10,000 feet above sea level, the peak of Haleakala is one of the best spots to watch the sunrise in Maui. The National Park has plenty of great hikes, some camping, and is a great base to start a bike ride.

A great way to spend a day on Haleakala:
• Watch the sunrise from the summit, 10,023 feet above sea level.
• Stop at the upper visitor center and gaze out over the crater in the early morning light before the clouds roll in.
• Park at the Halemau'u Trailhead, 8000 feet above sea level, between mile markers 14 and 15, and hike down the switchbacks to the Holua Cabin. (This is an 8-mile round trip hike with just under 1500 feet in elevation change. Plan on four hours of hiking and stopping to admire the view. Try to be at the trailhead no later than 9 AM. The weather turns very wet on this side of the crater almost every afternoon.)
• Drive down to Makawao and reward yourself with delicious treats from the Makawao General Store. Their soups are the best. They also have excellent seaweed salad and ahi poke if you're looking for local flavors.


Hiking Haleakala
Best hiking adventure on Haleakala
There are many hikes around and on Haleakala.  We also recommend some private tours like Maui zipline adventures.  There you'll hike quite a bit but also get to enjoy ziplining.
Haleakala Crater Grand Loop – 13 miles, 8 hours
This hike is a great way to see the crater. You will descend the dry south side of the crater, make your way around pu'u (cinder cones) as you cross the center, and ascend the wetter northern side of the crater near the Ko'olau Gap. You can expect to see Nene (the native Hawaiian goose) and Silverswords (a plant found only in Hawaii) and will experience all of the varied environments found in the crater.
Park your car at the upper visitor center. Follow the Sliding Sands Trail down into the crater. After descending to about 7500 feet you will come to an intersection with a large bushy tree, a hitching post, and signposts. Make a left on the Spur Trail so you are heading north across the center of the crater. This trail is up and down and passes around several pu'u. At a second intersection make another left onto the Halemau'u Trail. You will be traveling in a northwest direction toward the Holua Cabin. About halfway to the cabin you will see the Silversword Loop on your right. This little loop doesn't add much time to your hike and does have a lot of endemic Silversword plants along its path so it's worth taking. Once you reach Holua Cabin take a break and enjoy the Nene. When you're feeling refreshed, continue down the Halemau'u Trail, up the switchbacks to the Halemau'u Trailhead and Parking Area. All in all you will descend just under 4000 feet and climb just under 1500 feet.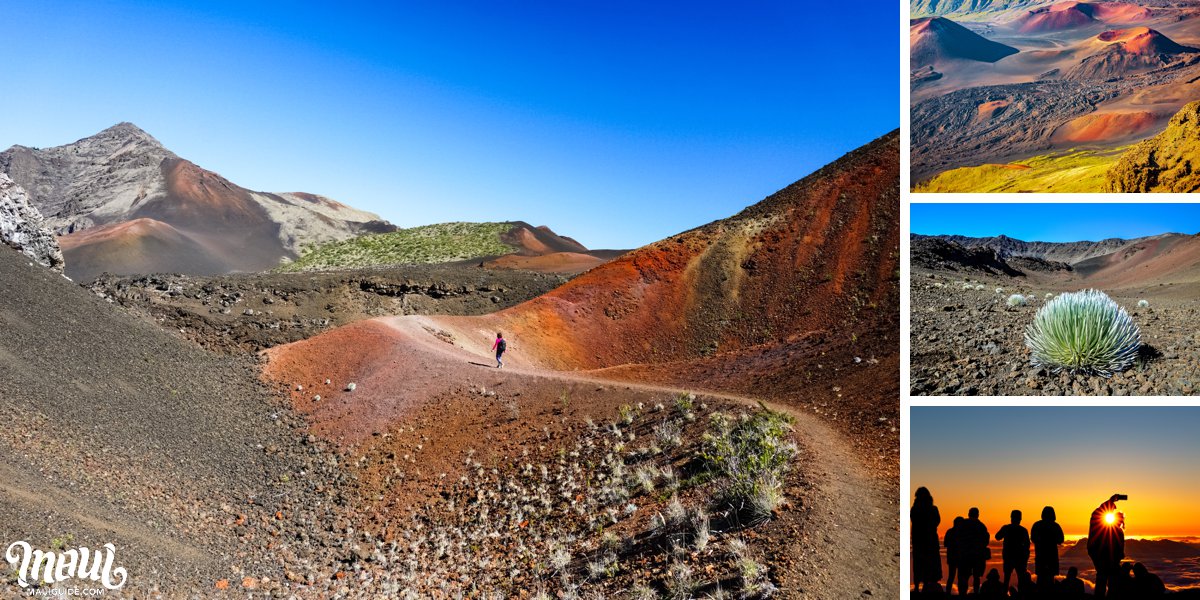 To get back to your car you must either have 2 cars, a friend waiting with the car, or hitchhike. Just down Crater Road below the Halemau'u parking area is a hitchhiker pull-out spot. If you are not comfortable hitchhiking, rent a second car for the day. Park one car at the Halemau'u Trailhead and one car at the Upper Visitor Center so you can shuttle yourself between trailheads.
Hike Maui Tours
That being said, a much easier and more fulfilling way to experience hiking at Haleakala Crater is by taking advantage of guided tours with Hike Maui. Call them at (808) 879-5270.  We loved our tour with them because we were able to concentrate on the views while driving up and down (instead of driving ourselves) and our guides had a tremendous amount of knowledge about the crater, which enhanced the hike immensely.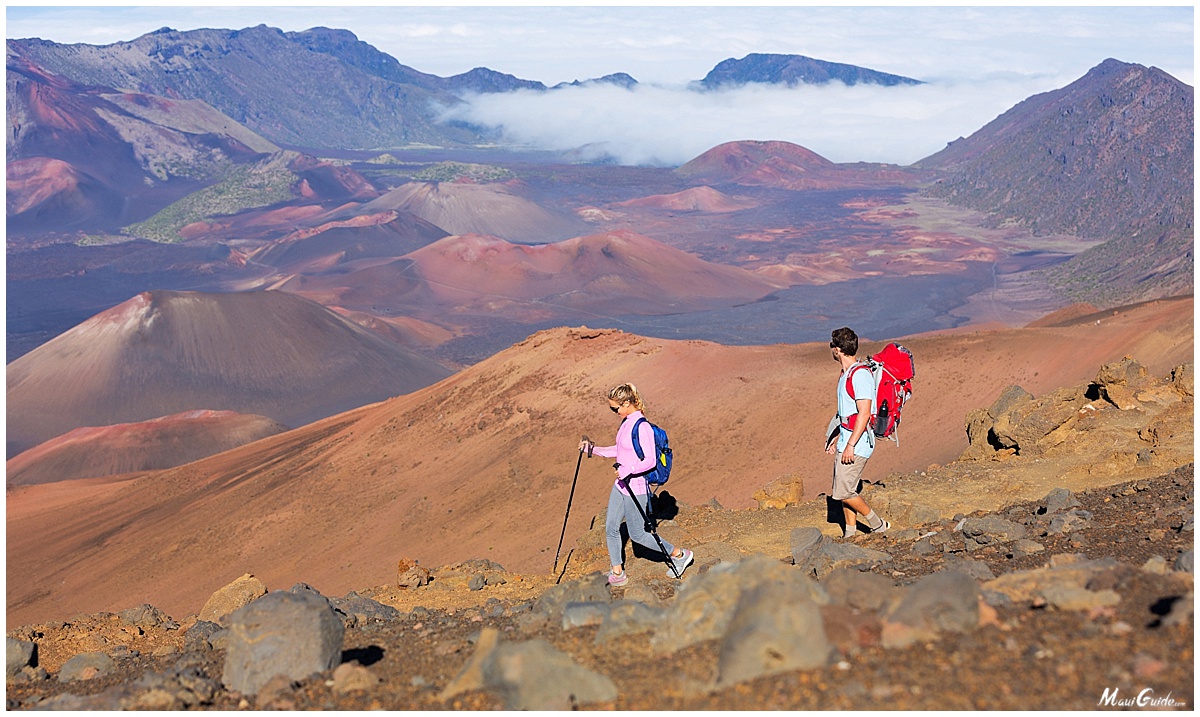 Humble Tours
Another guided hiking tour is run by Humble Tours, some of our favorite people on the island. They took us on a 7-hour tour (which included them driving us up and down from Kahului) and it was incredible!  They really know where to take visitors for the best views.  We did 2 different hiking trails and they provided us with everything we needed.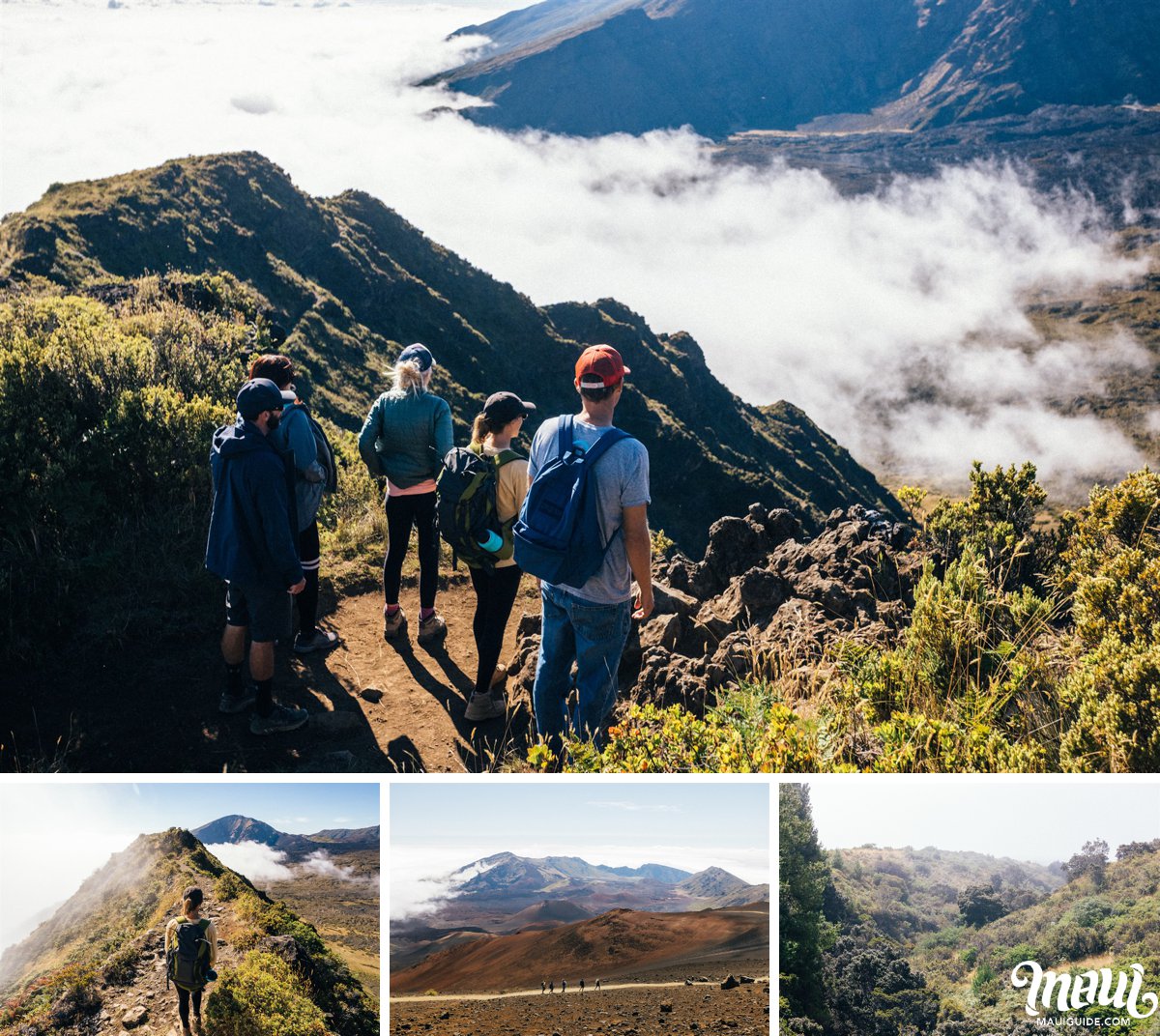 Top 3 Haleakala Tips
TIP #1
• Drink a LOT of water before, during, and after your trip to the mountain. One of the best ways to combat altitude sickness is hydration.
TIP #2
• Bring layers. The weather in Maui changes fast at 10,000 feet above sea level. Some days it's 75 degrees, other days it's 35 degrees. Plan for everything in between.
TIP #3
• Sunglasses and sunscreen. It's easy to burn at 10,000 feet.
TIP #4
• Reward your hard work with a pint.  There's no better place to get a (literal) taste of Upcountry than at Mahalo Aleworks. The beers at Upcountry's only brewery are brewed with local fruits and spices grown at the brewery's own orchard or on farms located on the slopes of Haleakala. While the tap list varies depending on the fruit in season, you'll always find an imaginative brew to suit your liking- be it a lilikoi sour or Kula lime gose. Mahalo Aleworks' modern taproom is a great stop to add to your Upcountry itinerary and serves as an excellent place to kick back after navigating the long road to Haleakala Summit.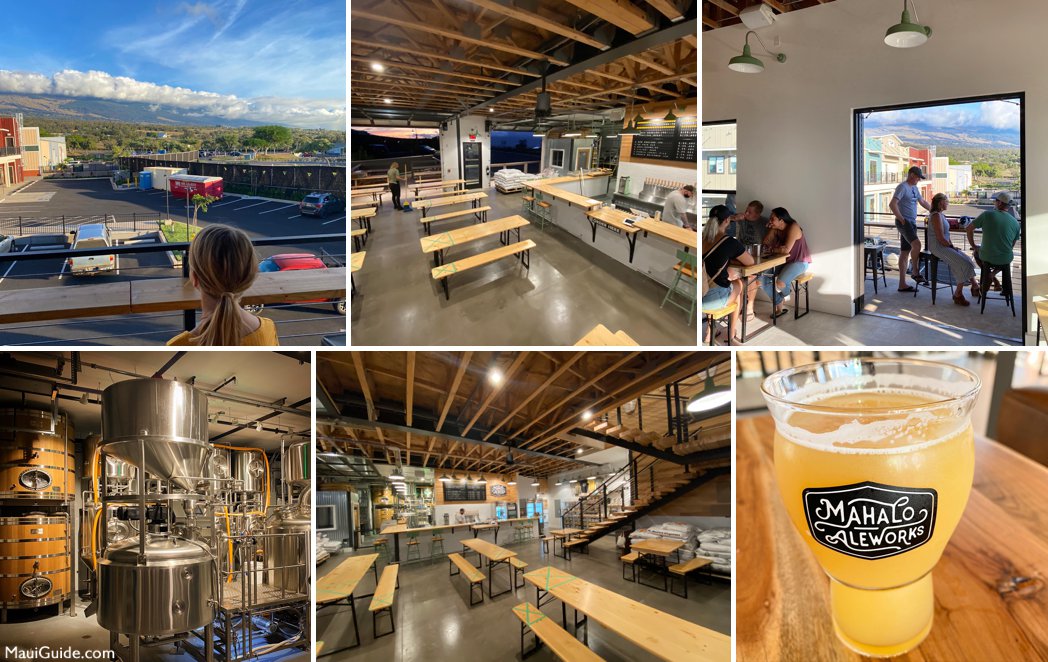 Haleakala Camping
Staying overnight on the mountain:
Haleakala has several options for staying overnight on the mountain. There is a campground on Crater Road and three redwood cabins you can reserve inside the crater. All require you to bring sleeping bags, water, food, and cooking supplies. Please be aware that getting to these cabins can involve strenuous hiking, especially at this altitude.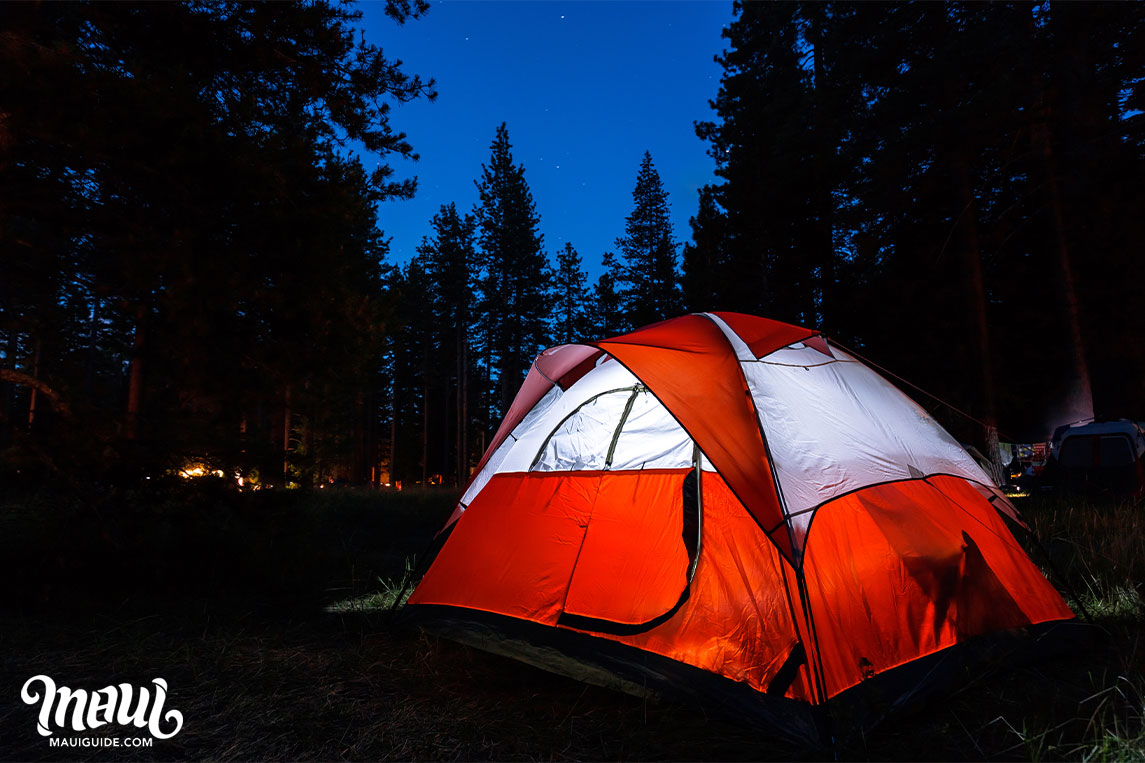 Hosmer Grove Campground:
The simplest of all overnight options, Hosmer Grove is an open space situated near the park entrance at 6200 feet. Pit toilets, potable water, BBQs, and picnic tables are available. There is no fee, and availability is on a first-come, first-serve basis. Be prepared for wet afternoon weather and cold nighttime temperatures. Official website:
http://www.nps.gov/hale/planyourvisit/drive-up-camping.htm
Wilderness Cabins:
Haleakala National Park has three wilderness cabins located inside the crater. A permit is required and can be obtained through the park service. All cabins have pit toilets and non-potable water that must be treated. At a cost of $75 per night (at the time of this 2010 publication), the cabins are an excellent option for larger groups who are looking for a base camp from which to thoroughly explore the inside of the crater. All supplies must be packed in and out.
Located 3.7 miles from the Halemau'u Trailhead, Holua Cabin is the most accessible. Kapalaoa and Paliku cabins are 5.5 and 9.3 miles in respectively. Backpackers hiking from the summit to Kaupo on the east coast of Maui will greatly appreciate a stay in the Paliku Cabin halfway through their journey.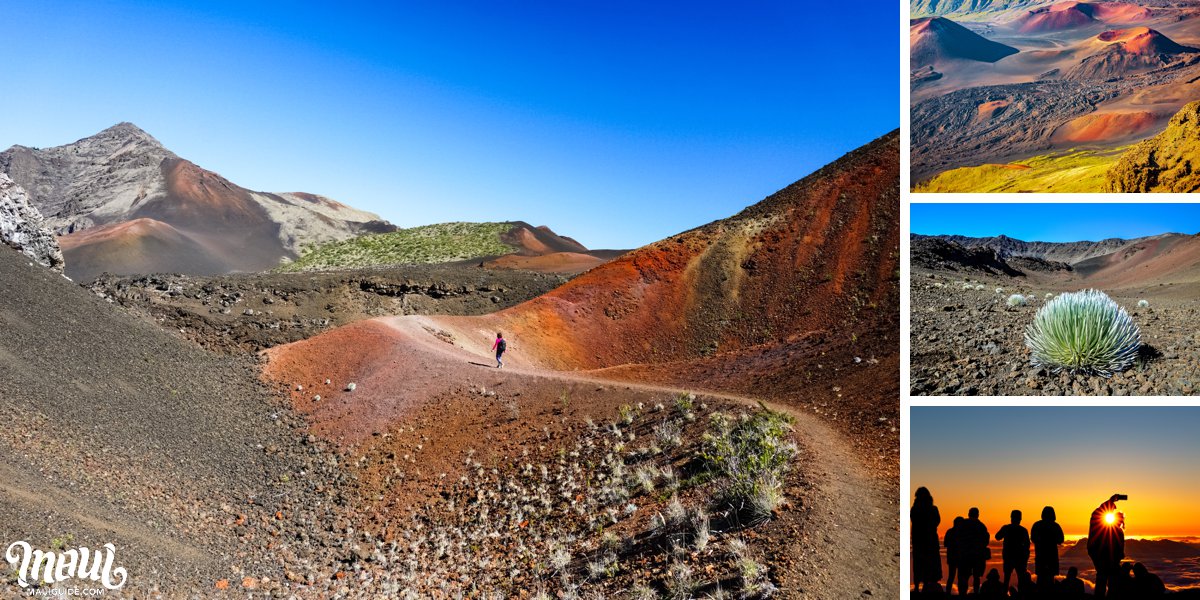 OTHER RECOMMENDED ACTIVITIES
Haleakala Van Tours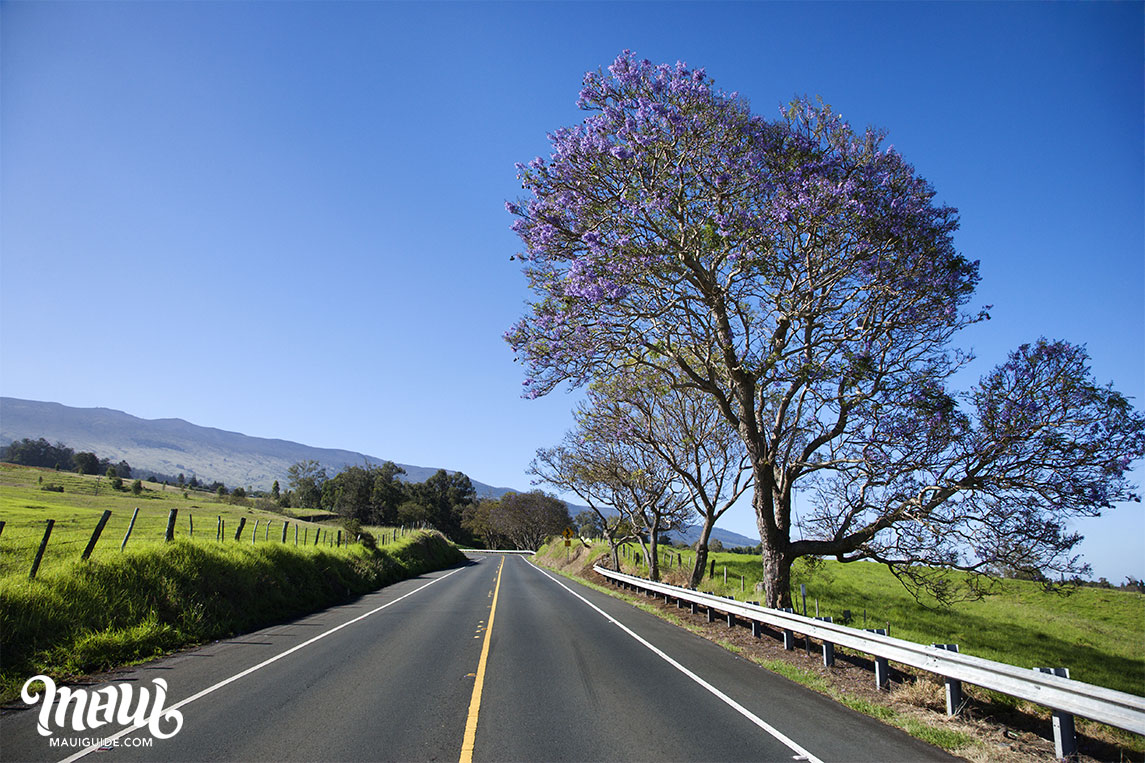 Volcano Tours LLC
Watching the sunrise from the summit of Haleakala Crater can't be understated. It's a bucket list item, at the top of the list, and we can take you there in style. No stressing about reserving your permit to drive up 2 months ahead of time. Book your tour, and your seats will be reserved. Leave the rest to us!
Call: (808) 495-8875
Haleakala Hiking Tour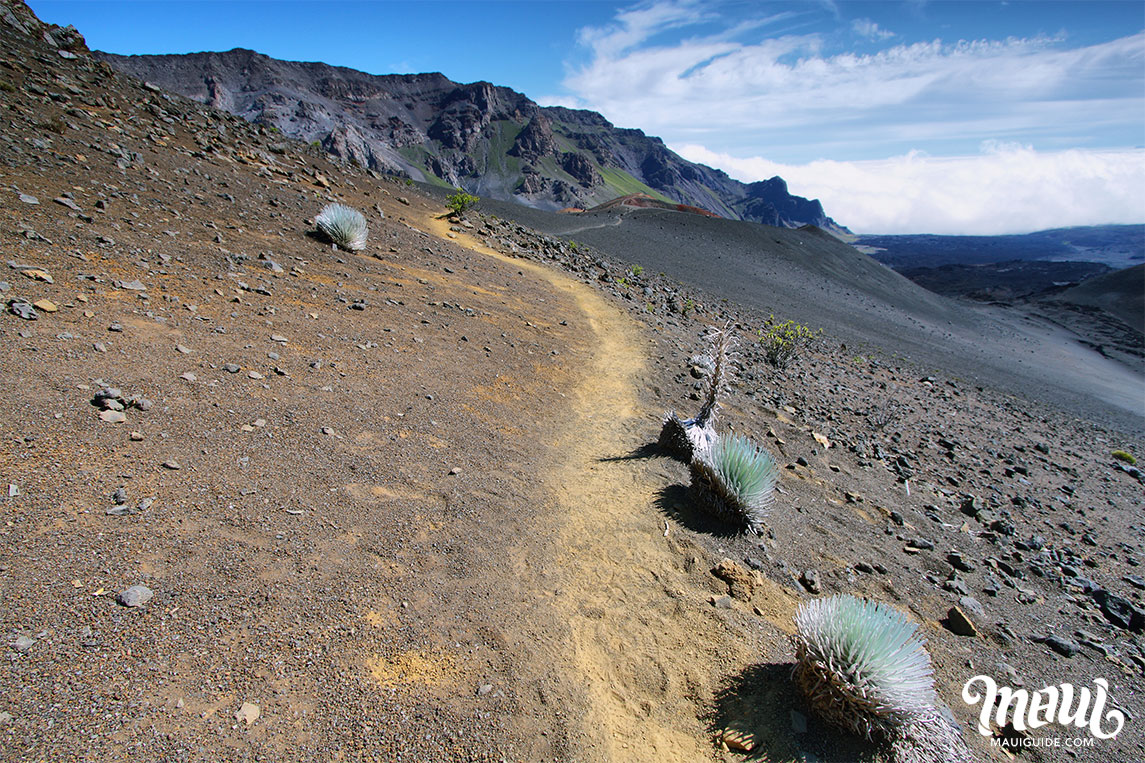 Hike Maui
Find the best trails, learn about the history and geology, and enjoy the ease of not driving by having a guide with you when hiking the crater.
Call: (808) 879-5270
Recommended Art Gallery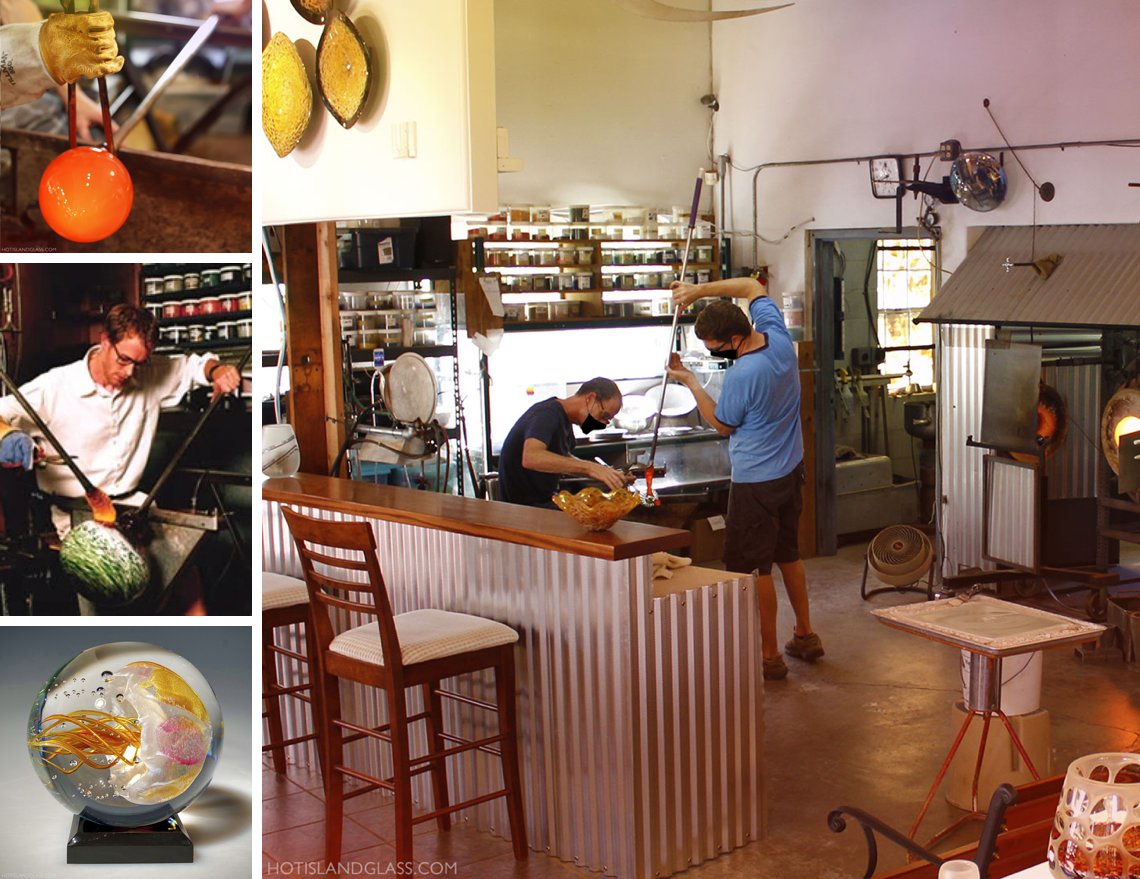 Hot Island Glass
There's a reason why you see this gallery on most top ten things to-do lists for Maui. Watching glassblowing is always fun, but when the level of craftsmanship is this good, the experience reaches new heights. Not only has this family-run the gallery for many decades, but they're also some of the best people on Maui. So drop in if not just to say ALOHA!
Call: (808) 572-4527