Mahalo Aleworks
Some of the best beers we've ever had!
Located in the shiny new storefronts at the Kulamalu Town Center exists a business that both Upcountry residents and visitors alike were thrilled to welcome: Mahalo Aleworks. Mahalo Aleworks is the first brewery to open Upcountry. It has already become a hotspot for local beer connoisseurs, a pau hana watering hole for Upcountry folk, and a favorite post-Haleakala sunset stop for visitors. But within the walls of Upcountry's first brewery exists a trifecta of deliciousness that the region so desperately needed. We're talking about the partnership between Mahalo Aleworks, Restaurant Marlow, and Upcountry Sausage Co.

Mahalo Aleworks
Where do we start with this holy trinity of tastiness? First, we'll begin where this delightful partnership commenced- at Mahalo Aleworks. Serving as the first brewery of its kind in Maui's Upcountry region, Mahalo Aleworks is redefining the term locally brewed beer. Recognizing that Maui is home to a remarkable variety of seasonal fruits and easy-to-grow spices, the tropical flavors in Mahalo Aleworks brews are all sourced locally. Some ingredients are even sourced hyper-locally from either nearby farms or the brewery's own Upcountry orchard. And boy, are these beers bursting with tropical flavors.

When the brewery doors opened, an immediate favorite was the Lilikoi Sour, which smelled like a freshly cracked, bright, ripe yellow lilikoi. Since Mahalo Aleworks utilizes seasonal fruit, the taps are consistently rotating. If you're lucky, you'll catch the Lilikoi Sour on tap.
Various styles line the tap list on any given day at Mahalo Aleworks- from classic to trendy brews. However, the brewers here are creatives at heart, and they're working to develop their own trademark style, the "Hawaii Weiss." The Mahalo Aleworks team has already proven that they are teeming with talent, so we won't be surprised if the "Hawaii Weiss" takes the world by storm in a few years.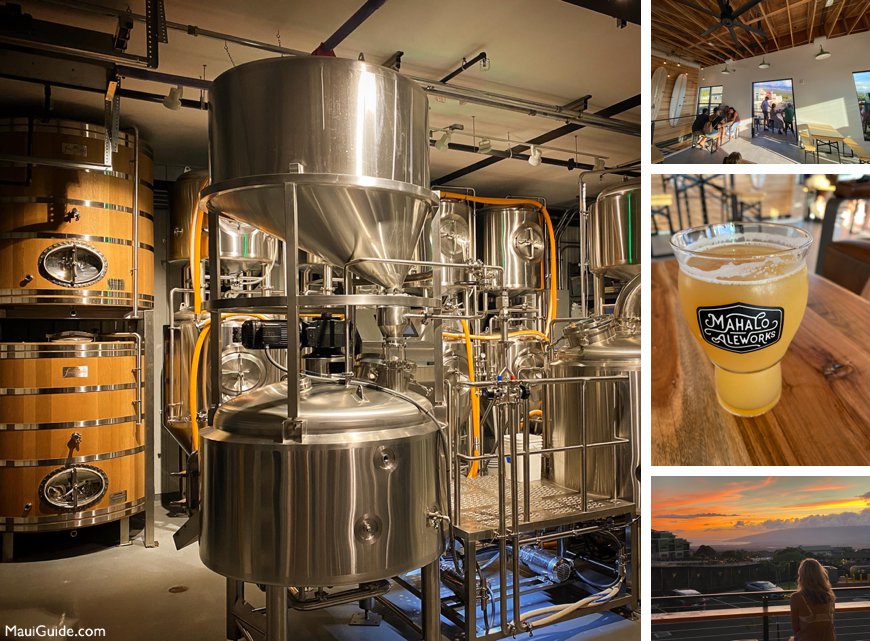 Now take Mahalo Aleworks' outstanding beers, ultra-stylish taproom, and make-you-melt views from the brewery's second floor, and couple that with two of Upcountry's best food options: Upcountry Sausage Co, and Restaurant Marlow.

UPCOUNTRY SAUSAGE CO
Since Mahalo Aleworks doesn't have a kitchen (and it's probably a good idea to offer food to brewery guests so they can soak up all the beer), Mahalo Aleworks brought in Upcountry Sausage Co to take up residence on the outdoor patio. The business model is simple: grill up tasty brats for hungry beer drinkers and load them into a bun piled high with choice toppings. Upcountry Sausage Co's menu features a range of sausage sandwiches stuffed with various brats, like cajun, Italian, and even vegan. It's almost shocking what this crafty little cart can do. Their eye-catching dogs are beautifully plated, and the flavors that Upcountry Sausage Co has come up with are unreal- I'm looking at you, horseradish sour cream paprika sauce.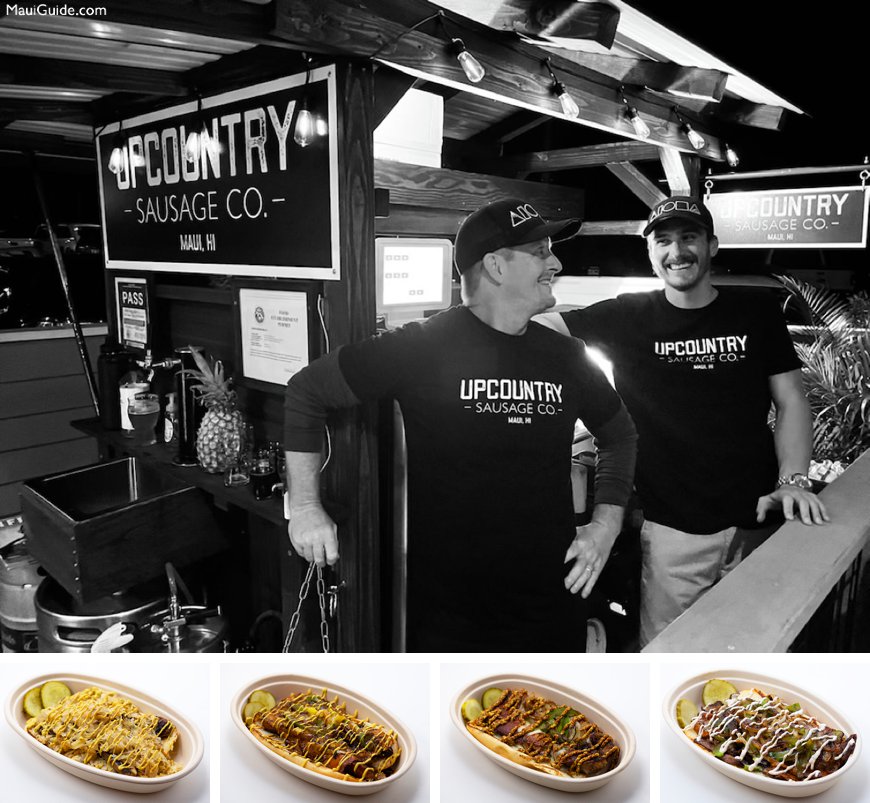 Much like the brewery, Upcountry Sausage Co has been experimenting and updating its menu. One of the latest additions is also our favorite, the Ragin' Cajun': Cajun sausage with pepper jack cheese, grilled green peppers, onions, and pineapple, then drizzled with dijon mustard and teriyaki sauce. Are you drooling yet?

RESTAURANT MARLOW
As if the delights at Mahalo Aleworks and Upcountry Sausage Co weren't enough, throw Restaurant Marlow into the mix. Marlow is located adjacent to Mahalo Aleworks, and the two have entered into the best kind of partnership. Marlow's hand-tossed, wood-fired sourdough pizzas are available to order at the brewery, and Mahalo Alework's beers have found themselves a permanent spot on Marlow's drink menu.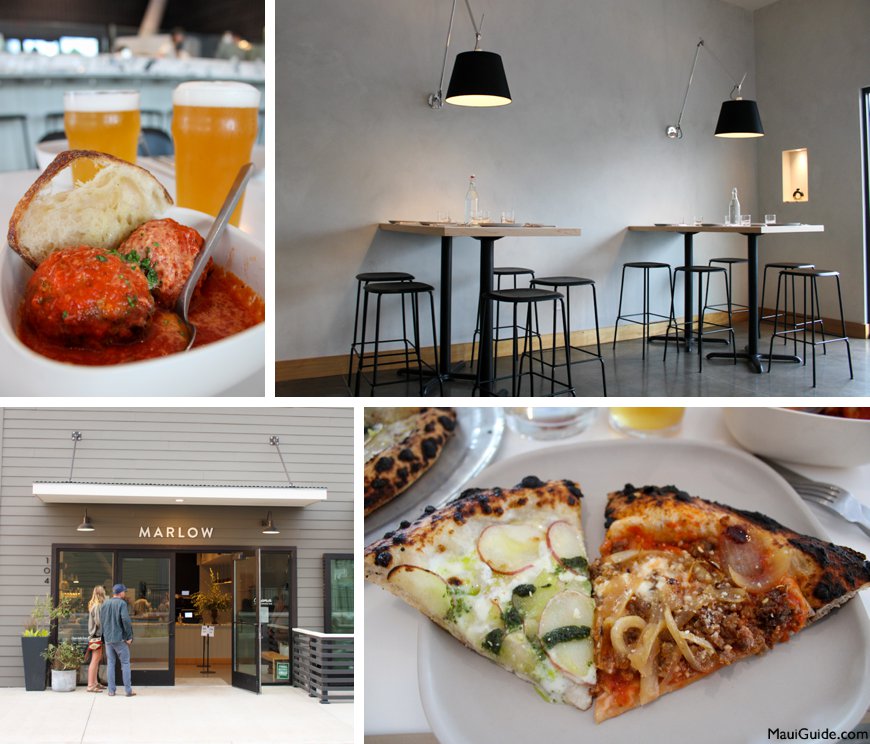 Restaurant Marlow is the most recent venture by distinguished Maui chef Jeff Scheer. Marlow opened around the same time as Mahalo Aleworks, and the two complement each other perfectly. Both establishments have, more or less, the same goal in mind: to provide the Upcountry community and visitors with a delicious product and support local as much as possible in the process. Like Mahalo Aleworks, Restaurant Marlow sources much of its ingredients locally, and both the brewery and the restaurant get some produce from the same farm. In addition to classic Neapolitan-style pizza, Marlow's menu also features an array of Italian appetizers, but you'll have to grab yourself a seat in the restaurant to sample those. Only the pizzas are available to order from the brewery.
After a few beers, the decision between a gourmet sausage sandwich or a sourdough pizza is going to be harder than ever. So, here's a word of advice: don't choose. Get both. Worst case? You take your food to go, just don't forget your Mahalo Aleworks growler, so you can enjoy your sausage/pizza/beer combo at home, too.
Mahalo Aleworks is open daily!  Mon-Thurs: 12-9, Fri: 12-10, Sat: 10-10, Sun: 12-8
Mahalo Aleworks
30 Kupaoa St. Unit 101
Pukalani, Hawaii 96768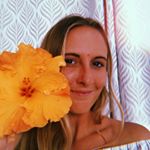 Born and raised on Maui, I have a deep love for language and writing. At present, I work as a content writer at Hawaii Web Group, where I have the opportunity to showcase my passion for storytelling. Being a part of Hawaiian culture, storytelling holds a special place, and I am thrilled to be able to share the tales of the amazing people, beautiful locations, and fascinating customs that make Maui such an incredible place to call home.