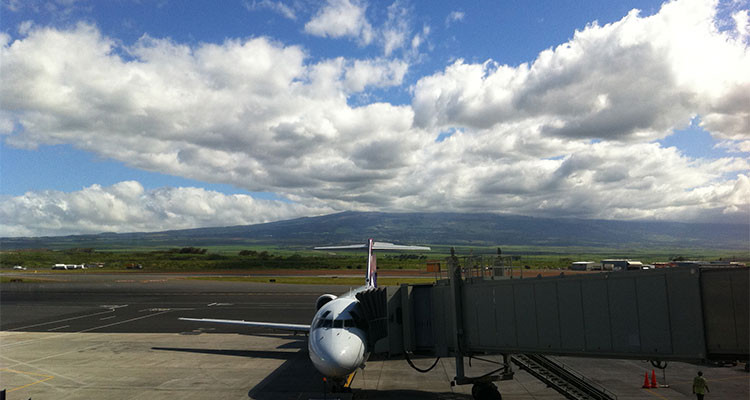 Kahului is Maui's most urban area. Often referred to as "town" by the locals, it is where everyone goes for movies, malls, Whole Foods, and Costco. Kahului also happens to be one of the windiest locations on the island, making the waters off this urban area world famous for kiteboarding and windsurfing.
Just Arrived in Maui?
Kahului is home to the island's largest airport (OGG) and is where most people begin their island adventure. If you're staying here for at least a week, have a kitchen, and are not too exhausted from your long trip across the Pacific, head straight to Costco and stock up on the island's cheapest food. For better food, go to Whole Foods. Costco is also a great place to buy the sort of boogie boards, beach gear, and island wear you don't want to bring home with you. It's cheap, and it will work while you're here, but you'll probably want to give it to some excited kid on the beach your last day on island.
Costco is located at 540 Haleakala Highway, at the intersection of Kahului Airport Road, Haleakala Highway, and Dairy Road, just southwest of the airport.
Maui Discovery Flights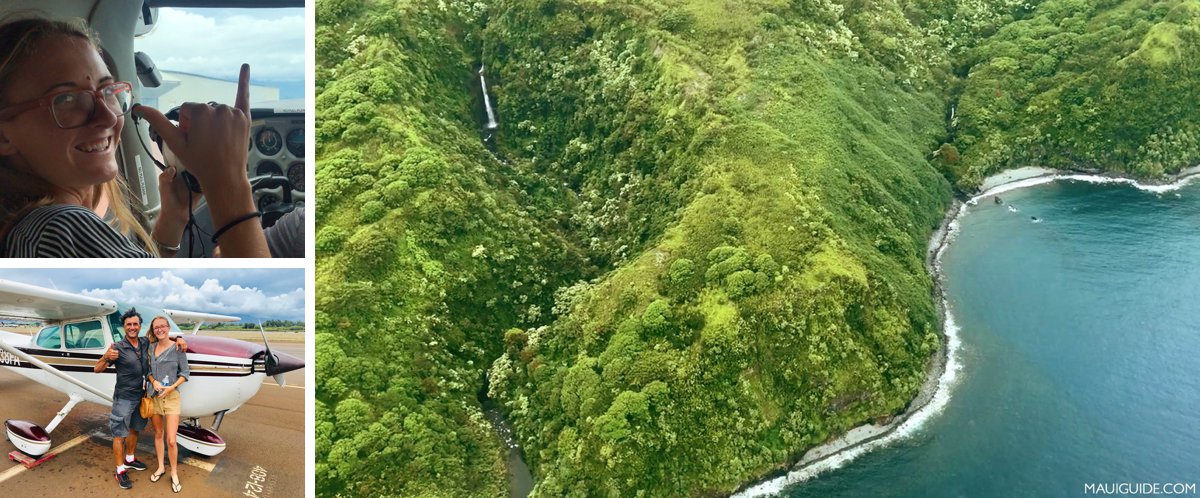 While there are several other smaller airports in Maui County, OGG serves as the hub for all things aviation. If you're up for a little thrill, head back to the windiest airport in the United States to complete your first lesson of flight school with Fly Maui. Here you will receive an informative and fun lesson, complete with an hour long scenic flight around the island. Fly Maui will even teach you how to take off the plane- with your flight instructor there to help you of course. Get a feel for flying before returning to Kahului Airport with your camera full of unique snaps and a renewed appreciation for the pilots who navigate this windswept coast daily. See our Discovery Flight Review!
Go Fly Maui
Kahului Airport also serves as the home base for a multitude of helicopter tours and Maui's only helicopter flight school, Go Fly Maui. In addition to providing flight school training, Go Fly Maui offers discovery flights that allow the chance for nearly anyone to learn how to fly a chopper- no experience necessary. During this exhilarating hands-on flight, you will learn the ins and outs of basic flight controls, including how to land. Yes, you read that correctly- by the time your Go Fly Maui flight is complete, you will have successfully landed a helicopter.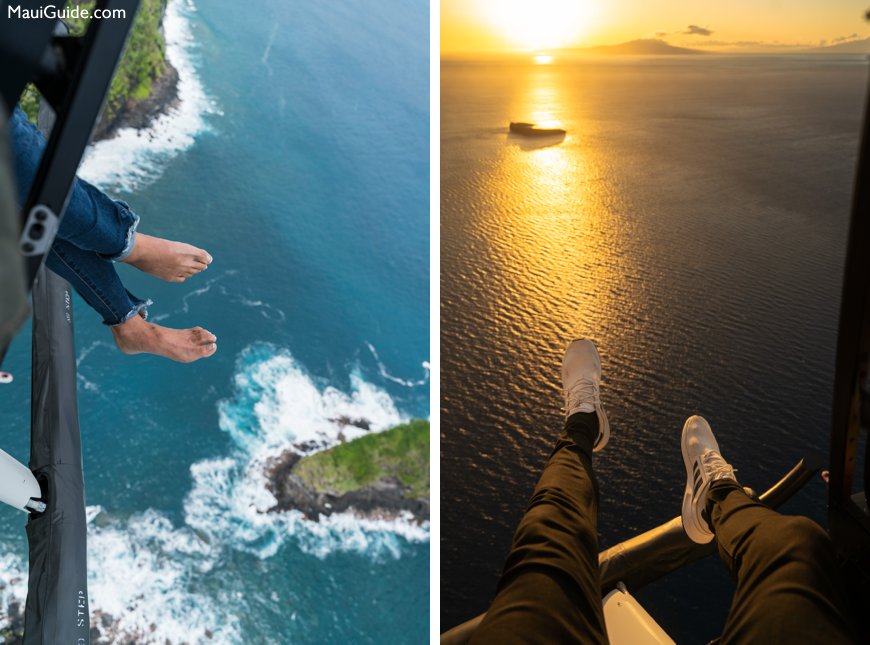 If being at the helm of a helicopter seems too daunting, Go Fly Maui also offers a completely custom photography oriented flight. Although you won't be flying the chopper, Go Fly Maui's photography flights are not lacking excitement. Be prepared to soar thousands of feet above sea level in a doors-off chopper in search of capturing the perfect, Insta-worthy photo. Because let's be real, that's really why helicopter tours are so popular- so anyone can snap extraordinary photos. What makes Go Fly Maui stand out is their customizable itinerary that you can tweak specifically to match your vision. Whether you'd like to explore Maui's lush, dramatic eastern coastline or the spilling waterfalls and towering peaks of the West Maui mountains, Maui and all its beauty is at your fingertips. 
Windsurfing and Kiteboarding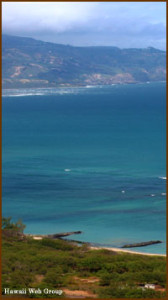 If you ever wanted to learn to windsurf or kiteboard, Kahului is the place for you. The trade winds blow consistently from around 10 AM to 3 PM every day, and the relatively protected Kanaha Beach is a great place for beginners.
For windsurfing lessons look to HST, Action Sports, or Second Wind.
For kiteboarding lessons try Action Sports or Kiteboarding School of Maui (KSM).
Hawaiian Island Surf and Sport located at 415 Dairy Road rents surf boards, stand-up paddle boards, windsurfing gear, and kiteboarding gear if you enjoy your lessons and want to take to the water on your own.
Top 3 Shopping Locations
• Queen Ka'ahumanu Shopping Center
Kahului is home to several shopping centers. The largest is the Queen Ka'ahumanu Shopping Center. Located at 1200 West Kaahumanu Avenue, the mall is has typical American mall stores like Macy's and American Eagle, but also has a few unique shopping venues such as Na Hoku jewelers and Nalu 808 clothing store. There is a movie theater, and the mall regularly hosts events unique to Maui such as performances by the Maui Ukulele Guild, hula shows, and a local farmers market.
• Maui Market Place
Kahului's second largest shopping center is the Maui Market Place located at 270 Dairy Road. Home to Borders Books and Music, Starbucks, Sport's Authority, Lowes, Pet-Co, Old Navy, Office Max, Hawaii Liquor Super Store, Pier One Imports, and a variety of smaller shops, this shopping center tends to be popular among locals looking to run errands. The center also features a small food court with local-style fast food. If you need reading material for the beach, Borders is the only book store on this side of Maui.
• The Maui Mall
Kahului's third major shopping center is The Maui Mall located at 70 East Kaahumanu Avenue. The mall houses the Maui Mall Megaplex, a 12-screen theater with stadium seating, and the recently arrived, hugely popular Whole Foods Market where you can stock up on locally grown and organic food.
Kahului Dining 
Kahului is a great place to grab a quick bite while you're on your way to do something else.  Whole Foods Market in The Maui Mall has a great hot bar with truly delicious soups, sandwiches, pizzas, and salads. The food court at Maui Market Place has local fast food, with Ba-Le Vietnamese being one of the favorites.  Ruby's Diner in the Queen Ka'ahumanu Shopping Center has great American diner fare, including burgers and milkshakes. For the most part, if you're looking for an evening at one of our delicious Maui restaurants, you're better off heading to Wailea, Kihei, Lahaina, or Paia.
Moving to Maui?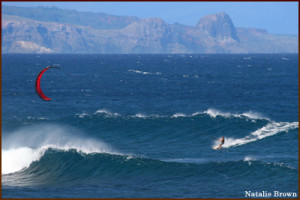 Kahului is not only where you'll be flying into, but it's where you'll retrieve your container of stuff as well as your shipped car. Matson has a pretty strong hold on most all shipping to Maui, and that's where you'll go and grab your things. make sure to pack your items securely because the high-seas can get rough, even for a huge container ship. Also, you're no longer allowed to fill your car with possessions. They use 9/11 as an excuse for this. Now you have to have a container for your stuff and a container for your car. Matson makes more money this way. We can't justify it any other way because it's just as hard to search a container full of loose items as it is to search a car filled with items.
Welcome to Maui, a land where you'll get used to spending more than you should.