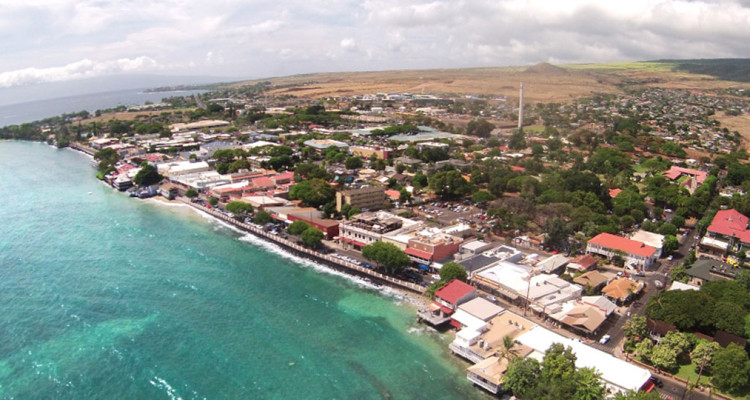 Lahaina, whose name means cruel sun in Hawaiian, has a rich history. Before the arrival of Americans and Europeans in the early 1800s, it was the royal capital of Maui Loa, the 5th king of Maui. The Hawaiian people thrived in the hot, dry climate, fishing, surfing, and trading with neighbors.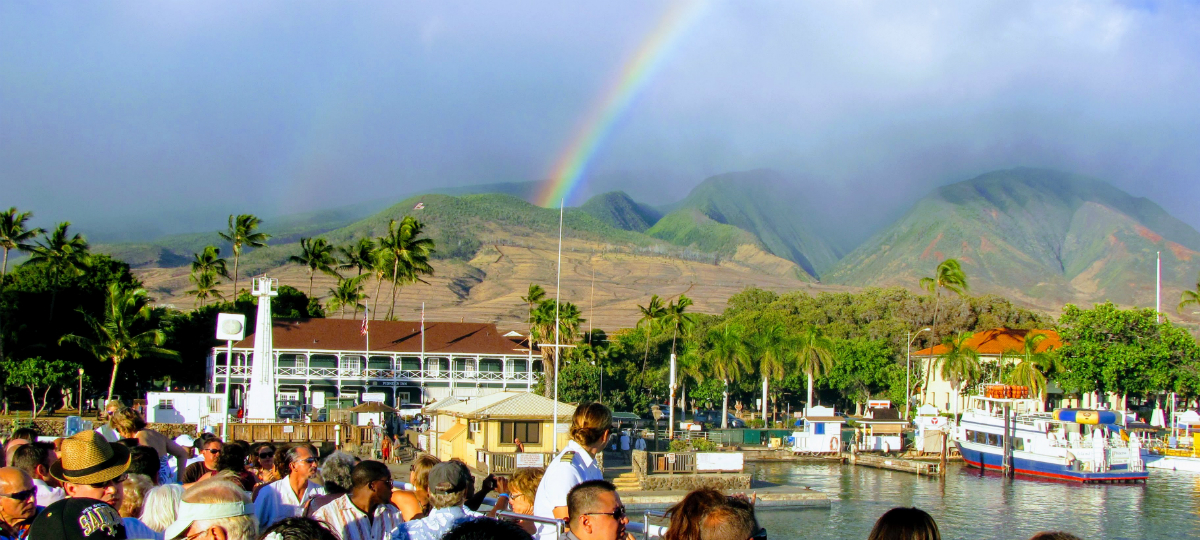 In the late 1700s, whalers began using Lahaina Harbor as a safe port while they hunted for the thousands of whales that call Hawaii home every winter. Their influence greatly changed Hawaiian culture and led to the construction of what is now Front Street. The whalers were followed by Christian missionaries in the early 1800s, who built up the town, planting trees, and erecting the churches, schools, and permanent New England-style residences.
Today, Lahaina is an interesting mix of old and new. The Harbor remains a bustling port. Whaling ships have been replaced by whale watching vessels, ferries to Moloka'i, and Lana'i, parasailing outfitters, and sailboats. Front Street remains the focus of the town, and the majority of shopping and dining lines this street, mixed in with the parks, churches, and homes built by missionaries. A visit here is a little visit to Hawaii's past, right next to Hard Rock Café.
Parking in Lahaina
Free parking is elusive in Lahaina. Front Street, the corner of Front Street and Shaw Street, and Luakini Street all have free lots, but you will be hard-pressed to find an open stall unless you arrive before 9 am. Free parking is limited to three hours, and the ever-present parking police will write you a ticket if you are late. Paid lots are scattered all around town on the mountainside of Front Street, and these are your best bet if you plan on staying in Lahaina for more than three hours.
Banyan Tree Park
Imported from India and planted in 1873, Lahaina's famous banyan tree is the largest banyan tree in the United States. Banyan trees, also known as strangler figs, grow by sending hair-like roots down from their branches as they spread out. Although the tree in the park looks like several large trees, it is actually one tree that has sent its roots down many times to form new trunk-like structures. Banyan Tree Park is located on the south end of Front Street and is a great place to rest in the shade. Local vendors fill the park on weekends selling their artwork.

Halloween on Front Street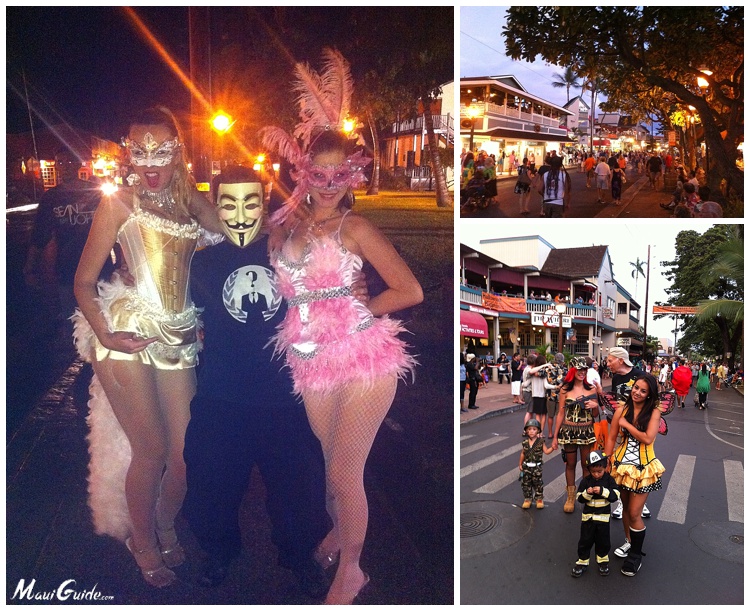 Halloween is a big deal in Lahaina. Depending on whether the people of Lahaina get permitting done in time, Front Street is sometimes closed off to traffic. At these times, thousands of costumed revelers flock the streets. Find out more by visiting Halloween in Maui.
 

Shopping and Dining
Front Street is filled with clothing stores, restaurants, art galleries, jewelers, and Hawaiian crafts and gifts. A walk from one end of the street to the other gives you a very good idea of what the town has to offer. Most restaurants post their menus on the street, and even the high-end venues are completely comfortable with casual beachwear. It is not rare to see a couple in bathing suits with sandy, flip-flopped feet dining next to a couple in a tie and evening gown at some of the higher-end restaurants. This is Maui, and you should feel free to come as you are.
Top 3 Entertainment Choices
Lahaina has more entertainment and nightlife to offer than most of Maui's towns. There are bars, a few clubs, and several shows going on pretty much all the time. A few shows worth checking out are listed below.
• Old Lahaina Luau – This is Maui's most traditional luau. Located at 1251 Front Street, the luau takes place in one of Lahaina's most beautiful shorefront settings. Traditional luau foods such as taro salad, poi, kalua pua'a, Polynesian baked mahi mahi, and pahole salad are served as you watch hula and enjoy cocktails, wine, or beer.
• Warren and Annabelle's Magic Show – Located at 900 Front Street, the show starts off with cocktails and appetizers and then moves on to a two-hour comedy magic show. It's surprisingly entertaining, fun, and funny. If you don't like to be heckled or have attention drawn to you, don't sit in the front row (though, most likely, you'll be picked on anyways.)
Historic Walking Tour
Lahaina is proud of its history, and many of the buildings in town have been preserved as historic sites. Self-guided Lahaina walking tours are available and recommended for anyone seeking a glimpse below the surface of Maui. Hawaiian history, whaling, missionaries, and immigrant plantation workers are all covered on the 62 site tour. Visit the Lahaina Visitor Center in the Old Lahaina Courthouse to pick up a copy of the walking guide.
The Lahaina Visitor Center is located at 648 Wharf Street between Banyan Tree Park and Lahaina Harbor.
Camping Near Lahaina
Camp Olowalu is a great place to camp on Maui, and only a short drive away from all the attractions of Lahaina Town with excellent snorkeling and scenic beauty. There aren't many other spots to camp easily (permits are a challenge to get and you'll be right on the highway.
We suggest staying at one of these West Maui resorts and hotels.