There are a million things to do in Maui, and you'll find yourself ocean-bound for most of them.  As with any tropical vacation destination, there are many options for your guided experience.  With so many choices, it's hard to decide which is the guide for you.  Each company offers different tours on different boats, and Redline is known for their fun rafting style boat that takes people out to Molokini and the Forbidden Coast.     
Redline Rafting is a barrel of fun for quite a few reasons, so lets dive in!
#1  Their boat is way cool.
You're going to see quite a few boats when you arrive at the Kihei boat ramp.  It won't be hard to find your boat.  It's the bright, bold red one!  These raft boats are zippy and fast, making the ride as much fun as the snorkeling!

#2 You need it?  They've got it.
Don't worry about hunting down a wetsuit, snorkel, flippers or a perfectly formulated spray to keep your mask from fogging up while snorkeling.  They outfit you with everything you need, and then some.  Once you've made your way to the location of the first snorkeling site, they even break out freshly baked cinnamon rolls and fruit to fuel you up for your day.  The captain even ices the cinnamon rolls on the boat!  Talk about 5-star service!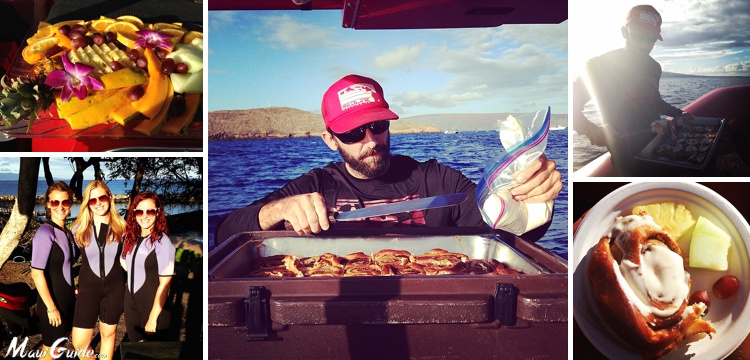 #3 Their job is equal parts history, fun and ocean love.
I was never one for history class.  The professor would drone on about this war and that year and very little stuck to my memory bank.  However, if my professor had been speaking from the helm of a boat about Molokini and the Forbidden Coast, I would've been in history heaven!  On this tour, you'll be privy to quite a bit of fascinating information on the history of these gorgeous sites.  They also share a few helpful tips to keep our ocean clean and safe.  And they mange to share all of this in a humorous way that keeps you laughing while learning!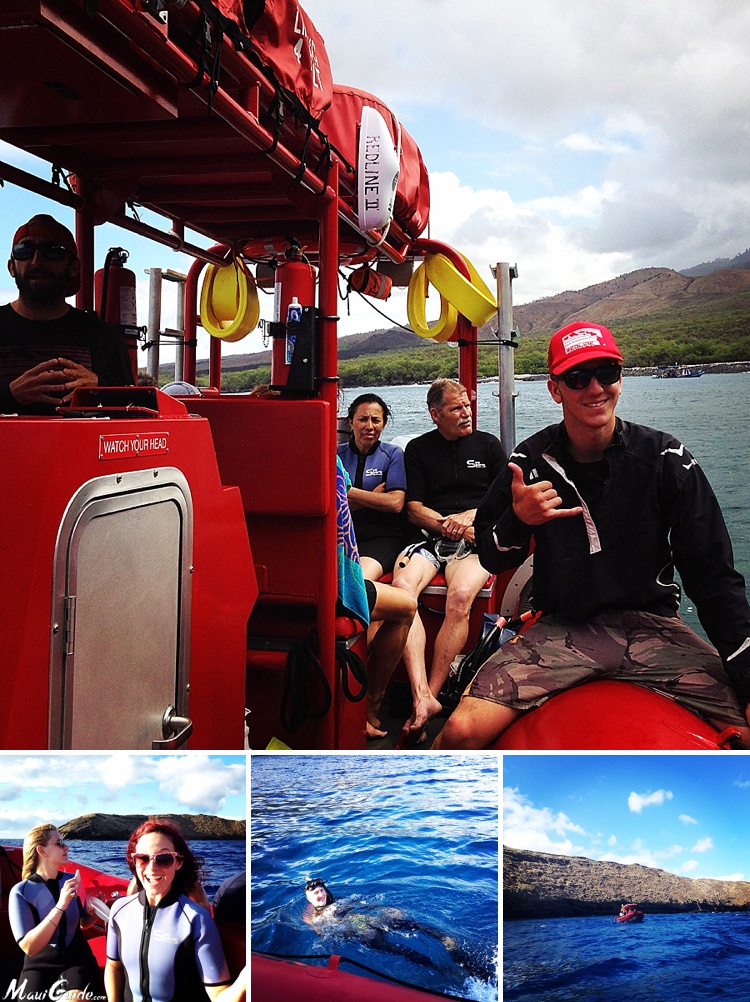 #4  The early bird definitely gets the fat worm
Waking up early isn't for everyone, but if you're able to swing a 6:30 am arrival time at the boat dock, then Redline Rafting is for you!  The earlier you start out, the calmer the winds and water is easier to snorkel.  These rafts take smaller groups, so you'll be in and out of the water quicker.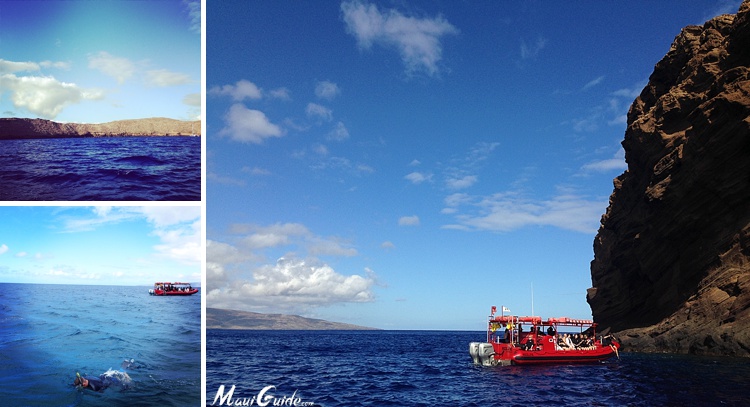 #5  The smaller, the better
There are places the big boats can't go, like the back side of Molokini.  And because of the size of the Redline Rafts, they move quicker and are able to pack in more snorkeling spots than other tours.  You're able to check out the Forbidden Coast (and learn why it's forbidden!) and Turtle Town after the front and back of Molokini.  If swimming with tropical fish, dolphins, eels and huge sea turtles is your thing, than you won't be disappointed!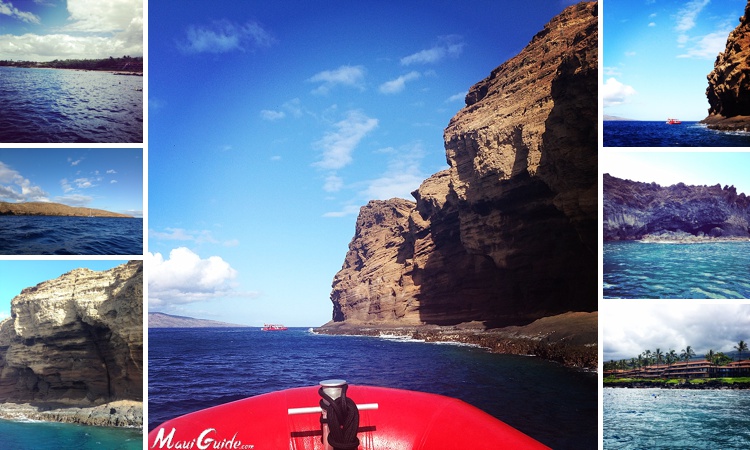 #6  All that fun makes a girl hungry
Not to worry, they don't expect a cinnamon roll to tide you over after four snorkeling sessions!  Which is why these fine fellows pulled out a delicious lunch and drinks to re-fuel their very hungry boat mates.  I can't remember a sandwich tasting so good!  It could've been that I was still riding high from the stunning coral, brilliant tropical fish or the speedboat pace that got us to our last destination.  Maybe it was the incredible view as I chowed down on a ham and cheese, perfectly paired with a sweet Hawaiian roll.  Or maybe it was the entire experience that made everything look and taste amazing!

Redline Rafting Tours is more than just a fun time.  They give you breathtaking memories that will keep you smiling for weeks!

For more information, visit Redline Rafting Co. or call (808)757-9211.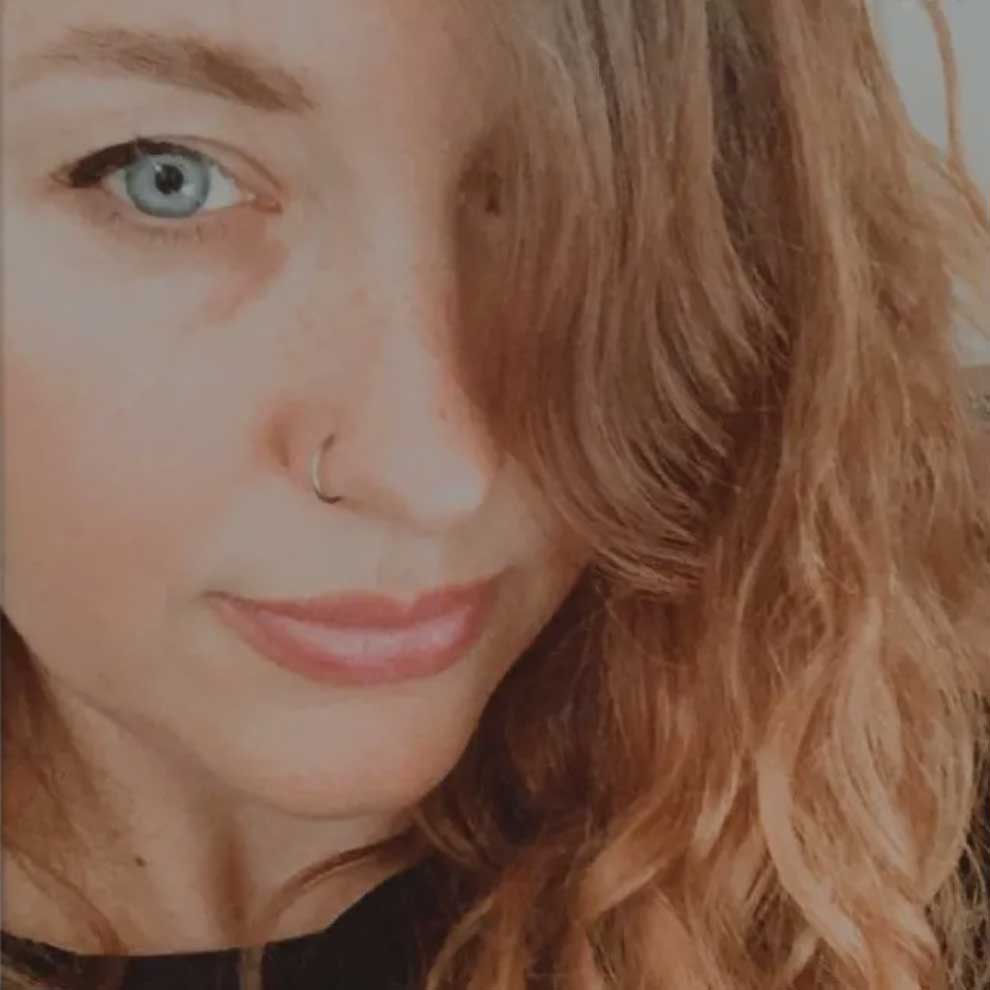 World Traveler, Digital Nomad, Small Business Enthusiast, and Lover of words!  Originally from Austin, Texas, I've lived on Maui for many years.  Currently in Los Angeles.