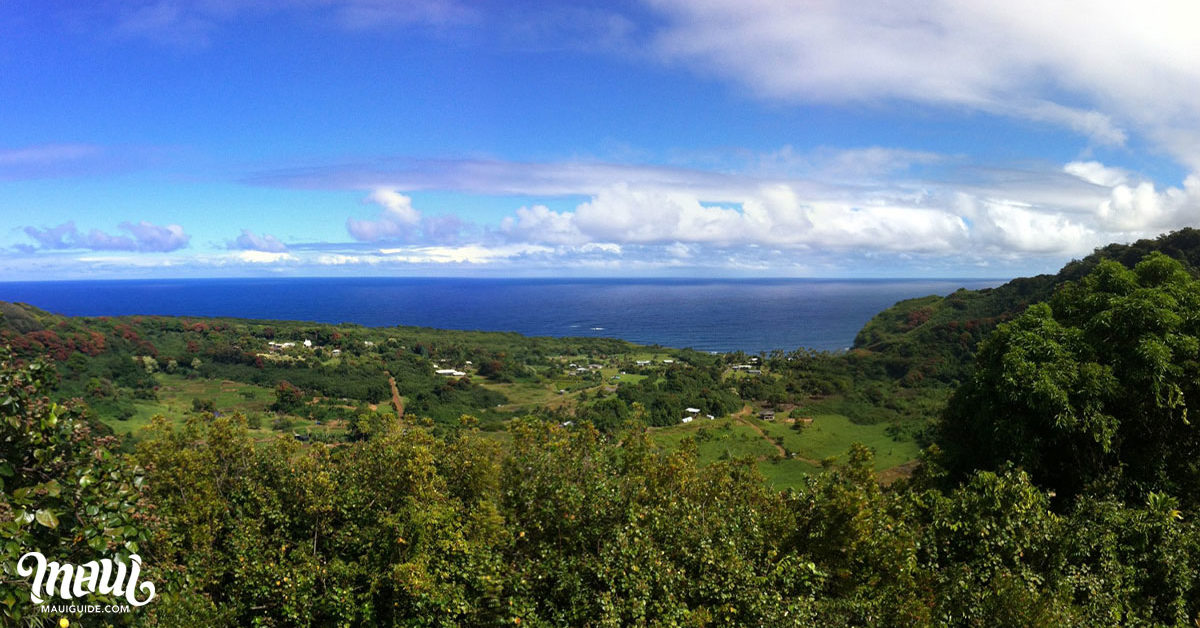 If you blink, you might miss it.
Wailua Valley State Wayside is a small park/lookout tucked into the cliffs a few miles past Keʻanae along the Road to Hana. A stop here will reveal sweeping views of Wailua Valley, the village below, and the whitecapped Pacific Ocean. Turn your focus inland, and you will be met with views of the enormous Koʻolau Gap.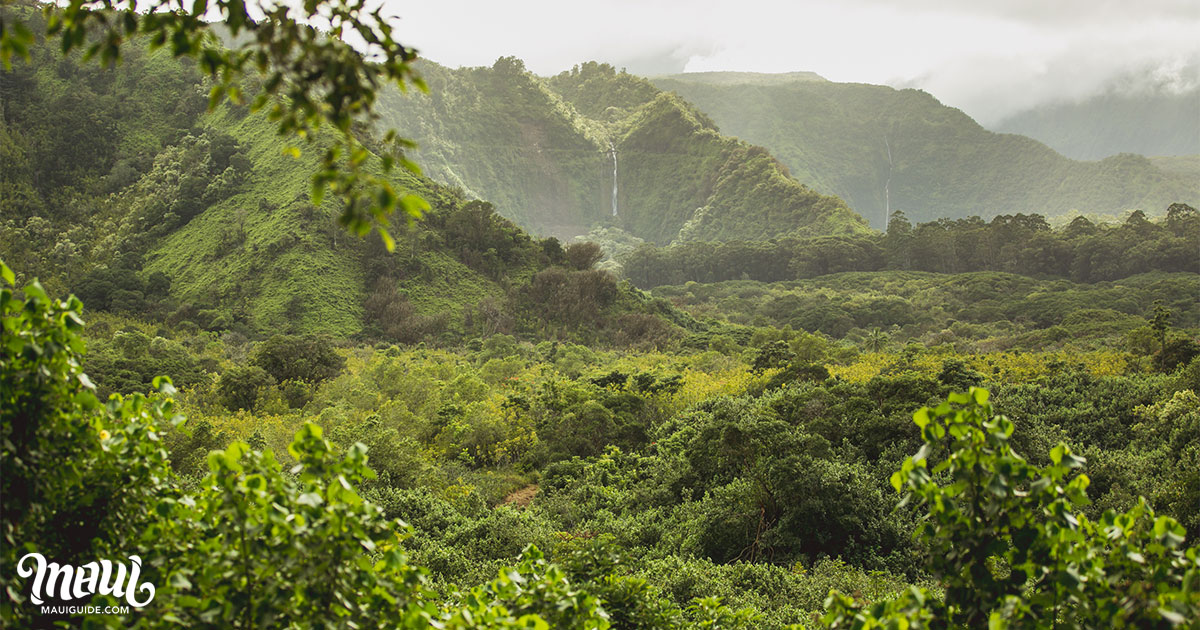 What to Love
From the lookout, you can observe the entire Wailua Valley and Wailua Village unobstructed. To this day, Wailua Village is mostly home to people with Hawaiian ancestry. This small community is deeply rooted in the ways of old Hawaii, and an abundance of taro patches dot both Wailua and Keʻanae Villages.
Looking mauka (mountainside) provides another visual treat. Dense greenery envelopes the immense Koʻolau Gap, which stretches from the volcanic sands at Haleakala down to the coast. On a cloudless day, the rim of Haleakala is visible. If there has been recent rain, you can see white threads of distant waterfalls spilling down the vertical cliffs.
The Koʻolau Gap was formed by tens of thousands of years of erosion. Thousands of small landslides and millennia of streams rushing down Haleakala's slope carved this gaping valley into what it is today.
What to Know
Wailua Valley State Wayside is located a few miles past Keʻanae Peninsula, a little over half a mile past mile marker 18 on the right-hand side of the road (eastbound). Look for a brown state park sign that reads "Wailua Valley State Wayside," and you're there.
The parking lot is small and can only fit about 3-4 cars, but it's regularly uncrowded- just be sure not to park in front of the gated private road to the left. Upon arrival, you'll be greeted with views of the Koʻolau Gap and a curious flock of wild chickens. The view from the parking lot is just a taste of what's to come- a small staircase to the right leads through the overhanging trees to the lookout.
Wailua Valley State Wayside is a great stop to stretch your legs, take some photos, and revel in the beauty of east Maui.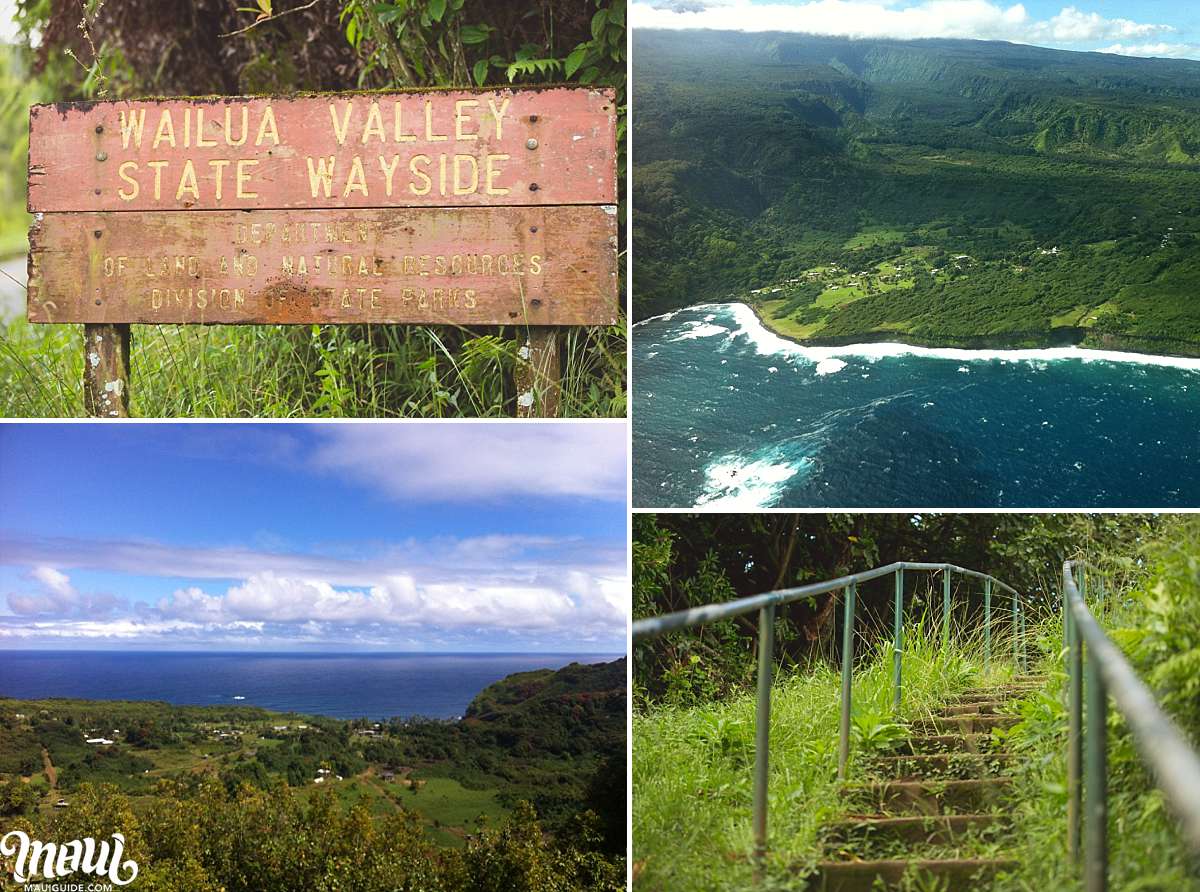 What You'll Find Nearby
Just before you get to the Wailua Valley State Wayside, you'll find Keʻanae Peninsula where you can take in incredible views and enjoy some of Aunty Sandy's banana bread.  This area is full of unbeatable views and lush forests, but food is not far away.  The Nahiku Marketplace is serving everything from coffee to fresh fish tacos.
ALSO NEAR WAILUA VALLEY STATE WAYSIDE