Scuba Diving With Scuba Mike
YThere may be plenty of scuba diving instructors out there, but you won't find anyone as passionate and educated as Scuba Mike.  Your entire diving experience with him will make lifetime memories!
Our Experience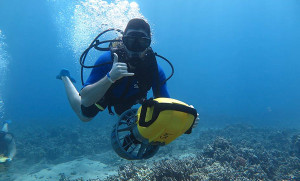 Scuba Mike took diving to a whole new level for us!  He was a one-stop shop, organized and outfitted with everything we needed for our dive.  He guided us through the standard safety measures and regaled us with jaw-dropping stories from his 25 years of diving.  All his stories highlighted his masterful background and made us feel confident in his guidance.  Once we started our dive, his passion for his job became even more evident.  Mike went above and beyond to make sure our experience was sensational, from diving into a cavern where 4 white tip reef sharks were resting, to swimming alongside enormous Hawaiian Green Turtles.  The dive was absolutely amazing, and combined with the extraordinary personality of Scuba Mike, made it a once-in-a-lifetime experience.