We've listed all of the Maui catering companies we know to be in operation. Please contact us if we're missing one!
Mill House Restaurant at the Maui Tropical Plantation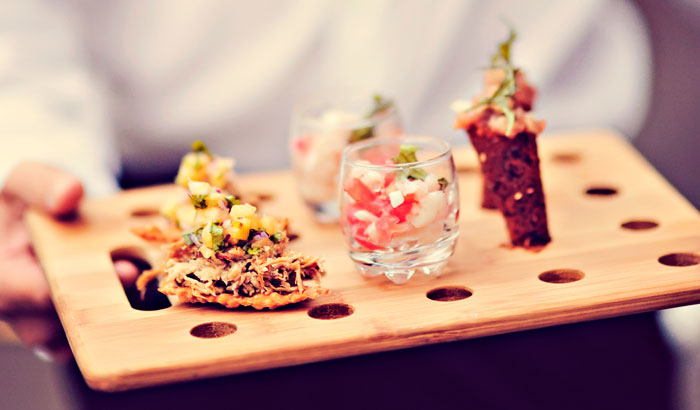 The Mill House (808) 270-0333
MillHouseMaui.com
Headed by culinary artist and award-winning Executive Chef Jeff Scheer, The Mill House Restaurant has become one of Hawaii's most respected culinary establishments. Jeff and his team excel in creating unforgettable dishes with locally grown produce, the finest quality meats, and fresh Maui seafood.
The setting, located at the stunning, expansive and centrally-located Maui Tropical Plantation, allows for catering services for anywhere from 10 to 400 guests, and with views of the nearby West Maui Mountains, lagoon, and tropical grounds, is arguably the most romantic and grand setting for private events on Maui.


The Mill House staff are prompt, professional and friendly, and have seriously fine-tuned the art of unique, memorable dining in paradise. An assortment of handcrafted cocktails, all made with fresh juice and local ingredients, perfectly compliment the delectable dishes you'll be treated to.


While the entire Mill House team have extensive experience and knowledge in the Maui wedding catering business, customizations to the menu are always welcome. The quality and ingenuity of their services are not to be underestimated, as evidenced by their hundreds of happy couples and wedding parties!
808 Sky Catering Inc.
335 Hoohana St Ste C Kahului, HI
(808)873-8118
Allure Invitation and Entertainment
Lokelani 269 Papa Place PMB#155 Kahului, HI 96732
Ph (808) 877-8098 [email protected]
A Maui Gourmet Weddings & Events
Mario Della-Penna 277 Huaka Street Kihei, HI 96753
Ph (808) 879-0174 [email protected]
Avi's
28 Baldwin Ave Paia, HI
Bayside Catering
(808)874-5290
Behana of Maui
PO Box 790482 Paia, HI
(808)871-8687
Bentos and Banquets by Bernard
85 N Church St. Wailuku, HI
(808)244-1124
Bon Appetit Catering
Erik's Seafood Restaurant
Christian Erik Jakobsen
(808)283-0960
Blu
839 Front St.
(808)661-9491
Blue Ginger Cafe
409 7th St.
(808)564-6363
Blue Sky Weddings
Gabrielle Longhi 79 Kaui Place Kula, HI 96790
Toll Free (800) 362-8251 [email protected]
Brigit & Bernards Garden Cafe
335 Hoohana St.
(808)877-6000
C-Jayes' Local Grinds
310 Hukilike St. Bay Q
(808)877-7690
Cafe O'Lei
Molly 2439 South Kihei Rd. Kihei, HI 96753
Ph (808)891-1368 [email protected]
Cary & Eddie's Hidaway
Eddie Hernandez 500 N. Puunene Ave. Kahului
Ph (808) 873-6555 Cell (808) 276-4703
[email protected]
Casanova Italian Restaurant and Deli
1188 Makawao Ave.
(808)572-0220
Catering From Soup to Nuts
Ralph Giles P.O. Box 880408 Pukalani, HI 96768
Ph (808) 575-2126 Cell (808) 357-9444
[email protected]
Celebrations Catering
900 Haliimaile Rd. Makawao, HI
(808)572-4946
Chef Tracy
Full Service Catering & Event Coordination
(808)891-2323
Chez Paul French Restaurant
Patrick Callarec 820B Olowalu Road Lahaina, HI 96761
Ph (808) 661-3843 Cell (808) 283-9044
[email protected]
Cindi's Wholistic Catering
PO Box 1185 Kula, HI
(808)878-6868
CJ's Deli & Diner
(808)667-0968
Clam Bake Hawaiian Style
52 Kuhina Pl. Wailuku, HI
(808) 242-5059
Comfort Zone Catering, Inc
Chef Christian Jorgensen and Chef Darren LeMoss
2580 Keka'a Drive, Suite 120 Lahaina, Hawaii, 96761
Ph (808) 667-0968 [email protected]
Consuelo's Catering
771 Haiku Rd Haiku, HI
(808)575-2687
Dani's Catering
880 Kolu St. Wailuku, HI
(808)242-6652
Da Kine Creation's
By: Lokelani Kanani Kehaulani
Loke 269 East Papa Place – PMB#155 Kahului, HI 96732
Ph (808) 575-2843 Ph (808) 873-0540 [email protected]
Dr.Fedwell Catering
(808)575-9185 or (808)280-7856
Eskimo Candy Seafood and Marketplace
2665 Wai Wai Pl. Kihei, HI 96753
(808)879-5686
Event Masters
Robin Williams 600F Waiehu Beach Rd Wailuku, HI 96793
Toll Free (800) 771-9931 Ph (808) 986-0391
Cell (808) 276-3281 [email protected]
Fernandez Catering
Pukalani
(808)572-8816
Five Palms Beach Grill
Edith Pendleton, Director, Marketing/Events
Mana Kai Resort 2960 S. Kihei Road Kihei, HI 96753
Ph (808) 879-2607 [email protected]
Food For The Soul Upscale Catering
Rob Digman 331 Hookahi St. Wailuku, HI 96793
(808) 244-1185 [email protected]
Gategourmet International
250 Alamaha Space N1
(808)877-3911
Ghiselani Designer Cakes
Marie Ghislaine Audant 365 Ali'iolani Street makawao, HI 96768
(808)[email protected]
Glorious Food Catering
1498 Halama Street Kihei, Maui, Hawaii 96753
(808) 879-1332 [email protected]
Grace & Style Inc.
1460 Kauhikoa Rd Ste A Haiku, HI
Grand Waikapu & Sandalwood Golf Course 
Peter Schlee 2500 Honoapiilani Highway Wailuku, HI 96793
Ph (808) 242-6162
Haiku Foodservice
810 Haiku Rd Ste A16 Haiku, HI
(808)575-9363
Hailemaile General Store
900 Haliimaile Rd.
(808)572-2666
Hoaloha Productions
1287 Front Street Lahaina, HI 96761
(808)661-8330
Hula Grill Whalers Village
2435 Kaanapali Prkwy
(808)667-6636
I'O Restaurant
Michelle Martinez 505 Front Street Lahaina, HI 96761
Ph (808) 661-8422 Fax [email protected]
Ichiban Okazuya Hawaii
2133 Kaohu St
(808244-7276
Jacque's On The Beach, Inc.
(808) 875-7791
Just Desserts
P.O.Box 13236 Lahaina, HI 96761
(808)669-4494 Toll Free (886)500-2253
[email protected]
Ka'anapali Beach Hotel
Tom Fairbanks Catering Director 2525 Kaanapali Parkway Lahaina, HI 96761
Ph (808) 661-0011 [email protected]
Kama'aina Caterers
2000 Mokulee Hwy Kahului, HI
Kama'aina Okazuya
1500-A Lower Main Street
(808)244-1566
Kimo's Restaurnant
845 Front Street, Lahaina
(808)661-4811
Kula Lodge and Restaurant
15200 Haleakala Hwy
(808)878-1535
Kusina Oriental-Lahaina
1000 Limahana Pl. Space D
(808)661-2774
La Isla Maui Fresh Tamales
55 Pukalani St Makawao, HI
(808)572-8258
Larry Mischle Caterer Extrodinare
Larry Mischle Kihei, HI 96753
Ph (808 ) 879-1183 Cell (808) 281-1913 [email protected]
Leona's Catering
375 Huku LII Pl Ste 104 Kihei, HI 96753
(808)874-5215
Luciano's Catering Company
1276 Lower Main St. Wailuku, HI
(808)249-2772
Lynne's Cafe
810 Kokomo Rd. Suite A16
(808)575-9363
Maalaea Grill
300 Maalaea Rd.
(808)243-2206
Maui Bake Shop & Deli Ltd
2092 Vineyard
(808)242-0064
Maui Catering Company
335 Hoohana St Ste 7A Kahului, HI
Maui Executive Catering
Jeff Scheer Ph (808) 270-0305
[email protected]
Maui Wedding Cakes
Cheryl Logsdon 100 Luluka Place Kihei, Maui, HI 96753
Toll Free (866) 537-8888 Ph (808) 874-5932
Cell (808) 283-6977 [email protected]
Mel's Catering and Fast Food
1032 Lower Main St Ste C Wailuku, HI
(808)249-8533
Michael's Creative Catering
Michael Feil 1787 Willi Pa Loop #6 Wailuku, HI 96793
Toll Free (888) 803-3663 Ph (808) 242-9939 Cell (808) 357-6806
[email protected]
Pacific 'O Restaurant
Michelle Martinez 505 Front St Shop 114 Lahaina, HI 96761
Ph (808) 667-4341 [email protected]
Paia Plantation Inc.
113 Baldwin Ave Paia, HI
Paradise Cafe Maui Inc.
275 W Kaahumanu Ave Ste SC-7 Kahului, HI
(808)893-2233
Paradise Catering
60 E Wakea Ave Suite 101, HI Kahului
(808)871-8188
Pele's Catering/Fleming's Restaurant on the Greens of Kapalua
Kathleen Leonard 840 Wainee St #125 Lahaina, HI 96761
Ph (808) 661-1586 [email protected]
Private Gourmet
PO Box 791891 Paia, HI
(808)879-2433
Pukalani Superette
15 Makawao Ave
(808)572-7616
Ray's Deli and Lounge
270 Waiehu Beach Rd #103 Wailuku, HI
(808)242-5993
Ritz-Carlton Kapalua
1 Ritz-Carlton Dr
(808)669-6200
Rosie's Lunch To You
And Catering Too
1322 Lower Main St. Suite A & B
(808)242-1471
Royal Lahaina Resort
Kaanapali (808)661-3611
Rusty Harpoon Restaurant and Tavern
Catering Manager Whaler's Village 2435 Kaanapali Pkwy Lahaina, HI, 96761
Ph (808) 661-3123 Fax [email protected]
Ruth's Chris Steak House
900 Front Street Suite A Lahaina
(808)661-8815
3750 Wailea Alanui Dr. Wailea
(808)874-8880
Sheraton Maui
Marilyn Knecht 2605 Kaanapali Parkway Lahaina, HI 96761
Ph (808) 662-8026 [email protected]
Saeng's Thai Cuisine
2119 Vineyard
(808)244-1567
A Saigon Cafe
1792 Main St.
(808)243-9560
The Sandtrap Restaurant
Waiehu Golf Course
(808)244-9691
Suwanlee's Thai Catering
707 Pakanu St Haiku, HI
(808)572-5033
Tableside Chefs
PO Box 959 Kihei, HI 96753
(808)875-8980
Thailand Cuisine
1819 South Kihei Rd. Suite D105
(808)875-0839
The Feast At Lele
Randall Baybayan 505 Front Street Lahaina, HI 96761
Ph (808) 667-5353 [email protected]
Tiffany Ward Catering
PO Box 790336 Paia, HI
(808)871-4165
Tokyo Tei
1063 Lower Main St. Suite C101
(808)242-9630
Triptop Productions & Catering
Chef Tracy Edelhertz Box 880387 Pukalani, HI 96788
Ph (808) 891-2323 [email protected]
Vasi's Gourmet Catering
810 Kokomo Rd. Haiku, HI
(808)573-8056
Wailea Catering Company
100 Kaukahi St Kihei, HI 96753
(808)874-1131