We've listed all of the Maui catering companies we know to be in operation. Please contact us if we're missing one!
The Chef's Table at Montage Kapalua Bay
Experience the newly launched "The Chef's Table in Your Residence" program. Chef Riko Bartolome returns to Montage Kapalua Bay to lead guests through private culinary experiences.
(855) 596-3687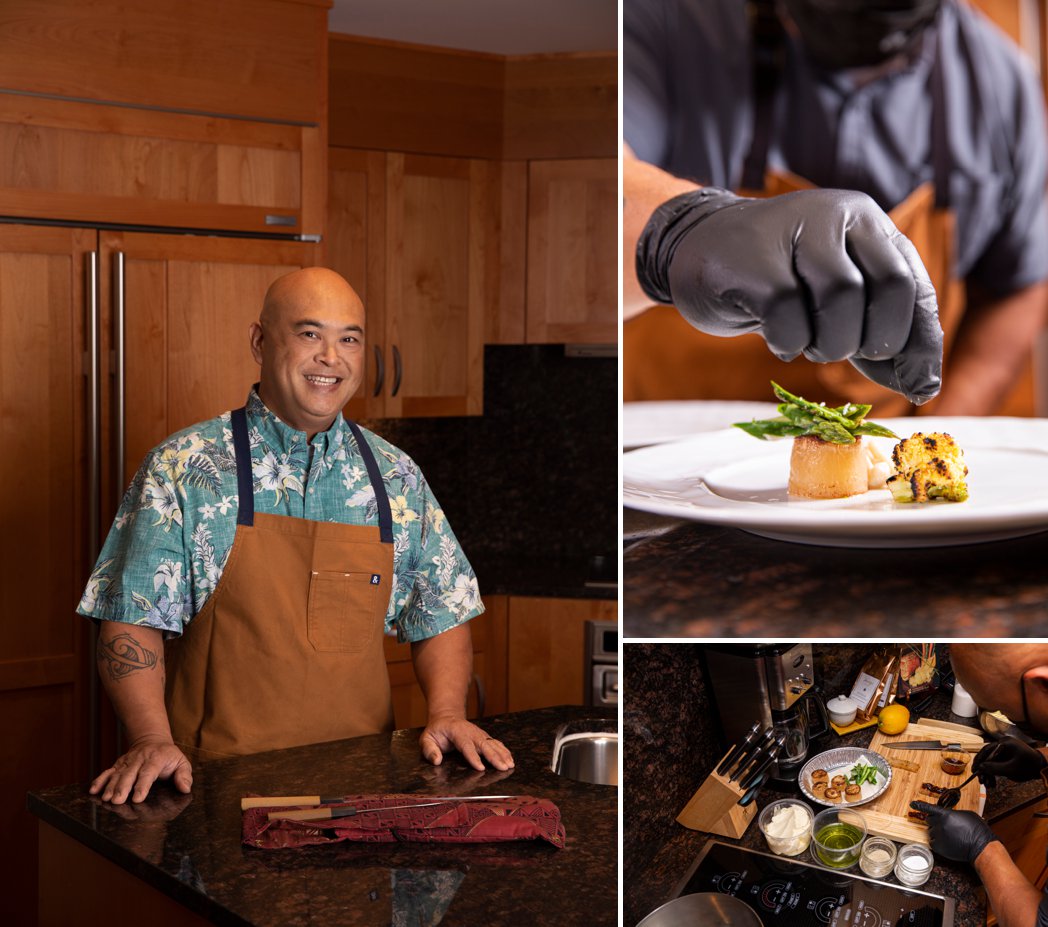 Mobile Pizza Oven with Restaurant Marlow
Marlow has a new mobile pizza oven! This new catering arm offers pizzas, hand-selected wines, and cocktails, as well as a fully coursed, customizable dining experience.
Restaurant Marlow
(808) 868-3366.

Aloha Thai Fusion
520 Keolani Place
Kahului, HI 96732
(808) 463-5870
Bentos and Banquets by Bernard
85 N Church St. Wailuku, HI
(808)244-1124
Blue Ginger Cafe
409 7th St.
(808)564-6363
Blue Sky Weddings
321 Front Street
Lahaina, HI 96761
Info@blueskyweddings.com
Toll-Free (800) 362-6851 or Local: 808-283-8014 
Brigit & Bernards Garden Cafe
335 Hoohana St.
(808)877-6000
Cafe O'Lei
1670 Honoapiilani Hwy.
Waikapu, HI 96793
(808) 442-7742
Casanova Italian Restaurant
1188 Makawao Ave.
(808)572-0220
Catered Coconut
thecateredcoconut@gmail.com
(808) 573-2626
Celebrations Catering
900 Haliimaile Rd. Makawao, HI
(808)572-4946
Cindi's Wholistic Catering
cindicatering@gmail.com
(808) 264-4177
Crema Maui
Offering unique coffee catering experiences.
30 Kupaoa Street, A104
Pukalani, HI 96768
At Restaurant Marlow
Da Nani Pirates
1 Piikea Ave
Kihei hi 96753
dananipirates@gmail.com
(808) 250-6671
Dani's Catering
880 Kolu St. Wailuku, HI
(808)242-6652
Feast At Lele Luau Dinner Show
505 Front Street Lahaina, HI 96761
Ph (808) 667-5353
Food For The Soul Upscale Catering
800 Eha St, Ste 7
Wailuku, HI 96793
foodforthesoulmaui.com
(808) 244-1185
Four Sisters Bakery & Catering
1968 E Vineyard St.
Wailuku, HI 96793
Catering: (808) 205-7981
Ghiselani Designer Cakes
Marie Ghislaine Audant
365 Ali'iolani Street
Makawao, HI 96768
designercakes@mauicakestore.com
(808)385-0481
Hailemaile General Store
900 Haliimaile Rd.
(808)572-2666
Hula Grill Whalers Village
2435 Kaanapali Prkwy
(808)667-6636
Ichiban Okazuya Hawaii
2133 Kaohu St
(808) 244-7276
Ka'anapali Beach Hotel
Marissa Ugale – Catering Director
2525 Kaanapali Parkway
Lahaina, HI 96761
mugale@kbhmaui.com
(808) 667-0166
Kimo's Restaurant
845 Front Street, Lahaina
(808)661-4811
King's BBQ
Many locations on Maui:
https://kingskiheitogo.com/
http://www.kingsbbqhaiku.com/
https://kingskiheitogo.com/
Kula Lodge and Restaurant
15200 Haleakala Hwy
(808)878-1535
Kusina Oriental-Lahaina
1000 Limahana Pl. Space D
(808)661-2774
Lotus Catering Maui
lotuscateringmaui@gmail.com
(808) 551-8954
Luciano's Catering Company
1276 Lower Main St. Wailuku, HI
(808)249-2772
Maui Catering Services
979 Kokomo Rd, Haiku, HI 96708
mauicateringservices@gmail.com
(808) 344-0058
Maui Wedding Cakes
Casey Logsdon
100 Luluka Place
Kihei, HI 96753

weddingcake@hawaii.rr.com
(808) 283-7068
Mel's Island Catering
6 Waikalani Hema Place
Kihei, HI 96753
(808) 773-4589
PacificʻO Restaurant
505 Front Street
Lahaina, HI 96761
events@pacificomaui.com
(808) 667-4341
Paradise Supermart
Filipino Grocery Store and Catering Service
207 E Wakea Ave
Kahului, HI 96732
(808) 877-6767
The Market Maui
10 Wailea Gateway Center
Wailea, HI 96753
(808)879-2433
Pukalani Superette
15 Makawao Ave
(808)572-7616
Ray's Deli and Lounge
270 Waiehu Beach Rd #103 Wailuku, HI
(808)242-5993
Ritz-Carlton Kapalua
1 Ritz-Carlton Dr
(808)669-6200
Royal Lahaina Resort
2780 Kekaa Dr
Lahaina, HI 96761
(808)661-3611
Ruth's Chris Steak House
3750 Wailea Alanui Dr. Wailea
(808)874-8880
Sheraton Maui Catering & Events
Joyce Paʻa
2605 Kaanapali Parkway
Lahaina, HI 96761
(808) 661-0031
A Saigon Cafe
1792 Main St.
(808)243-9560
Sugar Beach Events
85 N. Kihei Rd
Kihei HI 96753
808-856-6151
Thailand Cuisine
70 E Kaahumanu Avenue
Kahului, HI 96732
(808) 873-0225
Tokyo Tei
1063 Lower Main St., Suite C101
(808)242-9630
Triptop Productions & Catering
Chef Tracy Edelhertz
Full-Service Catering & Event Coordination
(808) 385-3504
Valley Isle Catering
Chef Jake Dubbayou
chefjake@valleyislecatering.com
(808) 856-1332
---