Island Art Party Review
We can't wait to go back and try another painting with more friends!
Creativity on Maui is not hard to find. From a variety of interesting art galleries to authentic Hawaiian celebrations and festivals, residents and visitors have many opportunities to see and appreciate Maui's unique culture and creative practices. For those looking for a way to participate in a low-key creative activity themselves, however, there aren't many options beyond standard hula lessons or ongoing classes at a local school or private institution.
Island Art Party offers a fun way to not only participate in a laid-back, creative activity on Maui, but rekindle your 8th grade painting skills with a significant other, friend or family member. Two bonuses: 1) There's alcohol (if you're 21 and over), and 2) You get to make, and keep, your own souvenir.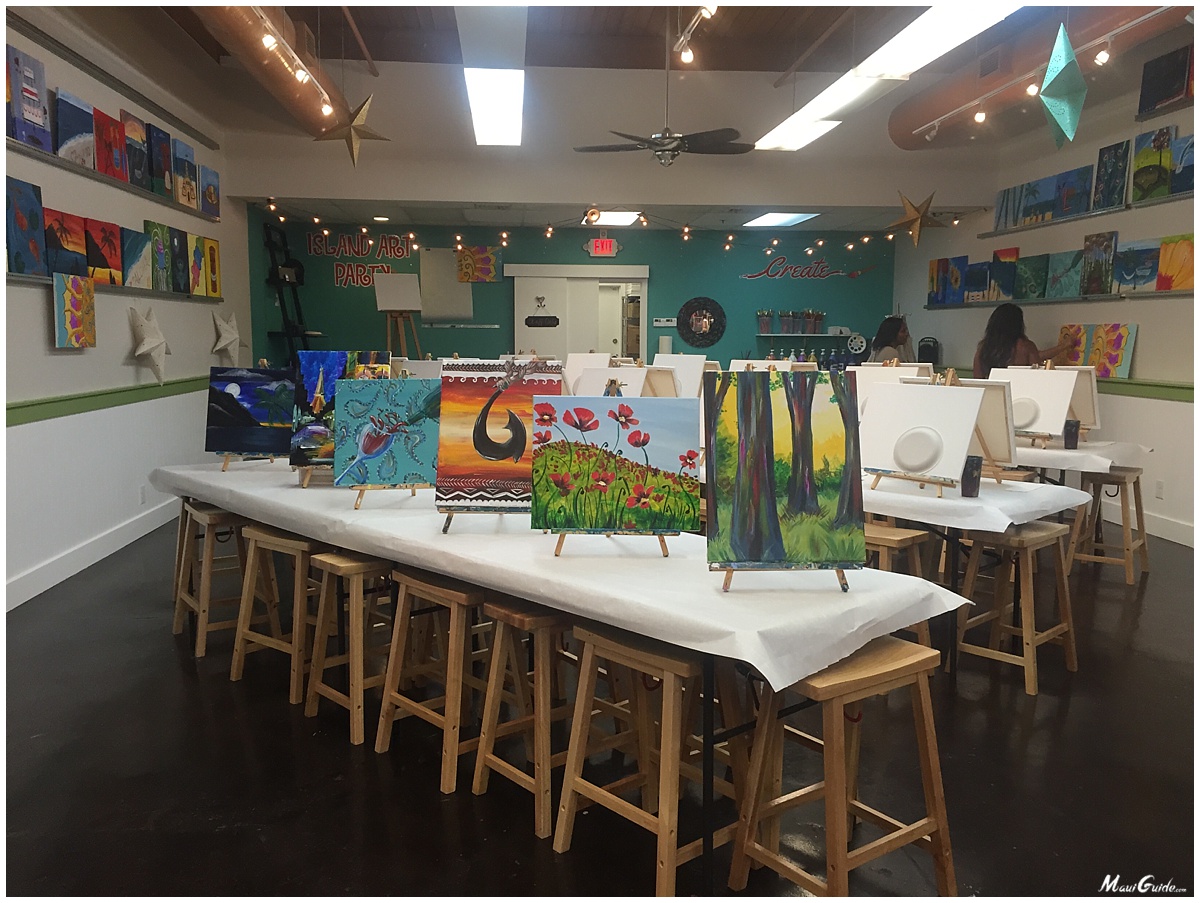 Beyond the typical dinner, live music show or movie, date nights on Maui can become pretty stagnant due to a lack of viable entertainment options past 9pm. At Island Art Party, the concept is simple – a resident 'Partista' instructs you how to recreate a chosen painting for the evening, which you complete on a canvas while sipping, socializing, listening to music, and snacking. A simple way to up your date-game if ever there was one, gentleman.
The Experience
We arrived at 6:50 for our 7pm class, and were quickly greeted by owners Curt and Alma and given a brief rundown of that evening's agenda, including where to find our apron, paint supplies, and settle in at our chosen painting station.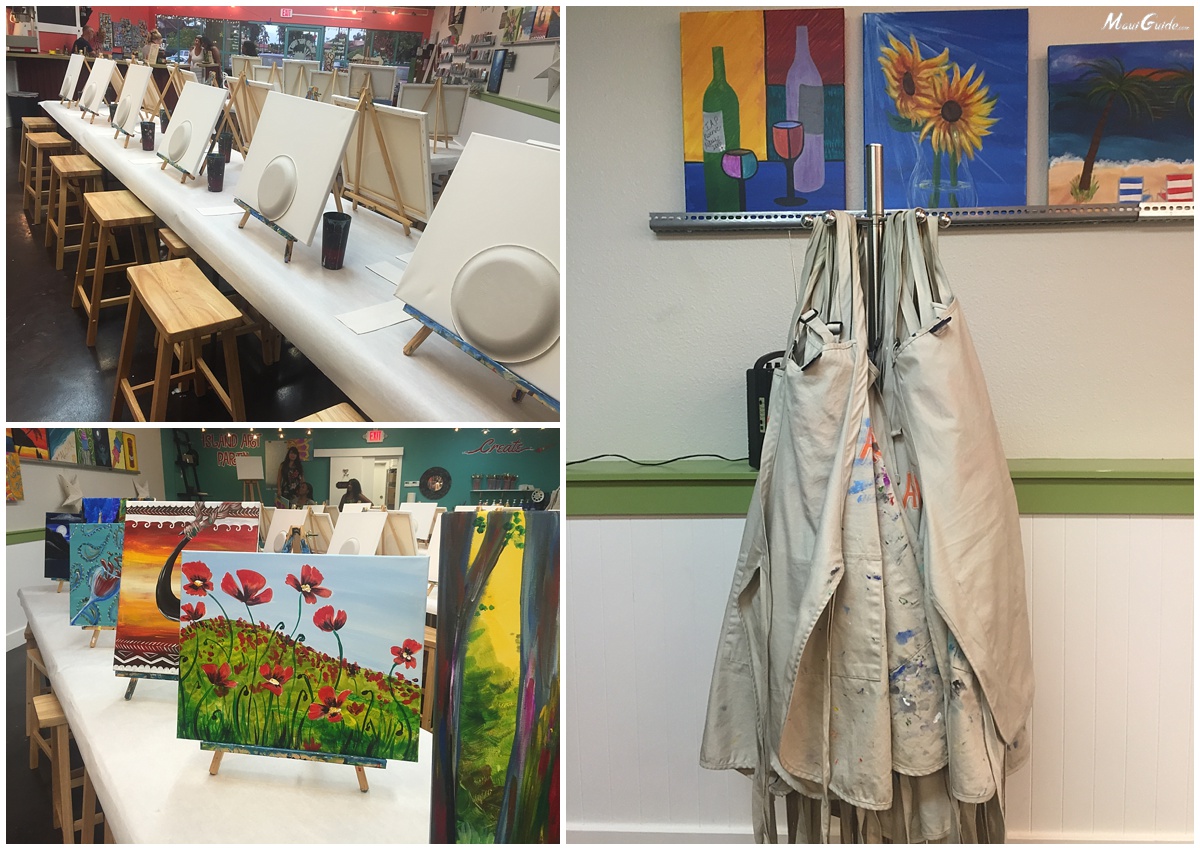 The space is bright and welcoming, and includes a cozy seating area, paint bar, and an area with other artsy souvenirs like cards, jewelry and signs. Located in North Kihei's Azeka Shopping Center, it's a good idea to grab dinner before the event since most surrounding restaurants close up pretty early – 9pm is the new midnight on Maui, after all.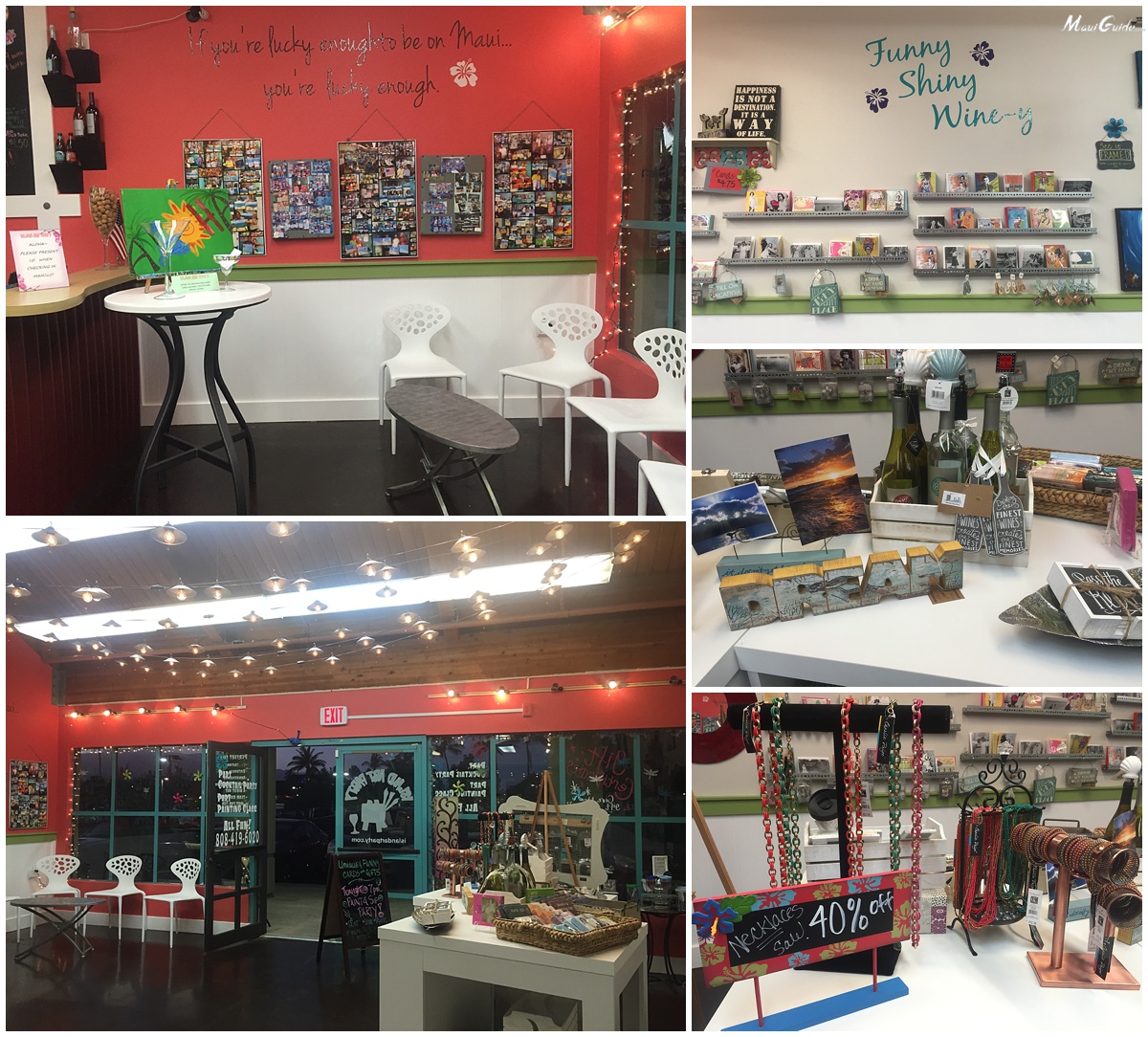 Our stations were stocked with all the supplies we'd need for the evening, including three types of paint brushes, a cup of water, paper towels, paper plate, and a blank 16″ x 20″ canvas. We grabbed our aprons and globs of colored paint, brilliantly labeled with the number of 'pumps' you need for each color, and found our place in the long row of seating.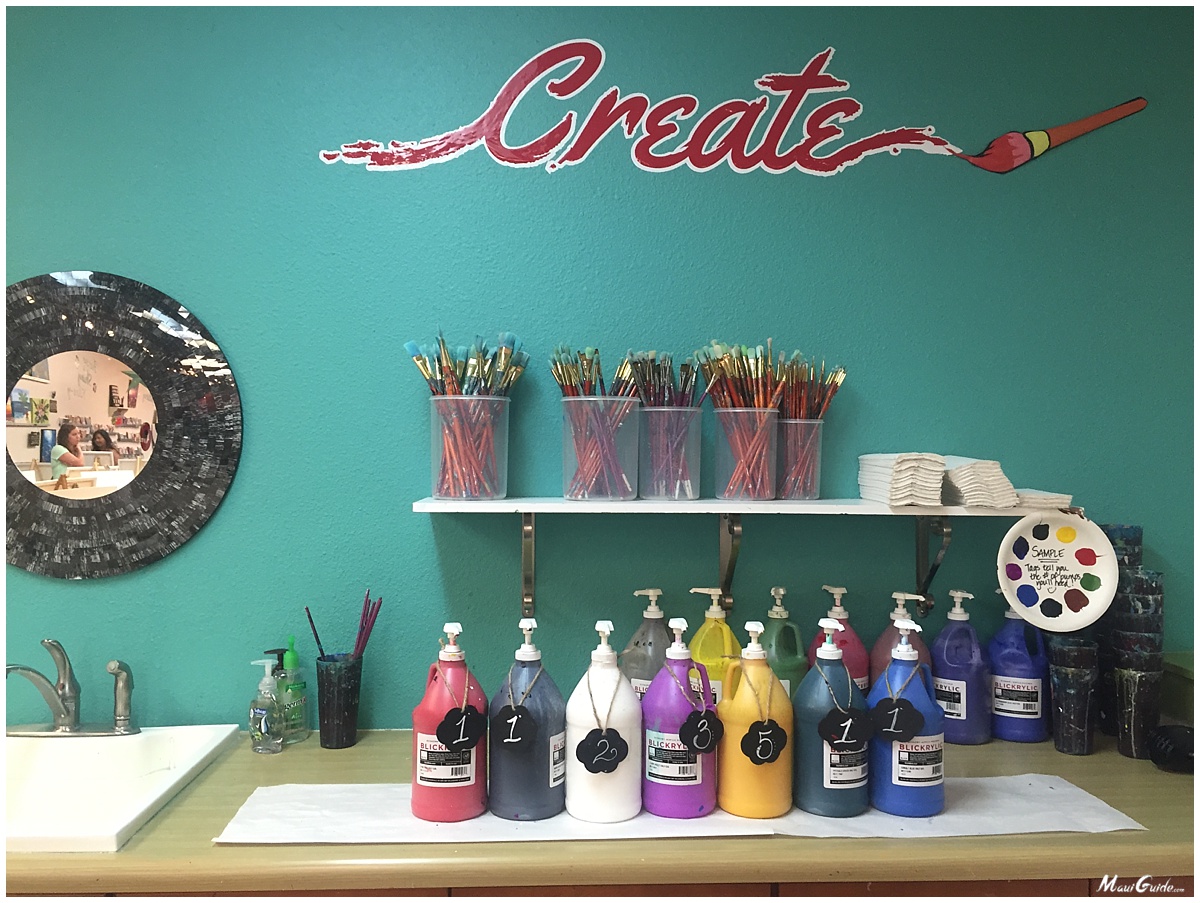 Island Art Party has a variety of Creative Juices available throughout the evening, which includes Prosecco ($9 per glass, $32 per bottle), wine ($5 – $7 per glass, $19 – $27 per bottle), beer ($4 – $5), along with rum, tequila, and vodka with your choice of mixer ($9), water, soda, mocktails, and complimentary popcorn.
Since neither of us had picked up a paintbrush in over a decade, excluding very unartistic paint jobs on walls of former apartments, we were looking forward to recreating that evening's painting, a bright and fun sample called Shine. Nearly all of the paintings are very Maui-appropriate, from humpback whales to waterfalls, sunsets, beaches, waves, and general paradise scenery. While the 'Partista' gives very clear, very patient instructions on how to recreate the painting, guests are more than welcome to create how they please. As they pointed out, there's no grade at the end of the evening.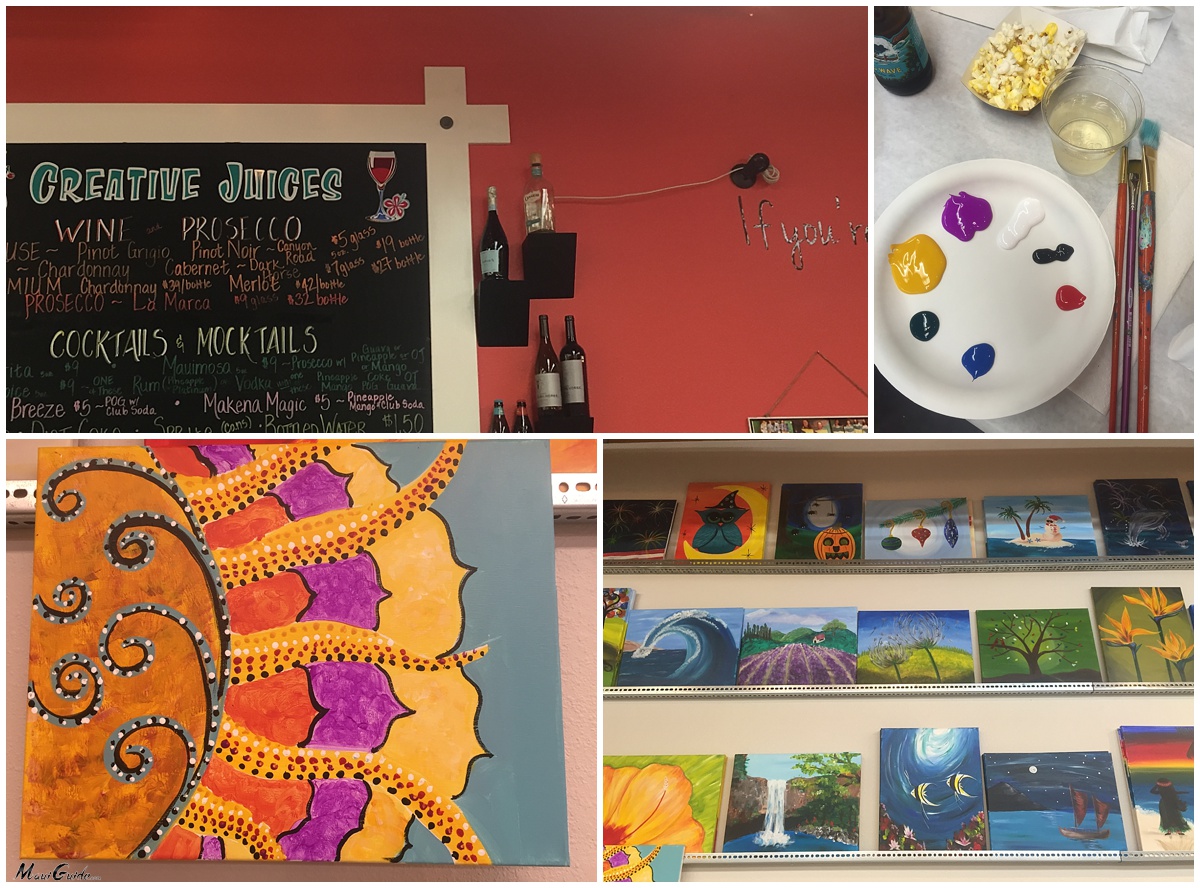 The Result
While I certainly don't consider myself particularly paint-inclined, I have to say I had a great time attempting my artistic masterpiece, which actually turned out way better than I originally thought it would. Rock on, self.

Overall, the evening was a total blast, and something I'd definitely like to do again. The music, wine and frequent breaks allow for ample relaxation-time, and the staff members were all extremely friendly, encouraging and helpful. Mahalo to Island Art Party for a wonderful time, and I hope to be back soon!
The Details
This would be a great activity for a girl's night out, bachelorette party outing, date night, and even a kid's birthday party. Another plus – Island Art Party offers kama'aina rates for island residents as well as special $25 rates during Kihei's monthly Fourth Friday parties.
Guests ages 8 and up are invited to attend the 10am or 2pm classes, while 16 and up may attend the 7pm evening classes (when accompanied by an adult). For more information, please call 808.419.6020.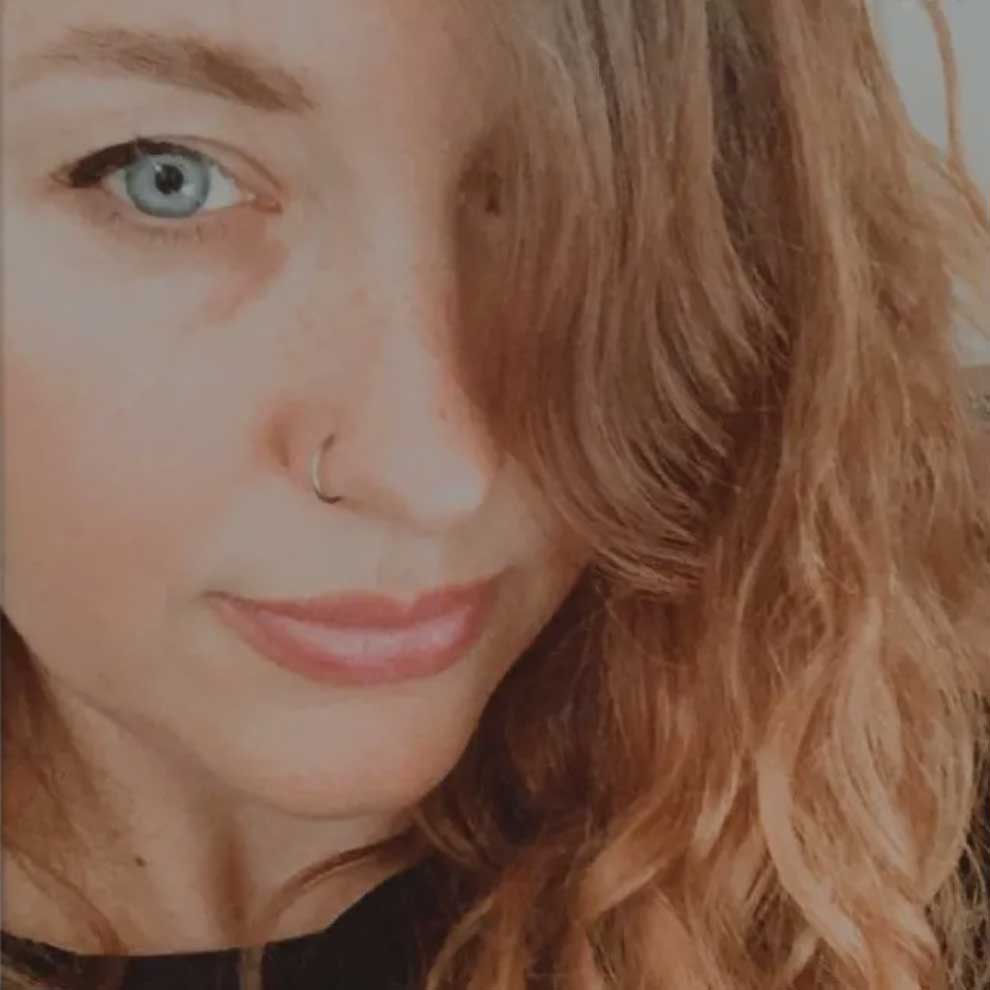 World Traveler, Digital Nomad, Small Business Enthusiast, and Lover of words!  Originally from Austin, Texas, I've lived on Maui for many years.  Currently in Los Angeles.