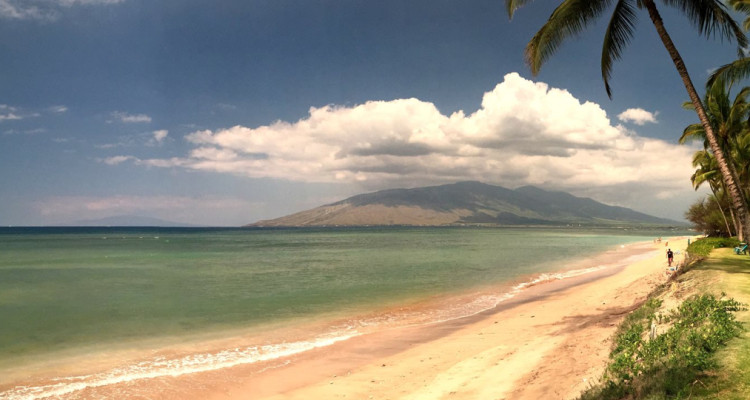 Kihei lies in the rain shadow of Haleakala and receives less than 13 inches of precipitation annually. Very dry and hot, the area was originally called Kama'ole which means barren in Hawaiian. Today, the undeveloped land above Kihei is used for cattle ranching and is covered in imported African grasses and keawe (mesquite).
One of the most consistently sunny places in Maui, many resorts have grown up in conjunction with modern irrigation systems that have allowed for the creation of golf courses, green lawns, and beautiful landscaping. With such beautiful weather, Kihei is a great place to spend time on Maui.
Kihei Attractions
Kalama Park
Kalama Park is located at 1910 South Kihei Road. Home to "the cove" surf spot, beach volleyball courts, a roller-skating rink, a skatepark, basketball and tennis courts, two baseball fields, picnic pavilions, and a playground designed for younger kids, Kalama Park always has something going on.
Every evening people gather for pick-up games of volleyball, basketball, and soccer. The roller-skating rink is a favorite among local kids and offers inexpensive skate rentals and free public skating Wednesday nights from six to eight PM, and Saturday nights from six to nine PM (at the time of this publication). There are bathrooms, changing rooms, and outdoor showers, and across the street are plenty of good shopping and dining locales.
Hawaiian Islands Humpback Whale National Marine Sanctuary
Located at 726 South Kihei Road, the Humpback Whale National Marine Sanctuary is a great place to learn more about the giant marine mammals that call Maui home every winter. A division of the National Oceanic and Atmospheric Administration (NOAA), the sanctuary has an educational center with exhibits and scientists on staff to answer questions. The building is also located near several native Hawaiian fish ponds, important cultural sites for the Hawaiian people. Call (800) 831-4888.
Beaches for Kids
Kama'ole I, or Kam One for short, has lifeguards, outdoor showers, and restrooms close at hand. The beach is fairly long with a gentle slope, and the water is usually calm. An ABC store across the street is a great place to run to if you forgot a towel, sunscreen, or need to grab a snack for the little ones. Parking can be a bit difficult if you arrive after 9 a.m., but there is an overflow dirt lot across the street.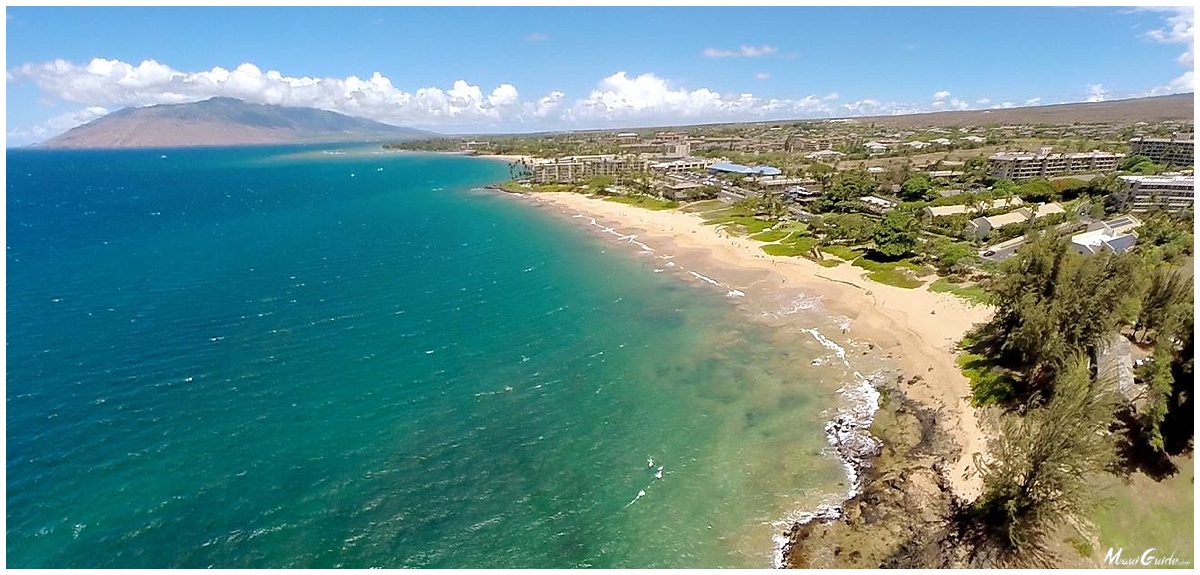 History of Kihei
Due to the desert conditions of the area, Kihei was not an easy place for native Hawaiians to settle. The lack of water made agriculture nearly impossible, and the local population never grew to the size found on many other wetter parts of Maui. The native people who were able to make a home in Kihei did so by relying heavily on fishing, the evidence of which can be seen in the old fish ponds in North Kihei. According to Hawaiian history, residents of Kihei traded their fish for agricultural products with people from other parts of the island.
The lack of water allowed the native people of Kihei to remain relatively closed off from the influence of the American missionaries who arrived on Maui in the late 1800s. Through the 1930s Hawaiians lived much as they always had, fishing and doing their best to live off the dry land. It wasn't until 1950 that the government began trying to market and sell beach lots in the Kihei area, and even then there were very few buyers.
In the 1960s water was piped down to Kihei from Central and West Maui and real estate finally took off. Through the 1970s and 1980s condos, hotels, and resorts sprang up continually and completely changed the face of Kihei. The growth during this time period is largely responsible for the Kihei you see today.
Best Kihei Eats
808 Deli
2511 S Kihei Road, (808) 879-1111
Delicious sandwiches, salads, hot dogs, and breakfast items, all under $10. Don't miss the pudding!
30 Manao Kala Street Suite 102, Kihei, HI 96753 (808) 868-2600
Smash burgers, noodles, sushi, and more at this local favorite, tucked away at the Shell station in North Kihei.  Chef Zach Sato sources everything locally and makes every dish to order.  This is the perfect spot to stop and grab lunch before heading to the beach.
10 Wailea Gateway Place B102, (808) 793-3030
Sprout Vegan Cafe is South Maui's latest healthy eatery. Founded by two young, born-and-raised Maui residents, Sprout features hearty vegan salads and wraps, tasty plant-based comfort food, yummy smoothies, and much more. With locally sourced ingredients, dining at Sprout not only supports local entrepreneurs but local farms and your health as well! Located in the Wailea Gateway Center, Sprout offers both indoor and outdoor seating. They are open from 10 am to 8 pm daily.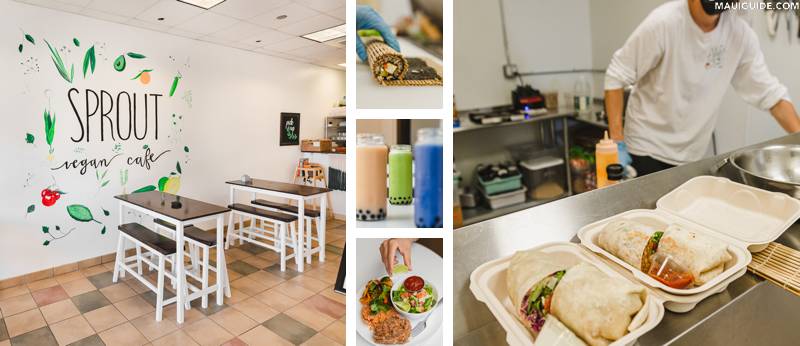 2439 South Kihei Road, (808) 891-1368
A local favorite and one of the best restaurants in South Maui, Café O'Lei is located upstairs in the Rainbow Mall. With a full sushi bar and a brick oven, the restaurant offers up some of the best steak and seafood dishes found on Maui. Vegetarians will appreciate the delicious sage and mushrooms linguine entrée. Island-themed martinis and an excellent wine list round out the experience. Dinner is available from five to nine p.m. Call ahead for reservations.
Inexpensive Kihei Activities
Best Place to Learn to Surf
Kalama Park along South Kihei Road is home to a surf spot locals simply call "the cove." Shallow water, gentle waves, and lots of room make this a great place to try your hand at surfing. Companies rent surf and stand-up paddleboards and are conveniently located across the street. They also give lessons which are highly recommended if you are a first-time surfer.
Best Early Morning Beach Walk
Keawakapu Beach is the best walking beach in Kihei. About 3/4 of a mile in length, it resides between the Mana Kai Resort and the Ulua Beach Park. Gentle waves and lava outcroppings combined with palm trees and gorgeous multi-million dollar homes make this beach an excellent retreat. During the winter months, many whales spend time just offshore. Be sure to arrive before nine am. The trade winds and the crowds kick up around 10 in the morning.
Best Sunset-Watching Spot
Kama'ole III Beach Park is an excellent place to watch the sunset at the end of the day. Lana'i and the West Maui Mountains create a gorgeous backdrop, and the wide open grassy area provides an excellent place to spread out a picnic blanket and have a glass of wine.
Best Group or Date Activity
Island Art Party, located in North Kihei's Azeka Shopping Center, offers a fun, laid-back, and unique evening of painting, socializing, and drinking on Maui. Bring a group of friends or go for a date night and enjoy specialized painting instruction as you recreate your very own Maui souvenir.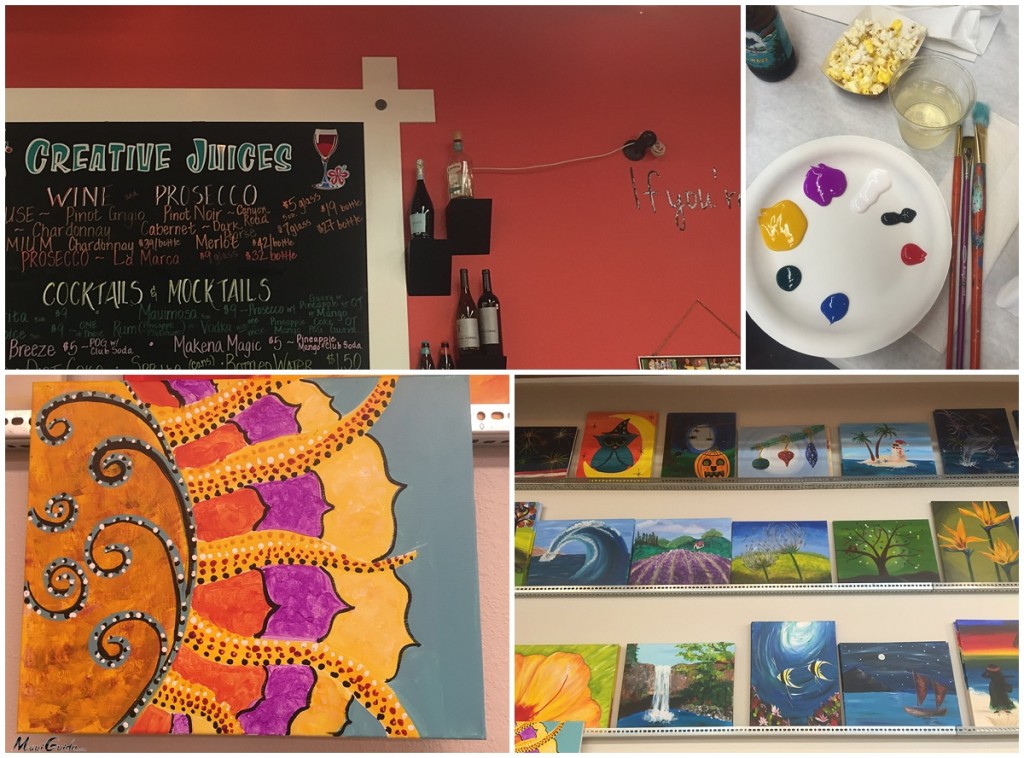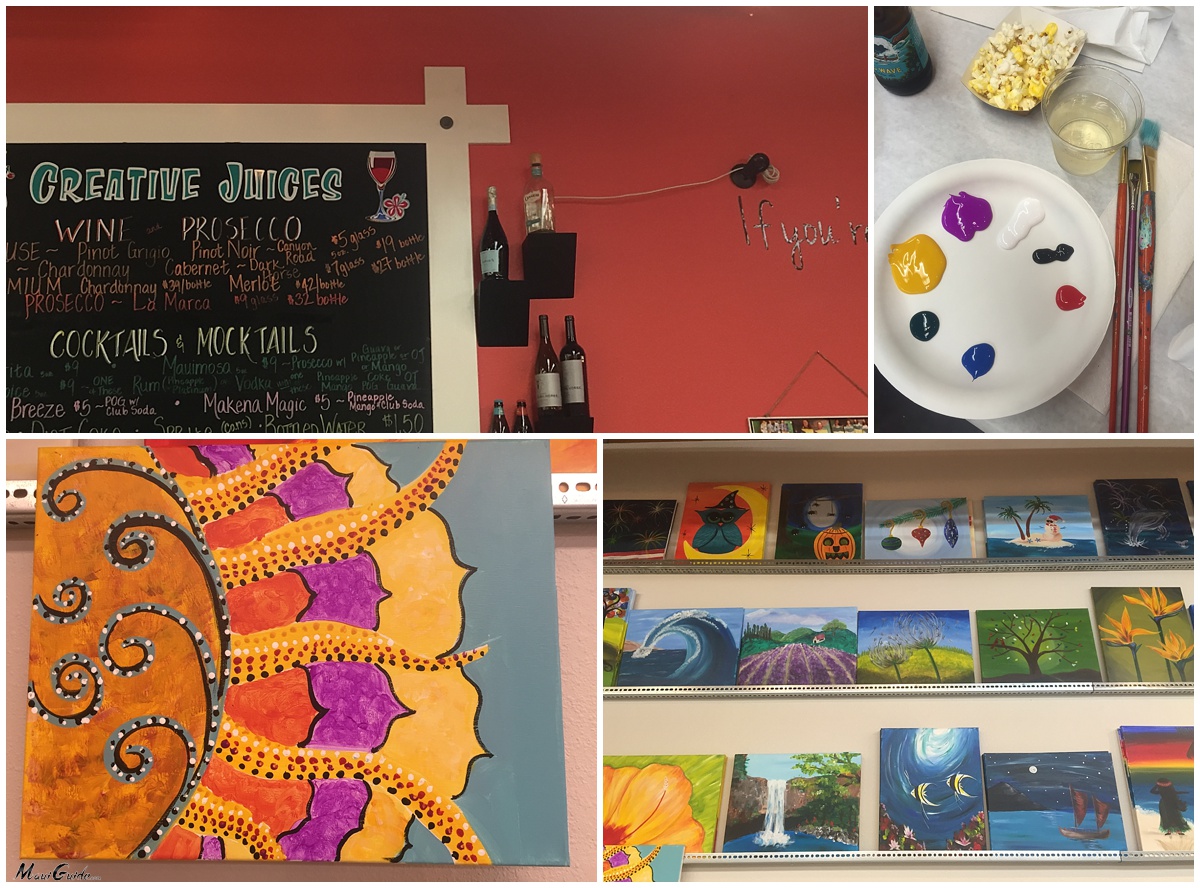 Best Place to Play Beach Volleyball
Kalama Park on South Kihei Road has two beach volleyball courts. The courts are usually empty during the day, but pick-up games are a regular evening occurrence. Locals are very friendly if you are looking to join a game. The park also has water fountains and restrooms.
Best Free Tennis Courts
Waipuilani Park in North Kihei has excellent free tennis courts. Although the courts look like they belong to nearby hotels, they are a part of the park and are available to anyone. From South Kihei Road, turn toward the ocean onto West Waipuilani Road. Parking is on your right about a quarter of a mile down the road. The courts are located in the middle of the grassy area, right in front of the hotel pool.

Kihei Condos
Looking for homes for sale in Kihei, or to rent? Good idea. Prices are at an all-time low right now, and Kihei (especially south Kihei) is in high demand. Our favorite condominium complex is Keonekai Villages in south Maui. It's right in front of Kamaole Beach Park III.
Hokulani Golf Villas
Homes For Sale in Kihei
Located just minutes from the best in South Maui dining and attractions, Hokulani Golf Villas is the newest addition to Kihei luxury living. Whether you start your morning with a round of golf on the stunning Elleair Golf Course or host a sunset happy hour on your lanai, Hokulani has thought of everything to ensure you get the most out of your stay in paradise.
For more information or to schedule a tour of the properties, please contact Dano Sayles at (808) 870-4899 or visit Hokulani Golf Villas.