Style:
Realist. Detailed drawings with emphasis on nature and scenic vistas including landscapes, seascapes, and shells.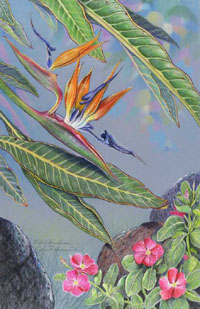 Technique:
Each of my pictures is individually enhanced with color pencil highlights. The effect is a vibrant jewel-like color and a rich depth that is very unique. These highlights cannot be seen through your monitor and are truly magnificent when viewed in your environment.
Inspiration:
Natural beauty inspires me along with oddities of nature. The old Flemish and renaissance artists; John Singer Sargent.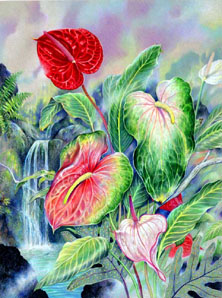 Philosophy:
It is important to stay true to what I am good at. While Picasso and many greats inspire me to do what I do best– realism
Art Background:
I started drawing as a child and prefered drawing over any other activity. While studying illustration, through portraiture, I discovered my niche in realism where I now focus on nature.
Birthplace:
Born in Chicago, September 30, 1957. Grew up in Falls Church, VA.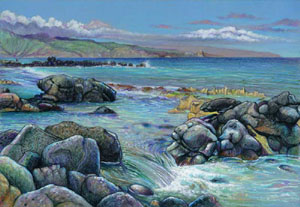 Migration to Maui:
While visiting a friend from Virginia, on Maui, over 10 years ago, I discovered the large community of artists here and I knew I would flourish here.
Education:
N.Virginia Community College. One degree in Fine Art and another in Illustration.
Hobbies:
I love to run, hike and to play chess.
Memberships:
Lahaina Arts Society