Private Sailboat Charters in Paradise
I have always, always wanted to learn how to sail a boat. Personally, having never been seasick and generally opting for activities on the ocean rather than in it, sailing seems like the perfect equalizer between me and the big blue Pacific.
And you know what? It totally is.
But since I am far from captain'ing anything but a car ride to the nearest beach, I decided to leave the hard work up to Captain Anna, and sail on the S/V Nova, a private 42′ sailing yacht on Maui.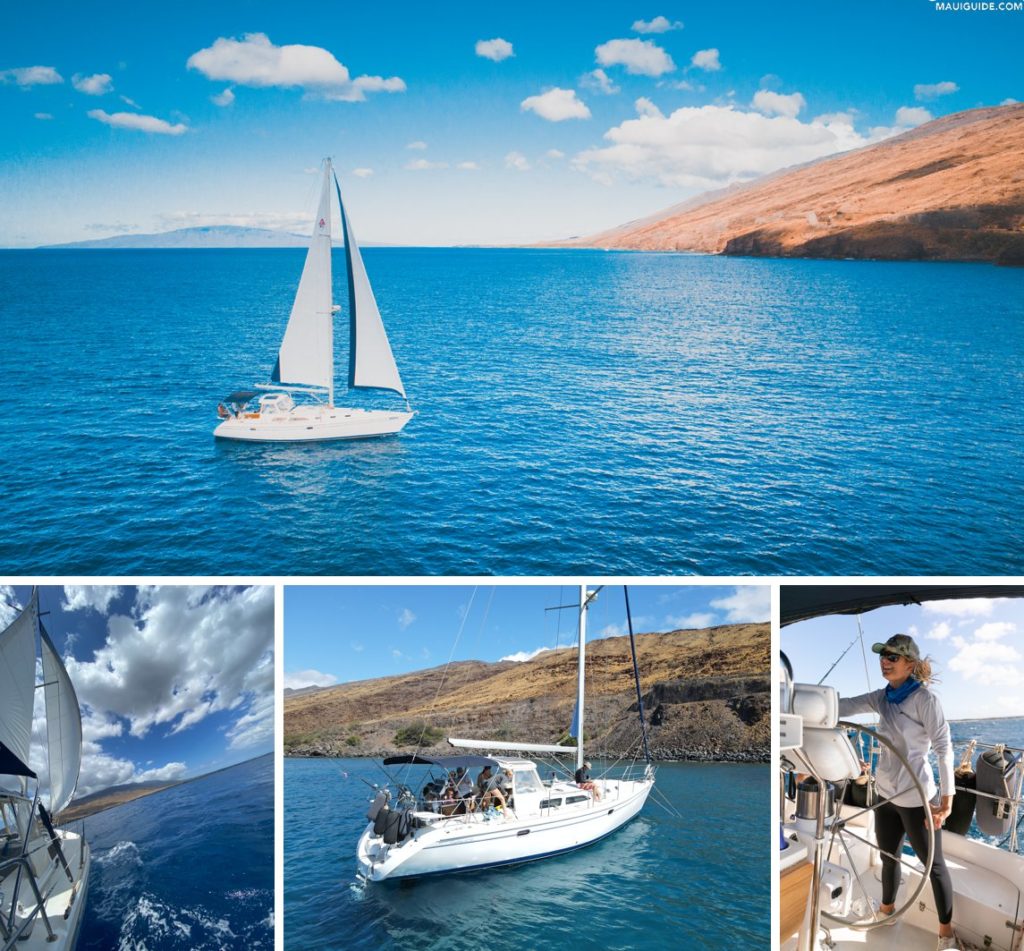 The Boat
While I can't say I've ever met a boat I didn't like, the S/V Nova certainly went above and beyond my expectations. Once on board, I was pleased to find a cozy galley (that's the kitchen, for you non-boat-word using folks – don't worry, I had to Google it), storage area, sitting area, and table highlighted by beautiful woodwork.
The sailboat is obviously well-maintained and you can very easily tell she is loved by all her captains and crew based on their attention to detail not only with guests, but with every part of the vessel.
My favorite part of the S/V Nova are definitely 'the princess seats,' two raised seats on either side of the stern, perfect for feeling fancy and wonderful and having slightly more fun than everyone else. But honestly, any seat is a good seat.
For guests who choose to charter a full-day sailing excursion, there's plenty of room to spread out, and even a private berth for a mid-day nap. While we didn't have time for a full-day trip this time, I would absolutely love to experience getting really comfortable on a sailboat in Hawaii. If that doesn't sound amazing, I don't know what does.
S/V Nova comes equipped with everything you need for a day on the water – 2 very modern and clean bathrooms, an icebox ready to be stocked with your adult BYOB, kitchen prep area, ample seating, snorkel gear, and views you just can't appreciate from larger boats.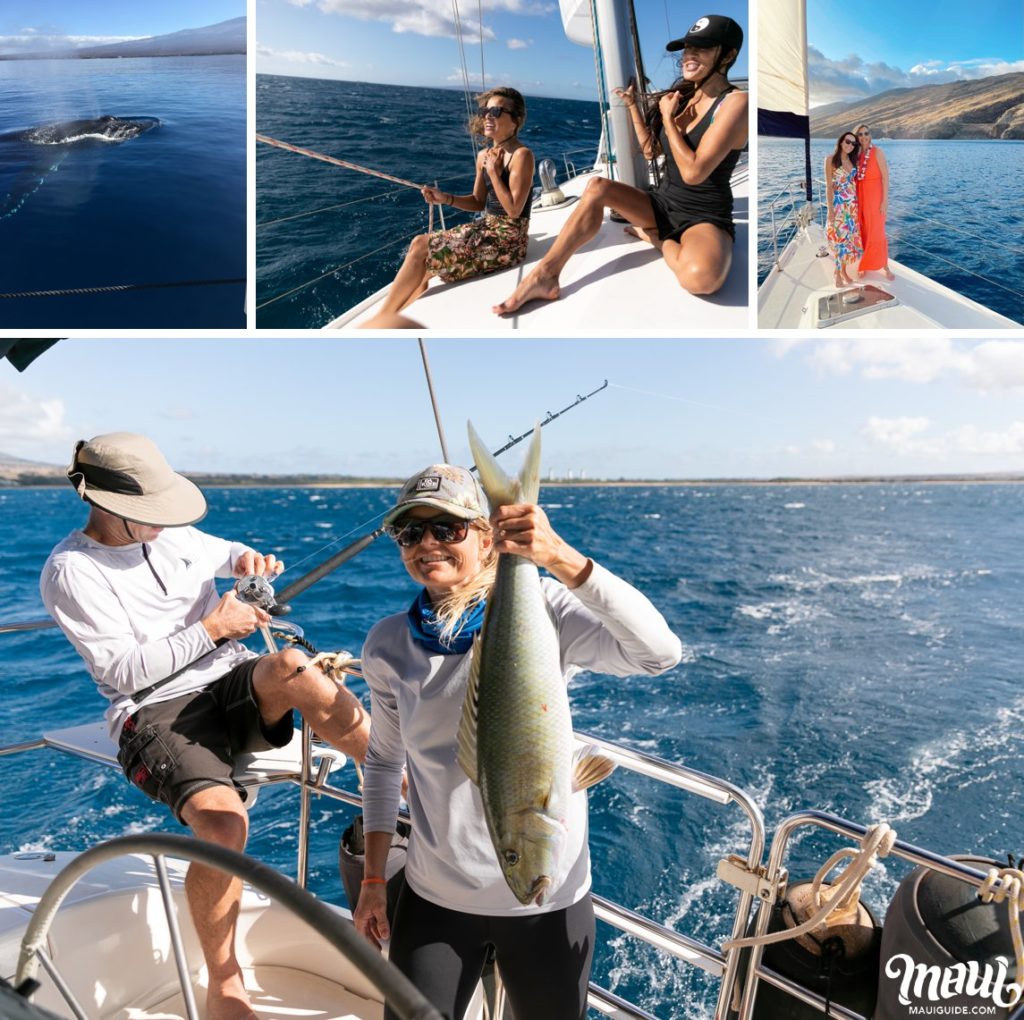 The Tour
We arrived at the conveniently-located Maalaea Harbor at 8am for our private snorkel sail, thankfully a much less painful start-time than most other boat tours, most of which require a 7am or earlier check-in time.
Captain Anna quickly welcomed us aboard, kindly grabbing our shoes, bags, and gear before ushering us onboard in the shaded cockpit to relax and get ready for our tour. We were given a quick overview of the various areas of the sailboat, as well as instructions about how to properly use the bathroom.
After chatting with Captain Anna and munching on fresh fruit and pastry, it was departure time! The wind was howling the day of our tour, which made for a much more exciting ride, I must say. We began by sailing along the coast a little further south towards Sugar Beach and Kihei Town, before turning back and heading towards our snorkel spot for the day, a secluded area along the Pali Highway and West Maui Mountains where we could spread out to snorkel with no one else around. Amazing!
The S/V Nova, as sailboats tend to do, go with the wind, which means heavy leaning every now and then. At 30 degrees, you'll feel like you may fall over at any second, but Captain Anna was quick to remind us the 8300 pounds of lead ensures that the boat can do its heeling over thing and be completely safe. And honestly, the leaning was really, really, ridiculously fun. Howl on, wind!
We were guided to some cool snorkeling areas while Captain Anna prepared some pupus aboard the boat, including delicious deli-style wraps, and chips and dips. I relaxed with a frosty cold beer (or two) in the sunshine, and soaked in the views as much as possible.
After going on tours with more than 5 boat companies since moving to Maui, this was by far the most relaxing and personalized experience I've had. It was wonderful to enjoy a day with only friends and family members, and the laid-back approach was the perfect way to spend an Aloha Friday in paradise.
The Service
Captain Anna and crew were absolute perfection on the water.
It's clear that Anna values safety and knows her stuff when it comes to sailing – with over 15 years of experience and the fact that she sailed the S/V Nova across the Alenuihaha channel, arguably the most dangerous channel in the world, it's really no surprise. We were offered every single convenience you can think of during the tour, from sunblock to snorkel gear to fresh ginger for seasickness, not to mention the opportunity to talk story with two very interesting, charismatic and friendly captains.
I would highly recommend this tour for the service alone, not to mention all the other perks.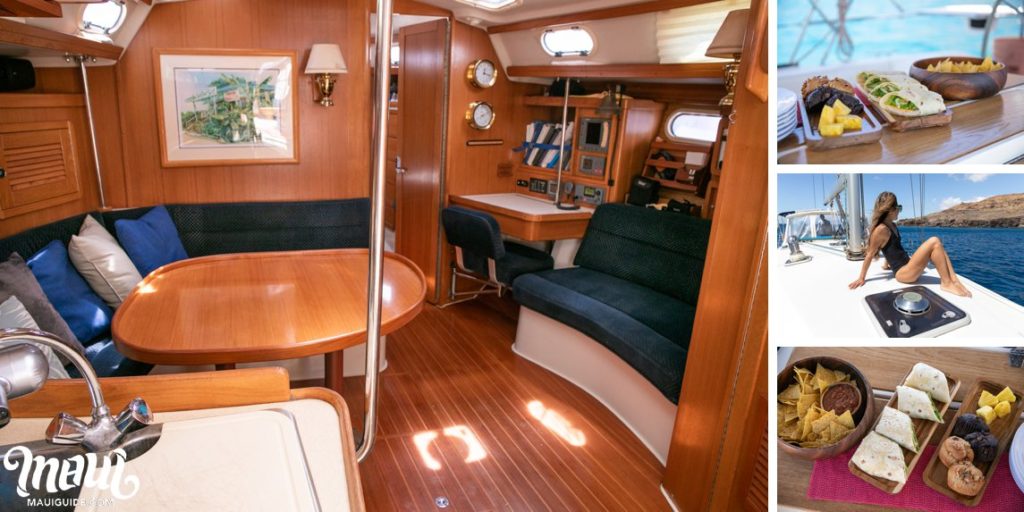 For more information or to book a tour, please visit Maui Custom Charters or call (808) 874-1110. Big mahalo to Captain Anna and crew for a wonderful experience and sailboat adventure!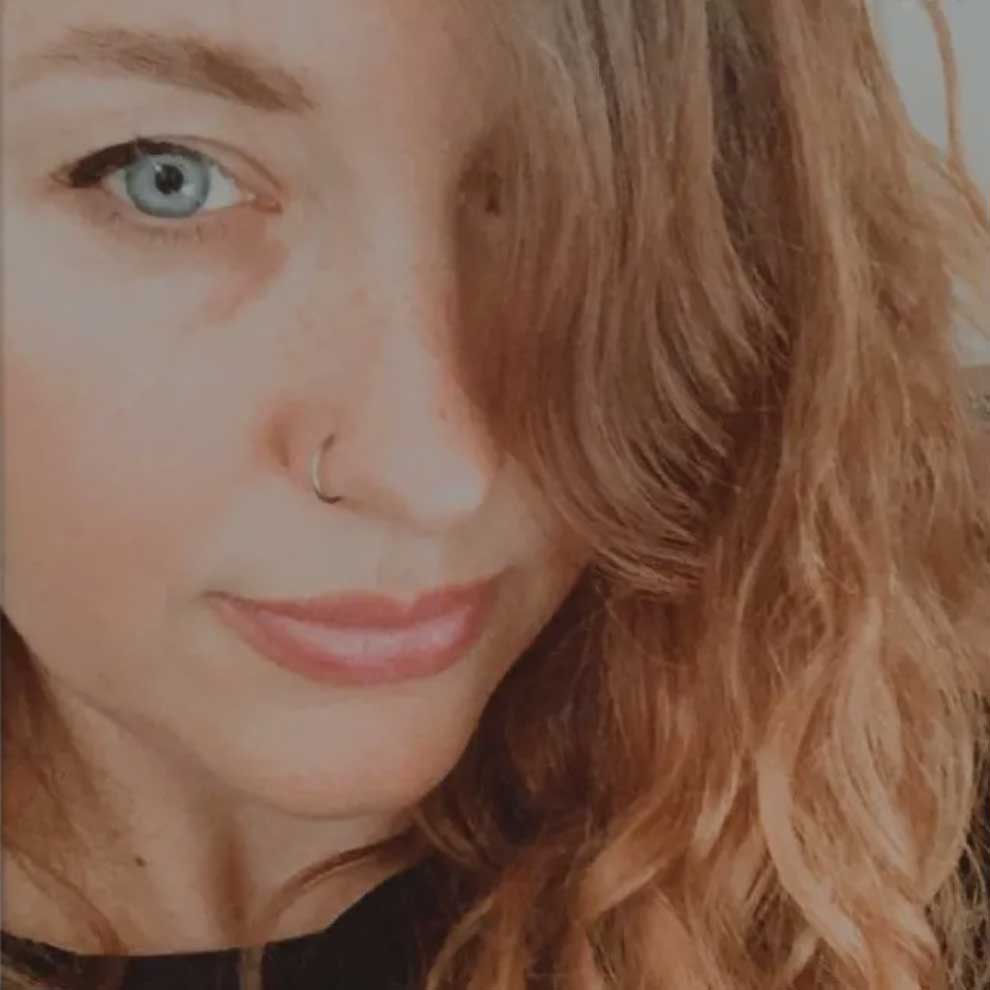 World Traveler, Digital Nomad, Small Business Enthusiast, and Lover of words!  Originally from Austin, Texas, I've lived on Maui for many years.  Currently in Los Angeles.