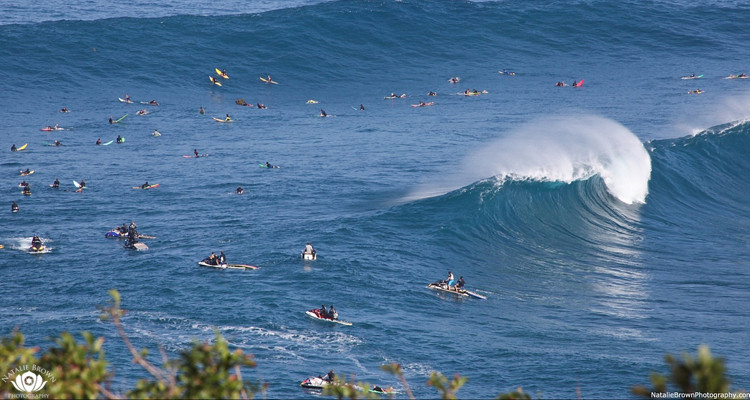 Though Kauai and Oahu are better known for advanced waves, Maui has some great waves if you know where to look! It also has several spots that are ideal for beginners.
Maui Surf Lessons
Thousand Peaks, West Maui
While you can always rent a board and test your surf skills for yourself, for beginners, we recommend taking a Maui surf lesson. Rivers to the Sea offers private Maui surf lessons in this area (north of Thousand Peaks at Guardrails), which is typically much less crowded than other popular surf school spots in Lahaina and Kihei. You're guaranteed to stand up on a wave, have one-on-one guidance from an experienced surfer, and will learn more about proper surf etiquette.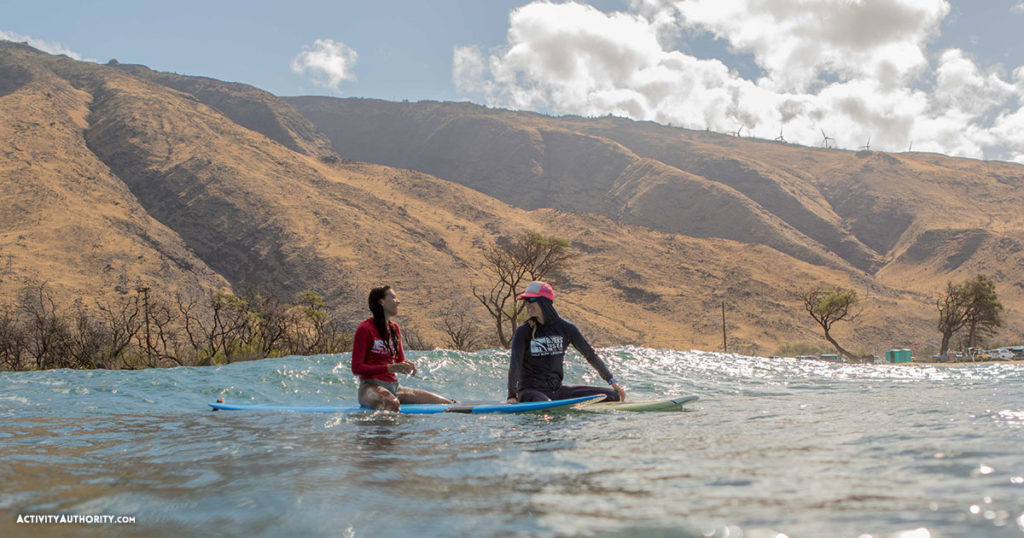 If you decide to go out on your own, only paddle out where you've seen others do the same, as it can be dangerous to enter and exit in certain areas. Watch people before they go in to better understand where you need to be.
Thousand Peaks is found just north of the cliff road called the Pali, the road between Maalaea and Lahaina.
The Cove, South Maui
Many beginner surfers also go to the Cove in Kihei, located in South Maui. There are 2 types of ocean bottom here: a mostly dead reef and some sand bars. If you can surf over the sand, you'll be better off. Over the reef, you'll want some reef booties. Both areas have very smoothly graded bottoms and are shallow. This allows for slower, mellower waves. This area gets very little swell, which means the waves are usually small. The islands in the distance offer a very small window for waves to sneak through, though on occasion the waves can sneak by and get big in the summer.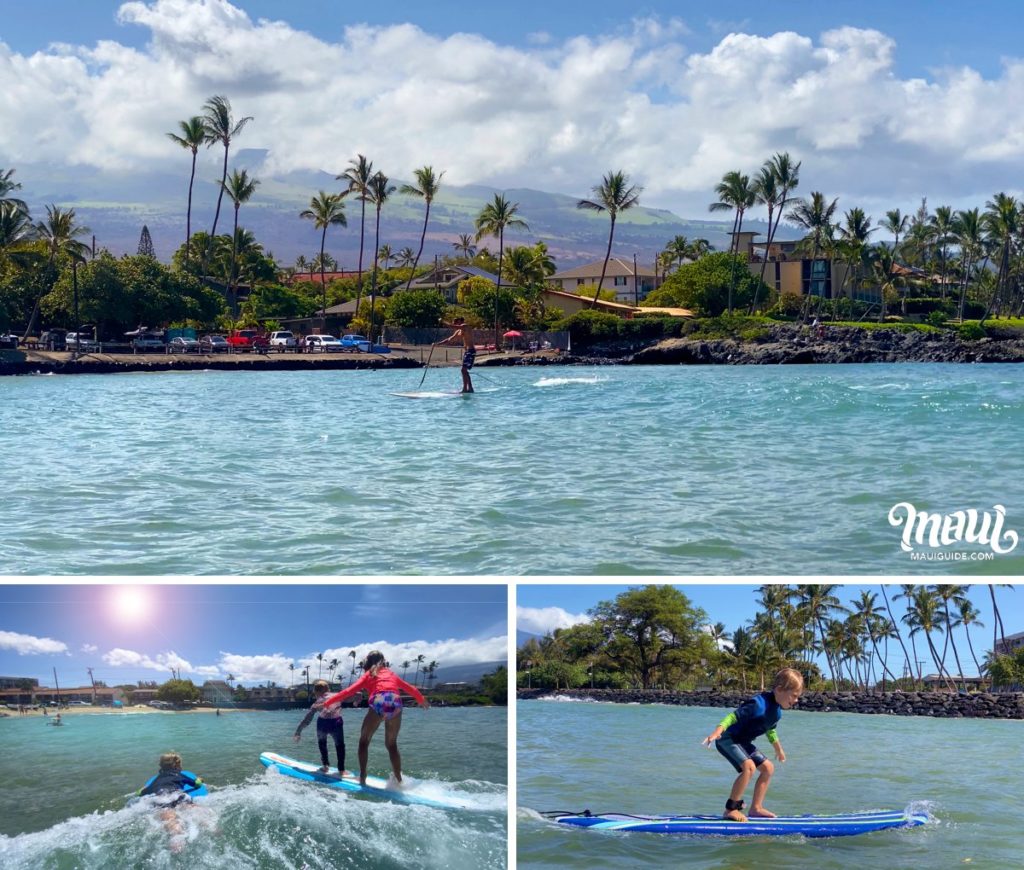 When surfing over reefs in Maui, you need to make sure that when you fall (and you will fall), fall flat. Never fall head first, and be careful of your surfboard and the bottom. Either one will hurt you if they get the chance.
Honolua Bay
The video below was taken at Honolua Bay, just north of Kapalua. This is one of the best waves on the island, and also one of the most fickle. The chances of you surfing it at this level are slim. Also, if you don't have some kind of local connection, please stay out of the water. There are plenty of other spots to surf as a tourist.
Top 6 Surfing Tips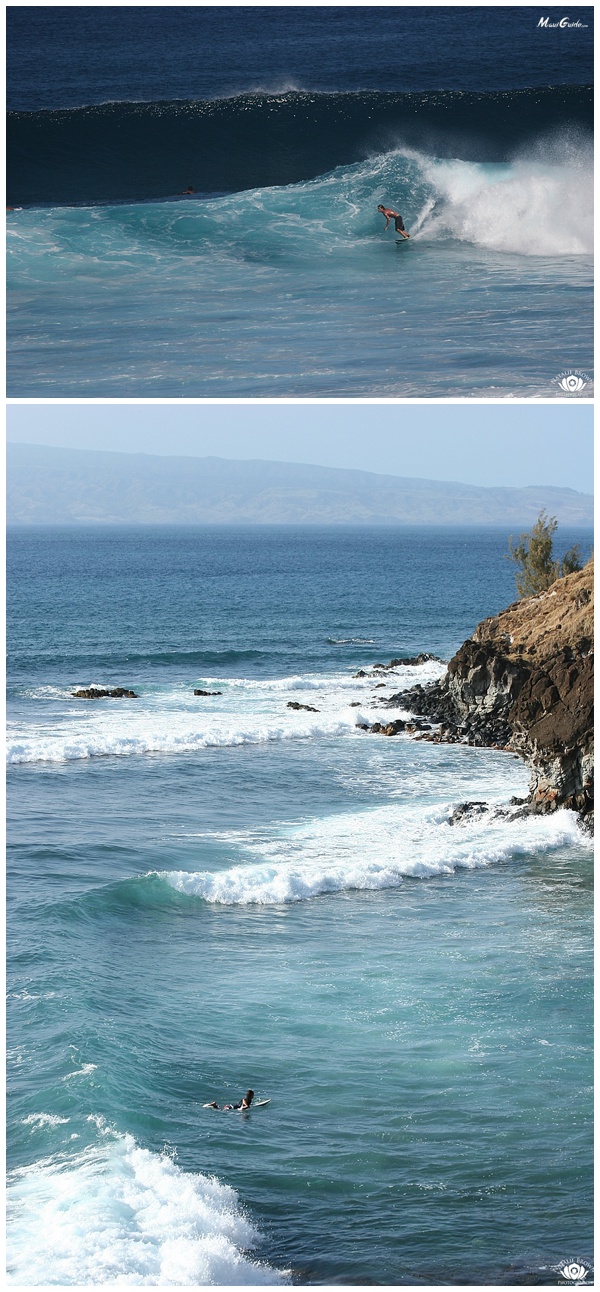 Tip#1 – Always be Respectful
Share waves and don't drop in. If you're a visitor to Maui, be extra respectful. Locals have the first choice of waves.
Tip#2 – Be Aware of Weather and Swell Conditions
Currents, rough weather, and unexpected swell can ruin your day.
Tip#3 – It Almost Always Looks Smaller Than It Is
Only paddle out in waves you're comfortable with. You don't want to catch yourself out there when you don't think you can even get back in safely.
Tip#4 – Surf with a Buddy
If no one is out, there might be a reason. If something happens to you, you better have someone nearby that can help, and vice versa.
Tip#5 – Bring Hydrogen Peroxide & First Aid Gear
The reef and rocks can mess you up. It's always a good idea to tackle any problems right away.
Tip#6 – Wear Sunscreen and a Rash Guard
When on the water, the sun is a lot stronger due to reflection. It won't take long for you to burn.
Tip#7 – Don't Surf When it's Sharky
If it just rained, you're near a river mouth, and/or it's sunrise or sunset, don't get in the water. Sharks love to feed in these conditions, and you can easily be mistaken for food.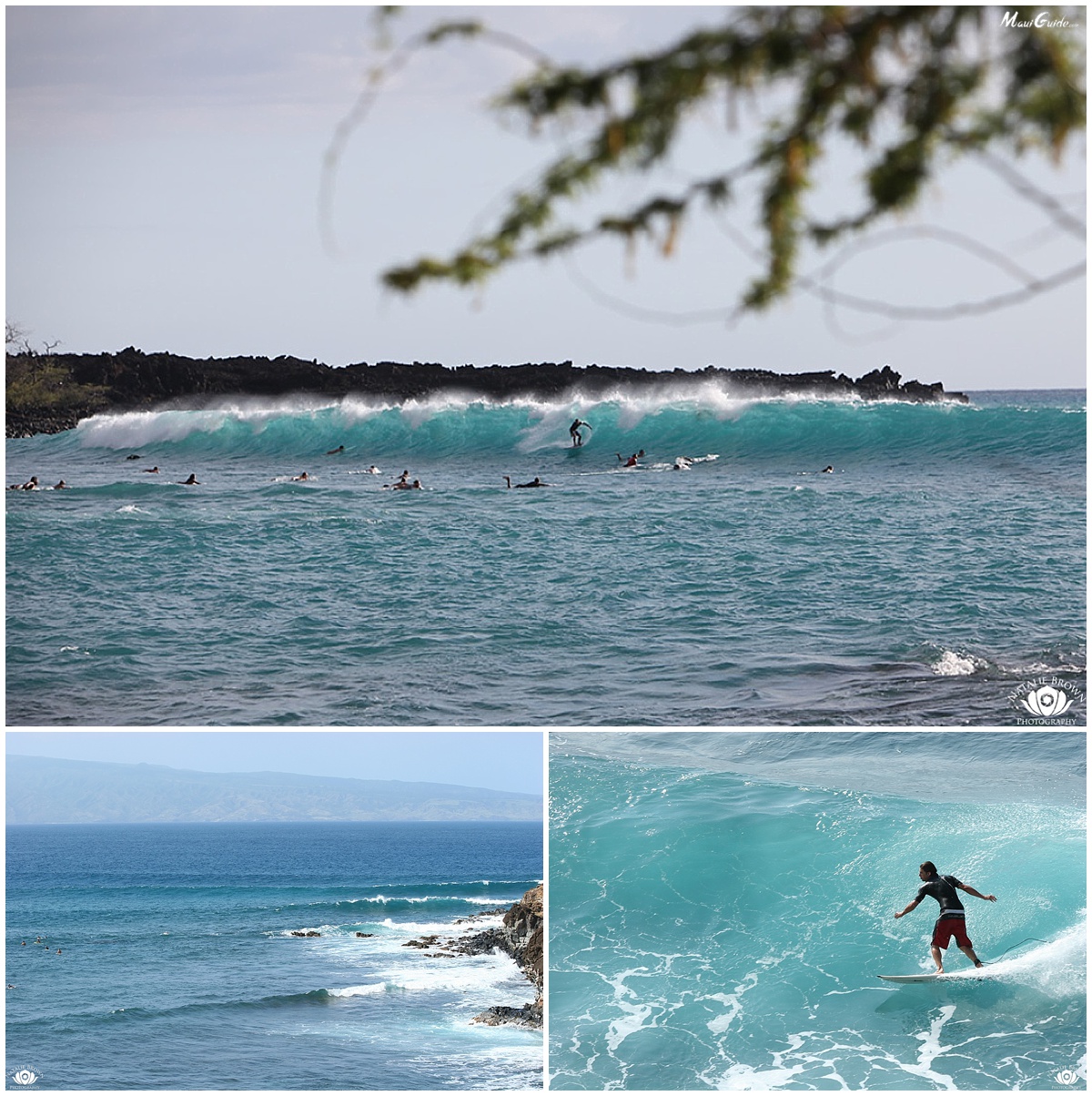 Try Canoe Surfing
If you like the idea of surfing but are a little apprehensive about it, or you just want to try something new on your next trip to The Valley Isle, we highly recommend Outrigger Canoe Surfing. The thrill of surfing waves from within a 4-person outrigger canoe – you and up to 2 guests, plus an experienced guide – is unlike anything else, and one of our favorite new activities on Maui to recommend to visitors.
Head out from the shoreline of West Maui and learn the traditional Hawaiian commands of paddling, as well as the art of catching (and riding) a wave with the guidance of an experienced steersman.
For more action, check out our favorite Maui surfing photos.
Be safe, have fun, and enjoy surfing in the place where it was born!