Medium:
Acrylics with oil finish.
Style:
Contemporary, figurative Hawaiian and marine art.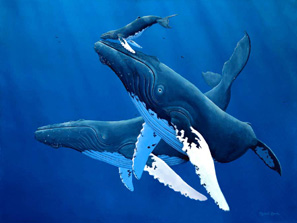 Technique:
I often start with airbrush, then use large down to small brushes.
Inspiration:
My inspiration comes from many years of living in the various cultures of Polynesia, and from fishing, diving and swimming with whales, turtles and dolphins in clear Pacific waters.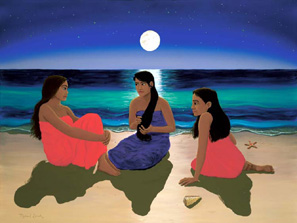 Philosophy:
My goal is to share the primal beauty of natural and traditional island life, to inspire those who view my art, and to create peaceful, beautiful worlds that entrance the viewer.
Art Background:
I have no formal art education, and am self-taught. I painted as a hobby for 25 years and I have been a professional artist since 1994. My first successful art experience was at the age of 13 when I painted ocean scenes on sand dollars and sold them.
Migration to Maui:
Moved to Maui in 1992 from Panama City, Florida; Pago Pago in American Samoa; prior to that, Oklahoma.
Education:
Florida State University: Magna Cum Laude, B.S. degree in marine biology with emphasis on education and anthropology.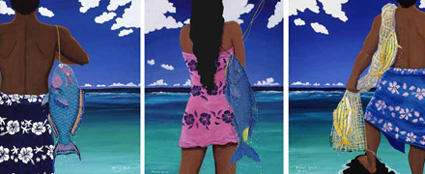 Hobbies: 
Spearfishing, ocean kayaking, diving.
Memberships:
Lahaina Arts Society (since 1993).
Other locations where Michael's work have been:
On Maui:
Lahaina Arts Society Banyan Tree Art Fair, showing the second and fourth weekends of each month under the famous Banyan Tree in Lahaina, Maui.
Lahaina Arts Society Banyan Tree Gallery, Lahaina, Maui.
Lahaina Arts Society Old Jail Gallery, Lahaina, Maui.
Diamond Head Gallery, Lahaina, Maui. (Pictures Plus statewide in Hawaii).
Gems of Hawaii, Lahaina, Maui.
Maui To Go, Lahaina, Maui
Pacific Whale Foundation, Lahaina and Maalaea, Maui.
Simon-Jon Gallery, Lahaina, Maui
Hui Mana Gallery, Makawao, Maui.
Nahiku Tea Gallery, Nahiku, Maui.
Haleakala Trading Company, Kihei, Maui
Kalama Shops, Kihei, Maui.
Ki'i Galleries (3 locations):
• The Shops at Wailea, Wailea, Maui.
• Grand Wailea Resort, Wailea, Maui.
• Whalers Village, Ka'anapali, Maui.
On Kauai:
Kilohana Gallery, Lihue, Kauai
Riftzone Gallery, Kailua-Kona, Hawaii
Polynesia:
Island Craft, Rarotonga, Cook Islands (Avarua and airport locations).
On The Big Island:
Under The Koa Tree, Waikoloa Beach Resort, Big Island of Hawaii
Kona Frame Shop, Kailua-Kona, Big Island of Hawaii
On the mainland:
Art Impressions, Bend, Oregon.
Pierside Gallery, Huntington Beach, California.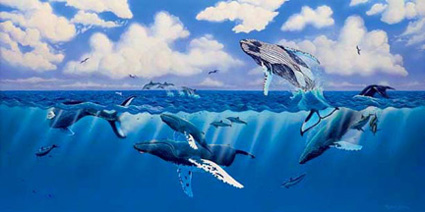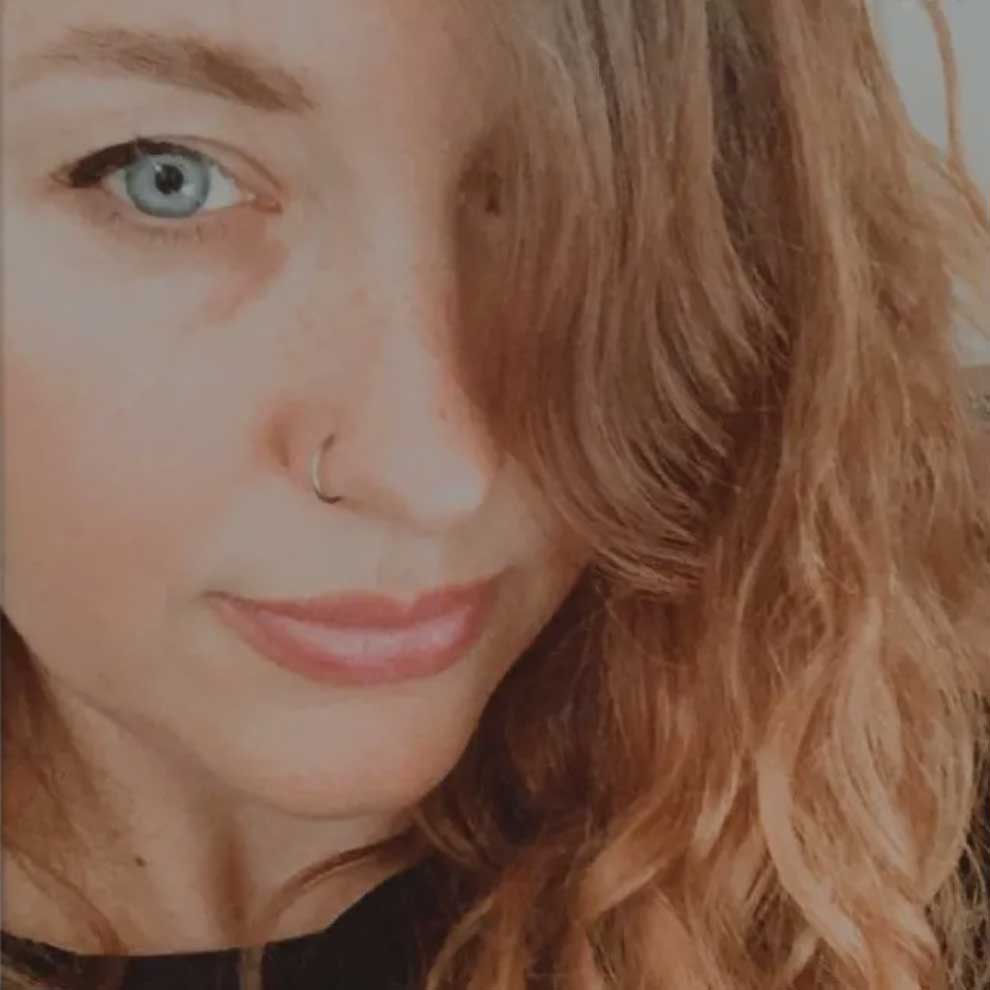 World Traveler, Digital Nomad, Small Business Enthusiast, and Lover of words!  Originally from Austin, Texas, I've lived on Maui for many years.  Currently in Los Angeles.