Ziplining with Piiholo Ranch Adventures
Enjoy the Thrill of a lifetime by going ziplining on Hawaii's longest side-by-side zipline! Glide effortlessly and safely over upcountry forest and pastures at Piiholo Ranch Zipline.
***UPDATE:  The land that Piʻiholo Zipline was running on was sold in mid-2021 and the new owners will not be continuing the operation of this zipline.  See below for more zipline recommendations.***
Our Experience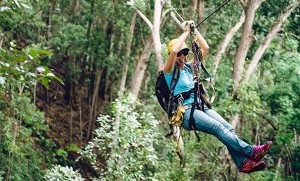 After checking in at The Piʻiholo Ranch Adventures headquarters in the hills of Makawao, we headed further up the hill to their canopy course for the 6 Line Tour. Our group ran the gamut of ages, with us was a family of three generations, all excited to zipline. After a quick safety lesson and orientation with our guides, Marisa, Jason and Marcus, we headed up to the first platform nestled high up among the massive Eucalyptus trees.
Everyone was a bit nervous for the first zipline of the day. The harnesses we wore had two carabiners, so when moving to another section of the course, our guides would unhook one, clip it to the new cable, then move the other one over, making sure we were always secured by at least one carabiner. Even with all the safety precautions, stepping off the platform was quite a rush!
The combination of the beautiful upcountry scenery, the crisp smells of Eucalyptus and the adrenaline from cruising high above the forest floor was quite something, both relaxing and exhilarating at the same time. With the first line jitters our of our system, we were all pumped and ready to go for the rest of the course.
After the 3rd zipline, we got to try a new attraction, the "QUICKjump", to get down from a 40 foot platform. One by one we clipped in to the mechanism, then jumped off the platform, allowing the QUICKjump cable to slow our fall, giving us the feeling of freefall (without the whole injury thing).
After a quick break to enjoy some snacks and refreshments, while looking out at beautiful Pi'iholo hill, we trekked on to the last three lines of the day. The tour culminated in a 200+ foot long zipline that had us soaring above a forest of Kukui trees. On the van ride back to the staging site, we caught glimpses of the rest of the attractions, plenty more ziplines, obstacle courses and more.
Here are our recommendations for ziplines on Maui that are currently operating.