Whether you've chosen to go gluten-free because of Celiac Disease or a diet that eschews it (hello, Paleo eaters!), know that Maui's got you well-covered. From Italian bistros with gluten-free pizza crusts to bakeries that shun the grain completely, gluten-free eateries are no longer exclusively reserved for progressive corners of the mainland. Here are the top gluten-savvy restaurants on Maui—and why you should hit them up when you're on the island.
Café de Amis, Paia
Steeped in Mediterranean sensibilities, Café de Amis—a cheerful, vibrant venue on the island's North Shore—specializes in gluten-free crepes made with buckwheat and chia. They're flat-out fantastic with simple fillings like honey, toasted almonds, cinnamon, and cream, or serve as a hearty meal with ingredients such as Italian lentils, pesto, and cheese.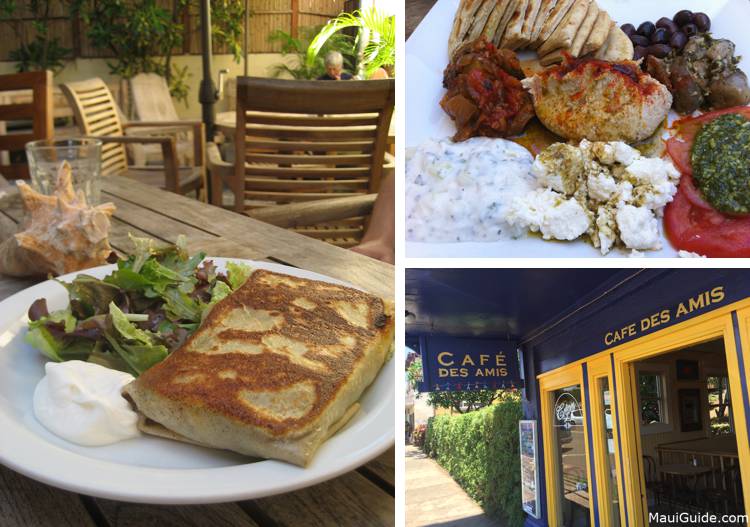 Their salads are just as enticing—go for the kale with organic sunflower sprouts, beets, and goat cheese—or indulge in a Greek with feta and Kalamata olives. Meanwhile, their smoothies are fresh and satisfying; their Italian lattes smooth and delicious. With a lovely, open-air courtyard featuring mismatched furniture, potted palms, and a chic vibe, this local favorite pairs luscious and healthy for awesome results.  Keep in mind, they don't always have the gluten-free crepes, so you'll want to ask before sitting down if that's what you go for.
Satrang, Haiku
Maui might be a hub for fresh pineapple and seared ahi, but it's also home to a number of global cultures—a fact that's best reflected in the island's epicurean landscape.
And those who are drawn to ethnic fare—with their curries hot and their rice zesty—would be wise to head the lush slopes of Haiku. There, Satrang—a North and South Indian food truck—doles out a number of gluten-free wonders. Their Masala Dosa—made with rice flour and Urad lentils—comes with your choice of chutney, while their Chana salad highlights the nuttiness (and genius) of chickpeas. Manned by a friendly staff and offering economical prices, this is the go-to spot for filling eats after a North Shore hike.
Coconut's Fish Café, Kihei
Coconut's Fish Café has rightfully earned a reputation as one of the best spots on Maui for seafood tacos: the fish is just-caught, the cheese is tangy and robust, and the trappings add some serious flavor. (Think: Thai chili pineapple sauce, mango salsa, and creamy coleslaw.)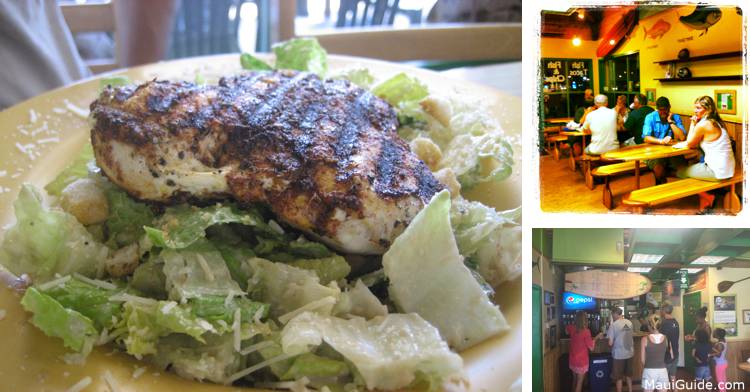 Gluten-free diners are in good hands at their two south shore venues, where they've revamped their menus to offer GF fish and chicken tacos, as well as salads with proteins like lemon-butter Ono. What's more, they have a designated space to make gluten-free entrees—meaning you can eat without a care in the world (or at least in the Pacific).
Honu Seafood and Pizza, Lahaina
Pizza is notoriously brimming with glutenous ingredients, but star chef Mark Ellman and his wife Judy—the brains behind Mala Ocean Tavern, Maui Tacos, and Frida's Mexican Beach House—don't let that stop them: Honu's gluten-free menu is scrumptious and extensive, featuring pupus that range from ahi bruschetta with edamame puree to seafood chowder with coconut.
As for those pizzas? They're baked in a brick oven with a house-made gluten-free crust; the terrific toppings span from Ali'i Hamakua mushrooms to spicy Italian sausage. Gluten-free bread, heirloom grits, and quinoa are also provided, and their ample, elegant desserts—like salted caramel French cookies and chocolate beet torte—taste downright sinful.
Fabiani's, Kihei, and Wailea
Before gluten-free alternatives surged in popularity, pasta was one of the most sorely missed items. These days, everything from fettuccini to penne can be rendered without gluten, but not all restaurants have caught on to this necessary trend.

Consider, then, Fabiani's a forerunner on Maui, where Italian chef Lorenzo and his partner Michelle supply a number of gluten-free pasta (and pizza) options. Lorenzo's signature and eponymous dish pairs gluten-free penne with sundried tomatoes, Italian sausage, and crema rosa, while pizzas range from a simple Caprese to the garlic, fingerling potato, fontina cheese, and crispy kale Haleakala. Aperitivos are just as rich in flavor—their GF shaved octopus, pine nuts, and basil Tako Carpacccio is especially memorable—and both south shore spots brim with excellent aromas and down-home comfort. Dine outside and you'll be reminded that gluten-free choices are no less dazzling than their counterparts—just far more empowering.
Maui Sugar Shop, Lahaina
Most would agree that the whole point of eating baked goods is to, well, feel a bit wicked. Sugar, butter, cream, and vanilla—particularly if it's bourbon—work together to create scandalously delicious treats (and something of a high from indulging).
But Maui Sugar Shop knows that removing a good deal of ingredients—including gluten, corn, synthetic dyes, and artificial flavors—can actually make a dessert taste superior.
Using nearly 40 different types of organic flour—none of which contain gluten—this family-owned, west side bakery is a gluten-free, vegan, and Paleo-eater's paradise. Their mouthwatering cupcakes range in flavors from strawberry cheesecake to pineapple rum (with a bunch of lickety-split choices in between), while their fresh-baked pies run the gamut from lilikoi chiffon to chocolate mac nut. Angling for something saltier? Pizza, sandwiches, and frittatas are also offered, as well as one of the finest vegetable quiches on the island.
Keep in mind, they are now DELIVERY ONLY!  info@mauisugarshop.com ​
808 Deli, Kihei
You know you've scored big when you can walk into a bakery and order a gluten-free grinder that tastes like the real (read: chewy) thing.
Voted "Maui's Best Sandwich Shop" by indie rag Maui Time, this beachy bistro on Maui's south side bakes GF bread that famously fails to fall apart, rendering specialties like Shiitake Beef Melts and Toasted Italians moist and flavorful. A must-try? Their "Southern Squealer," which is piled high with BBQ pulled pork, cheddar, and coleslaw. With a prime location in the heart of South Kihei, this buzzy spot reminds us that gluten-free is far from tedious.
Choice Health Bar, Lahaina
Ask any local, and they'll confirm that Choice is choice—thanks entirely to the emphasis they place on local, organic produce.
And not in a blasé way, either: the masters behind this oft-packed spot hand-select gems from the island's best sustainable farms. Many of their smoothies are so thick they come with a spoon, and they're topped with gluten-free granola (at a trivial charge), honey, and fresh fruit. Their "Living Foods" menu is particularly alluring, with dishes like Paleo Parfait with coconut kefir and half a papaya stuffed with bee pollen, goji, honey—and more of that crunchy and superb gluten-free granola.
Worth Mentioning
When we first heard that Restaurant Marlow in Pukalani was looking to discontinue their cauliflower-crusted gluten-free pizza, we were disappointed.  We spoke with Jeff about this decision, and we learned that it was slowing down the entire restaurant, cost too much, and most people with sensitivity could handle the normal crust.  Well, we decided to put their sourdough crust to the test!  We've since ordered at least a dozen pies with their sourdough, and we haven't had any problems!  It was delicious, and we haven't had any gut issues due to their using quality ingredients.  If you're celiac, it's not a good idea, but for everyone else, it might be ok!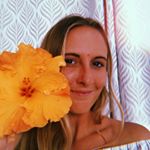 Born and raised on Maui, I have a deep love for language and writing. At present, I work as a content writer at Hawaii Web Group, where I have the opportunity to showcase my passion for storytelling. Being a part of Hawaiian culture, storytelling holds a special place, and I am thrilled to be able to share the tales of the amazing people, beautiful locations, and fascinating customs that make Maui such an incredible place to call home.