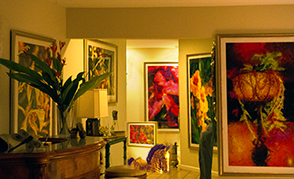 C'est Moi Studio is a new dimension of art. When she asked what the various styles of images should be called to the curator of The Na Pua Gallery at The Grand Wailea the answer was Lumière Danseur, The Dancing Light.  Common comments by visitors are from how beautiful everything is to how happy it makes them feel.
Studio Demonstrations Available (808) 419-6793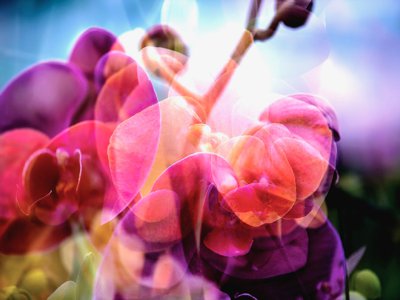 Lumière Danseur is comprised of a variety of styles.  Semoia Lin, the creator, delights in her insatiable appetite for learning new techniques and using what she calls "my Nikon eyes."  By integrating high-tech photography and multiple layers of computer programs she "paints" her images with extraordinary depth of color, texture and perhaps even a bit of mysticism.  She is a master of Stroboscopic photography which records movement that took place in a split second as captured in some of these orchid images.  Stroboscopic photography as well as overlay is in her Though the Lens series.  The Ancient Masters strove for depth and impact.  Semoia is inspired by them and strives to achieve that same effect.  Every Master had a different manner of doing it, but that was their common impact.  One Canadian admirer summed it up by writing to her and saying "Your art is something I have not seen before.  I appreciate the creative energy and time you have taken to produce such unique pieces."  Each piece can take months to produce.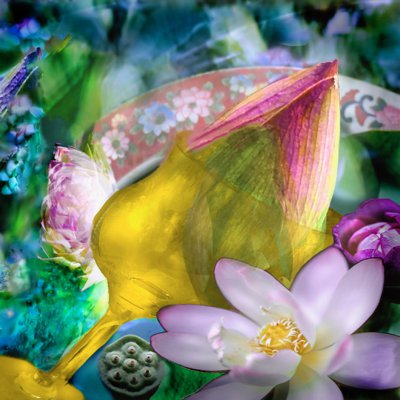 The subject materials vary as much as the styles.  It can be anything from Iao Valley to Haleakala and The Ocean, orchids or even a cat flying through the air.  The latest creation is of her "first born,"  her Hawaiian Lotus to add to her Virginia collection from her Lotus pond. Her first born lives in a pot instead of a pond.  Semoia's latest image shows its full cycle from bud to pod pouring out of a Golden Chalice on paper that has become extinct.  It looks like raw silk.  All the papers are imported from either France or Japan. She will size images to fit your walls or even make a mural for you. (808) 419-6793
Find us at the third Ka'anapali exit from Lahaina and the first one from Kapalua.  Please call for appointment. (808) 419-6793