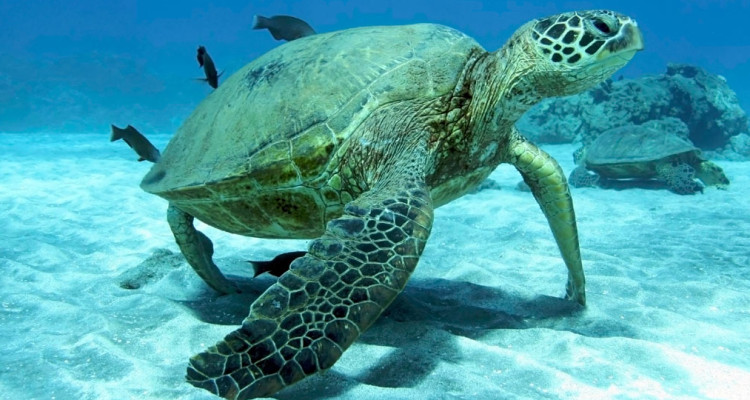 Experience the tropical beauty of Maui from below, have fun, get exercise, and save money? Yep, snorkeling is a great activity to do at almost no cost.
Maui Snorkeling Locations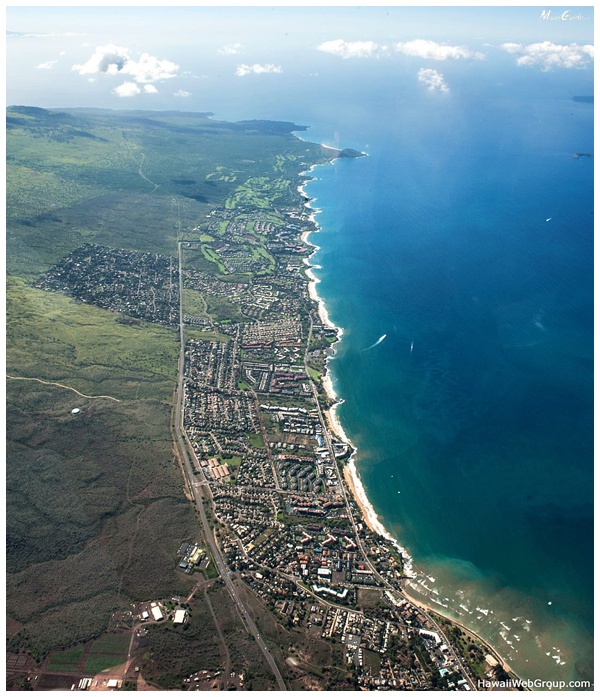 Ulua Reef
Let's start this off with a warning: Don't snorkel here (OR ANYWHERE) when there's significant swell in the water. Not only will it be dangerous, but you'll have near zero visibility, subsequently ruining your snorkel session.
Facing the ocean, directly to the right of the Marriott in Wailea (south Maui), Ulua Beach is one of the top Maui snorkeling spots for sea life and a sun tan. Numerous scuba schools also use this spot because of its easy access and beautiful reef. For the experienced snorkeler, you can see a second reef past the first that has a turtle cleaning station. We once saw a fleet of Manta Rays here as well as plenty of Hawaiian green sea turtles.
But don't worry, you don't need to go to the second reef to see turtles. They're all over!
Black Rock
One of our favorite snorkeling spots in Maui is on the west side at Black Rock on the Northern end of Kaanapali Beach. You'll notice the reef against the lava wall has a lot of tropical fish. It's a safe Maui snorkel spot because it's protected from wind and some swell, though you'll have to watch out for cliff divers. We went scuba diving around this point once and only realized we'd made it to Black Rock when people were landing all around us.
Honolua Bay
Just a little beyond Kapalua Bay, Honolua Bay has some great snorkeling and is sheltered from the wind. You can climb down the cliff, but it is a bit sketchy. Do not enter when there is a swell, but even though it won't be good for snorkeling, it will be good for watching some of Maui's best surfing. The easiest way to enter is through the jungle area at the apex of the bay. Please only enter this area if the locals give permission. This land is privately owned, and it would be rude if you entered it without permission. If it's a problem, there are plenty of nearby bays with beaches that are just as good. If you really want to snorkel here without any problems, take a boat charter to the area.
Molokini Crater
The Protected Volcanic Atoll
Molokini is arguably the best spot to snorkel around Maui. The reasons for this include:
• Protected atoll from wind and swell.
• The full experience! You have to take a boat, so while doing this, you get at least one snorkel session plus a cruise, lunch, possible dolphin watching, and whale watching in season.
• Maui snuba and scuba diving hotspot.
• An experienced crew to supervise, instruct and act as lifeguards.
• Molokini falls within the marine life conservation district and is one of the few protected areas in Maui waters for birds and fish. Molokini Crater is a State treasure, and because of this, we protect it. This means more fish and more reef protection.
Read more about Molokini Crater.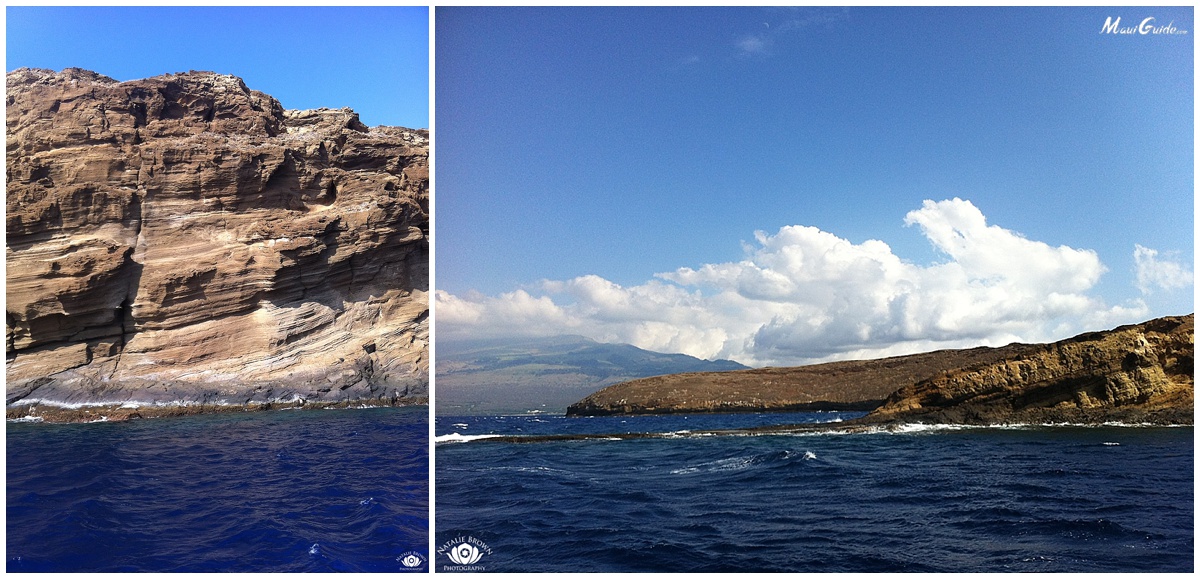 Turtle Town
There's quite a lot of speculation as to whether Turtle Town exists at all. We think it does but in a more general sense. Maui is Turtle Town. We've rarely gone snorkeling and not run into a Hawaiian green sea turtle or two. When a captain says they're taking you to Turtle Town, they're taking you to the most recent spot that they've recorded loads of turtles inhabiting.
Turtles move around. It's nice to have an experienced captain show you where he's seen them lately.
Top 5 Maui Snorkeling Tips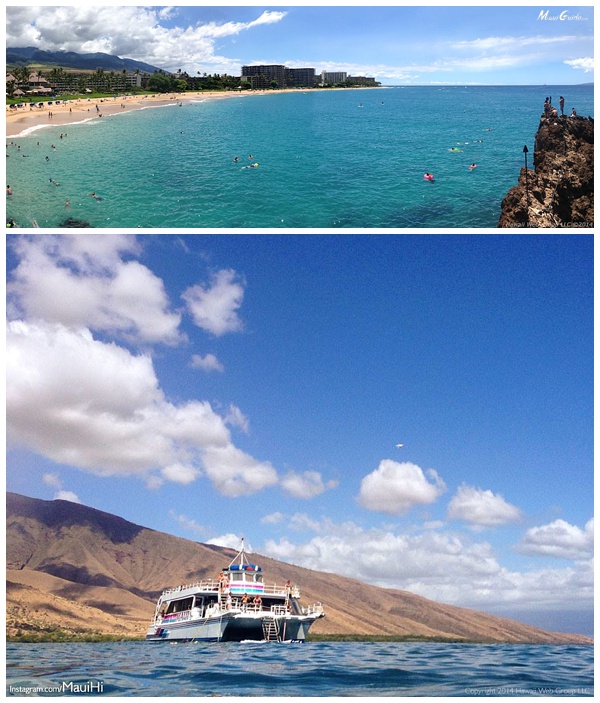 Tip#1 – Be Aware of Weather and Swell Conditions
Waves, wind, and currents can ruin your snorkel session… and your life.
Tip#2 – Don't Eat a Heavy Meal or Drink Alcohol
Eating can give you cramps. Alcohol can dehydrate you, make you pass out, and/or make you do stupid, dangerous things.
Tip#3 – Snorkel with a Buddy
Always have a buddy with you. Strange things can happen in the water, and you're always safer with a buddy.
Tip#4 – Don't Touch Anything!
That colorful reef or pretty fish can tear a hole in your hand.
Tip#5 – Don't Ride the Turtles!
Seriously, if you think it's OK to ride a turtle or manta ray, you're an idiot. Stop watching Blue Lagoon and come back to reality. It's not OK. They can drown or die from the bacteria on your fingers. It's also highly illegal with serious associated fines.
Best Snorkel Gear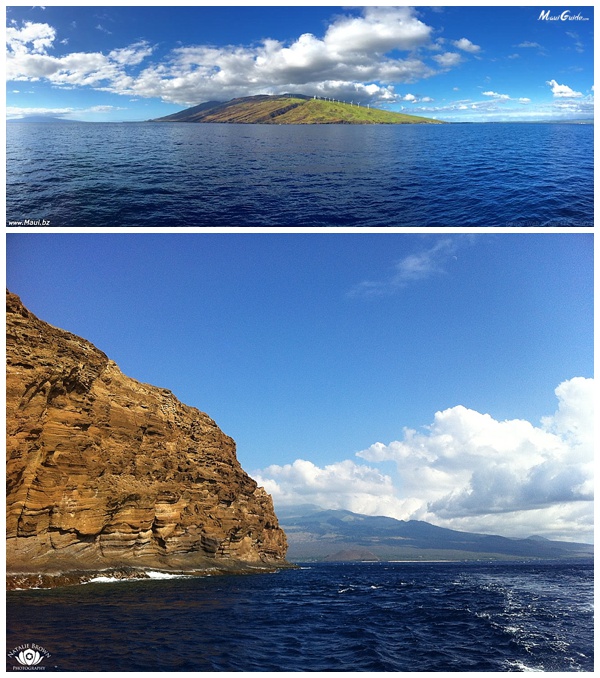 Snorkel Masks
The best snorkel mask you can rent or buy is made of silicone, not rubber. Silicone is less likely to crack than rubber. You also want a mask with a flexible nosepiece. The nose piece is important for you to be able to equalize your ears. If you don't plan on leaving the surface, this won't be an issue.
Snorkel
You want a snorkel that will allow you to purge from the bottom. This means you can eject loose water that gets in without taking the snorkel out of your mouth. Also, it's nice to have a snorkel that has extra valves in the top so that splashed water won't enter your breathing tube.
Fins
There's a lot of discussion over what the best fin should be like. Some love the split fin, others love the full flat fin. Some opt for the super-long free-diving fins. It all comes down to how you like to move through the water.
Maui Snorkel Rental
The easiest and most cost-effective solution for snorkeling gear on Maui is to rent equipment from Boss Frog's. Their Deluxe Snorkel Rental includes a mask, snorkel, and fins, as well as a mesh carrying bag to keep all of your gear in one place, and can be reserved online for free. Individual prices are $7 per day or $24 per week, and payment is handled upon pick-up at one of their many locations throughout Maui. They also offer great beach guides and Maui snorkeling information! Call Boss Frog's directly at (808) 856-4264.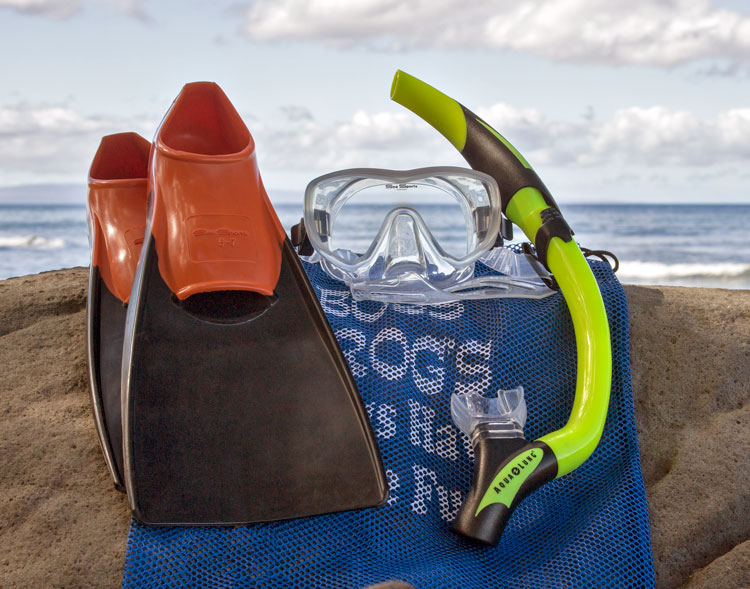 Other Gear
Wetsuits
I know, wetsuits in Hawaii? Well, during the winter months, the water can have a slight chill, especially if it's windy out and if you stay in the ocean for long periods of time. We also like wetsuits because sometimes you can get in awkward positions near the reef, and extra protection is always nice. Mainly, it's always a better experience when you're totally comfortable.
Floatation Devices
Don't be afraid to rent gear that floats you. Sometimes an extra floaty tube can make the difference between a great snorkel session and a night where you'll be accidentally pouring seawater from your nose all over your expensive dinner.
Diving Buoy with Flag
If you're a serious free diver, please rent a dive flag. Many boats come in close to the shore for either shore entry, fishing, or just for pleasure. You don't want to get hit by one of these fast-moving vessels.