If you're looking for the hottest spot on Maui's North Shore, head straight to Nuka. Reservations aren't taken, so its first come, first serve and you will most likely find yourself waiting for a table at this cozy sushi eatery.  Some might ask if it's really worth waiting for, and to that, I would yell a resounding "YES"!
From the incredibly fresh fish to the artistically unique dishes, you'll be in raw fish heaven!  If you have someone in your party that prefers their food cooked, there are options for them as well.  There is no wrong answer on this menu, but there are a few cult favorites, and we're here to open the vault and divulge Nuka's "must have" list.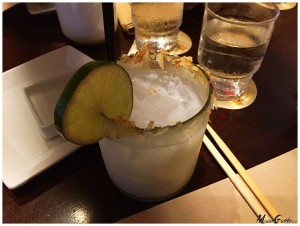 Of course they have the classic sake and beer, but Nuka ripped the doors off the usual drink menu.  An easy choice is always the pomegranate and lilikoi martini, but make sure to check the specials board at the front of the restaurant.  Their nightly special cocktails start any evening off the right way!
Sushi isn't one of those gluttonous meals that overloads your stomach, so you can indulge in a few Otsumami small plates (appetizers) to start.  The Spicy Garlic Edamame is a delicious balance of savory and spicy.  And if you do nothing else, order the ever-addictive Gobo Chips.  These thinly sliced burdock chips are heaven in a bowl!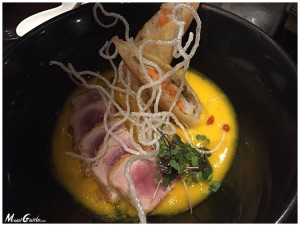 There are soups and salads for those so inclined.  Of course, Nuka's crowned jewel is the sushi!  There is a boundless supply of fabulous sushi and sashimi, from classic rolls like the Caterpillar Roll to the one-of-a-kind Haleakala Roll (baked california roll, salmon, dynamite sauce, tobiko, eel sauce and bonita flakes.)
If you're looking for a fabulous night out on Maui's North Shore, look no further than Nuka!
For more information, visit Nuka in Haiku today!