Trilogy Sunset Dinner Sail Review
We had a wonderful time and cannot wait to enjoy another sunset dinner sail.
When it comes to things I enjoy, boat rides on the ocean are generally toward the top of the list. Add in whale watching during sunset, an open bar, a three-course dinner, and a random assortment of Hawaiian and 80s tunes, and it's essentially a perfect storm of awesomeness.
Last month I hopped on Trilogy's Sunset Dinner Sail, which departs weekly from Maalaea Harbor on Mondays, Wednesdays, and Fridays. We were promptly greeted by a few friendly staff members and escorted to our seats, a maneuverable and lovely table for two on the port side of the sailing catamaran (look at me using my boat words!).
After a short 'boat safety' and welcome spiel, we sailed out of the harbor and were given permission to take advantage of the premium open bar, which consisted of a Moloka'i Mule, Lana'i Tai, local beer from Maui Brew Co., Longboard, Bud Light, Champagne, and Wine. Game on. Servers rotated around with an assortment of pupus, including beef tenderloin crostinis, bread with lilikoi butter, cucumber with cream cheese, and salmon pita bites. Yum!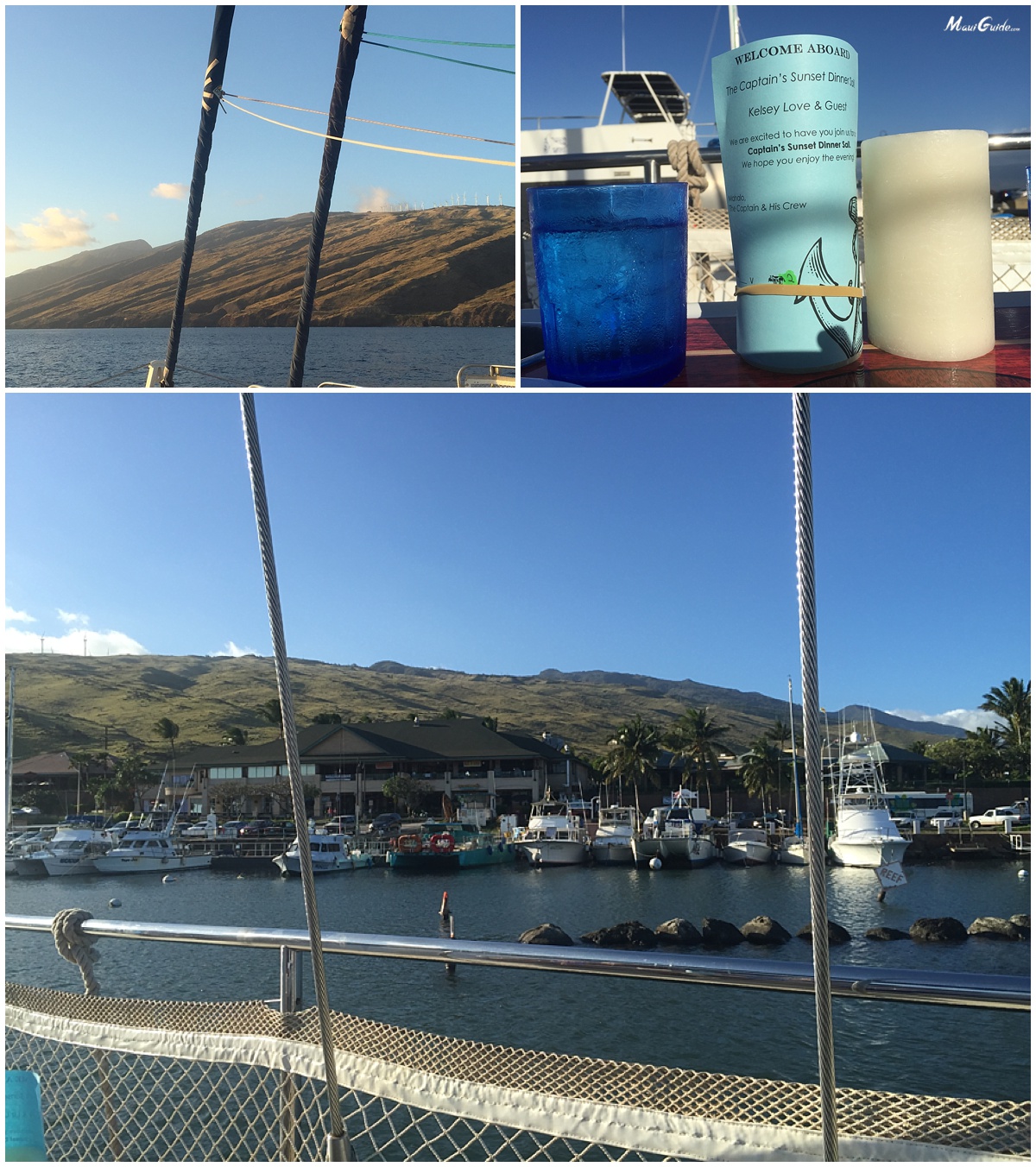 While the day had been windy, as soon as we got out on the water, the wind calmed down, allowing for a relaxing and calm-weathered cruise that did not require constant removal of hair from around my face. Almost immediately after leaving the harbor, we spotted several whales in the distance, coming up for air and pec slapping not far from the boat. One particularly frisky fella (or lady) even breached right in front of the boat.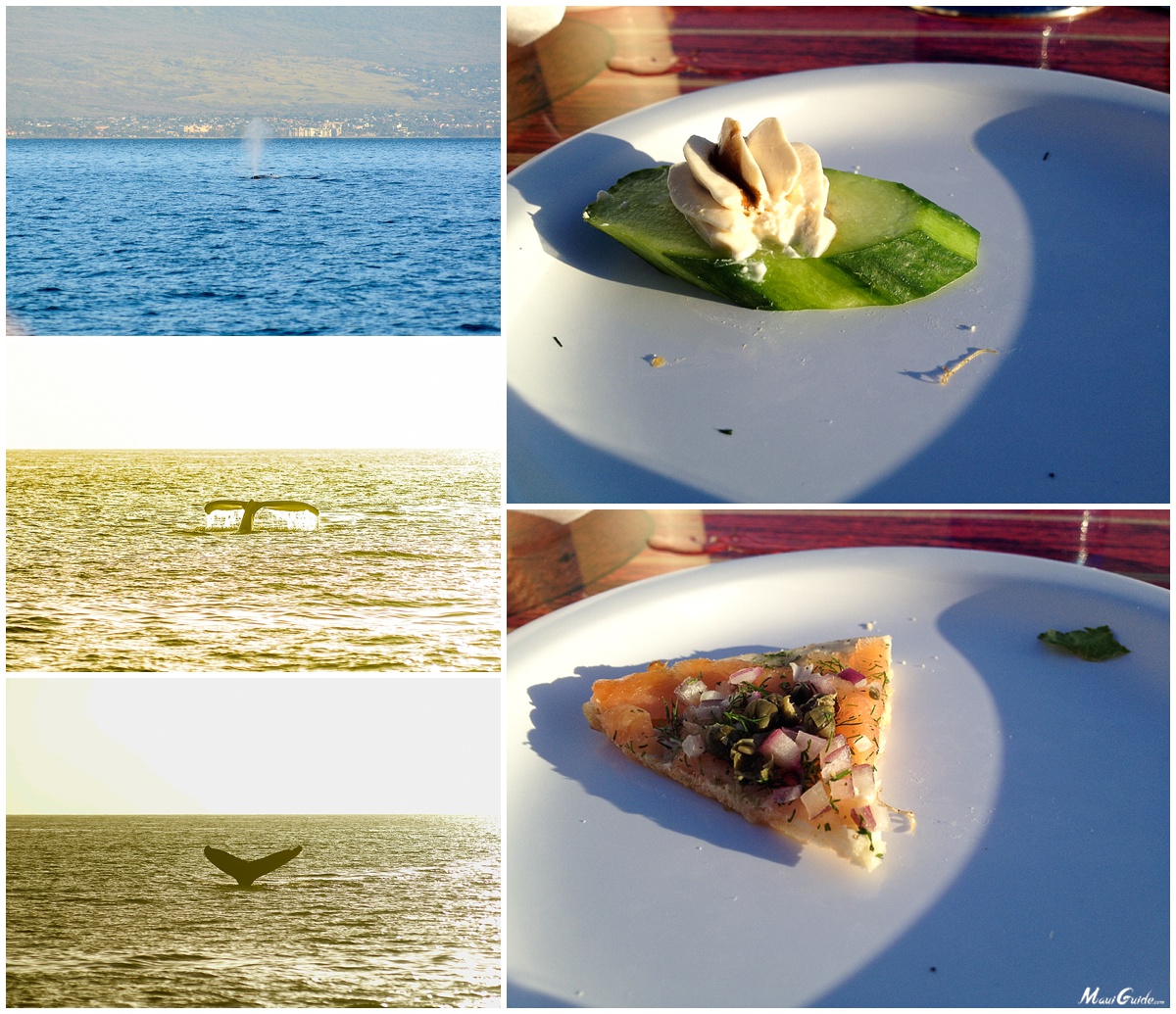 Soon enough, dinner began. We started with a yummy caesar salad before moving onto our pre-chosen steak entrees (they also have a fish and vegetarian option), accompanied with mashed potatoes and mixed vegetables. Considering this meal was prepared on a boat, I was really impressed with the level of detail they put into the experience. From the sexy candle on the table (of the battery sort, obviously), to the convenient drink cup-holders and plating presentation, not to mention the sincerely friendly service, it's definitely on par with any nice restaurant you'd go to back on land. Only better, because it's on a boat. Duh.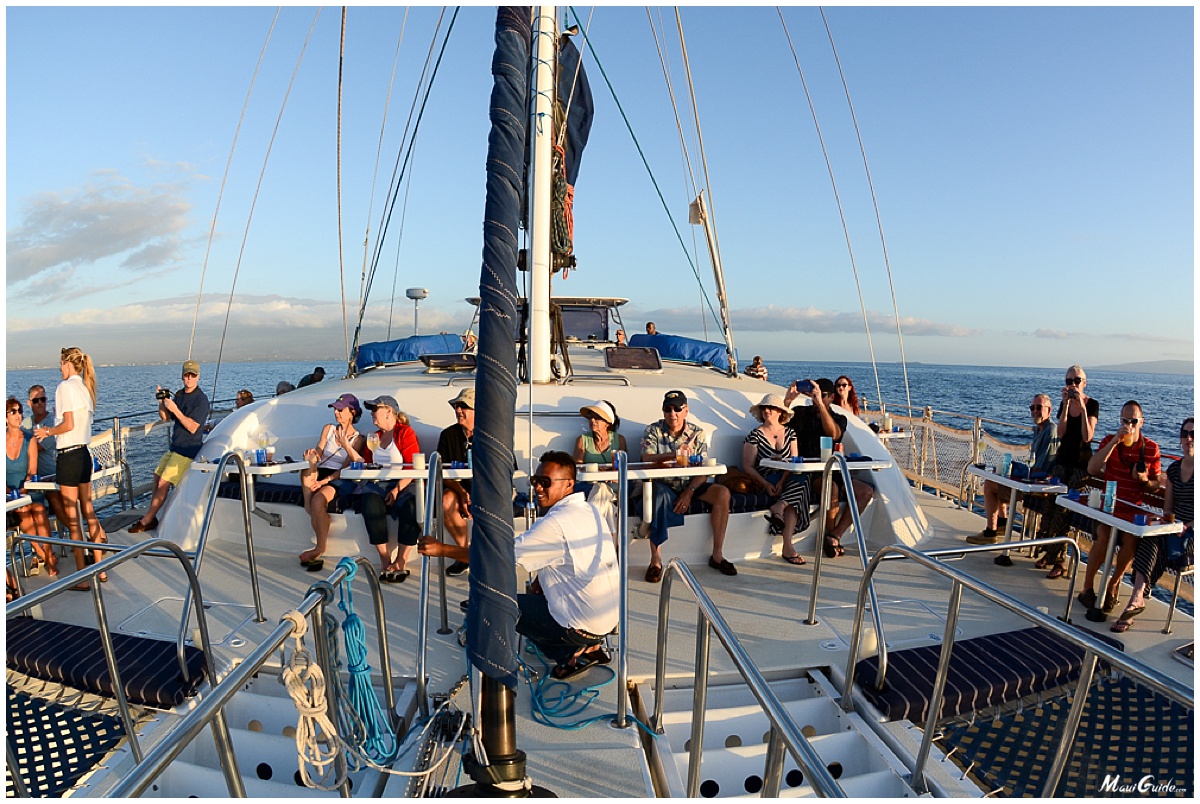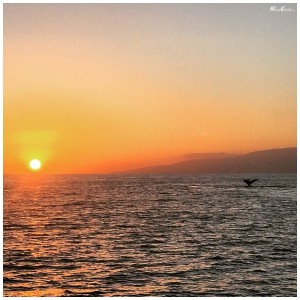 The sunset was unshockingly beautiful, as they tend to be on remote tropical islands, and as we watched the last of the evening's humpback whales wish us a lovely evening farewell, dessert was served. A combination of lilikoi cheesecake, chocolate truffles, and fresh fruit, we finished the last of our excellent cocktails (get the Moloka'i Mule) before heading back to shore.
I've been on several boat tours on Maui, and Trilogy's table service was a nice touch, compared to the typical buffet-style found on most others. Our table neighbors had actually been on a kayak tour with my boyfriend the day before, and by his recommendation, decided to whale watch from a boat as well.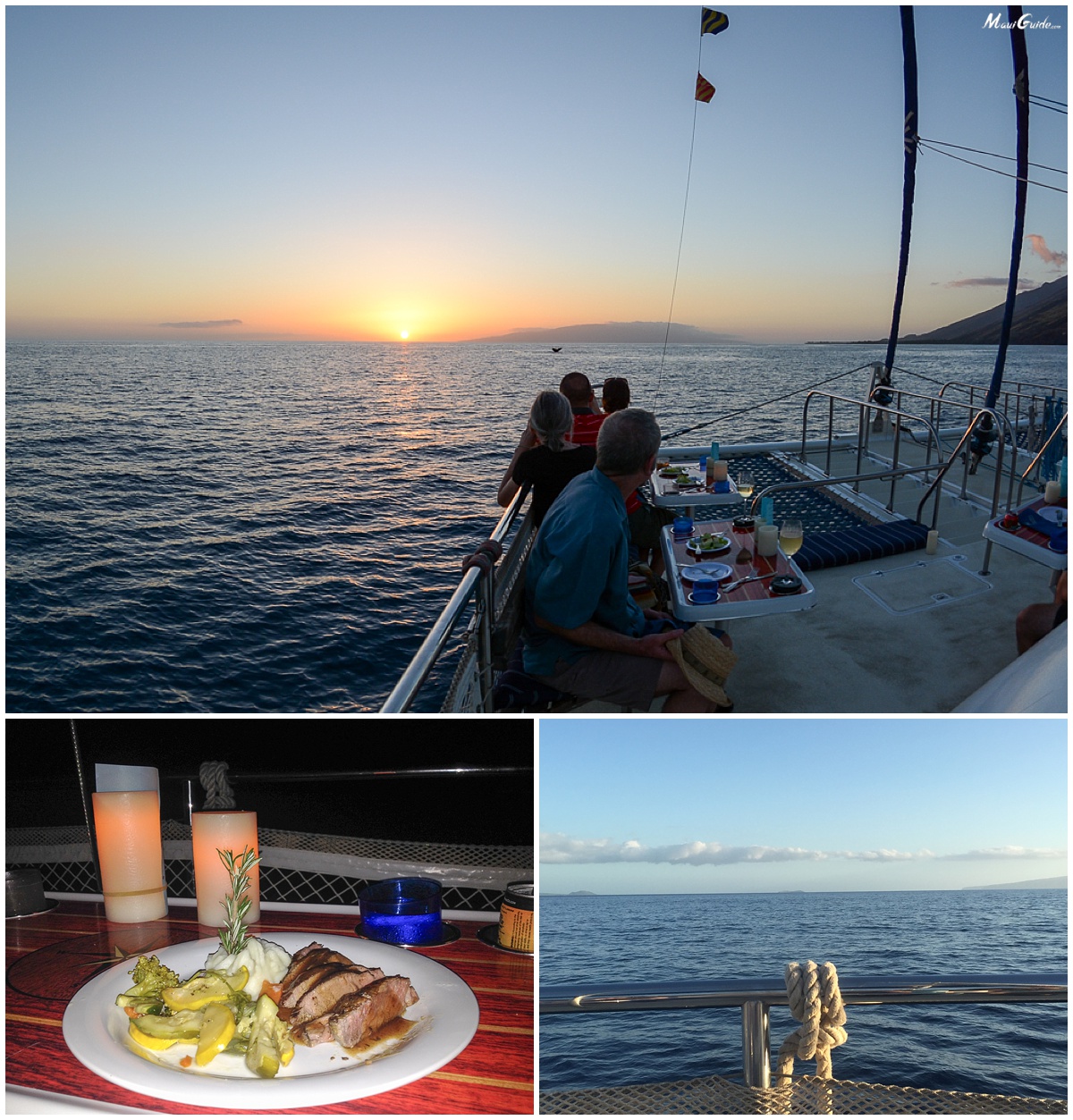 One last note that's particularly awesome is the fact that a portion of all ticket sales go to their monthly Blue 'Aina Reef Cleanup project, which I've participated in previously and enjoyed. It's always good to give back on Maui.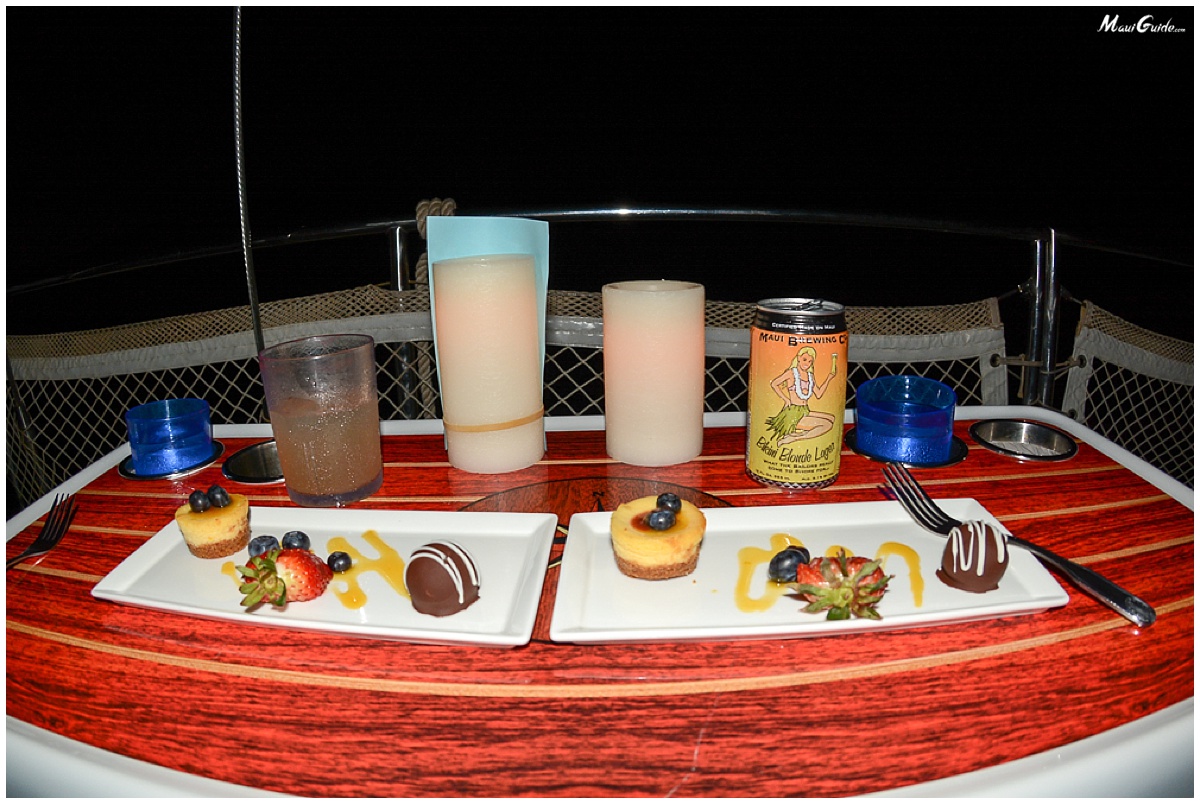 Big mahalo to Trilogy for an excellent evening on the ocean. I'll definitely be back!
Sunset dinner sail tours last approximately 2.5 hours, cost $129 per person, and are only open to guests 21 and over.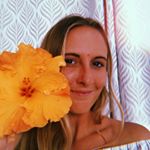 Born and raised on Maui, I have a deep love for language and writing. At present, I work as a content writer at Hawaii Web Group, where I have the opportunity to showcase my passion for storytelling. Being a part of Hawaiian culture, storytelling holds a special place, and I am thrilled to be able to share the tales of the amazing people, beautiful locations, and fascinating customs that make Maui such an incredible place to call home.