What's In My Dish?
Peruse a menu at places both exotic and everyday and chances are at least one ingredient will give you pause. (Farro, anyone?)
Dine on Maui and that bafflement might skyrocket—after all, many dishes include veggies, fruits, and herbs that are unique to Hawaii, as well as several others that are just plain mysterious (at least to some).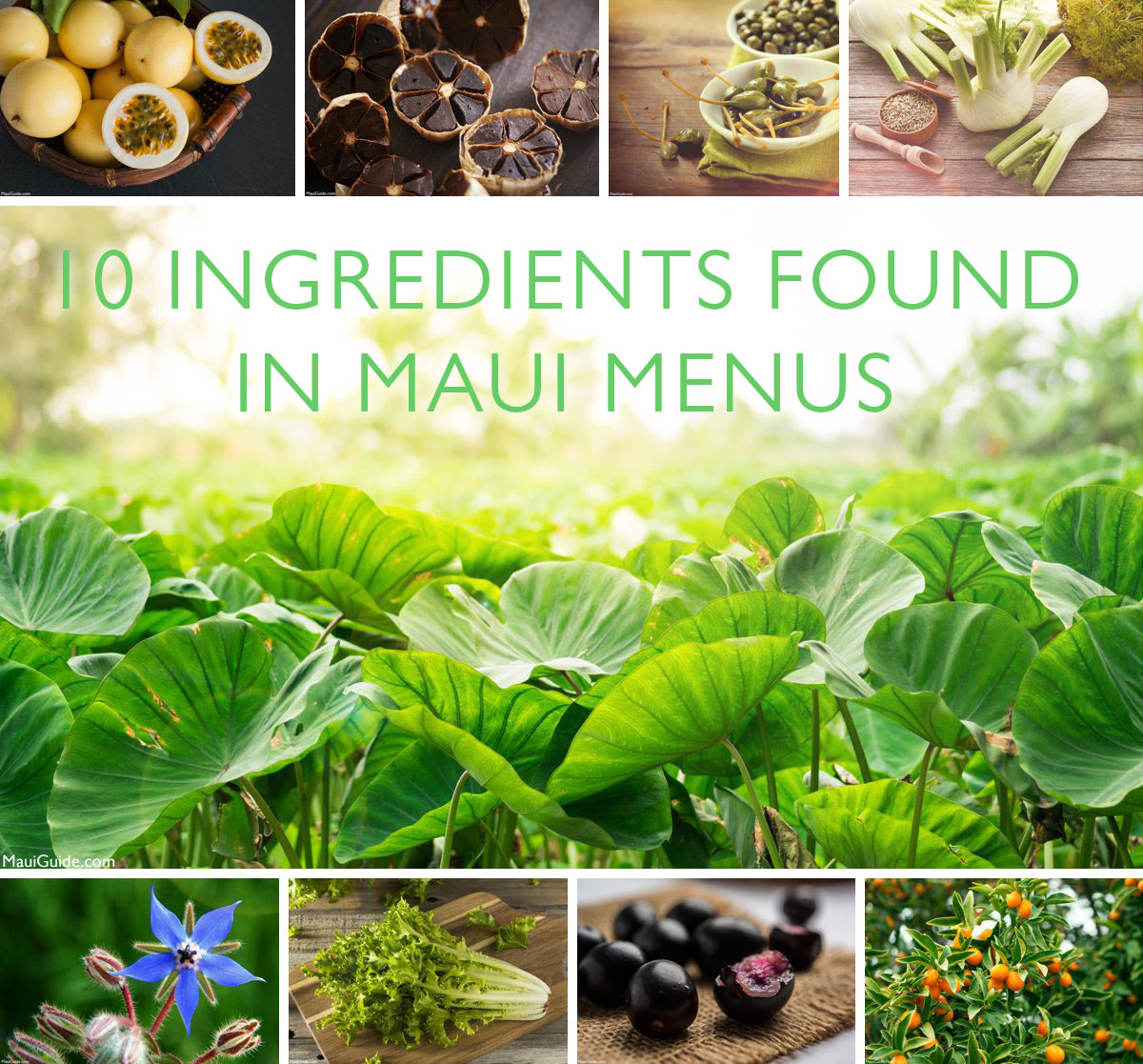 With that in mind, here are ten ingredients that might catch your eye, a brief explanation behind them, and where to find them on the island. Keep in mind that many of the dishes mentioned are from restaurants that create their menus seasonally.  Some of these dishes my no longer be offered.
1. Fennel
From serving as a key ingredient in The Mill House's much-loved Farm Salad to shining in Mama's Fish House's Maui tomato and onion tower, fennel is more ciao than aloha—the member of the carrot kin is one of Italy's most popular vegetables.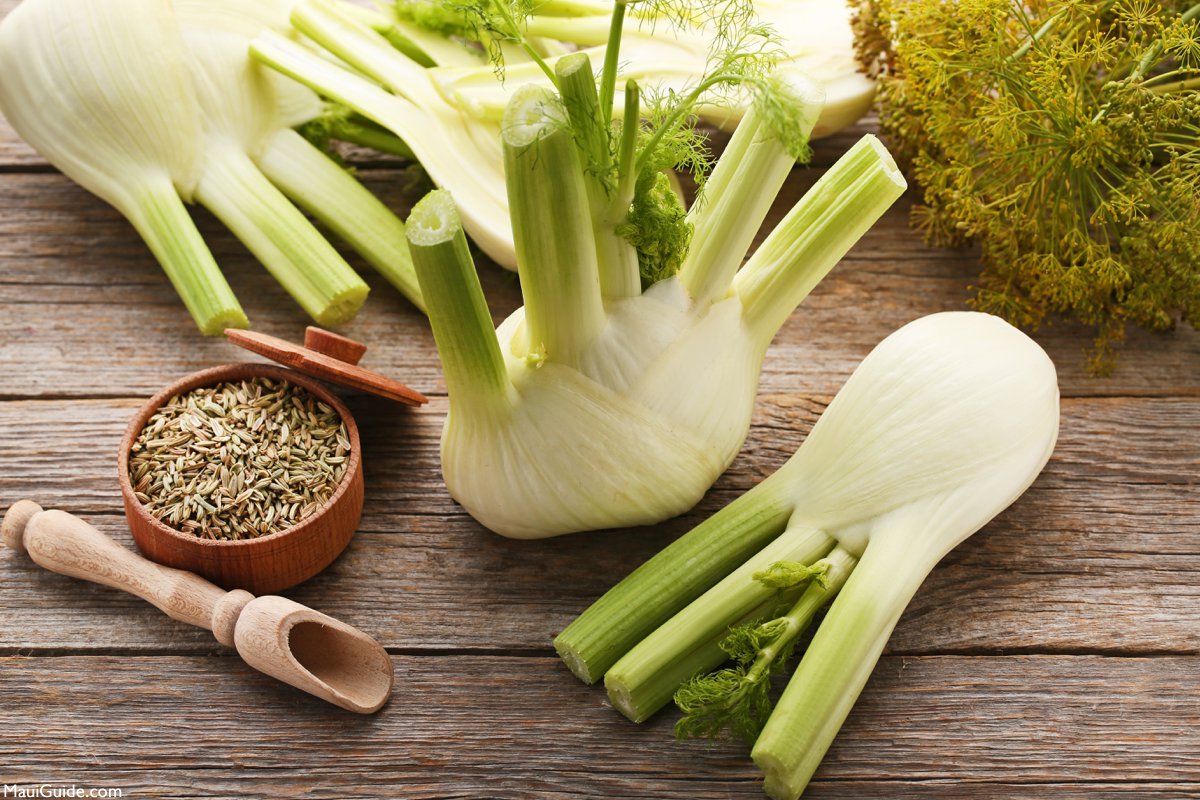 But here on the island, it adds major bite to tropical and traditional recipes, with a touch, for example, in Sale Pepe's Chianti-infused Tuscan salami. With celery-like stalks and a cool, licorice taste, it's a swell companion for fish, pasta, meat, and veggies.
2. Caper Berry
You've heard of capers—is there a better addition to a bagel with lox and cream cheese?—but caper berry might prompt a "say what?"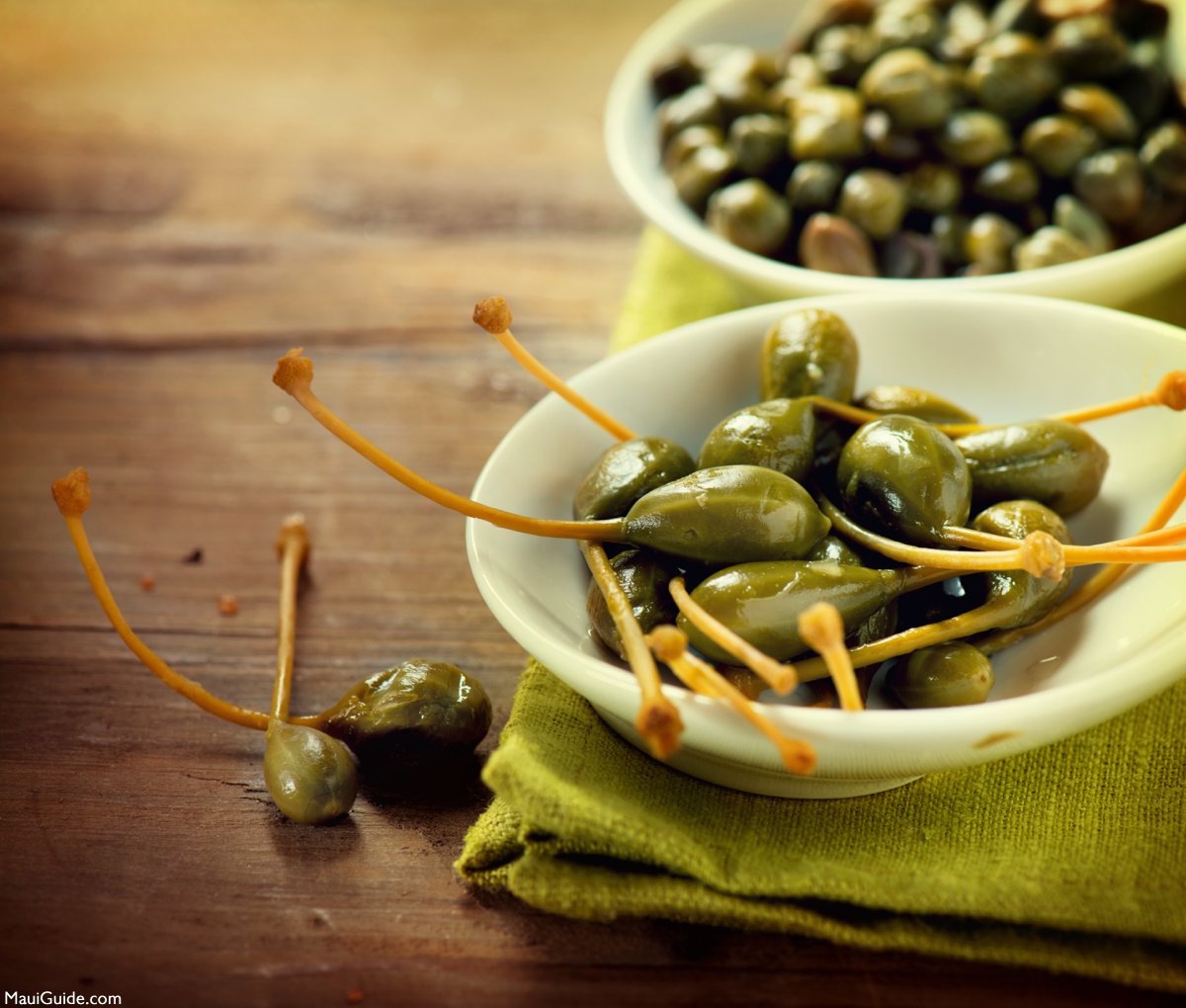 Consider them subtler iterations of the caper (olive-colored, pickled, unopened buds of the caper bush and the chief ingredient in many tuna salads and chicken piccata recipes). The actual fruit of the bush, and roughly the size of a grape, caper berries are often found with their stem. Starchy, sometimes seedy, and just-right-briny, look for them on The Mill House's menu with their Eggplant, which also includes a sublime mix of mint, tahini, and honey.
3. Black Garlic
Garlic might be the powerhouse of herbs with its zesty, unmistakable flavor and scent.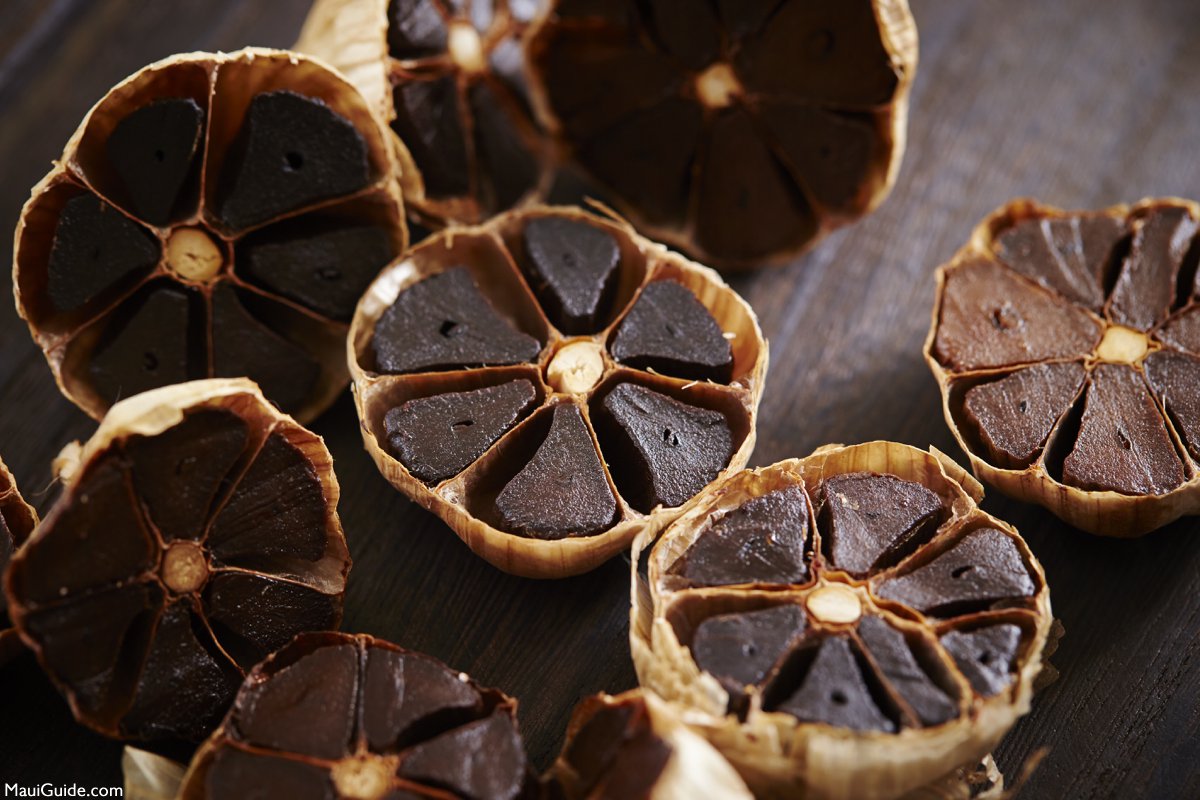 If that's the case, then consider black garlic its sweet and savory god. Garlic bulbs maintained at low temps in humid environments—that'd be Hawaii—black garlic goes through the same chemical process that produces the rich, inimitable taste behind fried onions and seared meat, giving dishes a depth and earthiness that engenders an "oh my word, that's delicious" double-take. A staple of Asian cuisine, and presently all the rage among high-end chefs across the U.S., black garlic can be found in The Mill House's Chickpea Panisse and as a delectable puree atop crostini at The Restaurant at Hotel Wailea.
4. Leek
It appears on menus often—and is nicely paired with tots in potato-leek soup—but some might not really know what they're having when it appears in their dish.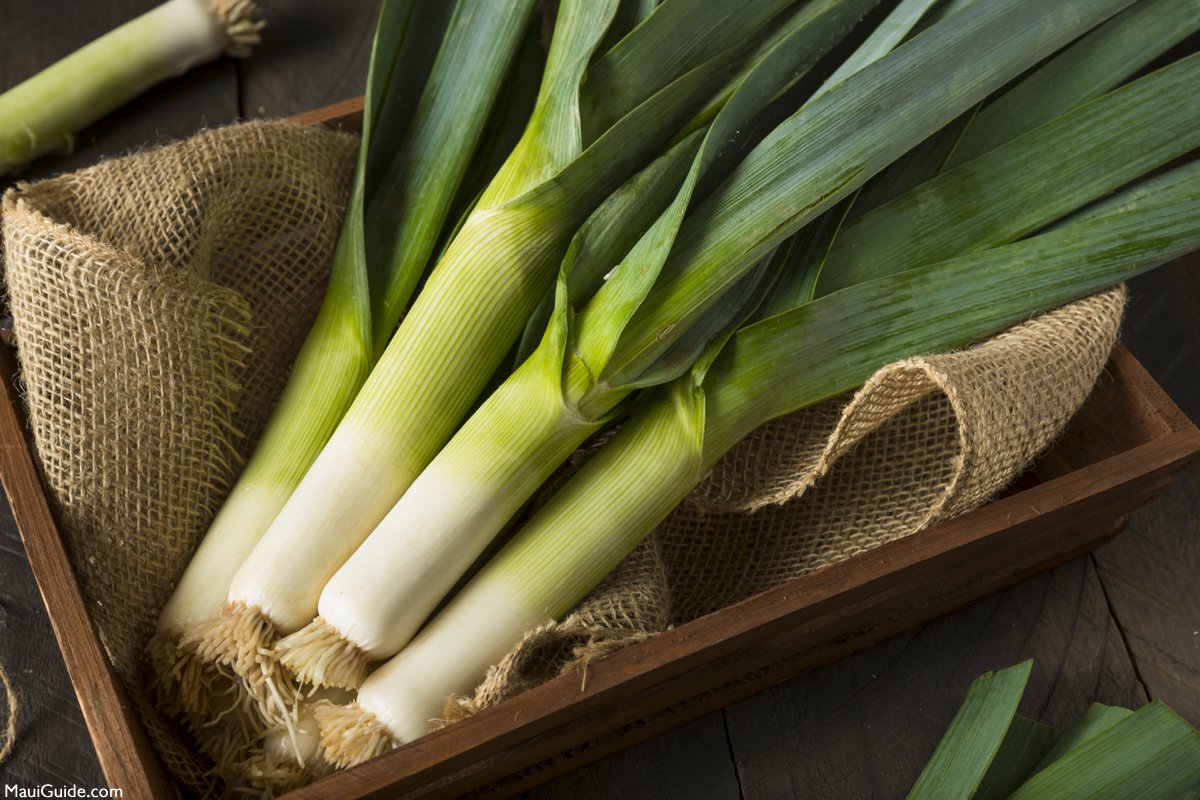 Hailing from the Mediterranean and the Middle East, this member of the shallot and garlic family echoes onions. Eaten raw and its bitterness is sharp; cooked and it takes on a subtle, delicate sweetness. Lahaina's Choice Health Bar makes a killer turnip and leek soup, while Gannon's Seared Scallop Risotto is served with a stellar mix of Kula corn, mascarpone cheese, lemon, and melted leeks.
5. Kumquat
Sound adorable? The size of a large olive, that they are—but they also present a potent flavor.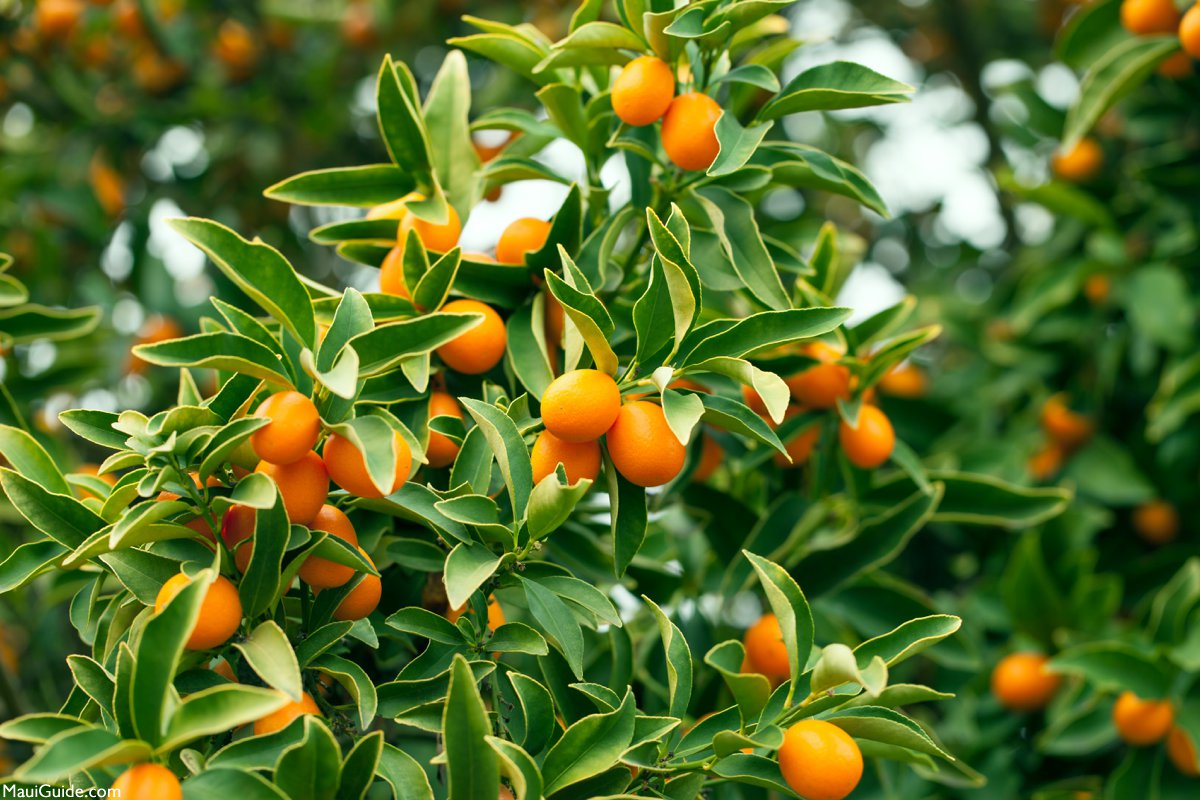 Small and robust, kumquats—an ingredient in The Mill House's fish in soubise (a buttery onion sauce)—are hardy citrus fruits native to South Asia and Asia-Pacific. Bearing resemblance to an orange, they add zest and freshness to dishes and drinks ranging from chicken to whiskey sours. A leading crop at Ono Organic Farms in Hana, the aforementioned Scheer has used kumquat in The Mill House's pork tenderloin dish (along with kabocha squash puree, arugula, and radish).
6. Taro Leaf
Called kalo in Hawaiian, taro leaf was one of the few canoe crops brought to the islands with the first Polynesians a millennium ago.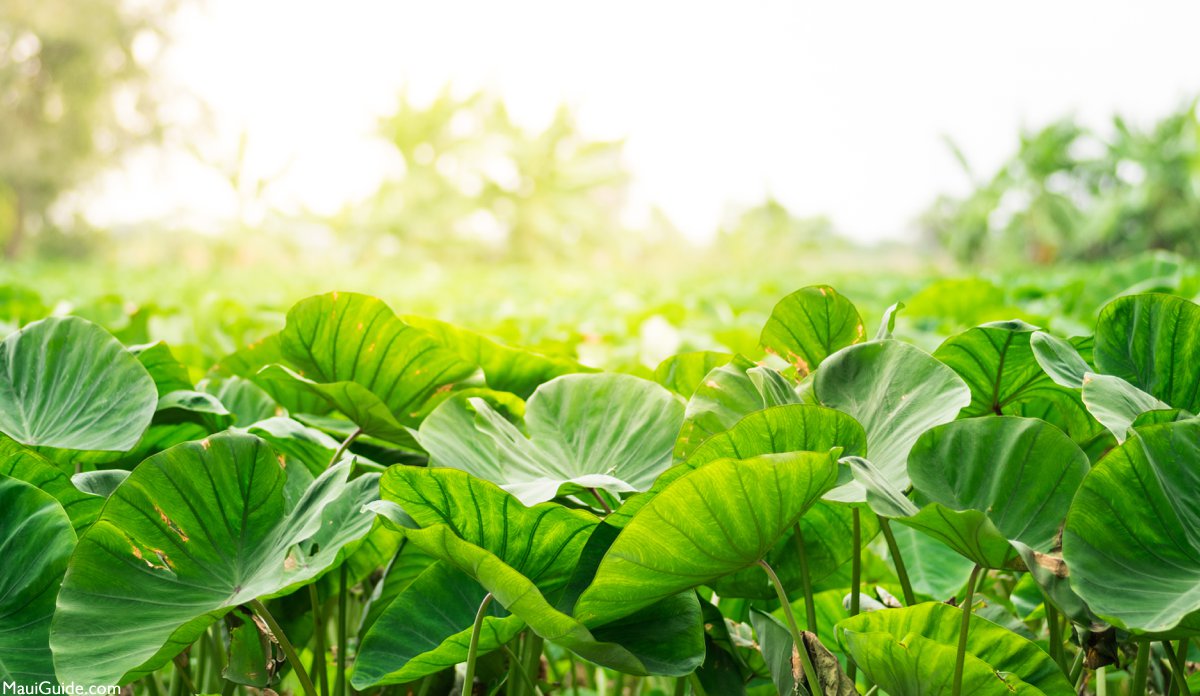 Most commonly found in poi and lau lau—two luau staples—a number of restaurants are now giving taro a starring role in their main dishes. One of The Mill House Restaurant's most popular items is their Taro Leaf Risotto, in which the earthy-flavored plant is braised and served with arborio rice.
7. Endive
Gone are the days when a salad meant a wedge of iceberg topped with tomato.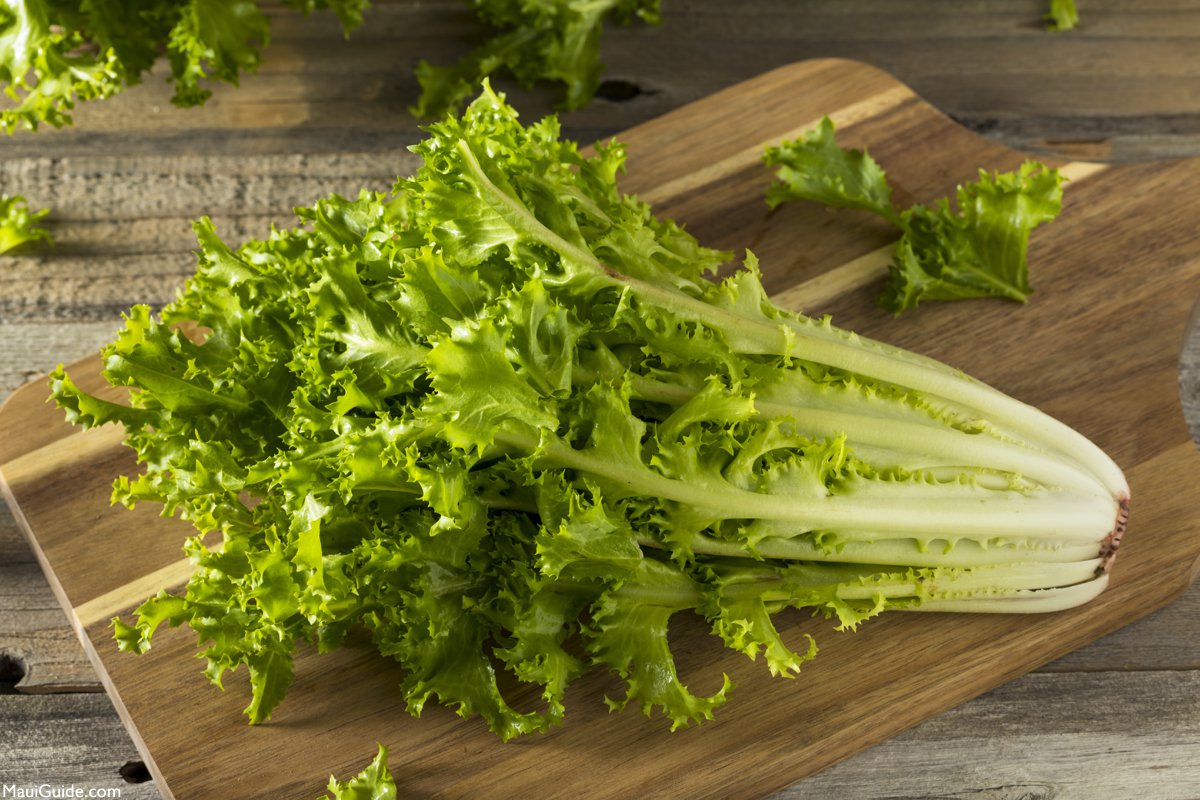 From kale to Swiss chard and radicchio to arugula, the basis of many Maui's most popular salads spans a spectrum of greens—including the ever-wonderful endive. Also known as frisee, this leafy vegetable, belonging to the chicory kin, can be bitter but delicious, operating as the perfect bed for gorgonzola cheese, caramelized macadamia nuts, and honey-scallion vinaigrette. (Here's looking at you, Longhi's.)
8. Lilikoi
Whether you're lining up at a roadside stand for a cone of shave ice or choosing a flavor of Maui-made cheesecake, chances are you won't be able to go longer than a day without seeing lilikoi on an island menu.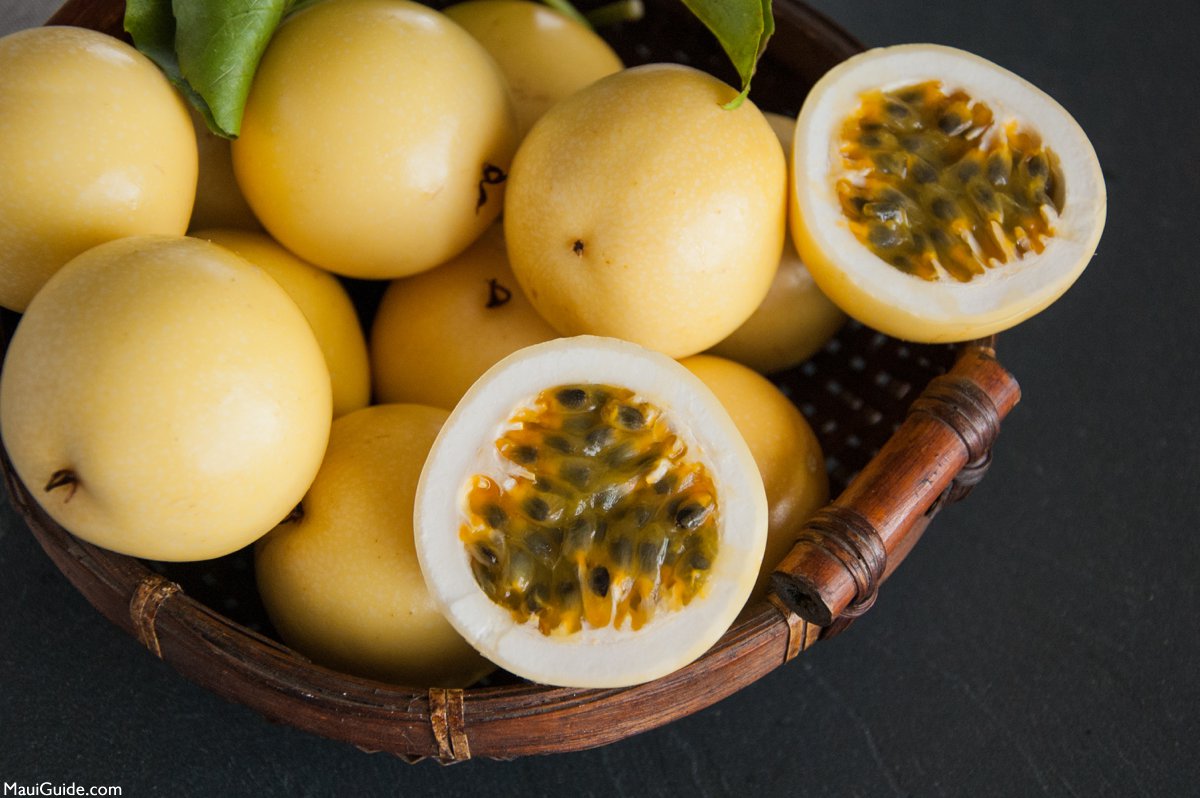 Small and wrinkled—and growing in abundance from Hana to Huelo—lilikoi is a yellow passionfruit that, while tiny, packs an incredible punch. Try it in a malasada, a mojito, a meringue—or in a mai tai at Monkeypod Kitchen in Wailea, which uses the tart, sweet fruit in in its much-loved honey foam.
9. Borage
From noni to 'awapuhi, Hawaii brims with wild and wonderful herbs.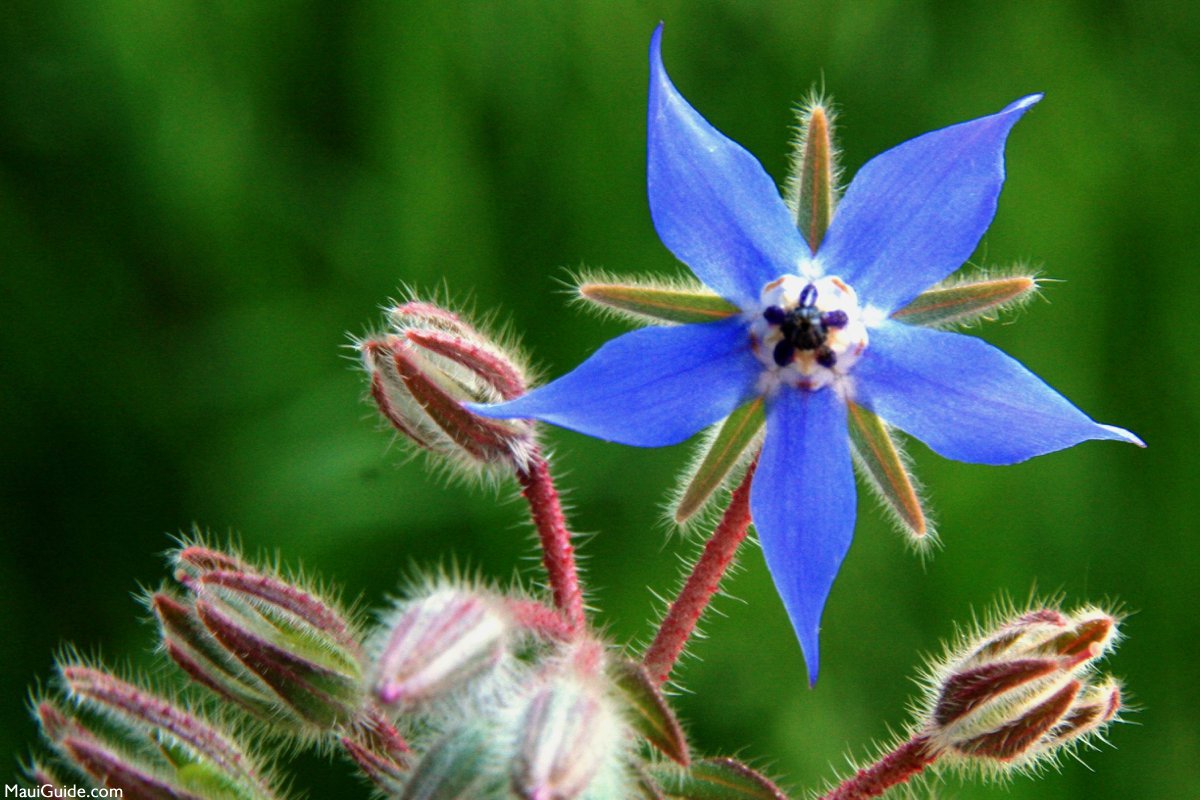 Borage—an elderflower—may not be endemic to the islands, but it can be a boon for recipes. Its edible flowers look superb in a salad; its cucumber taste and aroma are equally good in desserts. Check out Maui Chef's Table at Maui Tropical Plantation, where Executive Chef Jeff Scheer has been known to pair borage with Manilla clams, cucumber, papaya, and parsley.
10. Java Plum
Though invasive to Hawaii, Java Plum—also known as Jambolan, Jamun, and Black Plum—has a preference for the tropics, having gotten its start in India and Southeast Asia.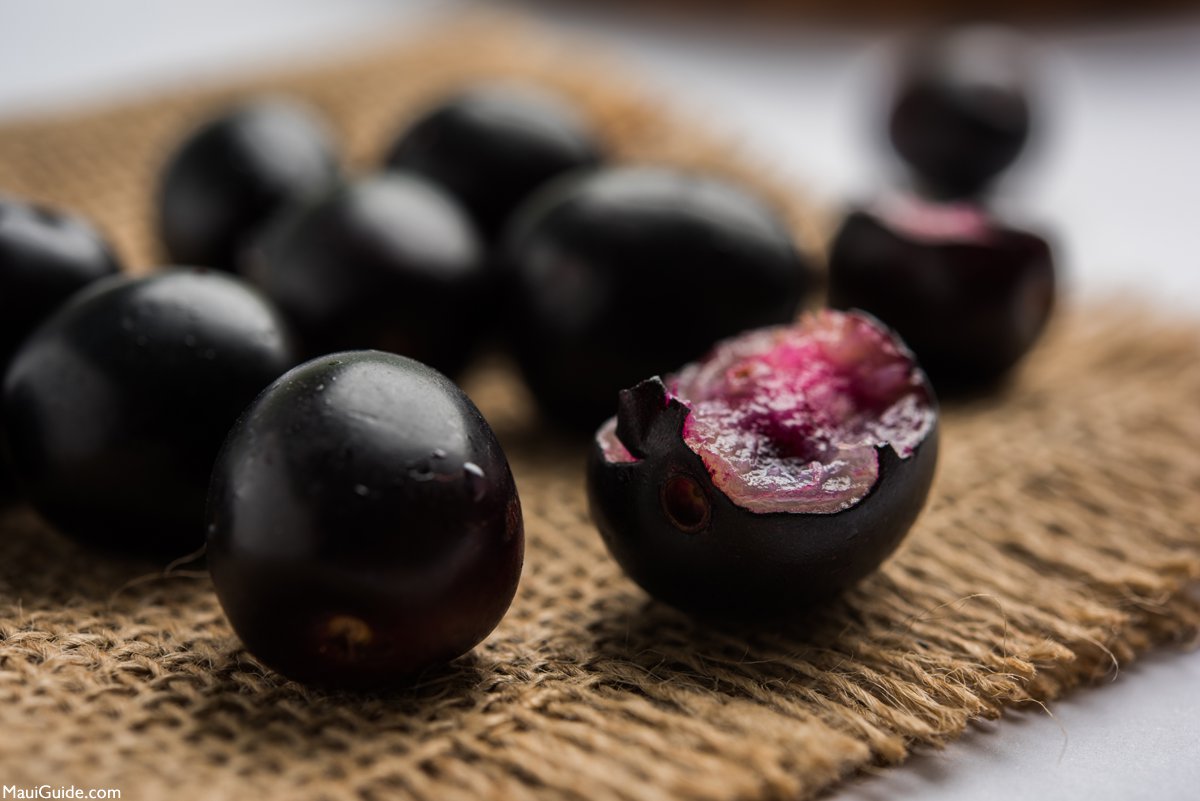 With its moderately tart but sweet taste, it's an excellent addition to libations and desserts. Find it in The Mill House's Viva La Zombie, which combines Java Plum with Centenario Plata Tequila, Zucca Amaro, grapefruit, orange, and cinnamon. Bon appetit, no? Or, rather, as we say in Hawaii, ono.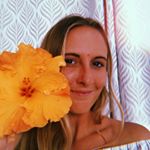 Born and raised on Maui, I have a deep love for language and writing. At present, I work as a content writer at Hawaii Web Group, where I have the opportunity to showcase my passion for storytelling. Being a part of Hawaiian culture, storytelling holds a special place, and I am thrilled to be able to share the tales of the amazing people, beautiful locations, and fascinating customs that make Maui such an incredible place to call home.