Maui Complete Island Tour with Blue Hawaiian
I'm always on the hunt for hidden gems and new scenery on Maui. Whether it's by zipline, horseback, outrigger canoe, submarine, or Porsche speedster, there are several excellent ways to see and explore Maui, a great way to learn about and appreciate the natural beauty of the island.
My First Time
While I had never been on a helicopter tour, I was excited for the opportunity to see the island from above. You can catch aerial glimpses of Maui on your plane flight in, of course, but the chance to get up close and personal and zoom in, out, and around certain areas of interest was something I was excited to experience for myself. Plus, I'm always down (or up, rather) to try something new!
Kahului Heliport

The folks at Blue Hawaiian Helicopters welcomed me to the Kahului Heliport, located conveniently near the airport in central Maui, and after a brief weigh-in and safety video, I climbed aboard the Eco-Star model, settling in beside our pilot and tour operator, Glenda. After introducing herself, she welcomed any and all questions about Maui during our tour, in addition to sharing particularly interesting information about the history and land use on Maui.
Immediate Excitement
Not three minutes into our flight, we spotted a breaching whale just outside Kahului Harbor, where we hovered to get a closer look before heading toward the West Maui Mountains. Glenda pointed out several interesting sites within the mountains, and before we knew it, we were approaching the popular West Maui areas of Kapalua, Kaanapali, and Lahaina.
Circling Maui
After some interesting information on the historical use of the land, Glenda flew us through the clouds and over the South shores of Maui, pointing out the resorts of other guests on tour for a frame of reference. We then flew over the lush, rolling pastures of Upcountry Maui before ascending nearly 10,000 feet to Haleakala Crater, where we hovered to take in picturesque views of the Big Island, neighbor islands, and less traveled, rugged back side of Haleakala.
Road to Hana
Glenda then gave us a tour of some of the best sites along the Road to Hana, and watching cars maneuver the winding roads from above is quite a sight unto itself. We veered over seemingly endless pools of cascading waterfalls and changed direction often to offer great views for guests sitting on both sides of the helicopter.
We ended our tour with a flight over the ocean, passing north shore spots like Jurassic Rock, Maui's largest surf break at Jaws, Ho'okipa Beach Park, Paia Town, and finally, the sugarcane fields of central Maui before landing back at Kahului Heliport.
Glenda was very friendly, informative, personable, and professional, and the views during the flight were absolutely breathtaking. Helicopter tours can be done anywhere, but few places are as magical as Hawaii.
Top 2 Maui Helicopter Tips
Tip#1 – Wear Black
Or a dark solid-colored shirt, if possible. This important tip helps to ensure prime viewing, as it works to eliminate glare on the windows. This is especially important for quality photographs.
Tip#2 – Book Early
Many companies recommend booking a tour toward the beginning of your vacation. In the event of inclement weather, this allows plenty of time for re-booking. You don't want to miss this Maui experience!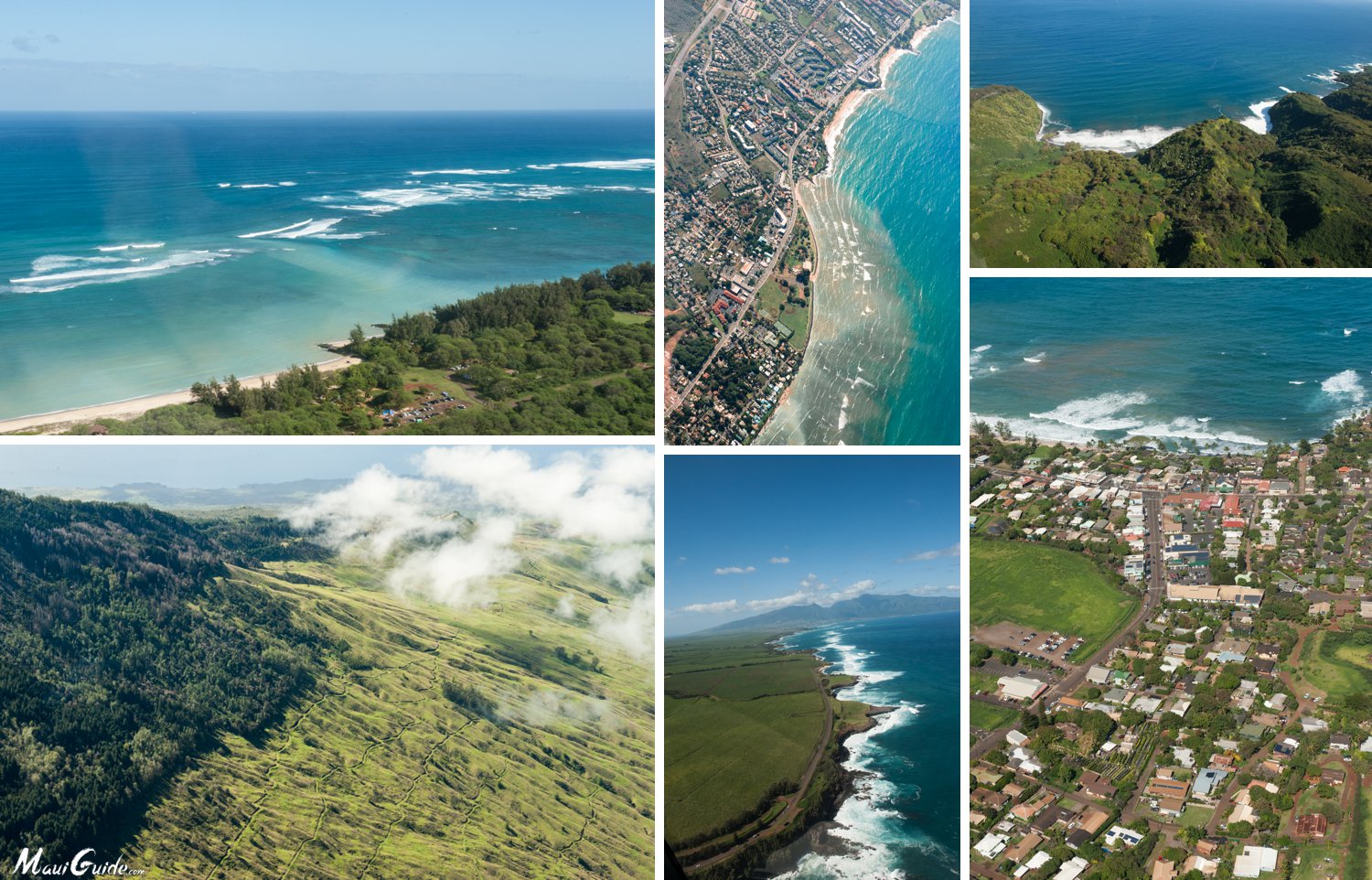 Nothing takes your breath away like an aerial view of powerful waterfalls thundering down thousands of feet or Madame Pele and her fierce lava flow.  And at the end of it all, you'll be taking home some serious bragging rights along with those priceless pictures!  Without further ado, here are the highest-rated flights that will change your life!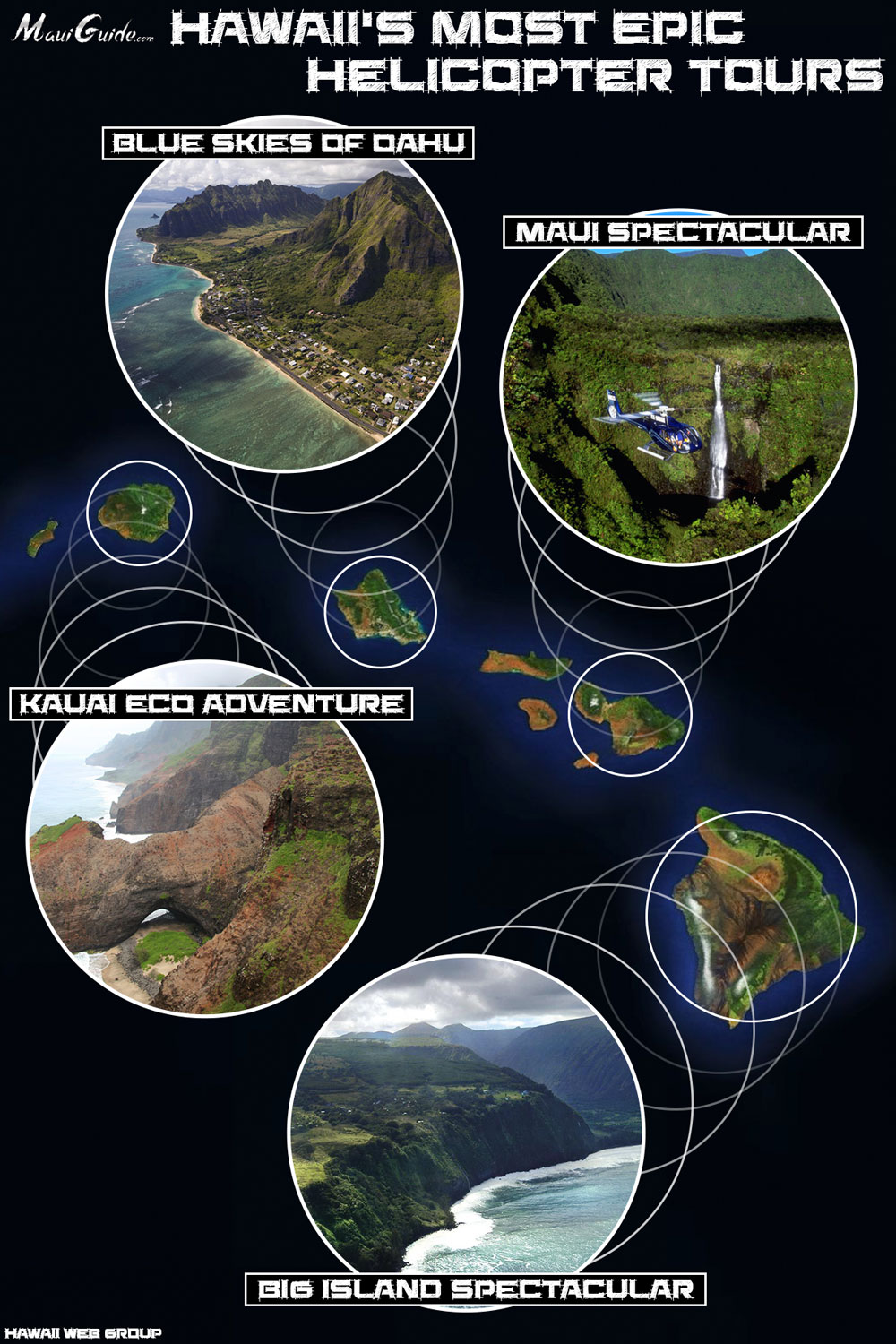 #1 Big Island Spectacular
In 1983, the famous Kilauea volcano erupted and has been putting on a breathtaking show since then!  From the safety of your seat in the sky, you'll be able to watch the lava flow from the most active volcano on the earth.  Soar over black sand beaches and volcanic badlands and then shift to views of the rainforests of the Hamakua Coast.  You're even able to see parts of ancient Hawaiian settlements amidst the dense greenery and powerful waterfalls.  The Travel Channel has called this tour the "World's Best Helicopter Tour."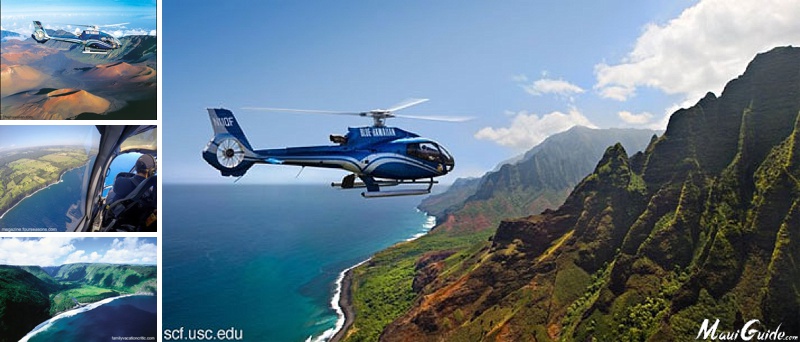 This tour was voted #1 by The Travel Channel as the "World's Best Helicopter Thrill."  If you need more encouragement to jump on board, how about waterfalls cascading thousands of feet, fiery flowing lava, and breathtaking sea cliffs of the Kohala Mountains?  And if this wasn't enough, this tour also includes an exclusive stop you'll never forget.  Your pilot will land at the stunning 1200-foot Punalulu Falls on the Kohala Coast, where this untouched Hawaiian land makes for a perfect photo-op.  This tour is truly unforgettable!
#2 Maui Spectacular
Maui is called the Valley Isle because it sits between two mountains.  Haleakala on the east side and the West Maui mountings on the west.  While most of Maui sits no higher than 200 feet above sea level, Haleakala rises up 10,000+ above sea level.  This contrast makes for a stunning helicopter tour, from valleys and rainforests to waterfalls and breathtaking views.  As if that wasn't enough, this tour lands on an exclusive landing site at Ulupalakua Ranch on the slopes of Haleakala.  Haleakala, also known as the House of the Sun, offers a unique and stunning view of the island.  And as almost 1.3 million people visit the crater every year, you'll be grateful to bypass the crowds and the long drive!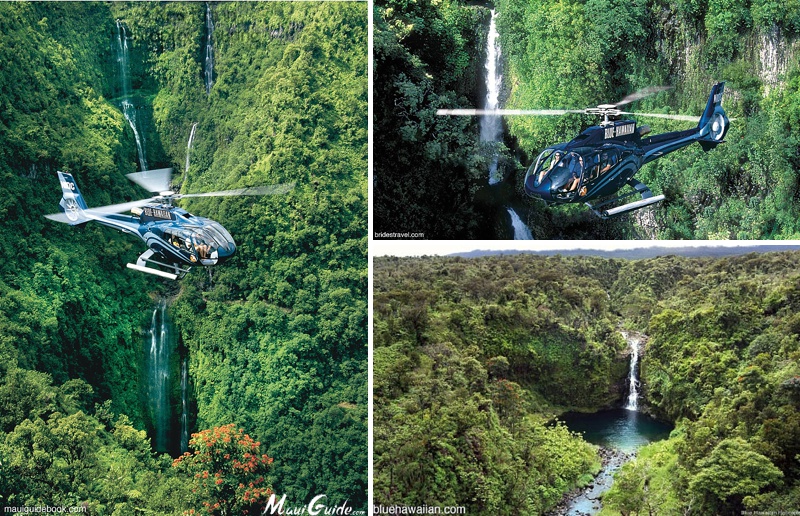 Maui is known as the "Valley Isle," and it lives up to its name once you see the dense valleys and rainforest jungles that are part of this island.  Iao Valley is located in the West Maui Mountains, and no amount of hiking will offer you a view of its true magnificence.  From the air, you'll get to see the impressive waterfalls carved into the towering mountainside.  Very few people, locals and visitors alike, get a glimpse inside this gorgeous landscape.  And the mist is almost always a package deal on this side of the island, which makes for a few perfect rainbow sightings!  Being up in the clouds is always the best way to see the rainbows.
#3 Kauai Eco Adventure 
Many people know Kauai from the movie "Jurassic Park."  Now you can view the spectacular waterfall up close and personal!  But this tour doesn't stop there!  Kauai is also the proud owner of the Waimea Canyon, affectionately nicknamed the "Grand Canyon of the Pacific."  You'll find your way from the awe-inspiring Na Pali Coast to the Bali Hai Cliffs, looking down onto the aqua waters of Hanalei Bay.  And you'll even get a chance to view Mt. Waialeale, the wettest place on earth!  At the end of this amazing tour, you'll find yourself in the crater, flying along 5,000-foot walls and 3,000-foot waterfalls.  This Garden Isle tour will make any vacation memorable!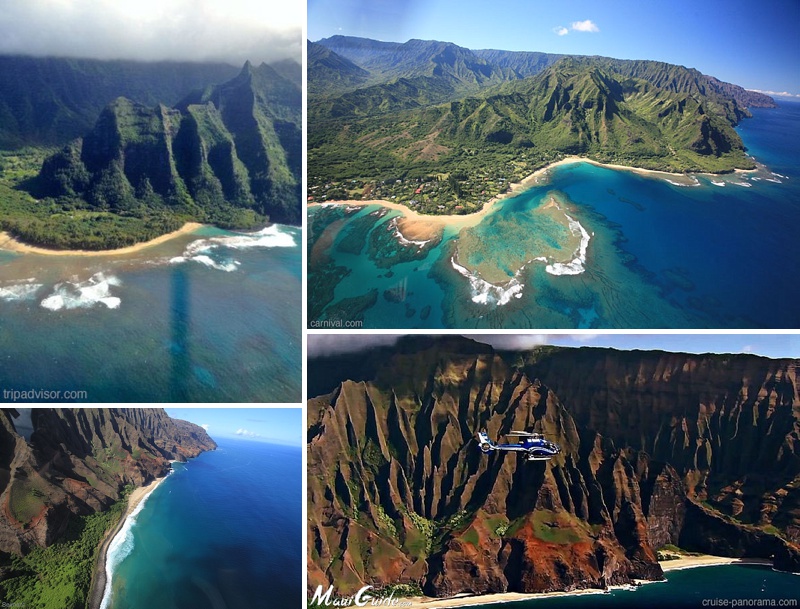 For those Jurassic Park lovers, this flight is your ticket to Hollywood!  This tour soars over Mana Waiapuna, which is lovingly known as "Jurassic Park Falls."  As if that wasn't impressive enough, your tour will then take you over the Waimea Canyon, nicknamed the "Grand Canyon of the Pacific."  Hidden waterfalls become visible as you soar over the canyon.  With views of the Na Pali Coast and the Bali Hai Cliffs, this tour is what dreams are made of. Weather permitting, you'll even get a chance to see Mt Waialeale.  Nothing is more impressive than flying into the heart of an ancient volcano, with 5,000-foot walls above and 3,000-foot waterfalls encircling you.
Leaving from Lihue Airport, this helicopter tour is the perfect thing to do before attending a Luau in Lihue.
#4 Blue Skies of Oahu
Oahu has so many epic sights, and it would be quite a feat to see all of them from the ground.  But up in the air, you'll be able to soar over the most loved and revered sights!  From Diamond Head to Chinaman's Hat, you'll see the stunning coral in Kaneohe Bay and the world-renowned Sacred Falls.  Take a peek at the Dole Pineapple Plantation and the dense Nuuanu Valley rainforest.  This tour also takes you along Pearl Harbor, the Arizona Memorial, and the Battleship Missouri.  You've never seen Oahu like this before!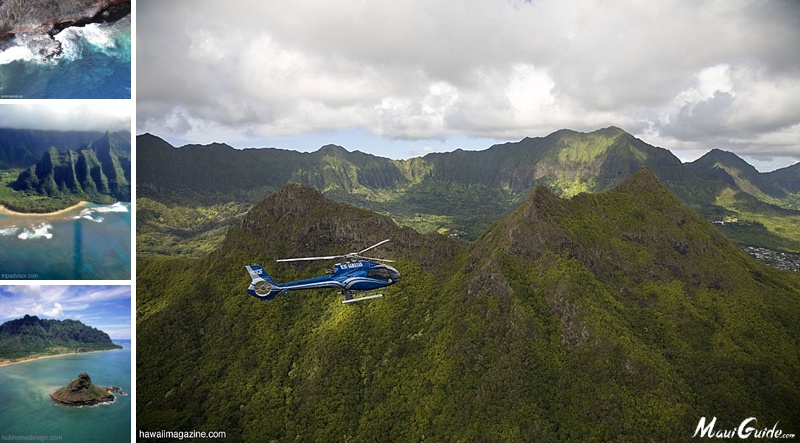 Oahu is not only known for its pristine beauty, but it also has some serious historical hot spots.  You'll get your fill of hidden rainforests and coral formations in the aqua waters.  You'll even get to look down into the Diamond Head volcano.  Don't worry. This extinct volcano won't be spewing any lava your way.  From cliffs to coastlines, this tour is beautiful.  You'll also get an informative dose of history as you soar over Pearl Harbor, the Arizona Memorial, and the Battleship Missouri.  Doing an Oahu helicopter tour is worth every moment!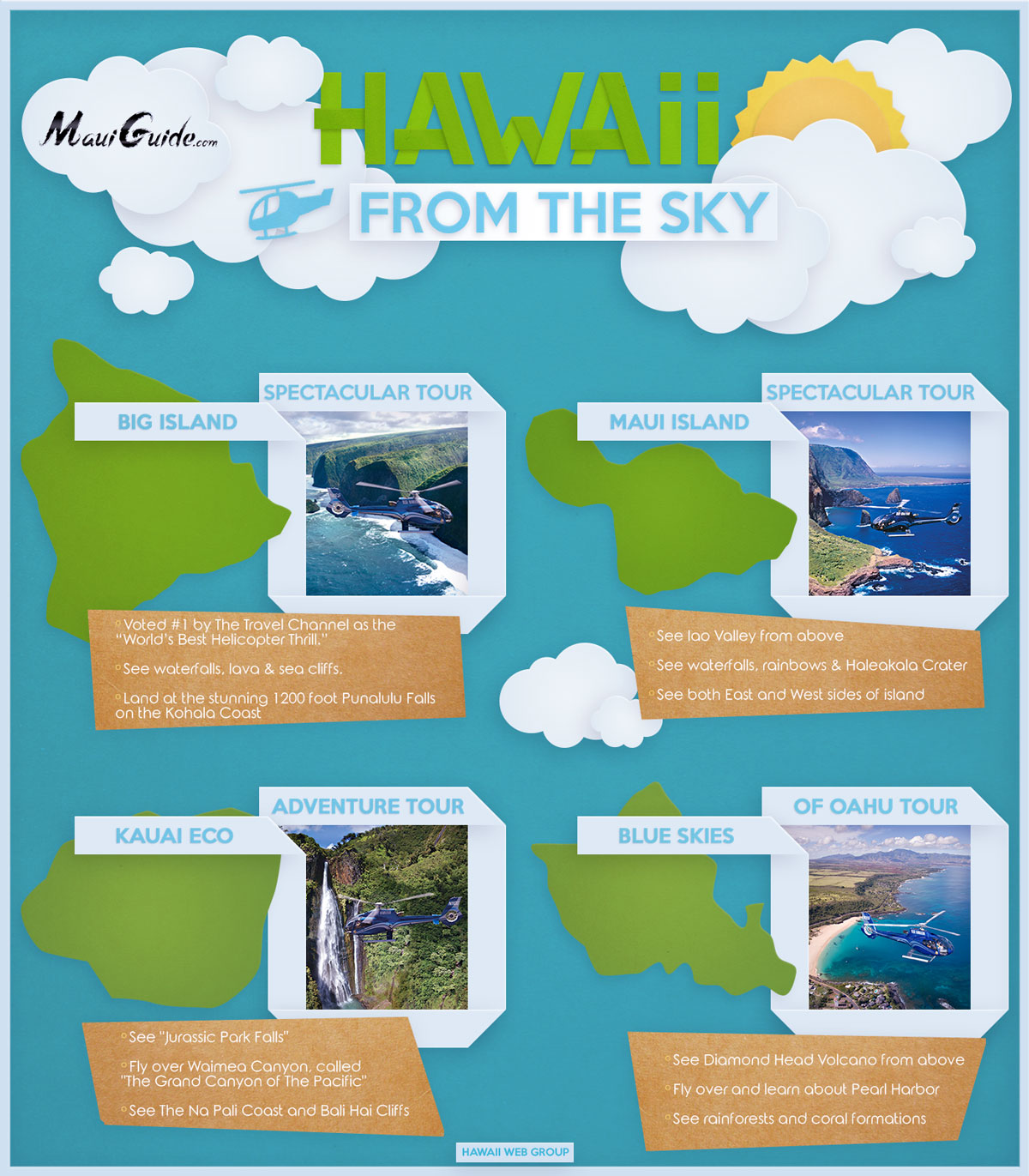 Pros and Cons of a Helicopter Tour
Pros:
*There is almost nothing as breathtaking as seeing the Hawaiian Islands from a bird's eye view.
*Blue Hawaiian Helicopters have the most comfortable seats you will ever sit in.  Seriously.
*You don't have to read your guidebook to learn about the lay of the land.  These expert pilots are pros at giving you a fascinating history lesson in under an hour.
*Every friend that sees your helicopter tour pictures will be wildly jealous.
*You'll get to see everything you want without waiting in traffic, getting lost on the Hawaiian-named streets, or wasting your time visiting the latest tourist trap.
Cons:
*This will be the highlight of your trip, and all your other activities might not seem as cool anymore.
*If you're not a fan of leisurely free time, these tours won't be your cup of tea.  You'll have tons of free time on your hands because you'll get to see more in one hour than most people see on their entire vacation.
*If you are against learning something new on vacation, do not go on one of these tours!  The pilots are extremely knowledgeable about each island and will end up sharing many cool facts.
*Daredevils may not appreciate the safety measures taken for each tour.  The winds and weather are always taken into account, and make sure your safety is first and foremost.  This makes each tour unique because it will take you on the best scenic route for those weather conditions.
*Complainers need not apply.  These tours have been rated "Hawaii's premiere helicopter tour company."  From their "quiet-technology" Eco-Star helicopter and first-class seating to fantastic pilots and the best scenic tours in Hawaii, there will be nothing to grumble about! Check out Maui helicopter tours to book soon.
There is nothing like exploring Hawaii from the sky, with its rarely-seen waterfalls and breathtaking cliffs. Take a tour today, and you'll make some of your best vacation memories in no time!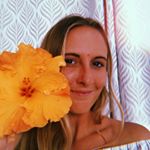 Born and raised on Maui, I have a deep love for language and writing. At present, I work as a content writer at Hawaii Web Group, where I have the opportunity to showcase my passion for storytelling. Being a part of Hawaiian culture, storytelling holds a special place, and I am thrilled to be able to share the tales of the amazing people, beautiful locations, and fascinating customs that make Maui such an incredible place to call home.