The following Maui Art Galleries have been listed by region of the island. Click below for a shortcut to each area.
Haiku • Hana • Honokowai • Ka'anapali • Kahana • Kapalua • Kihei • Kula • Lahaina • Maalaea • Makawao • Paia • Wailea • Wailuku
Hot Island Glass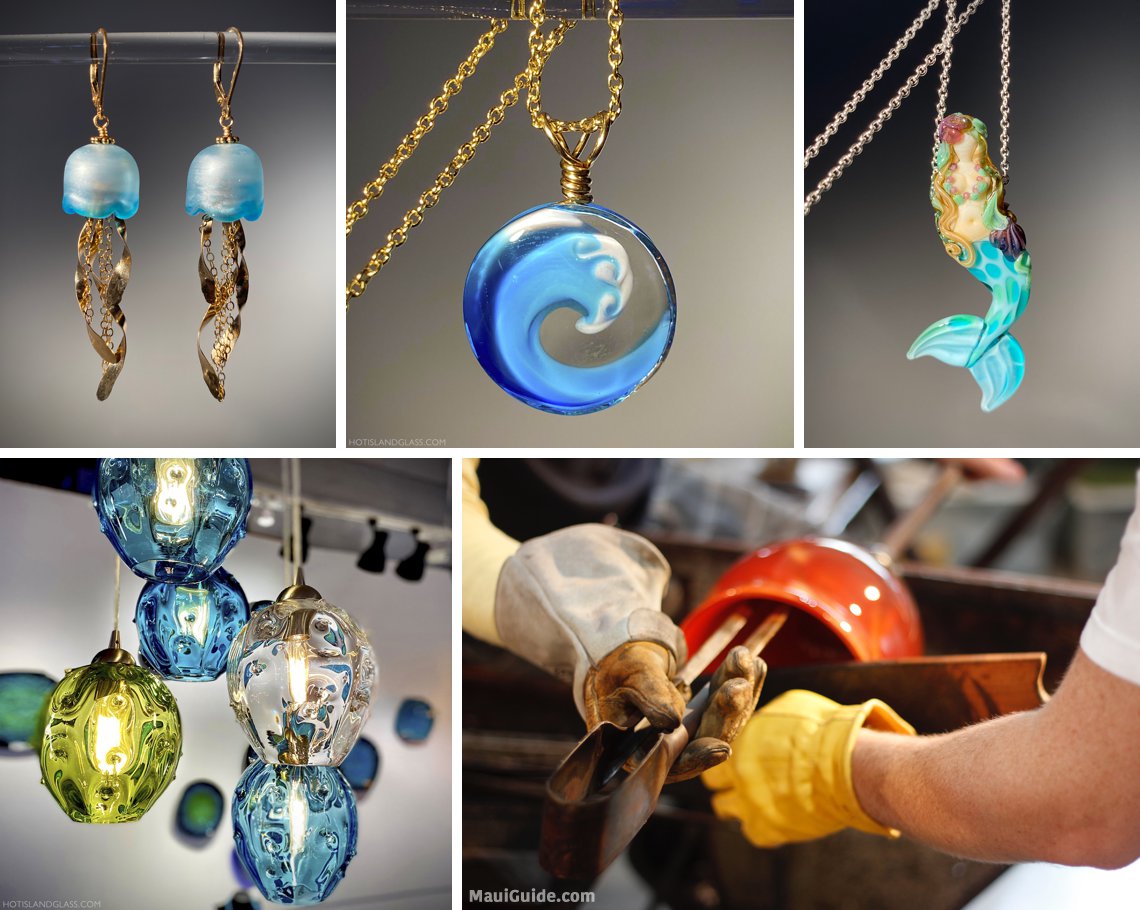 3620 Baldwin Avenue Suite 101-A
Makawao, Maui, Hawaii 96768
(808) 572-4527
You can also visit their online store at Hot Island Glass Collections.
Maui Art Galleries by region
 Haiku Art Galleries
Ace Of Cups
810 Kokomo Road, Suite 184
Haiku, Hawaii 96708
808-500-4476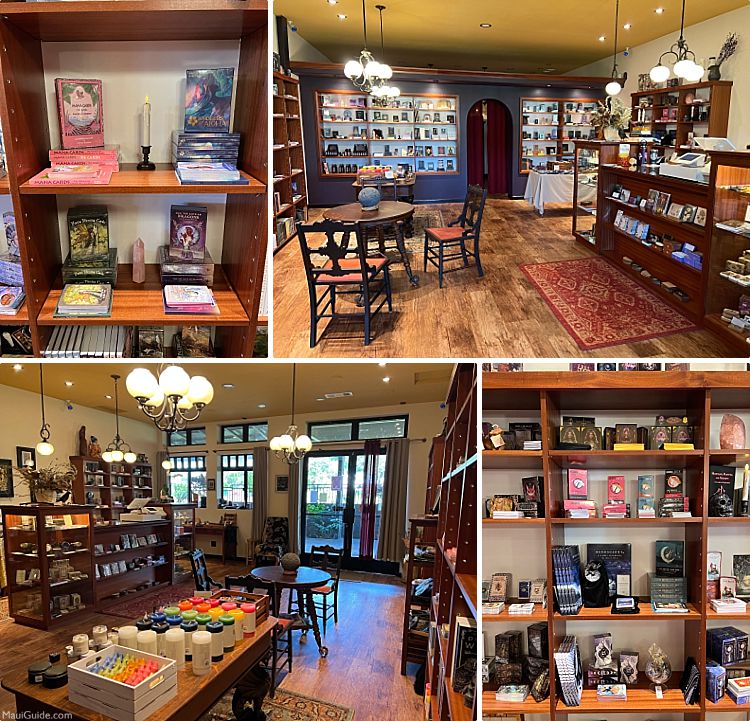 Ace of Cups Maui is a magical shop that offers a wide variety of divination tools, rare tarot and oracle decks, and live readings from Maui's most adept readers. For more information and live reading schedule, check out their Instagram @ace.of.cups.maui.
Gyotaku Maui Natural Impressions
(808) 575-9300
Haiku Style
375 W. Kulaha Rd.
unit 46
(808) 283-1706
 Hana Art Galleries
Hana Coast Gallery
5031 Hana Highway
(808) 248-8636
 Honokowai Art Galleries
Maui Arts and Gifts
Honokowai Marketplace
3350 L. Honopiilani Hwy.
(808) 661-3537
 Ka'anapali Art Galleries
C'est Moi Studio
Semoia Lin, Creator
(808) 870-6235 Cell
(808) 419-6793 Studio
Kaanapali, HI 96761
Dolphin Galleries
Whaler's Village
2435 Kaanapali Parkway
Kaanapali, HI 96761
(808) 661-5115
Maui Hands
Hyatt Regency Suite 118
200 Nohea Kai Drive
(808) 667-7997
Rebecca Lowell Fine Art
Beach Walk at Kaanapali Beach Hotel
(808) 661-8303
Sargent's Fine Art
Whalers Village
(808) 667-4030
Vintage European Posters
Whalers Village
Lower Level
(808) 661-9788
 Kahana Art Galleries
Gallerie Hawaii
4405 Honoapiilani Hwy.
(808) 669-2783
 Kapalua Art Galleries
Village Gallery
1 Ritz-Carlton Drive
(808) 669-1800
 Kihei Art Galleries
Maui Giclee
Kihei Commercial Center
300 Ohukai Road
Suite C2-203
Kihei, HI 96753
(808) 874-8808
Maui Fine Art
2439 South Kihei Road Suite 101B
Kihei, HI 96753
(808) 463-9383
 Kula Art Galleries
Curtis Wilson Cost Gallery
Kula Lodge, Upcountry
Off of the 377 Hwy.
(808) 878-6544
Keokea Gallery
9230 Kula Highway
(808) 878-3555
 Lahaina Art Galleries
Diamond Head Galleries
736 A Front Street
Lahaina, HI 96761
(808) 661-8171
Celebrities Gallery
746 Front St.
Lahaina, HI 96761
(808) 667-0727
Dolphin Galleries
697 Front St.
(808) 661-5000
Elephant Walk
855A Front St.
(808) 661-6129
Evo Art Maui
888 Front St.
(808) 781-4465
Gallery Lassen
700 Front St.
(808) 667-7707
Gallerie 505
505 Front St. suite 105
(808) 667-7932
Kingwell Island Art Collection
126 Lahainaluna Rd. E60
(808) 667-6782
Kush Fine Art
820B Front St.
(808) 667-1989
Lahaina Galleries
828 Front Street
(808) 661-6284
Lahaina Arts Society
Banyan Tree Art Gallery
648 Wharf St. Suite #103
(808) 661-0111
Lahaina Printsellers
764 Front St.
(808) 667-5815
Lost World Arts
1036 Limahana Place Unit #21
(808) 667-0076
Martin Lawrence Gallery
790 Front St.
(808) 661-1788
Maui To Go
505 Front St.
(808) 662-0799
Moana Glass by Ryan Staub
1000 Limahana Place
Lahaina, HI 96761
(808) 763-6338
Robert Maui Pot
106 Kupuohi
(808) 662-0600
Sargent's Fine Art
802 Front St.
Lahaina, HI 96761
(808) 667-4030
Simin-Jon Gallery
Wharf Cinema Center
658 Front St. #136
(808) 667-4088
Village Gallery
120 Dickenson St.
(808) 346-0585
Wyland Gallery
711 Front St.
(808) 667-2285
 Maalaea Art Galleries
Maui Ocean Treasures
192 Maalaea Road
at the Maui Ocean Center
(808) 270-7000
Makawao Art Galleries
David Warren Gallery
3625 Baldwin Ave.
Makawao, HI 96768
(808) 572-1288
Hot Island Glass
3620 Baldwin Ave. Suite 101-A
(808) 572-4527
Kristen Bunney
3660 Baldwin Ave.
(808) 573-1516
Julie Galeeva Fine Art
3682 Baldwin Ave.
(808) 573-4772
Sheri Reeve Gallery & Gifts
3669 Baldwin Ave.
(808) 572-5979
Viewpoints Gallery
3620 Baldwin Ave.
(808) 572-5979
 Paia Art Galleries
Maui Craft's Guild Inc.
69 Hana Highway
Paia, HI 96779
(808) 579-9697
Maui Hands
84 Hana Highway
(808) 579-9245
 Wailea Art Galleries
Blakes Resort Art Sales
The Fairmont Kea Lani
4100 Wailea Alanui Dr.
Wailea, HI 96753
(808) 875-9306
Celebrities Fine Art Galleries
The Shops At Wailea
(808) 578-6991
Dolphin Galleries
The Shops At Wailea
3750 Wailea Alanui Dr.
Wailea, HI 96753
(808) 891-8550
Eclectic Image Gallery
The Shops At Wailea
(808) 874-0701
Elan Vital Galleries
The Shops At Wailea
(808) 879-4448
Elephant Walk
The Shops At Wailea
(808) 891-8684
Lahaina Galleries
The Shops At Wailea
(808) 874-8583
Martin Macarthur
The Shops At Wailea
3750 Wailea Alanui Dr.
(808) 891-8844
Sabado Fine Art
100 Wailea iki Drive
(808) 205-2809
 Wailuku Art Galleries
Gallerie Ha
51 North Market St.
Wailuku, HI 96788
(808) 244-3993
Native Intelligence
1980 Main St. #2
(808) 249-2421
Pacific Center of Photography
96 Central Avenue
Wailuku, HI 96793
(808) 986-0686
Paradise Now
7 N. Market St.
(808) 205-2807
More about specific Galleries
Exclusively featuring Julie Taylor's original oil paintings and top quality fine art giclee prints, J A Taylor Gallery also has a wide selection of matted 'Souvenir Series' prints. The matted print 'Souvenir Series" offers an extensive choice of subject matter with over 65 images in 3 standard sizes to fit ready-made frames. The matted prints provide visitors with a special memento of their Hawaiian vacation and make nice take-home gifts at best prices starting at under $20.00 with discounts for multiple print purchases. All matted prints and fine art giclee reproductions are professionally produced from Julie's original work.
Located in the Lahaina Cannery Mall, where customers enjoy ample free parking and the comfort of Maui's only air-conditioned mall, Julie maintains a working studio, as well as an inviting gallery environment to display her work. Worldwide shipping is available.
JA Taylor Studio is open every day during regular Mall hours: Monday through Saturday, 9:30 AM to 9 PM, and Sunday 9:30 AM to 7 PM. Visitors enjoy seeing Julie working at her easel and discussing the progress of her paintings. Her 'Painterly Realism' work includes island landscapes, seascapes, harbors, sunsets, flowers, moonlight scenes, visionary work, and still life paintings in a wide range of sizes. Taylor GalleryJulie has acquired a large following of collectors since she began to paint only fourteen years ago. As a self-taught artist, she considers her talent a very special gift. Her work is enjoyed and collected worldwide. In addition to Hawaii and the U.S. Mainland, her work can be found in homes and businesses in Canada, Japan, New Zealand, Australia, Russia, Singapore, South Africa, South Korea, throughout Europe and South America, as well as the South Pacific islands of Tahiti, Tonga, Fiji, and Micronesia.
Having worked together for many years, Julie's husband, Mike, tends the gallery every day, allowing Julie to focus on producing her paintings. Married for 49 years, Mike and Julie have made Maui their home for 31 years and been part of the Lahaina business community since 1984. Personal service is always a priority and everyone is welcome to browse and (as we say in Hawaii) "talk story".
Established in 1978, Lahaina Printsellers Ltd. is the largest map and print gallery in the state of Hawaii. Their extensive holdings of maps and prints span four centuries and include original antique maps (from $100 to $30,000) as well as museum quality facsimiles, printed by the Giclée process on either fine art paper or premium quality canvas (from $15 to $600).
When visiting their galleries, allow enough time to thoroughly browse their collection (the largest outside of a map museum). The relaxed atmosphere and the professional sales consultants create a pleasurable and educational experience for even the most discriminating collectors. Their credentials and judgment are impeccable, encouraging trust in their advice on how best to start or add to a map collection.
Lahaina Printsellers Ltd. has the finest examples of antique maps and prints from every portion of the globe and the broadest range of periods – from the ancient past to the dawn of the 21st century.
Located in Lahaina, Sargent's Fine Art and Jewelry are one of the most unique art galleries to be found.
Local artists
and world-famous artists share one thing in common at Sargent's…they are all popular and established: from the stunning sculptural works of Bill Mack, Gaylord Ho, and Michael Wilkinson to paintings by Russian Surrealist Victor Bregeda and satirical realist Michael Godard, famous portraits by Mimi Stuart, and peaceful landscapes by Harry Wishard.
Sargent's Fine Art and Jewelry in Lahaina displays a diverse range of art by both local and international artists. A visitor to the gallery will find the sensual portraits of Fabian Perez next to a wall bursting with the color and energy of Kim McDonald's Gauguin-style island paintings. In all there are perhaps 45 artists on display here, carefully chosen by owner Dick Sargent and vice president Kim Smith. Their goal of having the highest quality art for all levels of collectors has become their hallmark.
On your next visit to Hawaii, make Maui a part of your destination and enjoy the fabulous "art scene" for which Lahaina is so famous and of which Sargent's Fine Art and Jewelry is an integral part.
Maui Giclée is Hawaii's premier source for fine art giclée printing. Over 80 local artists and hundreds more worldwide enjoy our cutting-edge print facility and expertise of our color technicians to produce a high-quality giclée print.
Our art gallery showcases local artists, as well as others, and offers a wide variety of artwork from the vintage to the contemporary, particularly "island style" so there's something for every budget and lifestyle. Along with images of the sea and tropical birds, there are florals and vibrant sunsets to thrill the viewer¹s imagination.
The gallery is located within our printing facility along with the frame shop. Here visitors can learn about the giclée process itself by taking a tour of our facility.
Elan Vital Galleries
Medium: Utilizing state-of-the-art aerospace enamel, Elan pours up to 70 layers of natural pigments and minerals infused into the enamel to capture the essence of gemstones on canvas. The enamel protects the paintings from UV rays so they can be hung in direct sunlight without the concern of fading or cracking.
Technique: Elan uses special proprietary techniques—creating with life force energy—each painting comes alive with vitality. Each painting and each collection is unique; there are no two paintings alike and no limited editions or reproductions.
Inspiration: Elan finds inspiration in the natural world. You will notice the connection when you tour the Wailea Maui art gallery. Art
Background: Elan's first artistic adventure upon moving to Maui was to create a life-size whale sculpture—donated to Maui's Ecology Park, also known as Kalama Park (located on South Kihei Road, Kihei, Hawaii), the site of Maui's annual Whale Day celebration.
Birthplace: NYC Migration to Maui: Elan introduced himself and his artwork to Hawaii in 1988. He has sold more than 5,000 original paintings to collectors from around the world, making Elan one of the top-selling artists in Hawaii.
Education: Elan discovered Leonardo Da Vinci's renaissance diversity theory when he was only seven. DaVinci became an influential force in Elan's life and still is to this day. Elan attended a high school for gifted students and graduated with honors, attaining an equivalency of an Associate Degree in Engineering at age seventeen. One tour through Elan Vital's Art Gallery will leave you in a place of awe, igniting your imagination. Elan's gallery, located at The Shops at Wailea, Wailea, Maui, is a must-see whether you are visiting or live on Maui—Don't miss the opportunity to experience Elan Vital's unique artwork!